When it comes to wedding invitations there are many options to choose from. Here are the basic three wedding invitation options you have: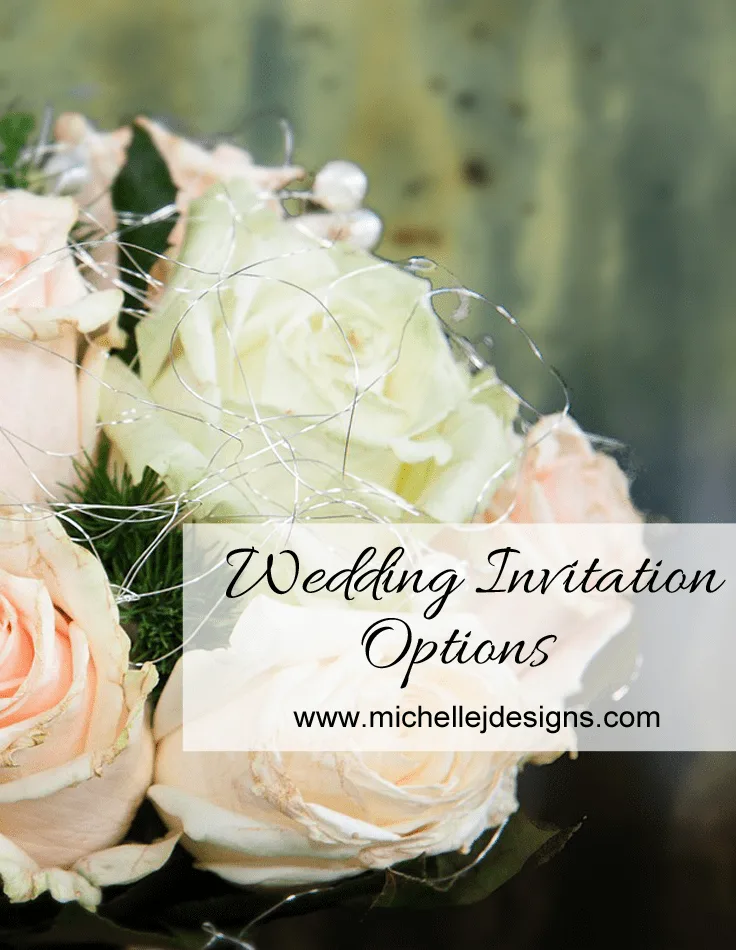 Wedding Invitation Options
1. Choosing a Design From a Book
Such companies like Carlson Craft have been doing this for years and years. You choose your design, the number you need and usually each design has some optional add-on cards such as a reply card, accommodations, a map, reception information and a thank you card. Once all of the decisions are made you sit back and wait for your box to arrive on your doorstop.
Pros –
This is definitely the most stress-free way to go. There is no printing, cutting, scoring, tying ribbons, etc.
There are many designs to choose from. You are sure to find something that you both like.
Cons –
Your invitation may look like every other brides if you are choosing from the best sellers.
You don't have much control over the design process. You probably get to choose color on some designs but that would be about it.
Depending on the design it can be very costly. Some designs with a pocket and many add-on cards are just going to cost more.
2. Total DIY
This is option is good if you are a crafter/card maker or generally good at making things. Some brides try to DIY and fail miserably because they just aren't good at it or they are in too much of a hurry. You really have to know what you are doing and have the basic computer and crafting skills.
Pros –
Can be much cheaper in the long run if you can get card stock and paper on sales and you print your own with your home computer.
Can be a really fun experience. If you love crafting then making your own invitations would be the perfect choice.
If done correctly, your guests will ooooh and aaaaah over the original design, creativity and work you put into them.
Cons –
Time, time, time. I know from experience how much time this takes. Not only the computer time to design and get it centered just right but the printing and assembling takes time as well as shopping for your supplies. If you are creating a pocket card invitation with some scoring, gluing, layers of paper and ribbon it takes hours and hours depending on how many you need to send. You have to have the time and be willing to spend the time if you want your invitations to look professional.
3. Working With a Designer
This is the goldilocks of wedding invitations – just right! (At least in this designer's opinion) Seriously though this could be the best of both worlds depending on your design. You can take a design that you have in your mind to a designer and make it a reality, or you can choose from a number of pre-created designs and change fonts and colors to customize to your likes. There are many designers and they don't have to be a local person. You can choose a website such as mine and look at the wedding designs that are offered. Or you can search on a site like Etsy for invitation choices.
Pros –
A designer can help you figure out how to get the design in your mind onto paper so it is totally customized and unique.
The cost of the design and digital download is usually very reasonable
You can either print them yourself or have them printed online. Some Etsy shops will also print for you. The printing charges will, of course vary but shopping around could get you a great deal.
Cons –
The custom design may take a little bit of extra time and there is usually a lot of emailing and approving before the final design is finished.
There may not be as many designs to choose from (if you don't already have a design in mind) as there would be in the book mentioned in option #1.
These are the three main wedding invitation options. Many brides know exactly what they want and what their options are but many don't know that DIY and working with a designer even exist. I hope I have answered a question or two of yours if you are planning a wedding and are at the invitation stage. Please comment or send me a message using the "contact" form if you have other questions. I am happy to answer.
Thanks so much for stopping by today.