How To Make Creepy Skeleton Wine Glasses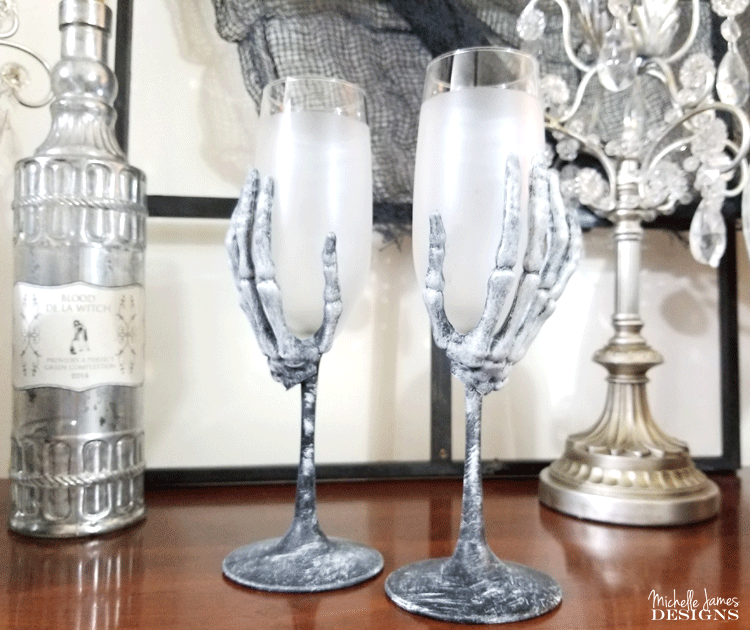 I love Halloween. It is one of my favorite times of year for decorations. Each year I like to make something new to add to my creepy decor. This year I have created some skeleton wine glasses and I am going to show you how to make them.
Skeleton Wine Glasses
I saw some wine glasses at a store that really caught my eye. These are the same glasses I found on Amazon. I know mine don't look like these and are not as clean-up friendly as these but they were definitely my inspiration. These are over $100 for a set of four and mine are $3 for a set of two. I like the more budget friendly decor.
I will not be using mine to actually drink wine they will be decorative and will hold candy or just sit around looking creepy.
So, let's get started!
Step 1: Cutting the Skeleton Tongs
Use the band saw (or a hand saw) to cut off the hands from the tongs. Sandpaper works great to get rid of the rough edges.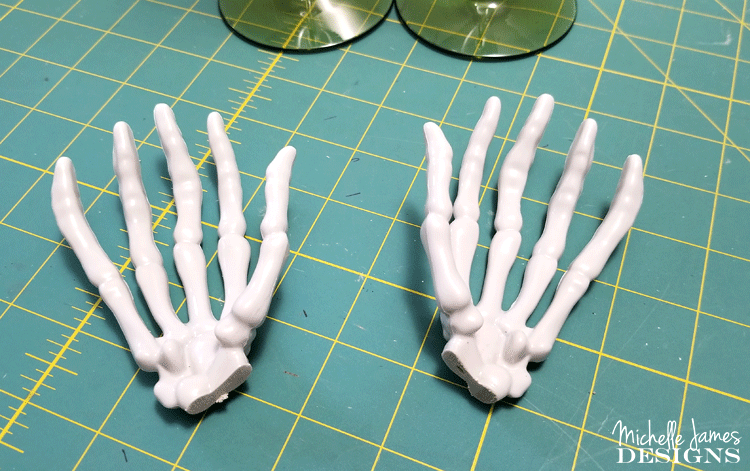 Step 2: Painting
Add washi tape to the top portion of the glass and over the top so the paint doesn't get inside the glass. (just in case you intend to drink out of them.)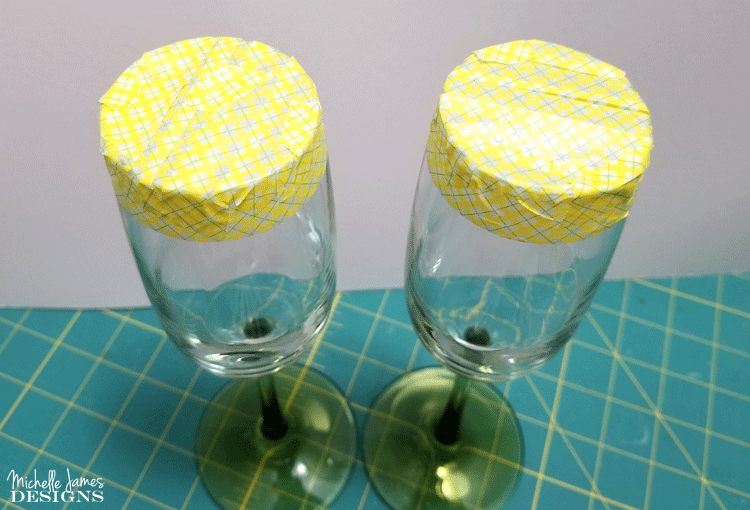 Using the frosted glass spray paint I painted the top portion of the glass (not the stem). When that was dry I masked off the frosted part and sprayed the stem with the flat black spray paint.
While I had the black paint out I gave the hands a spray too. Front and back!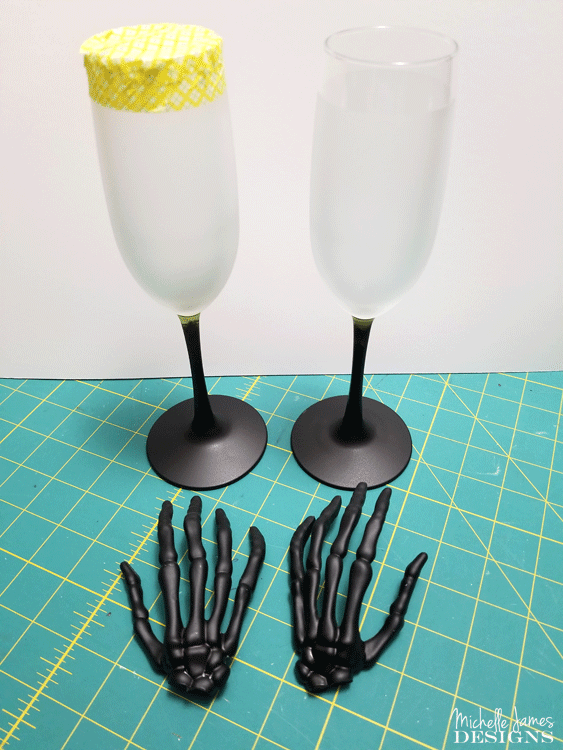 Step 3: Dry Brushing
Dry brushing adds the extra UMPH to this project. I didn't want black skeleton hands I wanted the look of old bones. Dry brushing small amounts of light colored paint over the black creates a distressed, old look.
To dry brush use the Ivory acrylic craft paint first. Place a small amount onto a plastic lid and dip your chip brush into the paint. Then brush most of the paint off onto a cardboard or paper towel, then apply what is left on the brush to the hands. Keep going adding light layers until you achieve the look you want.
Repeat this process on the stem of the wine glass as well.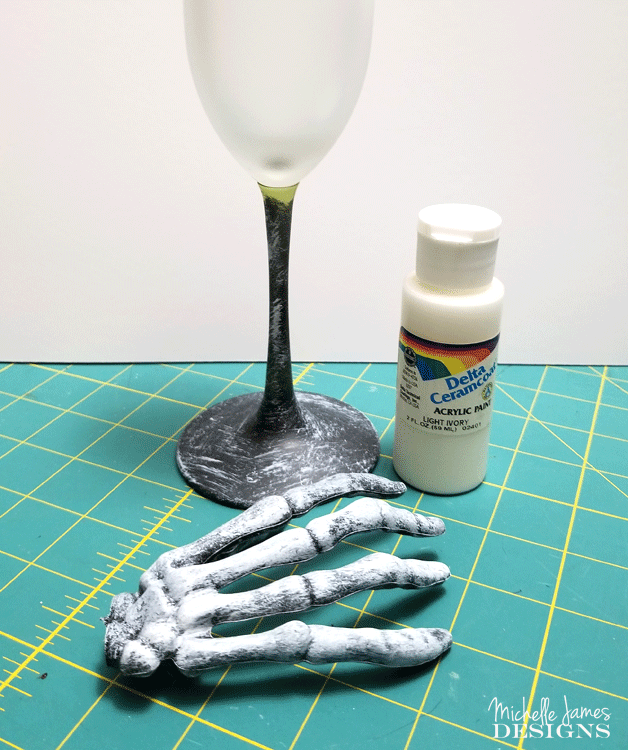 After the Ivory paint was dry add a little bit of silver to make it sheen.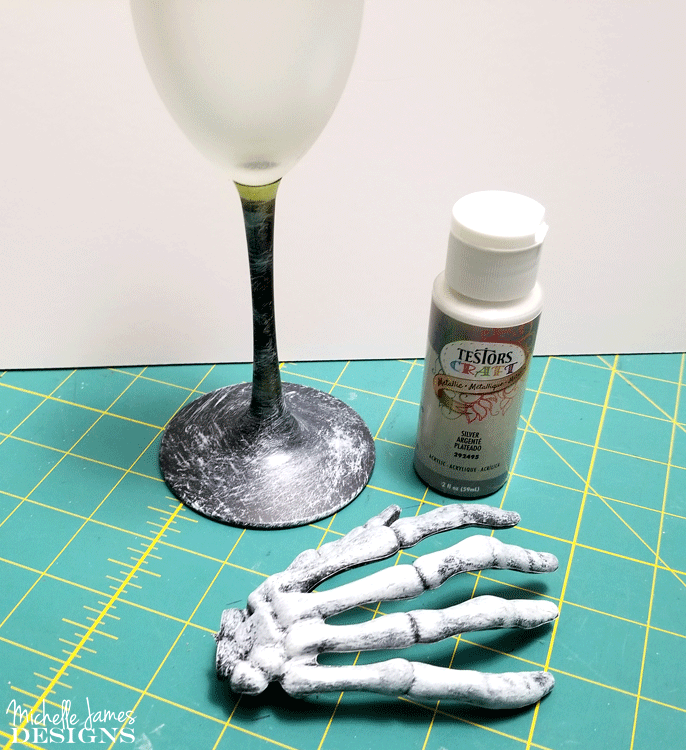 Step 4: Putting It Altogether
The next step is to glue the hand to the glass. The E6000 does a terrific job of sticking the parts together. Figure out which parts of the fingers and the wrist touch the glass and add a little of the E6000 to those areas. Place the hand onto the glass being careful not to move it around too much. Hold it or tape it in place for a minute or so until it adheres. Then lay it down to dry and cure the rest of the way. I waited overnight.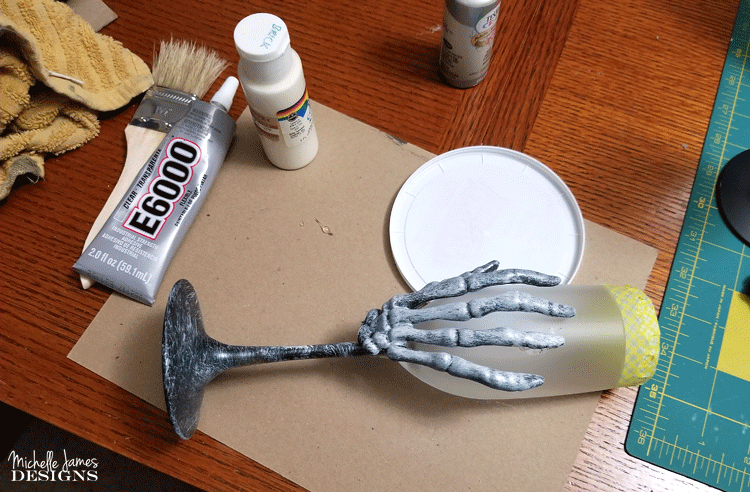 Step 5: Add To Your Halloween Decor
This the fun part…adding these fancy, creepy glasses to your Halloween decor. How great is that? What do you think?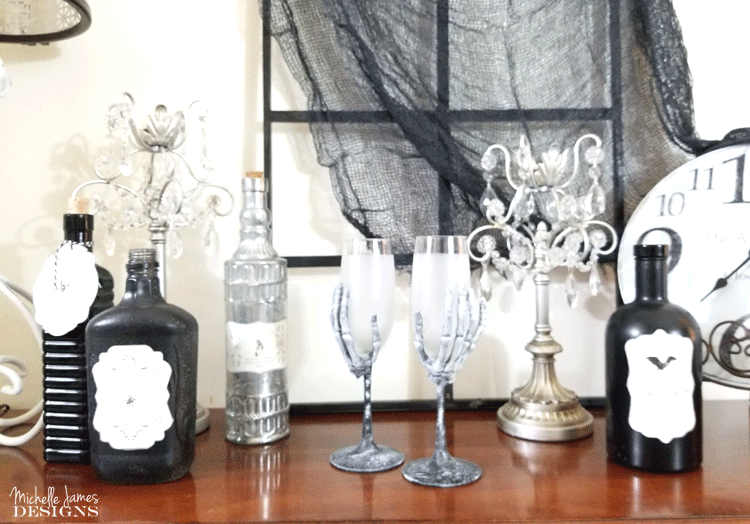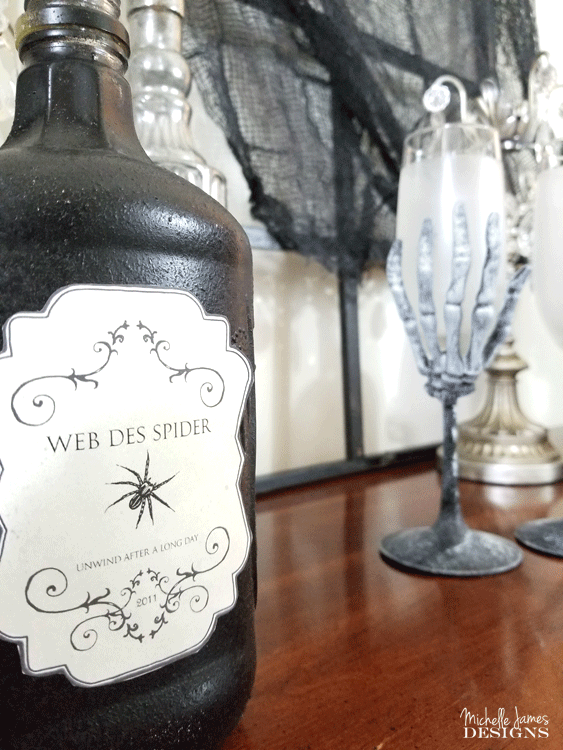 I think they look nice with my Halloween bottles from a couple of years ago. You can make your own bottle labels using the free download.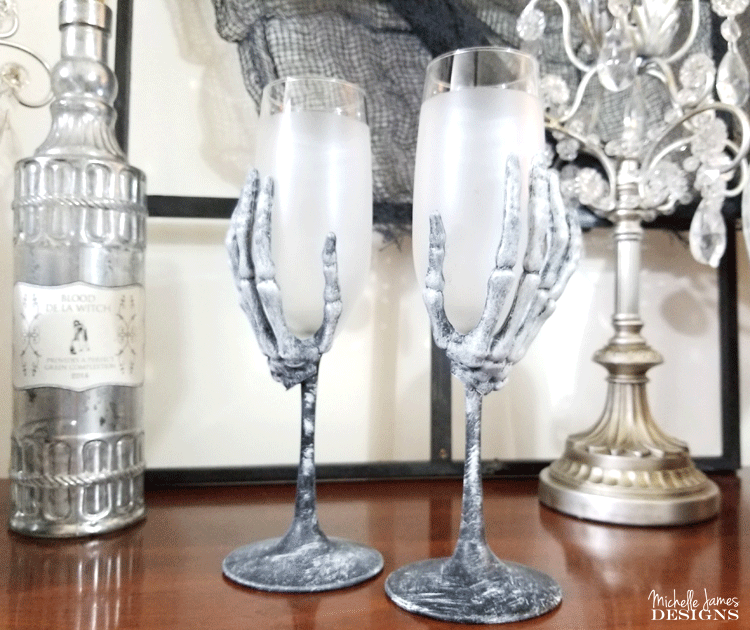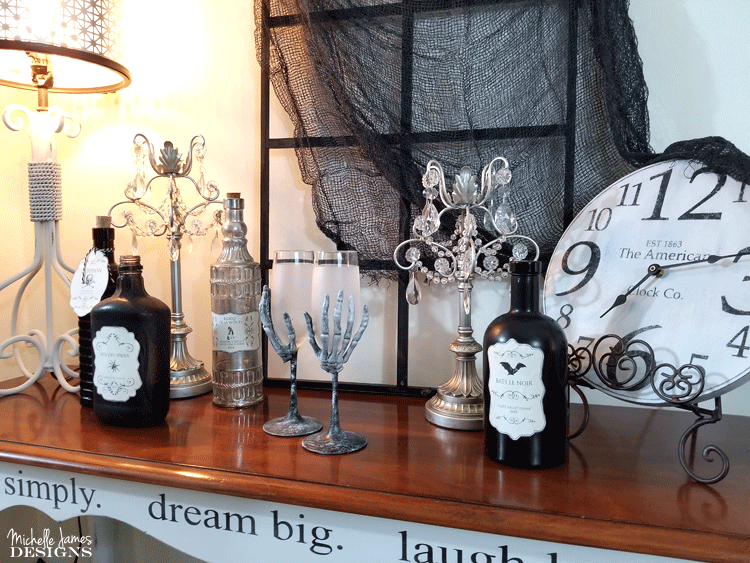 I really like how these turned out. I hope you will give it a try. If you would like to watch a video about this process you can see it here.
This is a place where I keep all of my Facebook live videos. I hope you will watch them all!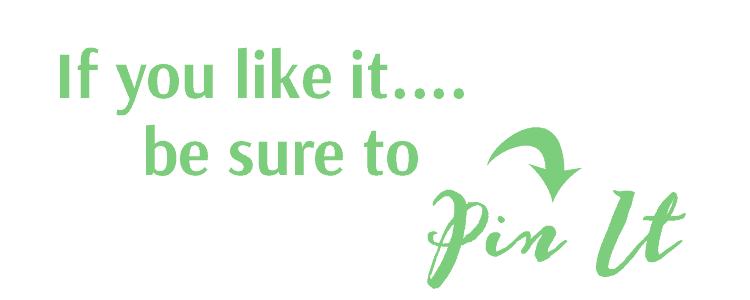 Until next time,
MIchelle
Enter your name and email to receive tips and tricks, tutorials & deals!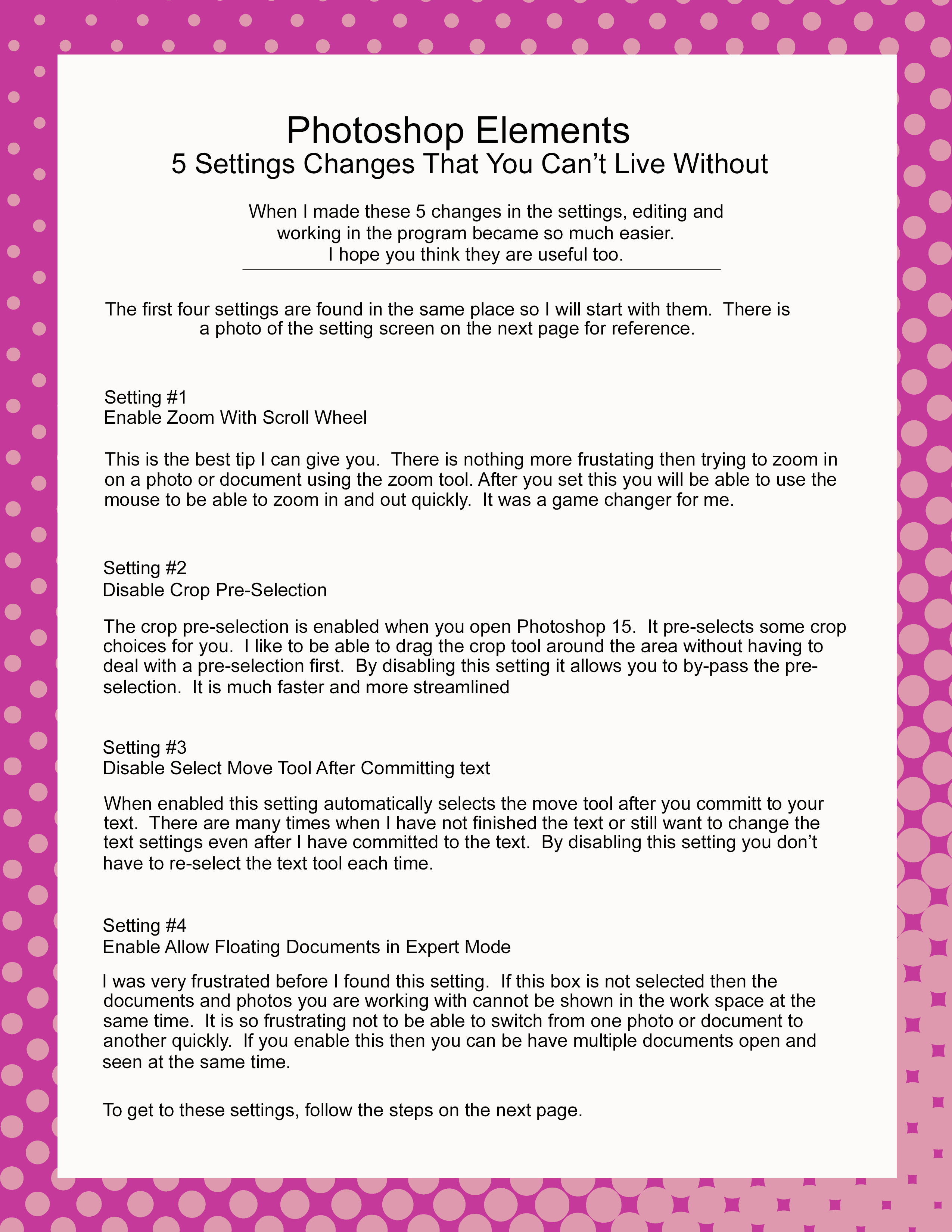 Sign up to get access to an instant download to my five favorite Photoshop Elements settings changes that will make editing and designing easier.
Your information will *never* be shared or sold to a 3rd party.