Video Tutorials
This is a collection of all of my Facebook Live Craft and DIY Tutorials.  I love to craft and DIY and show tutorials live on Facebook.  These videos area all things crafty and DIY. I hope you enjoy them.
Don't forget to like my Facebook page. You don't even have to leave my blog to do this.  Just look in the sidebar on the right.  There is a box and above it it reads, Join Us on Facebook.  Click the like button and you are all set!
The products that I talk about and use in the videos are available through affiliate links and you can visit the Facebook shop to see them all.  You can see in the photo below where to click to see all of the products in the shop and to like the page if you are over there.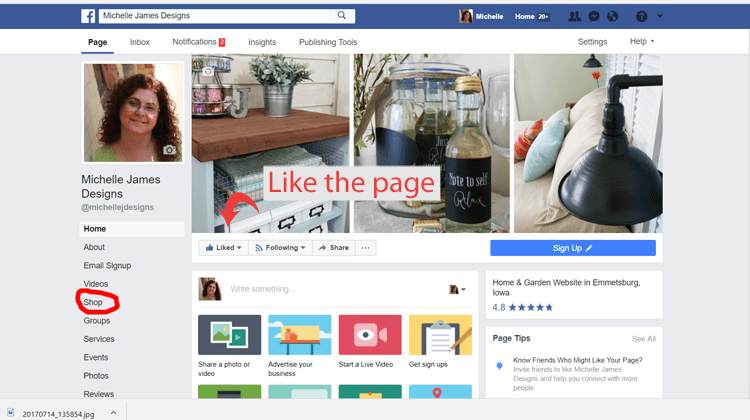 If there is a blog post to go along with the video I have linked to it under each video.  Click over to see a written version of the tutorial.
I have these videos in order from oldest to newest.  I hope you enjoy them.
Using DecoArt Glass Paint Markers
Here is the blog post link:  Glass Paint Markers
How To Make A Wine Cork Key Chain
You can find the blog post by clicking on this link: Cork Key Chain Tutorial
How To Create DIY Dollar Store Cake Stands
Find the written tutorial at this link: DIY Dollar Store Cake Stands
Using Nail Polish To Decorate Glass and Ceramic Pieces
The link to my pretty blue nail polish glasses is here:  Nail Polish Swirl Glasses
DIY Fabric Pumpkins
Want the written tutorial?  Click on this link:  DIY Fabric Pumpkins
HomeRight Paint Sprayer Demo
I have used my paint sprayer on many, many projects.  This post to the headboard footboard post shows it nicely.  This was a pretty big job and the sprayer did not disappoint!
Wine Bottle Tiki Torch
Halloween Decor Skeleton Wine Glass
I hope you like the videos and keep checking back for more.  You can also see these plus more videos on my You Tube Channel.  I am just getting started on my channel and would love for you to subscribe!
Click the link to subscribe.  Michelle James Designs You Tube.
Thanks for stopping by!
Michelle