It is definitely beginning to look like fall and I am starting to embrace the pumpkin projects. Today I am showing you how to create a fall wooden sign using the Silhouette and DecoArt products. It is easy as pumpkin pie!

The Silhouette Creators Challenge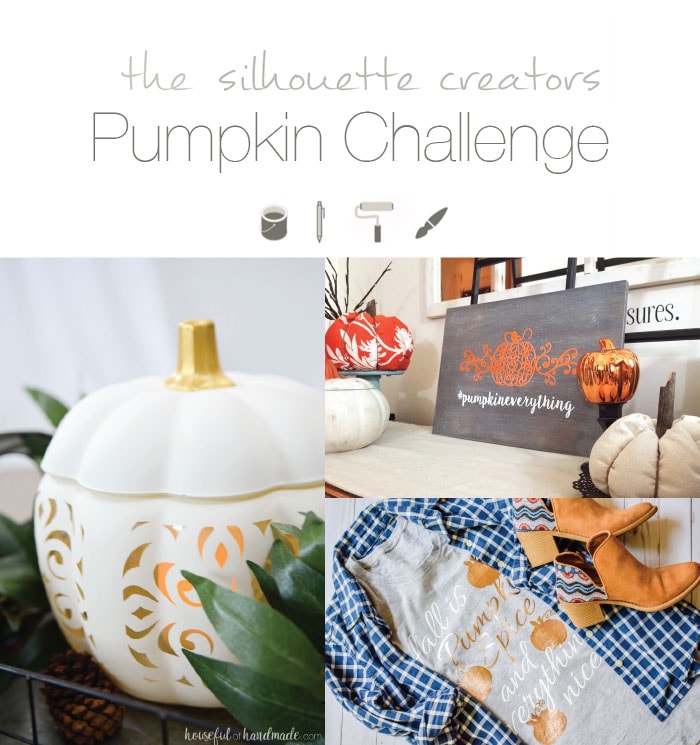 Each month, myself and some other Silhouette happy bloggers get together for a challenge to create something great using our Silhouette machines. This month the theme was pumpkins. I have to say it was pretty fun and this easy project only took an evening to complete.
Fall Wooden Sign
Creating An Easy Fall Wooden Sign
Step 1:
Cut your wood scrap to size if needed. If it is easier or you don't have access to a saw just use the size you have and then adjust your vinyl pumpkin or graphic to fit your wood. That is what I did this time. This is my piece of plywood when I started.
I sanded it using the palm sander but sand paper or a sanding block would work too.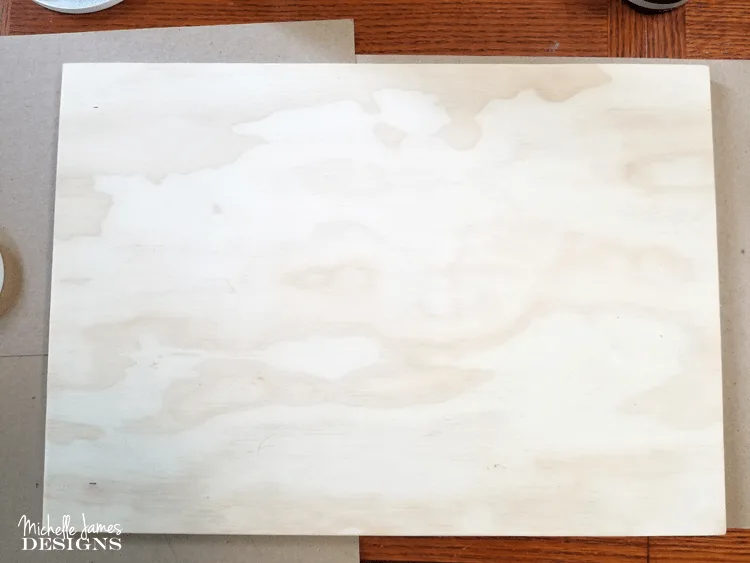 Step 2:
Stain your wood using DecoArt Americana Decor Color Stain. A foam brush works great for this and it comes out perfect every time. The charcoal color is perfect for the Halloween/fall projects.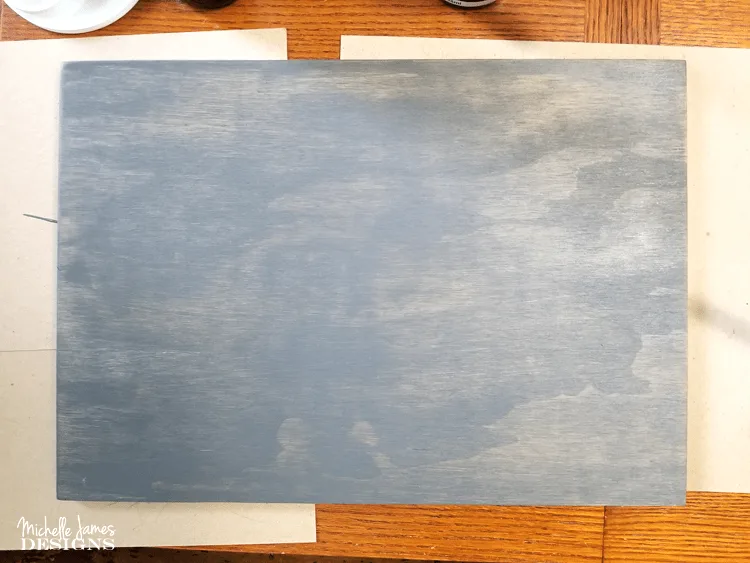 I like to have the back of my project finished as well so I stained the back and the sides too. When it is completely dry I give it a light sanding just to smooth it out.
Step 3:
Choose your Silhouette design. When I am using just a font I usually create my own but I didn't want to have to draw a pumpkin when I knew there would be a lot in the Silhouette store. I found this pumpkin for $.99 and the hashtag word for $.79. Bargain! I purchased them then brought them into my design space.
I moved them around and had to make them larger to fit on my wood piece. You can adjust the size as much as you want to fit the measurements you need. Here is my screen shot.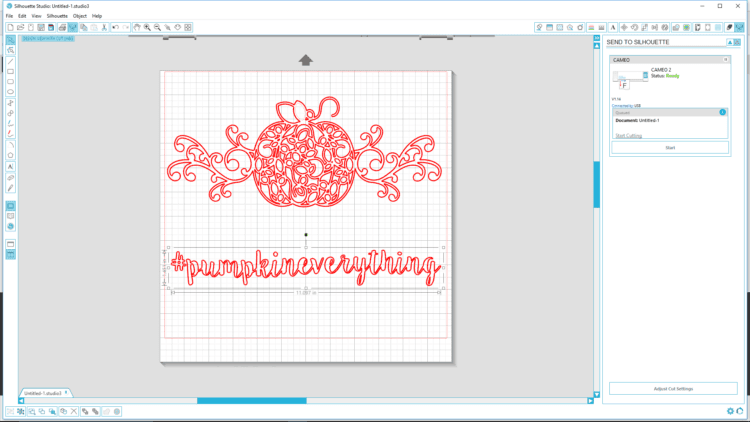 I placed the vinyl on the mat using the orange for the pumpkin and the white for the text. As long as you have your grid lines on you can match up where you need to place the different colors of vinyl then cut them both at the same time.
This photo was taken after I had cut it out but you get the general idea.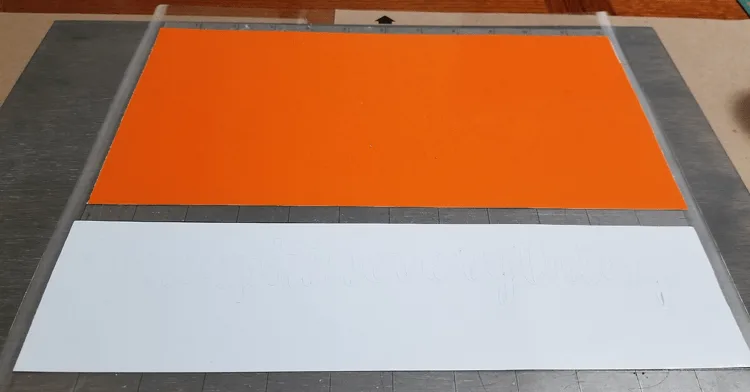 Step 4:
The weeding process. This is where I use a tiny tweezer and the point of an exacto knife to get the little pieces out of the design.
This was half way through the pumpkin. I really don't like this part.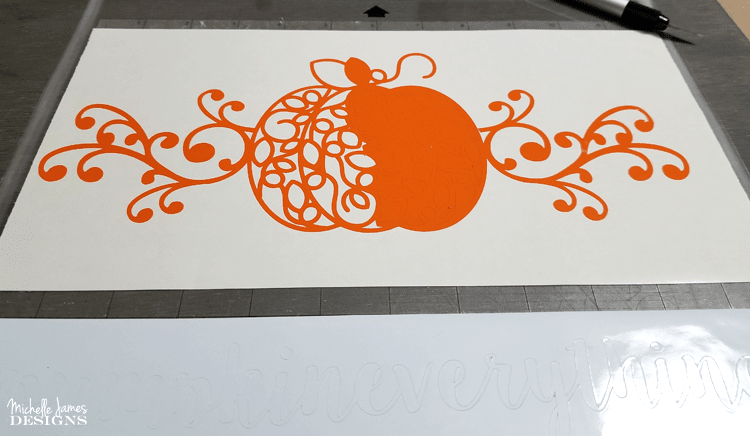 Step 5:
After weeding and before removing it from the mat and the backing paper, cover it with clear contact paper. Then slowly remove it so it sticks to the clear contact paper. Place the design with the the contact paper onto your wood piece. The contact paper allows you to re-position (somewhat). Once it is in its permanent place, remove the contact paper. You can see the process with photos in my Little Mini Wagon post.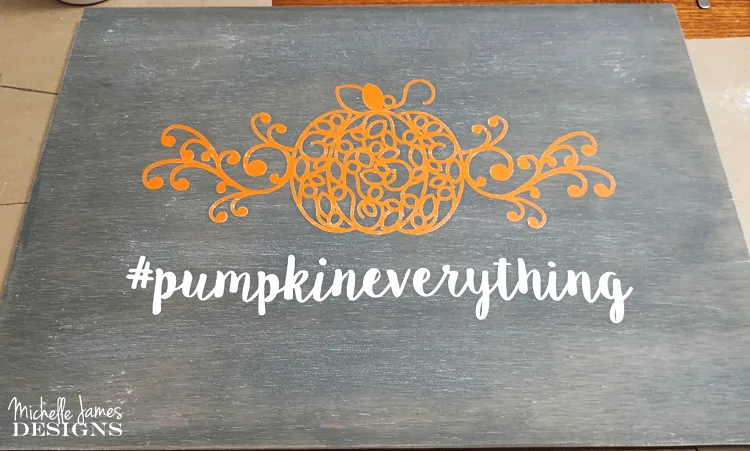 Step 6:
Dry brush a little bit of the Americana Decor Chalky paint onto the entire front of the piece. It just tones everything down and give a little bit of interest to it.
Then you are all done! What do you think?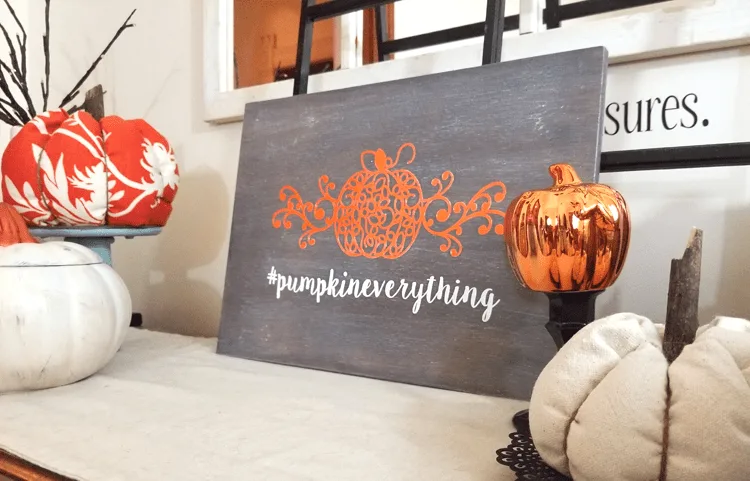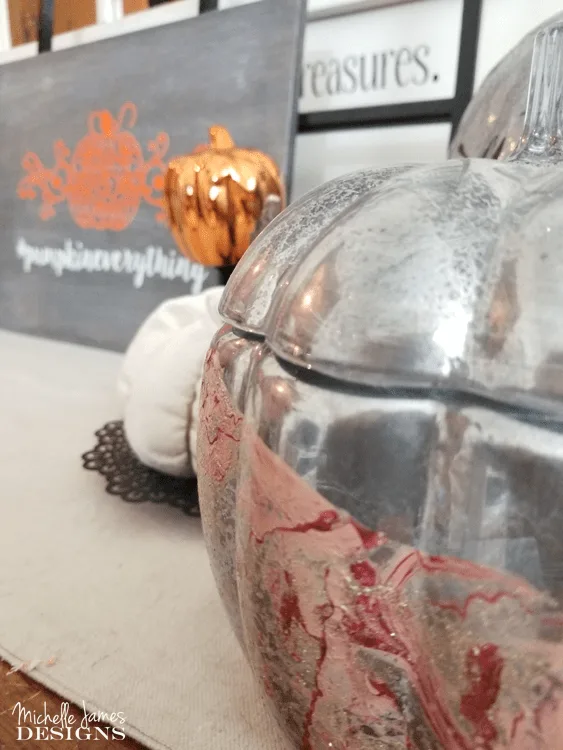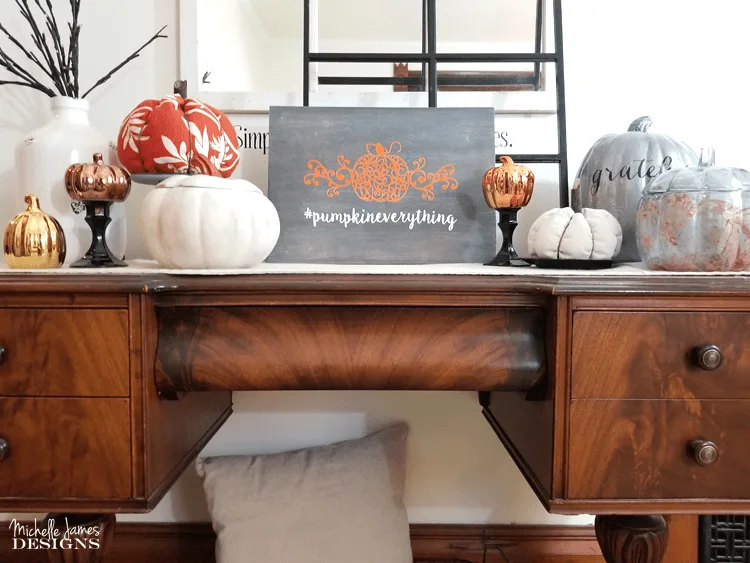 I think it came out pretty cute and I love the #pumpkineverything graphic. It is so fun!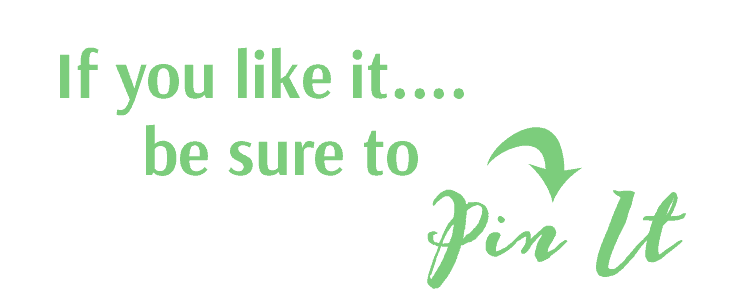 Be sure to check out the other pumpkin Silhouette projects from the other bloggers!
Pumpkin Spice Everything Nice Shirt – Pocket of Posies
Easy Fall Wooden Sign – Michelle James Designs
Filigree Punched Ceramic Pumpkins – Houseful of Handmade
Thanks for stopping by,
Michelle