Hi everyone and welcome to another Silhouette Challenge. This is a challenge I look forward to each month. Some of my previous Silhouette projects have been very challenging. This time I tried to keep some sanity and ease up a little bit and a mini red wagon is now the spittin' image of a larger Radio Flyer wagon!
The yellow wagon was cute but I already have a Radio Flyer and wanted a mini version of it for my garden. Wouldn't it be cute with succulents?
If you love DIY metal projects you can click here to find more metal crafts inspiration!
Join me and I will show you how easy this was.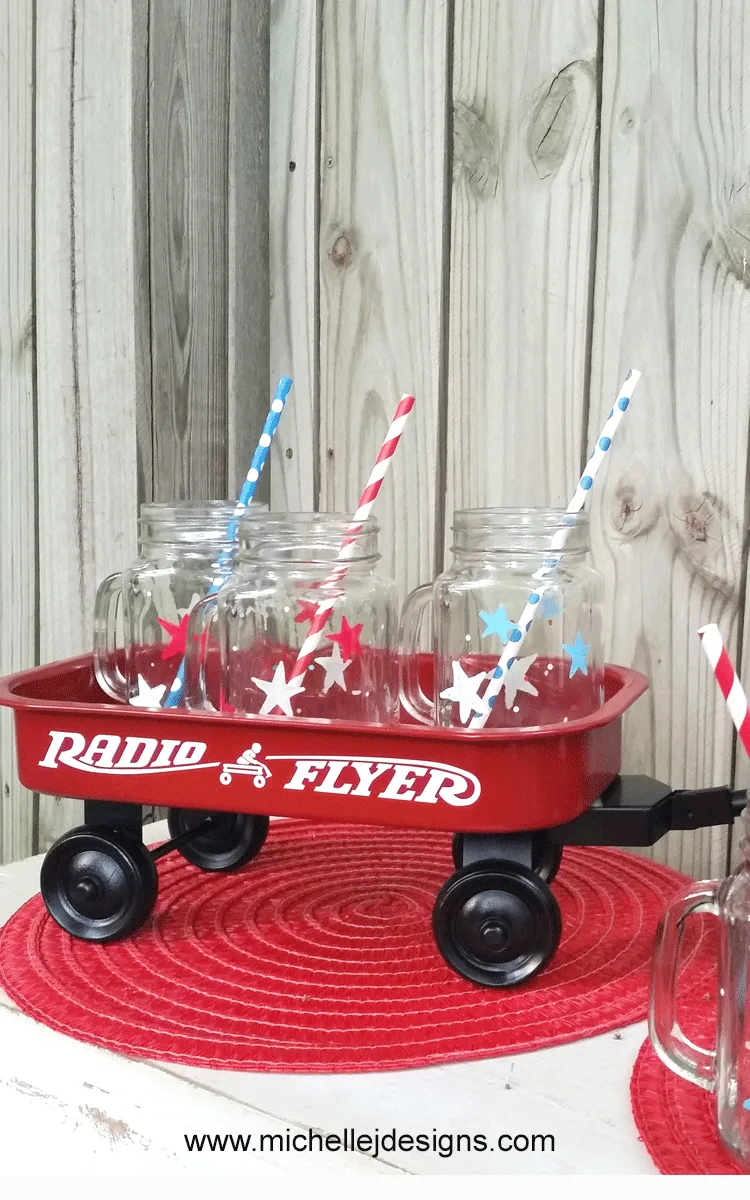 The Silhouette Challenge
Each month Cat from Pocketful Of Posies hosts this blogger challenge and each month we have a theme. For July the theme is "backyard bash". I don't have a lot of backyard parties at my house but I know that if I did there would be drinks involved. I thought this little wagon was perfect for a small get together to hold these patriotic mugs or to hold condiments for a larger gathering. There are many possibilities.
The Mini Wagon
I found this wagon at the thrift store about a year ago. I knew I would paint it but before I did it was perfect as a styling prop in the baby furniture post I did. At that time I was glad I hadn't painted it yet. I wasn't sure how I wanted it to look. But I figured it out as soon as I decided to use it for the Silhouette Challenge.
This is how it looked when I started.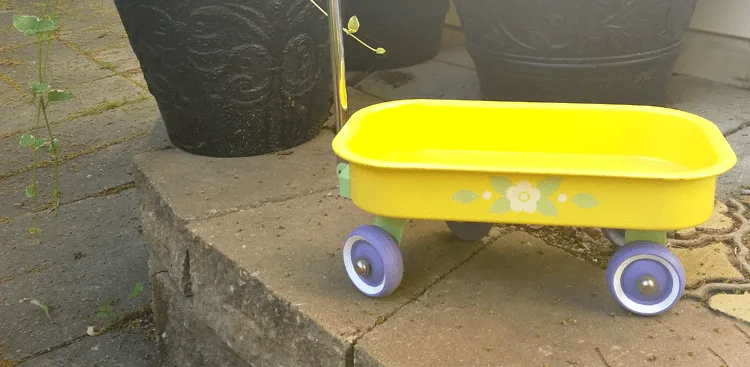 It is horrible in some ways and way too cute in other ways. It was ready for a change.
Supplies Needed To Makover A Mini Wagon:
I have included affiliate links for your convenience. You can read my full disclosure here.
Black spray paint/primer
Cardinal Red spray paint/primer
Kitchen garbage bag
White vinyl – Oracle
Silhouette Cameo Machine
Clear Contact Paper
Paint Your Wagon
I started with the black primer paint. I decided to spray the entire wagon with the black then mask of the bottom and the handle and spray the top red.
As always I started with the bottom.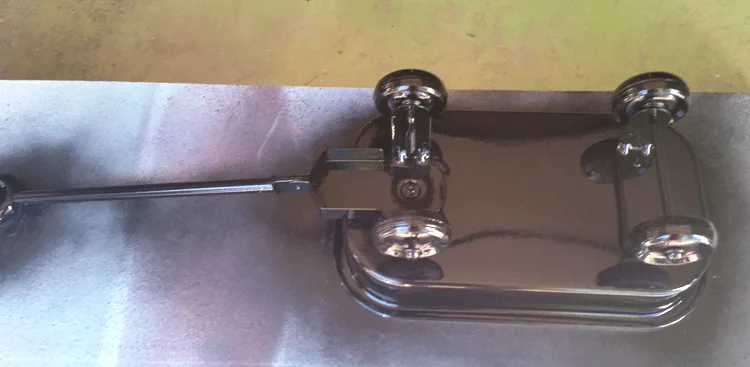 I didn't bother with the wheels. I sprayed the entire thing. Then went over it again with a second coat. After the black was totally dry I used a kitchen garbage bag, cut a hole in the side and pulled it over the wagon part and left it covering the wheels and the handle.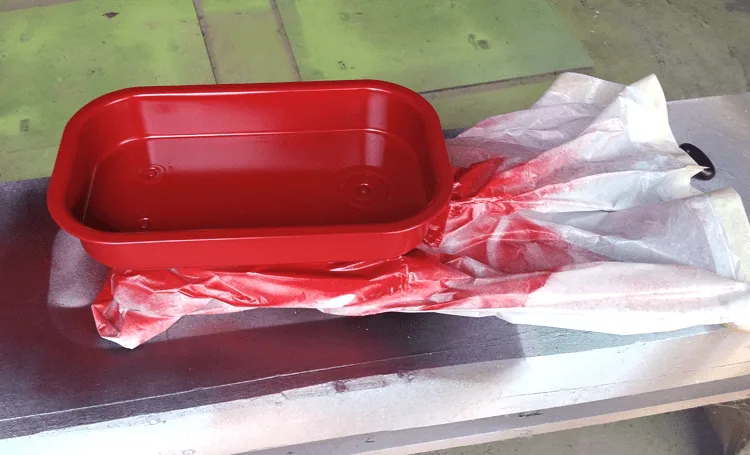 This red really was the perfect color for a wagon.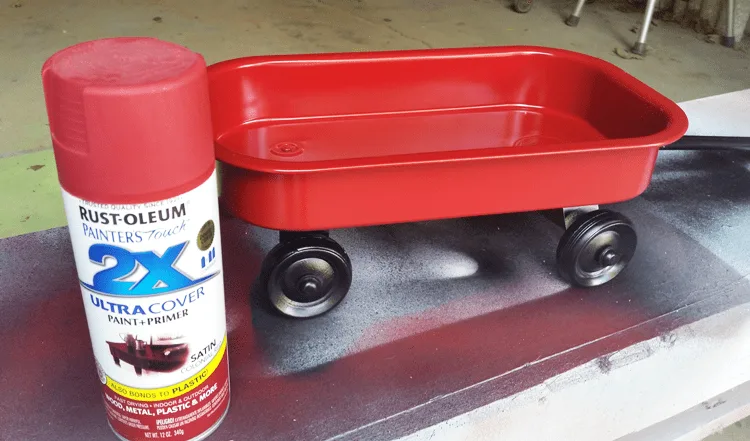 Doesn't it look cute? And much better?
Adding The Details To The DIY Wagon
This is where the Silhouette comes in to play. I wanted the Radio Flyer logo on the sides of my tiny wagon. I just thought it would be so fun.
Jeff wanted to create the file so we found a logo on the internet and he opened it in Auto CAD. I never use Auto CAD so I am not sure how to do this. But I know you can take an image and trace it in the Silhouette and end up with just the logo.
After he got done with the logo he created a .dxf file to load it into the Silhouette software program. I needed two so he did that but once it was in the program I was unable to ungroup them to move them closer together. I was a little frustrated with that but in the end it ended up fine. It left me some space to cut them apart easily.
Here is a screen shot of the design.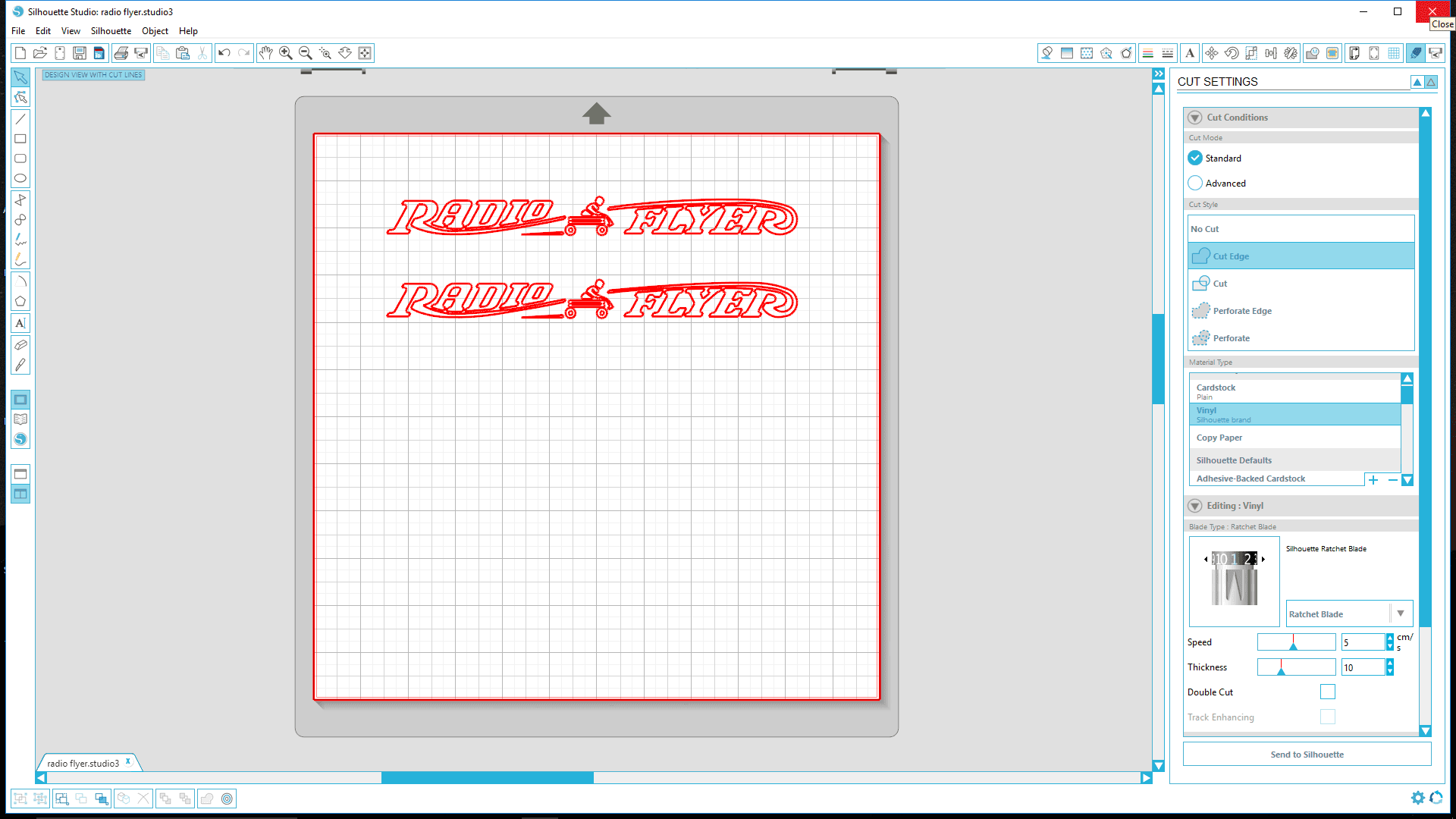 I used the white oracle 651 vinyl for this project. This vinyl is outdoor safe and even dishwasher safe. I thought if I decided to have a small potted plant outside in the wagon it would hold up better in the rain, etc.
I set the cut settings to vinyl. The suggested blade setting is 1 but I always set it one setting higher. That is what seems to work for me.
After they were cut I pulled the backing away so only the design I wanted was left on the backing. The only part that did not come out was the little "swoosh" line behind the wagon. It was so tiny and thin I didn't even realize it was there so it got thrown away. But it is okay. I still think it looks great.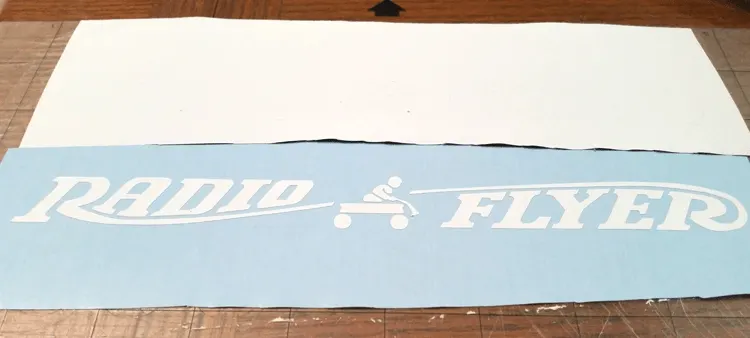 Transferring The Design To Make The Wagon Look Nice
The clear contact paper makes transferring the design to the wagon so easy.
Cut a piece of contact paper larger than the cut design. Pull of the backing and place it over the design. Gently pull up the contact paper bringing the cut design with it.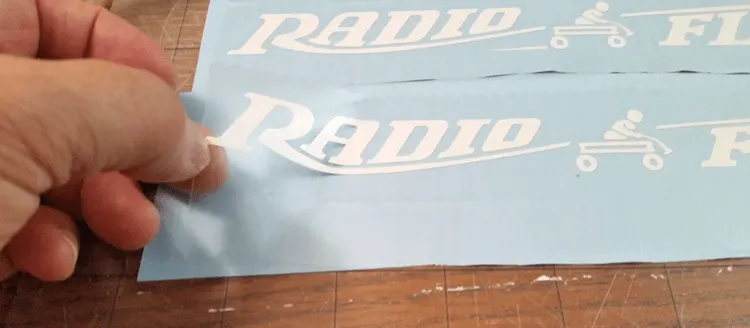 Lay it down onto your project exactly where you want it to stick.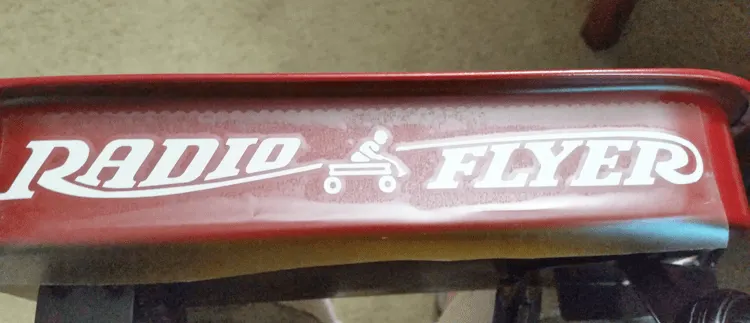 then slowly remove the contact paper leaving the design behind.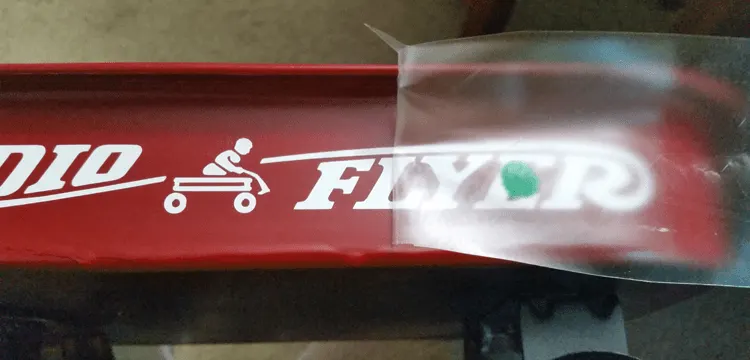 This is so much easier than trying to place each number, letter or image one at a time. UGH!
That was the last detail for this wagon and now it is ready to be the star of the show. What do you think?
How This Little Wagon Turned Out
For this backyard bash it is the patriotic glasses holder but it can be a lot of things.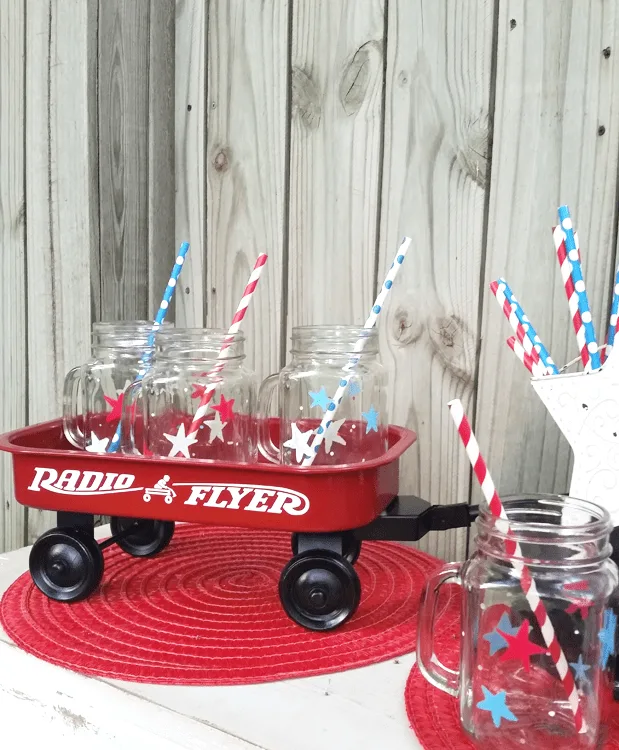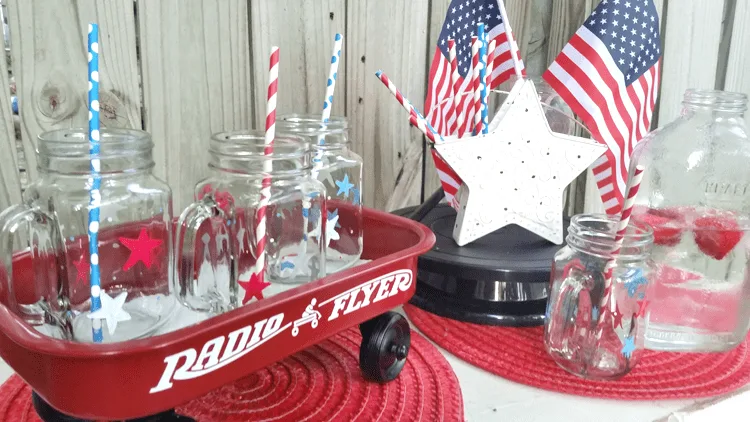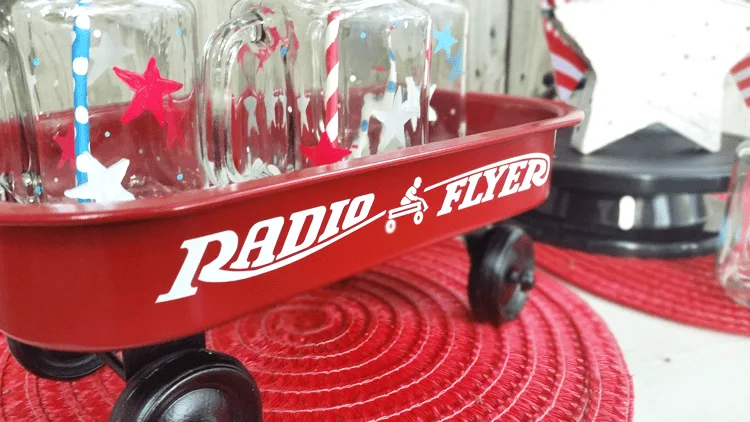 I love the way it turned out! No more cutesy…only classic.
If you like it too don't forget to pin it!

Be sure to stop by all of the blogger's Silhouette Challenge posts! There is so much talent an if you have a Silhouette they are all very informative!
Uncookie Cutter – Outdoor WallArt
Pocketful of Posies – Sip Sip Hooray Serving Tray
Two Purple Couches – No Sew Pineapple Garden Flag
Michelle James Designs – This Wagon Cute to Classic in No Time at All
Houseful of Handmade – Coastal Solar Lantern Decor
Have a great day,
Michelle