This post contains some affiliate links. This means that if you click on the links and make a purchase I will receive a small commission. These commissions help me in so many different ways from getting to my son's wedding in Jamaica to keeping this blog plugging along. You can see my full disclosure here.
Moxxie has just come out with some new scrapbooking paper lines and one of them is a Cross Country line. The sports lines are some of the most popular that she designs and I can see why. They are so easy to work with and the paper and stickers are good quality.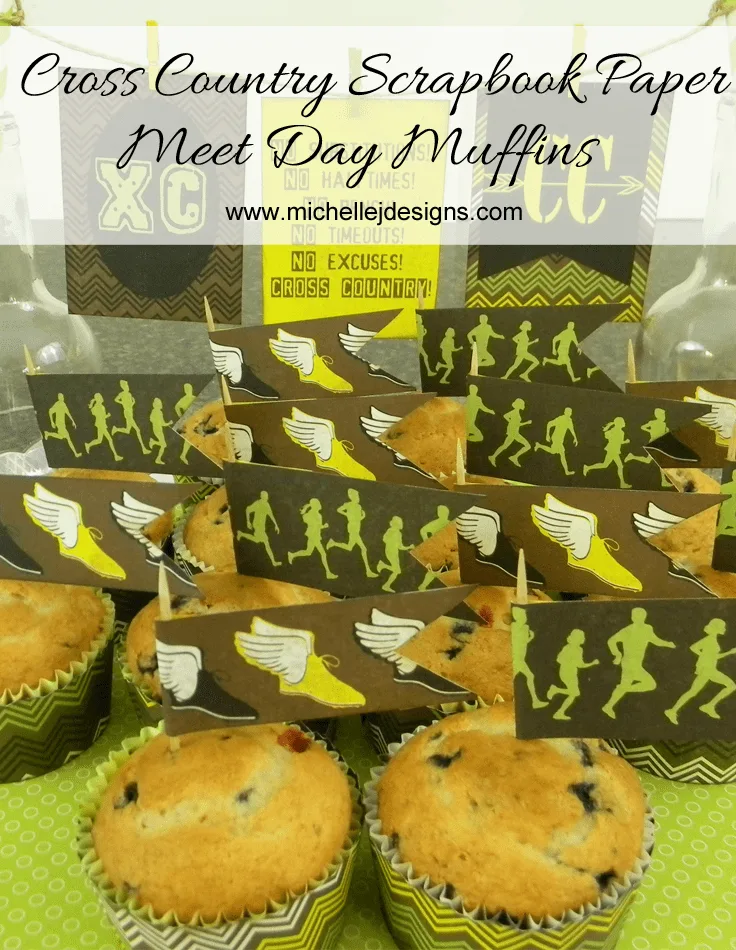 Cross Country with Moxxie
I love using things in different ways and that includes scrapbook paper. Scrapbook paper is perfect for so many different things and if you are not using it for anything but scrapbooking….please start thinking "outside of the book".
I have done this before but I LOVE it every. Single. Time. I usually use these guys as cupcake wraps but this time I used them for muffins. Meet Day Muffins. What do you think?
If you were on the X Country team wouldn't you love some meet day muffins? I know I would.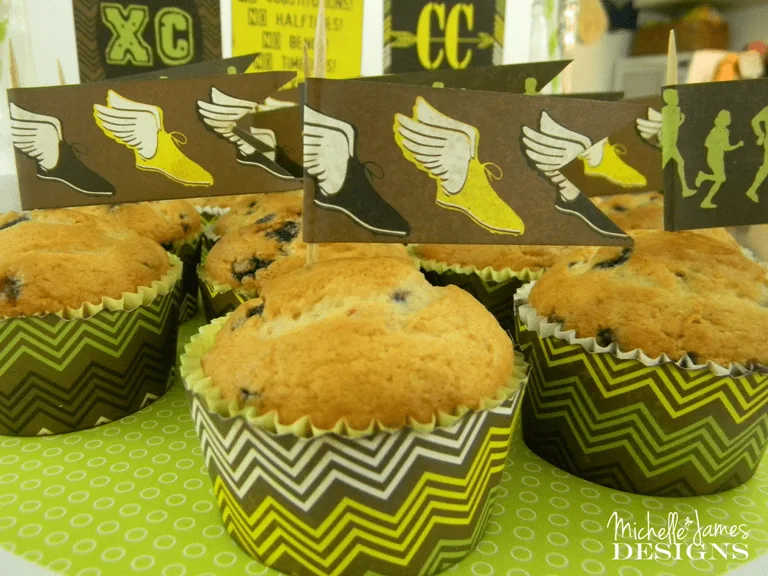 Don't they look yummy?
This is Moxxie's new cross country collection.
Supplies used for Meet Day Muffins (12 muffins)
2 sheets – Endurance from the Moxxie Cross Country Collection
2 sheets – XC – Cut Outs from the Moxxie Cross Country Collection
Scissors
Paper Edging Scissors – Deckle (or any other pattern)
toothpicks
taper runner/adhesive of some kind
Pattern for cupcake wrapper. You can find these on google or Pinterest
Pen or pencil
I used the backside (chevron pattern) of the Endurance patterned paper and traced my cupcake wrapper as many times as I could on one page then used the second page to finish up the 12 that I needed.
Then I cut the sides and the bottom edge with my regular scissors and the top edge with the patterned edge scissors. This just makes the top edge fun!
Then I placed some adhesive at one end on the back of the wrapper, wrapped it around the muffin base and attached the end with the glue pulling it a tight as possible so that it doesn't fall off.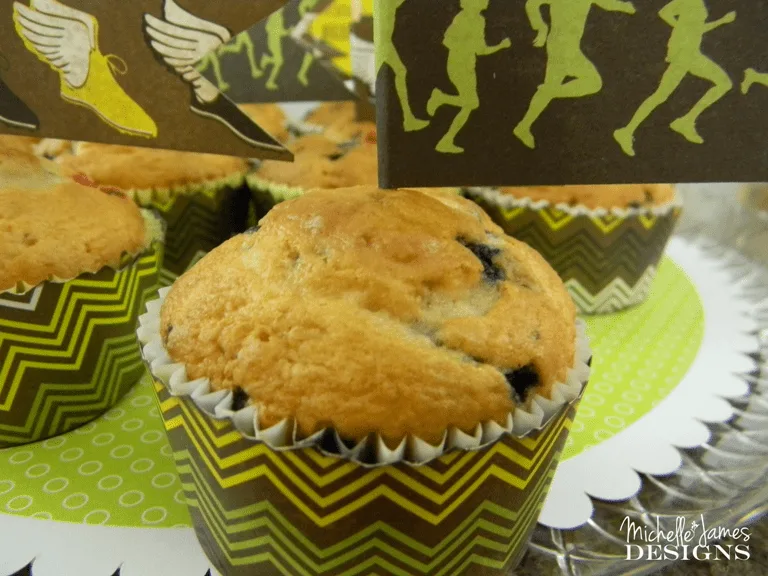 Using the Cut Up sheets I cut three of the 3×4 cards that I wanted for my banner. I tied each end of a piece of twine to a straw then used cute, little clothes pins to attach the paper pieces.
Find something to hold place your straws in like a cup of sand or in my case, the top portion of a cut wine bottle. They may look a little weird but they worked perfectly.
For the toppers I used two of the 12 x 12 borders from the cut up sheet. The one with the winged shoes and the border with the runners. I cut the borders out of the sheets then into 4 inch pieces. Then I cut a notch out of one end to make a banner.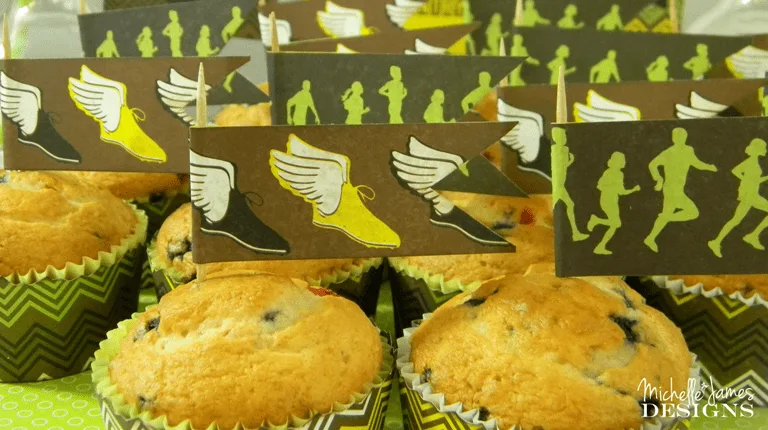 I folded one end over about 1 inch and place some adhesive on the fold and on either side of the fold. Place the toothpick right into the fold then fold the paper over and glue it down. Another wonderful thing about double sided paper is that the back of these banner toppers are a nice yellow solid color. They look great from either side.
Place the toothpick right into the top of the muffin for some special decor.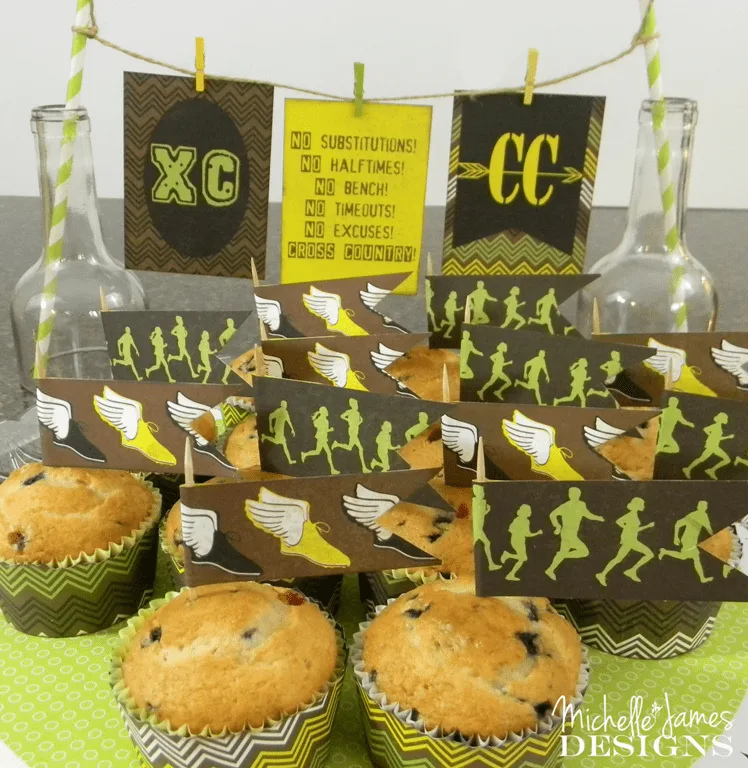 I placed them all on a tray with, you got it, another piece of scrapbook paper. This time a round piece. Scrapbook paper is so fun!
So, for you parents that may not scrapbook you can still use the fun papers for parties and even photo backgrounds if you are a blogger.
I hope you enjoyed these muffins as much as my family and I did. Brian was home and they were devoured as soon as the photos were taken.
Thanks so much for stopping by and don't forget to sign up to receive my newsletter right to your inbox! You can do that at the top of this post!
I am sharing this post at: