Hello! And welcome to our Dollar Tree post. These are my new favorite posts to write and create. Today I am showing you how I made DIY fall solar light decor to add to my back step by my back door.
It is super cute and really cheap plus easy to make. Although for the honest truth parts of it look a little bit cheesy but I still like it a lot and I hope you do too!
If you LOVE Dollar Tree crafts and gifts then you are definitely in the right place.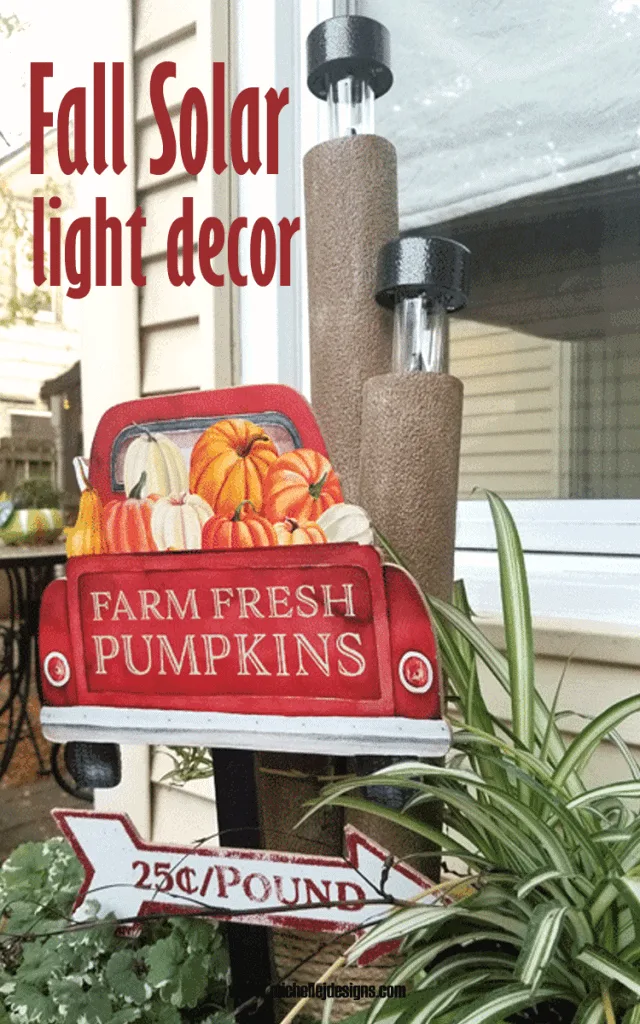 Fall Solar Light Decor
This was a fun project and it didn't take me very long. So, if you are looking for something easy and quick but will really pack a punch at your back door or front porch you may want to give this one a try.
If you like to watch a step-by-step video then just click on the link below. BE SURE TO SUBSCRIBE TO MY CHANNEL WHILE YOU ARE THERE!
DIY Tiered Tray Using Chalk Paint On Glass Video
If you like to see a written tutorial then keep reading for all of the juicy details. LOL!
Materials Needed
I have added some affiliate links for your convenience. You can see my full disclosure here.
Fall Solar Light Decor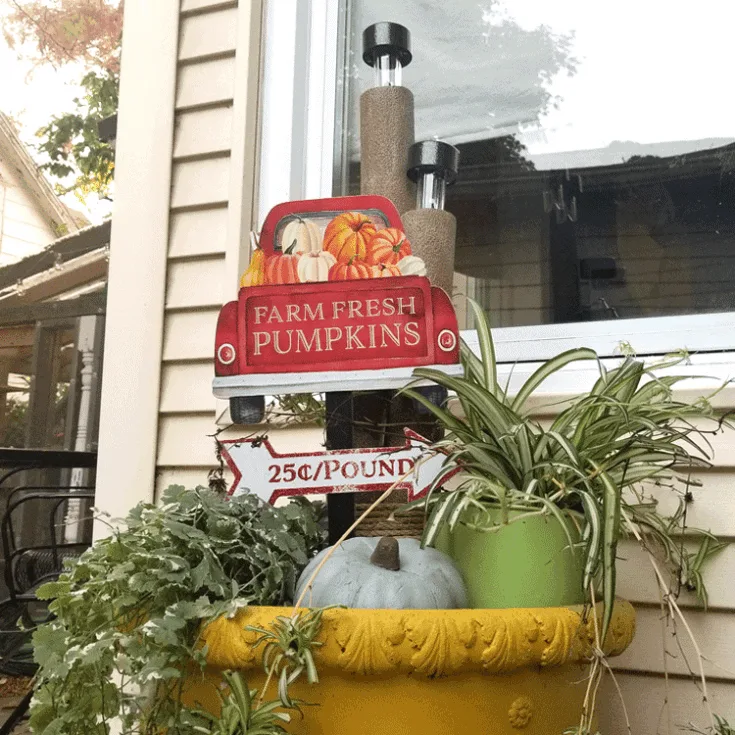 This the perfect way to create an ambient fall solar light display for your porch or back door. It was easy and fast to make and it won't break your bank either!
Prep Time
2 hours
1 second
Active Time
2 hours
1 second
Total Time
5 hours
2 seconds
Estimated Cost
Less than $10
Materials
Dollar Tree Pool Noodles (2)
Dollar tree Happy Fall Decor
Rope
Brown Spray Paint
Tan Acrylic Paint
Tools
Hot Glue Gun and Glue Sticks
Paint Brush
Instructions
1. Cut the pool noodles to three sizes, small, medium and large. I didn't measure anything. I just wanted staggered sizes.
2. Use the brown spray paint to paint the noodles. I wanted mine to look like wood.
3. When they are completely covered and dry (it took a couple of coats) use a dry brush to add some of the light tan acrylic paint to create depth and make them look more like wood.
4. Use the hot glue gun and glue sticks to glue them together. Be sure to line up the bottoms of the pool noodles. Create a "triangle" if you will. I put the taller one in the back, the middle height in the middle and the shorter one in front.
5. Add the rope. Start in the back and use the hot glue to start the rope. Then wind the rope around the three pool noodles until you have the amount you want. Mine ended up being about 4 inches or so. Cut the rope and glue the end down.
6. Add the solar lights to the top. They go right into the hole in the pool noodle.
7. Then add some sort of way to drive them into the dirt of a pot or the ground. I used some old solar lights. I took the light part off and just used the stake and the plastic part that goes into the ground. These worked perfectly.
8. Add your Dollar Tree Happy Fall sign in front of the pool noodles then decorate around them with fall pumpkins, gourds, mums or whatever you like.
If you live near a Dollar Tree store it is best to shop and purchase in the store. You can search for these items at dollartree.com but most likely you will need to purchase in bulk. Sometimes this is great if you are needing to make a lot of one thing. I try to find similar or fun items that will work or be somewhat similar from Amazon just in case you love to online shop or don't live near a Dollar Tree store.
Step 1: Cut and paint the pool noodles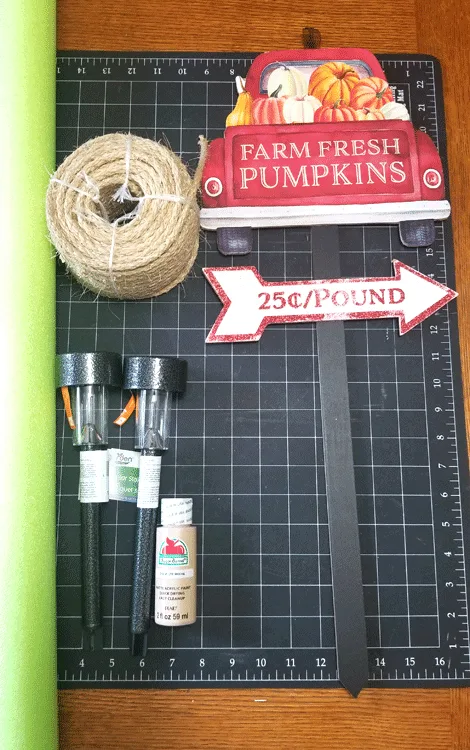 I needed two pool noodles to get the sizes I wanted.
Cut a small, medium and tall size to create a staggered trio of noodles.
When you have cut the sizes you like use the brown spray paint and give them a couple of coats of paint until fully covered. Be sure to paint the ends. The tops will show.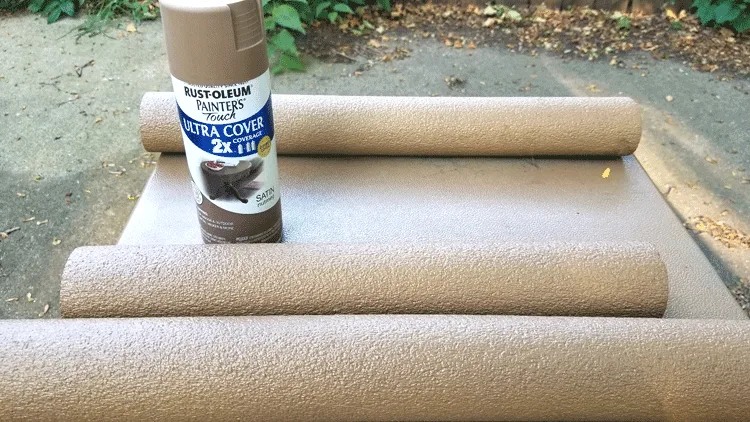 After the spray paint is completely dry, use a dry brush and the lighter tan paint to add some highlights. This give the paint a more realistic look of wood.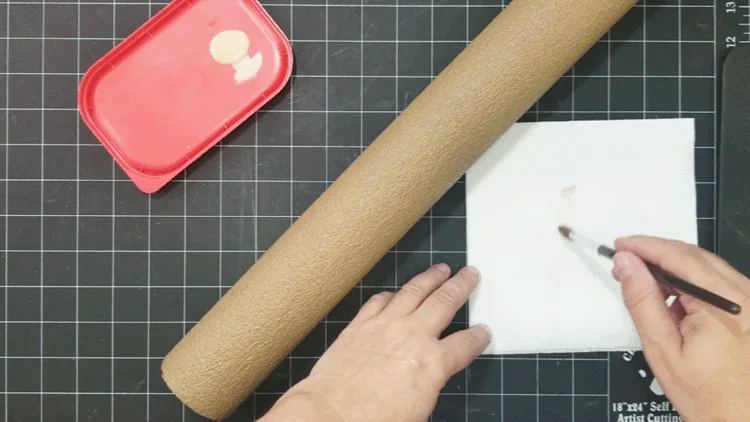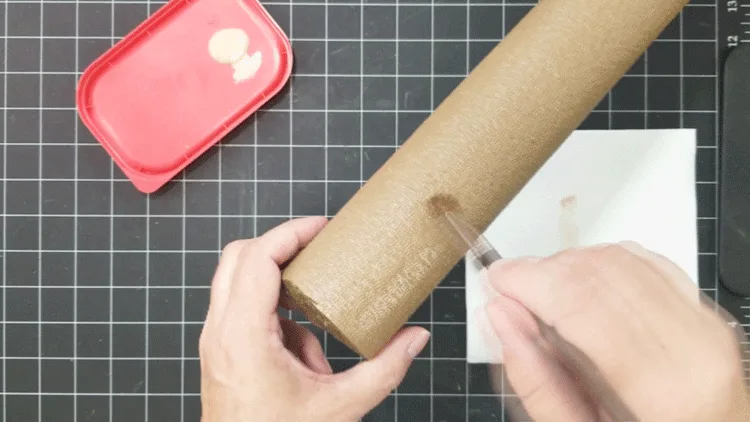 When you get all of the pool noodles dry brushed they will look a little like this.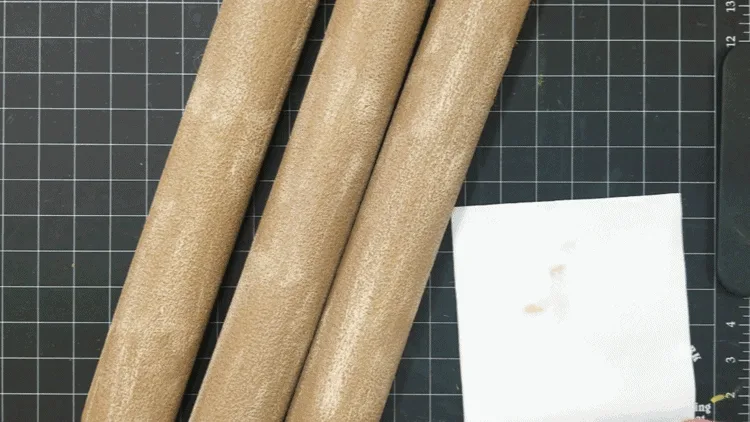 Step 2: Glue the noodles together
Now that you have painted you are ready to glue the noodles together to form your "wood pieces".
Lay them out the way you want them taking care to line up the bottoms of them evenly.
Add some hot glue and glue one to the other, then add the third one.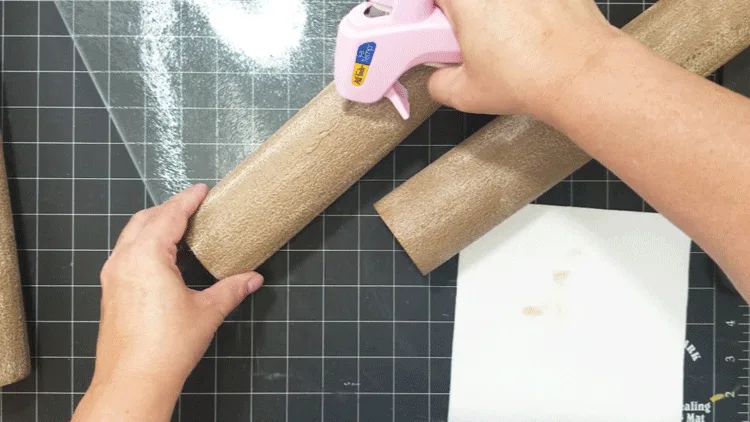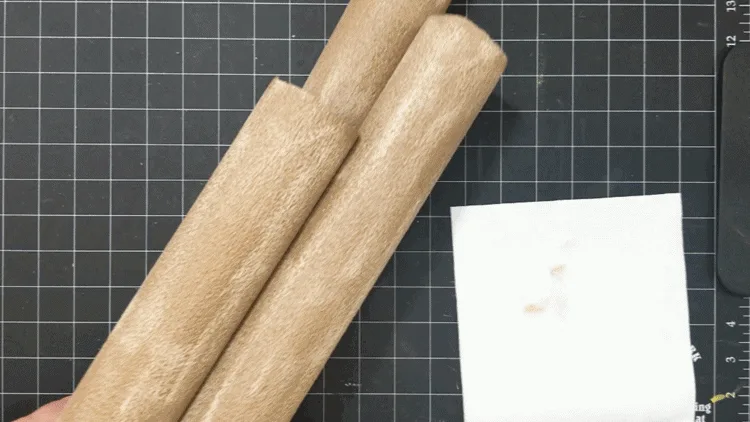 Step 3: Add the rope
Grab your rope and keep the hot glue gun on.
Decide where you want your rope to go. Start on the back of your noodle and glue the end down.
Then wrap the rope around until you like the look.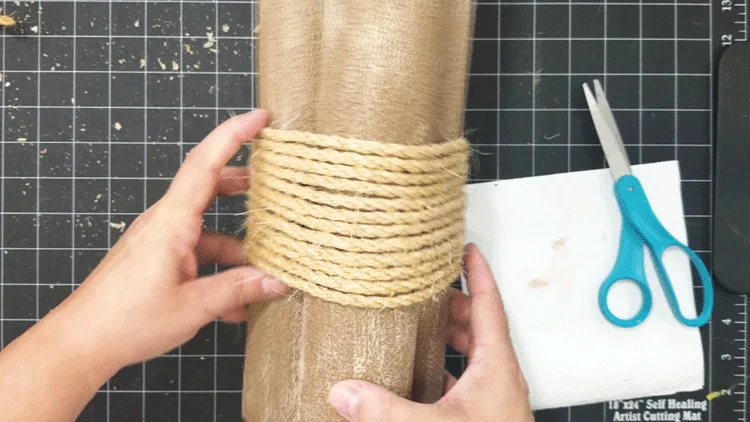 Cut the rope and glue that end down as well.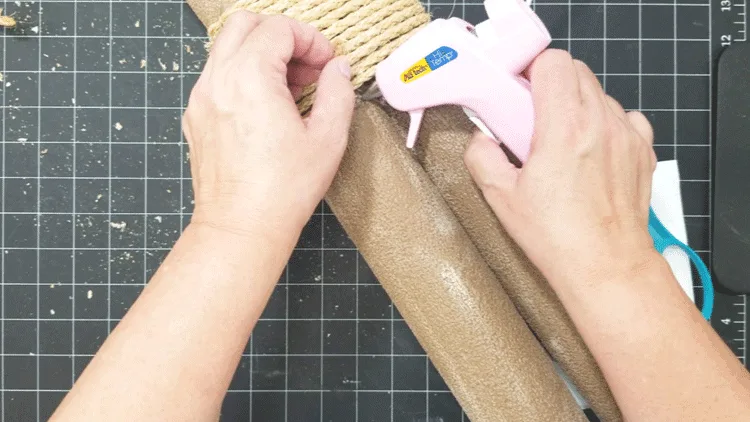 Step 4: Add the lights and the stakes
The next step is to get it ready to add into a pot or the ground and add the solar lights.
I had some extra solar lights from last year.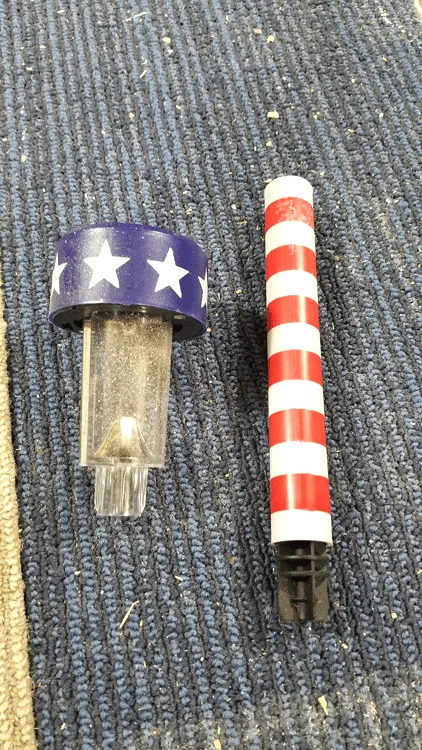 I used the striped part and the stake that is inside of it to keep the noodles standing in the pot.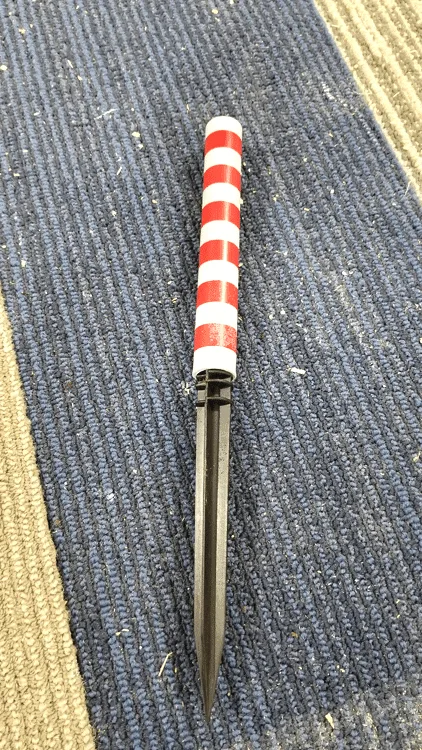 Place this into the hole at the bottom of the noodles.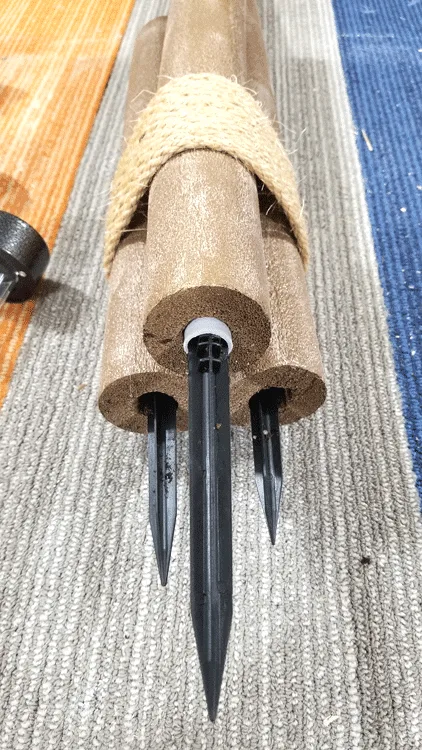 Add the new solar lights to the top of the noodles after they are in the ground or the pot.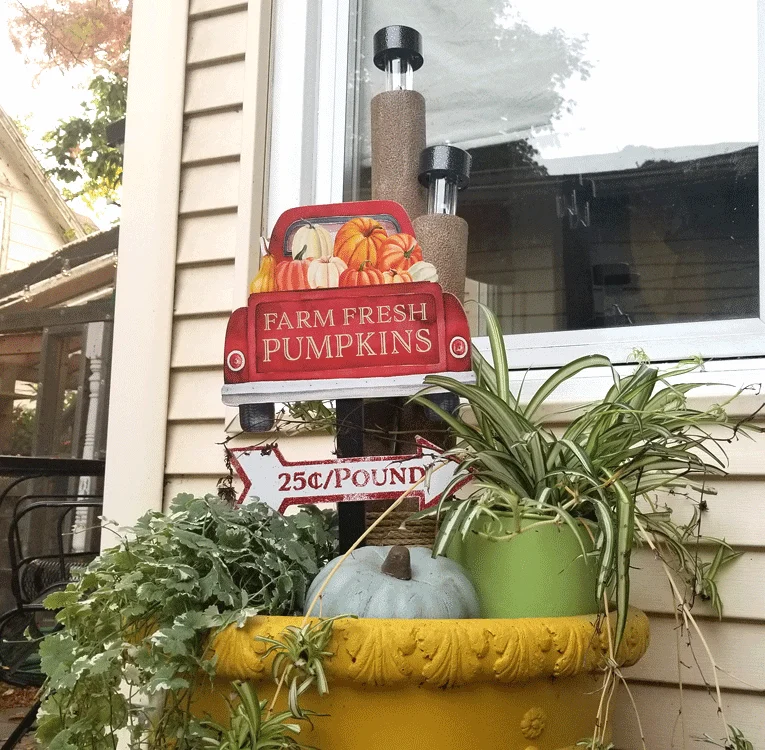 Finishing Up
After the lights are installed finish up by adding all sorts of fall stuff. As I write this post it is August and our mums are not quite open and there are no pumpkins so I used my green plants and some painted pumpkins but you get the gist right?
What do you think?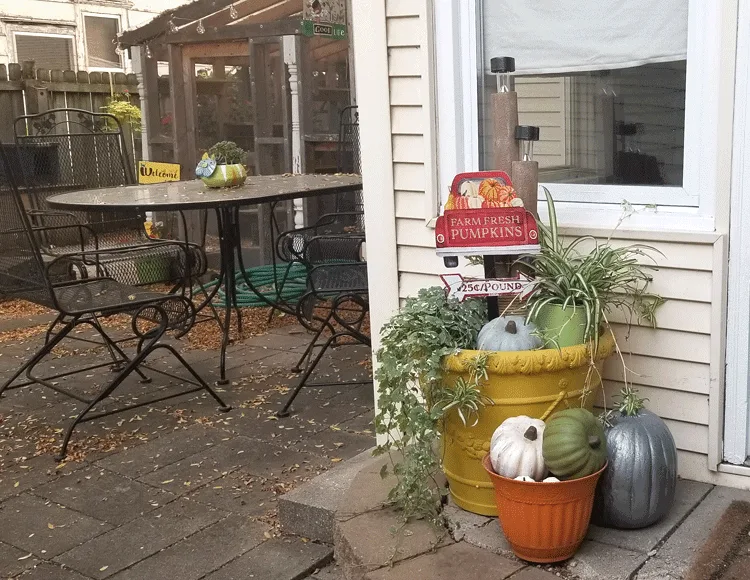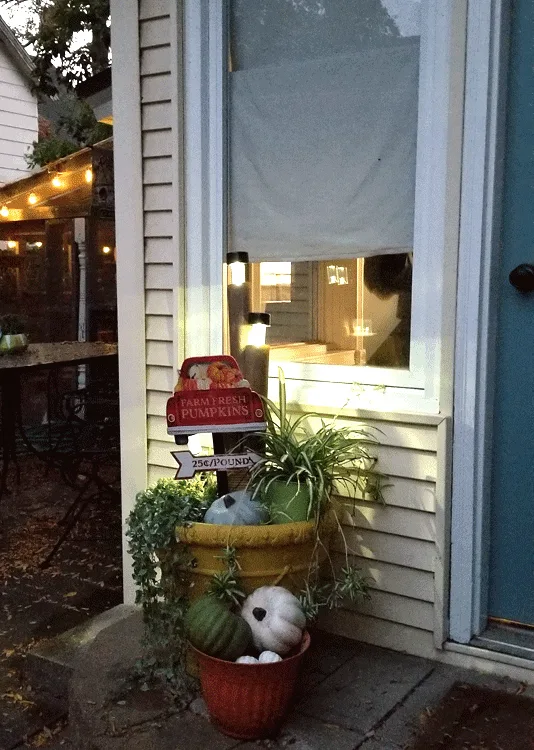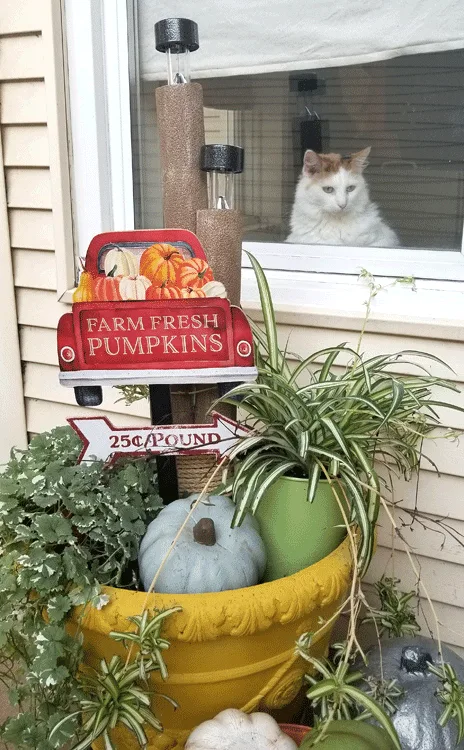 Be sure to check out my friends Dollar Tree posts as well!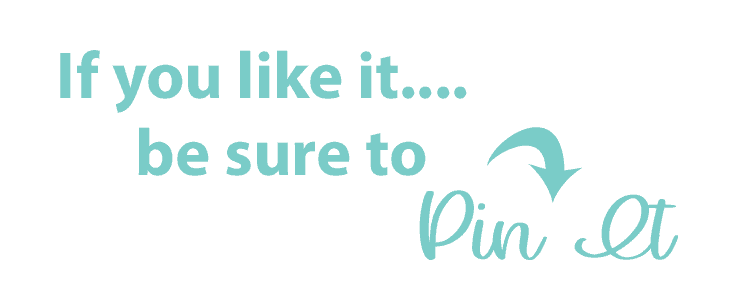 Please join our Facebook Group – All Things Dollar Store, DIY, Crafts, Home Decor!
You will love it!
Thanks so much for stopping by!
Michelle