Dollar Tree pillow cases are a great option for throw pillows. These easy Halloween and fall throw pillow covers turned out great.
You guys know how much I love the Dollar Store right? Today there are six of us sharing great fall decor ideas using dollar store items. I love this kind of thing and it is so fun to see what others create. I am showing you how to make a fall throw pillow covers using pillow cases from the Dollar Tree!
I am always making some sort of Dollar Tree craft or gift. They are easy on the brain and the budget! And, they look fantastic!
When I went looking for some fall items at my (semi) local Dollar Tree there wasn't much out yet. There were two employees stocking shelves and hanging fall decor but they had just started and I didn't want to stare and stalk them as they worked. So, I decided I would walk around and see what I could find then wander back and see their progress.
As I was walking around I found some pillow cases that I had never noticed before. There was a tan, a rust-ish color and a gray. I bought all three thinking they would make great fabric for some fall throw pillows!
I was right! They turned out super cute!
You can see a full round up of Fall Dollar Store Craft ideas that I have created. They are so fun!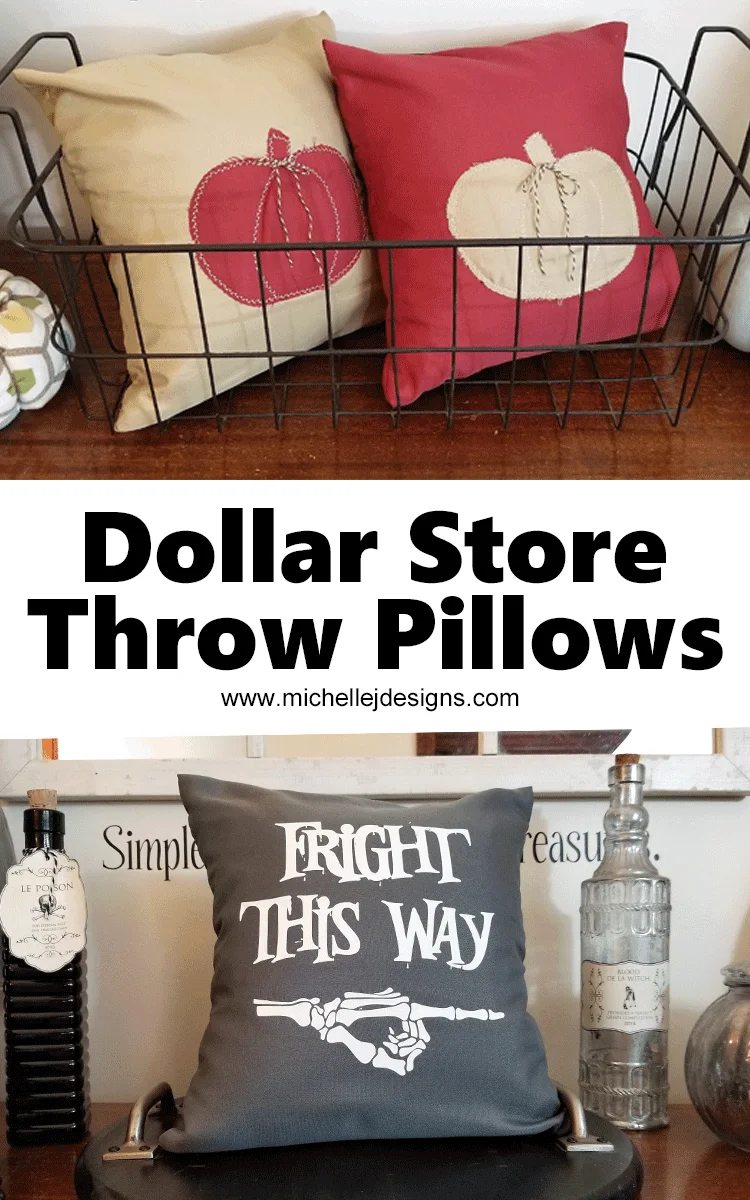 Dollar Store Divas
Hello and welcome! I love teaming up with blogging friends to share great crafts and DIY's with you. Today there are six of us all featuring fall decorating ideas using Dollar Store supplies.
Here are the creative co-hosts participating in this Dollar Store blog hop:
And because we all love crafting with Dollar Store items, we will be back every month with a themed Dollar Store blog hop. We have a snazzy new name-Dollar Store Divas-and even a fancy graphic created by Michelle James Designs:
We hope to inspire you to craft and create with us and look forward to seeing you on the third Friday of every month for all things Dollar Store. At the end of the post, you can click on the links to see the rest of the fall inspired DIY's!
Let's get started!
I love projects that don't include a ton of materials. I have included some affiliate links for your convenience.
Dollar Store Fall Throw Pillow Covers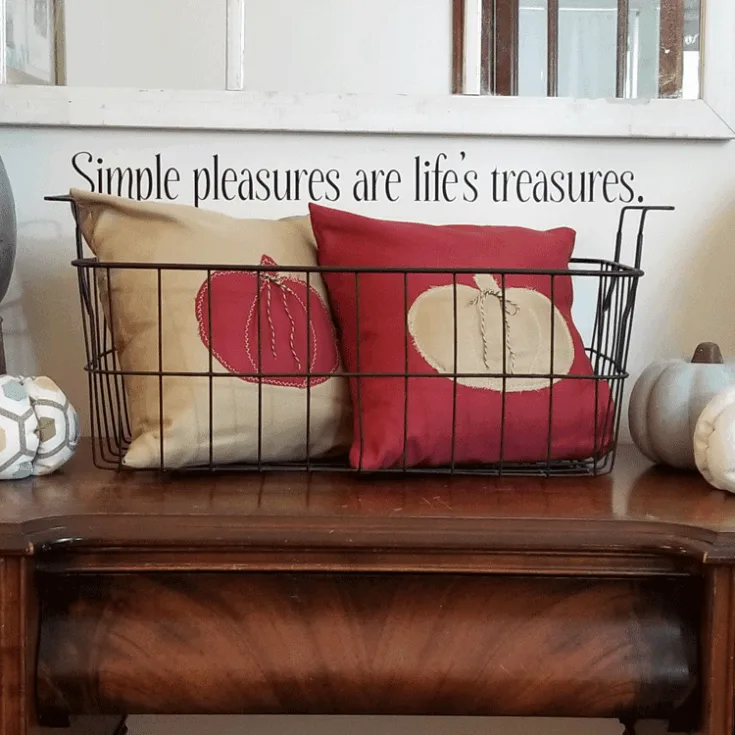 Create easy, inexpensive fall throw pillows using dollar store items.
Materials
Pillowcases from the Dollar Store
White Iron On Vinyl
Brown Bakers Twine
Tools
Instructions
Open and iron the pillowcases to get them ready to cut.
Measure and mark 13 inches from the long side the length of the entire case
Cut the side off along the marked line. This is the new size for your throw pillow cover.
Use a paper pattern to cut out a fabric pumpkin from the left over fabric or cut your design from iron on transfer.
Fold the pillow cover to find the front center where your design will be.
Pin or stick your design down then open the fabric so you don't stitch all the way through
Stitch your pumpkin down or use an iron or a Cricut Press to press it down.
Refold your fabric with right sides together.
Stitch the two sides of the pillow cover
Turn right side out and iron as needed!
I have two different projects going on here. The throw pillow covers are the same procedure, but I will show both ways I decorated the fronts.
Step 1: Open and iron the pillowcases
These pillow cases are the perfect choice for small throw pillow covers. They are $1 each and I purchased all three colors.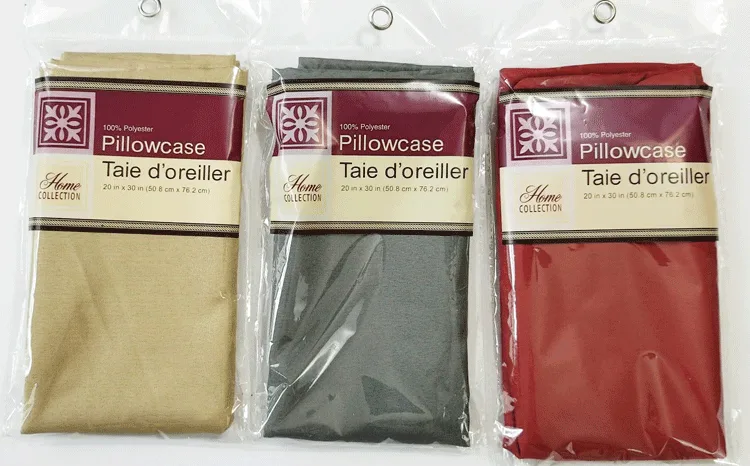 They were pretty wrinkled when they came out of the package so ironing helps a lot.
Step 2: Draw and cut the lines for the pillow cover
I already had some 12 x 12 pillow forms that I used for my Valentine pillow covers. So I knew I could re-use them for these new fall pillow covers. So my measurements are for this size.
The width of the fabric needed to be 13 inches wide to include half inch seam allowances on each side. I measured along one side and drew a cut line.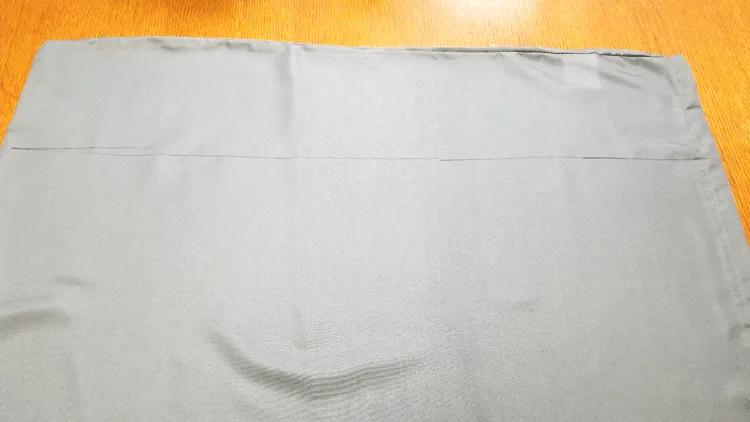 Cut along the line. Save this extra fabric to trace the pumpkins for the next step.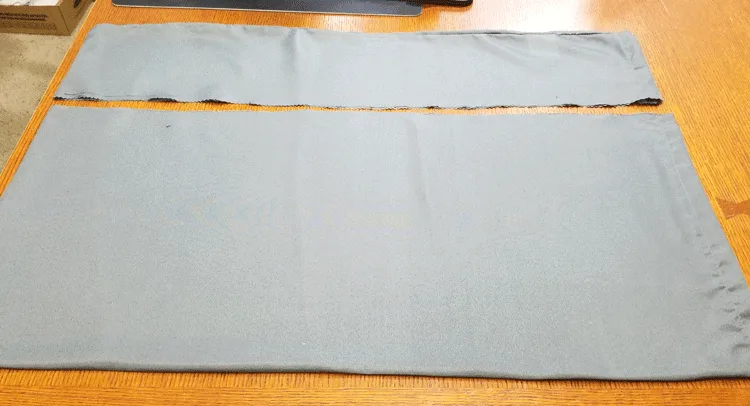 Step 3: Cut the pumpkins for the fall pillow covers
Using a piece of paper draw or trace a pumpkin to use as a cut pattern.
Trace one pumpkin on the tan fabric and one on the rust fabric and cut them out.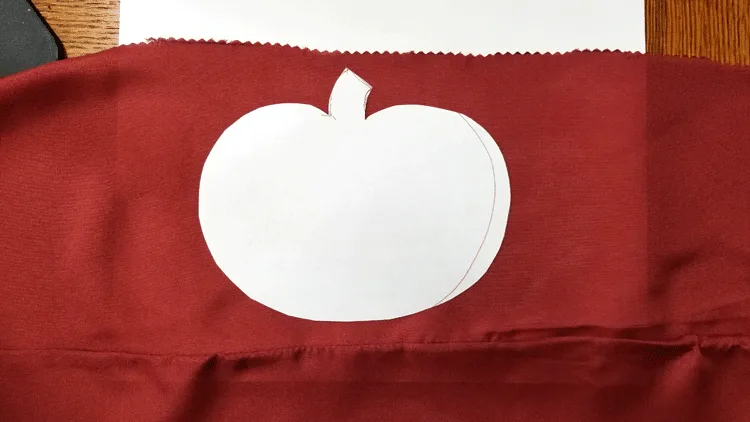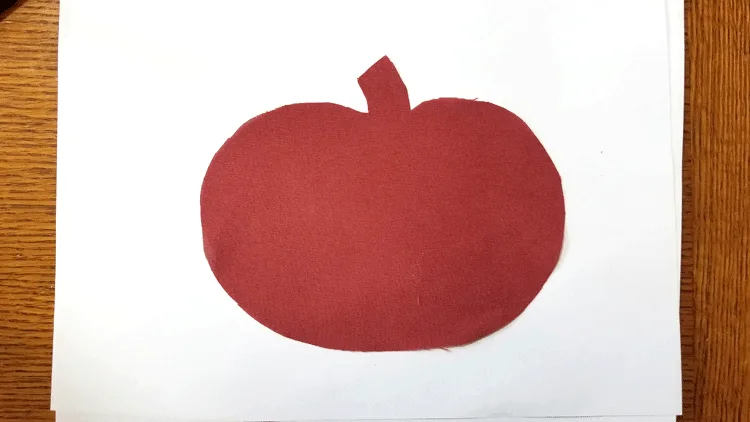 One more step is to lightly draw the curved lines onto the pumpkin for stitching. This adds detail to the design.
Step 4: Stitch the pumpkin onto the pillow cover
Before adding the pumpkin to the center, fold the ends of the cover in to overlap until it measures 12 x 12 from top to bottom. The width should still measure 13 inches because it is not stitched yet.
Once you have the pillow folded to the correct size pin or clip the sides in place just until the pumpkin is placed exactly where you want it. Pin it in place but just to the top layers. You don't want to stitch it all the way through and close the envelope.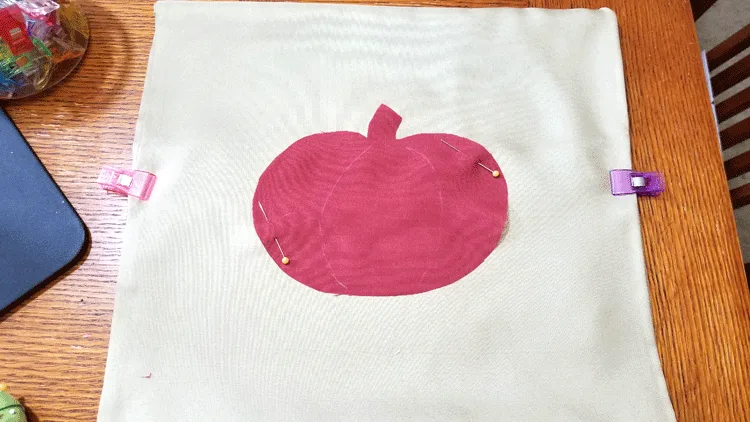 Stitch around the edge then on the curved, detail. I used my new Singer sewing machine and used a fancy stitch for the first time ever! It was so fun.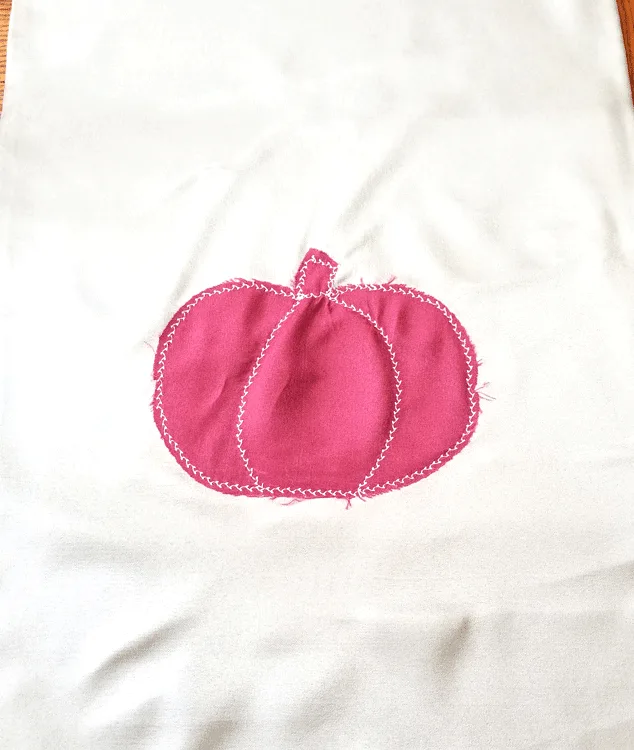 "Fright This Way" Pillow And Free Cut File
For this pillow I created a free cut file. It is available in my resource library for you to download. If you are already on my email list and have the password you can click on this link: Library
If you don't have the password and would like it you can click the button/photo below: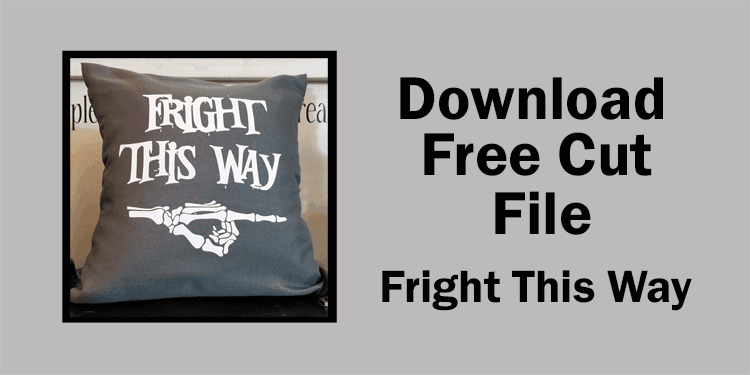 Once you download the cut file bring it into the Silhouette or Cricut Design space. If you are using a Silhouette and a png file you can watch this video to see how to trace the design and make it work.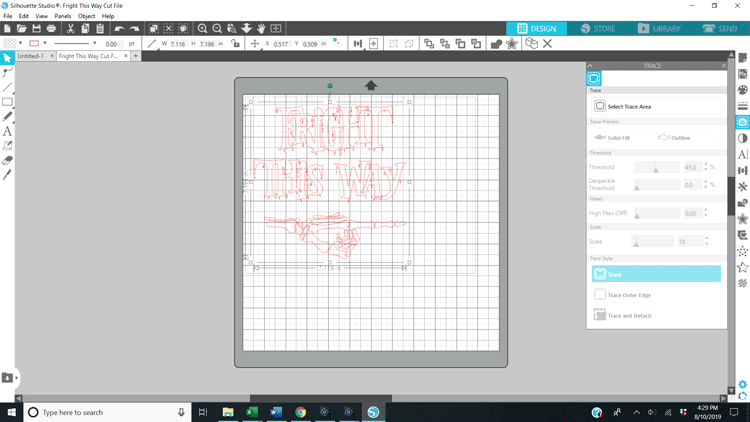 Be sure to mirror the image for the iron on vinyl design.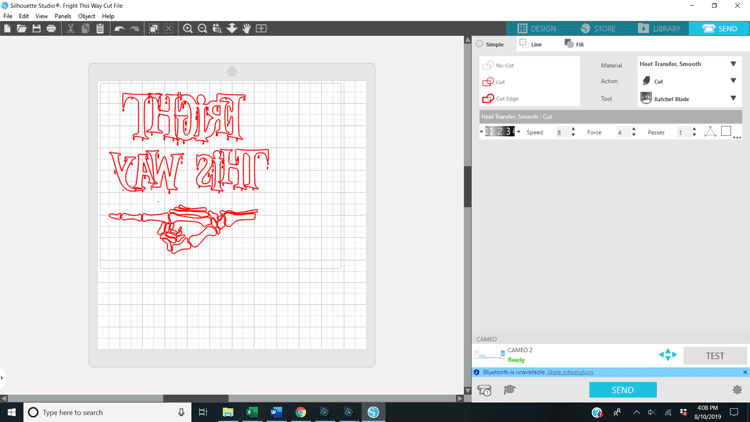 Once your design is cut, weed away the extra vinyl. Follow the steps above to center it on the pillow front.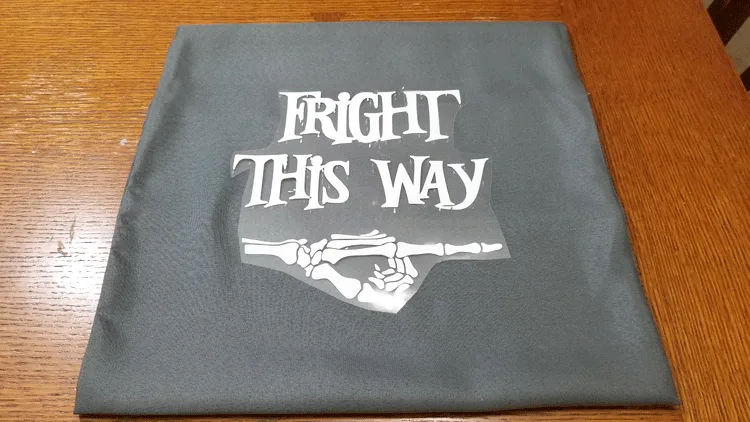 Use an iron or Cricut Press to adhere it to the fabric. This fabric is polyester so I heated my press to 315 degrees. My cheat sheet for times and temperatures said 30 seconds but I actually had to do the 30 second press 4 times. The last time I let it cool before trying to remove the backing. It came out so nice.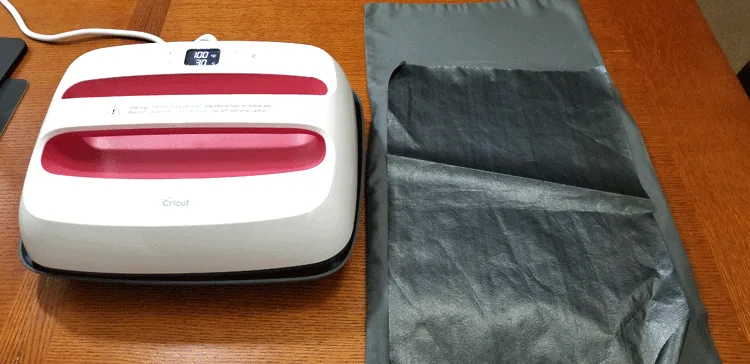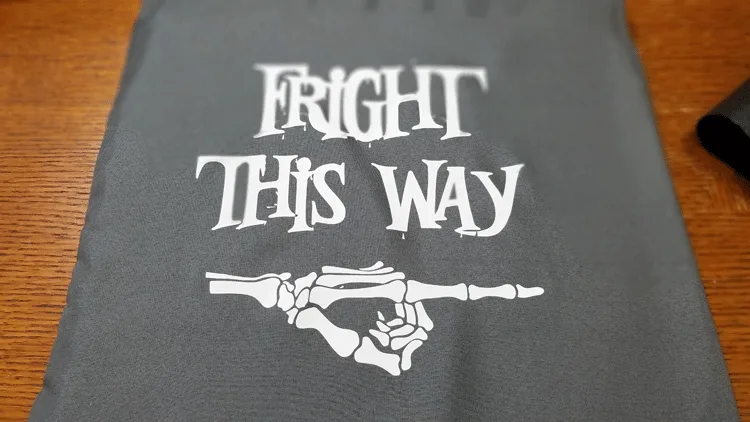 Step 5: Complete the sides of the pillow to make the envelope
Once the designs are completed on the front of the covers we an fold them right sides together with the backs overlapping to form the envelope. This allows you to remove the pillow form when ever you want and wash them or change them out for different seasons.
So, fold it with right sides together. Your design will be inside. Use pins or clips to hold it in place while you stitch.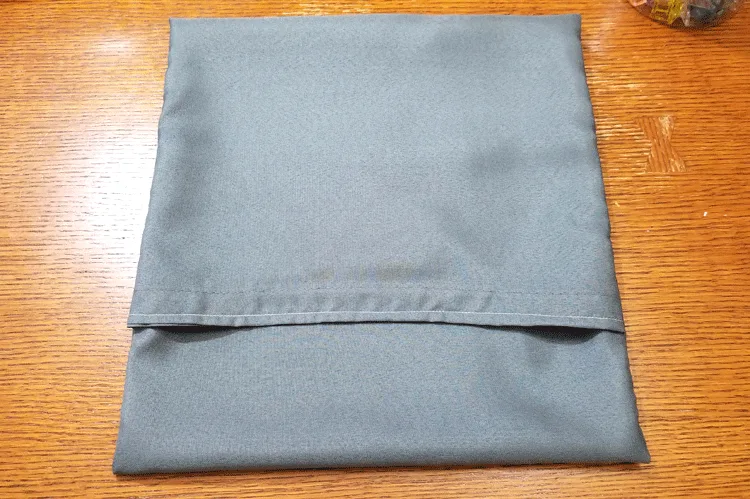 Stitch down each side.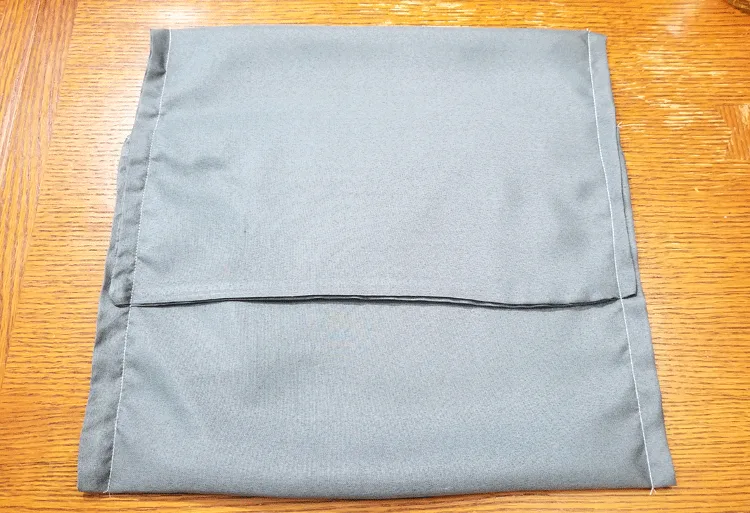 Turn it right side out to reveal your design on the front then add the pillow form through the opening on the back.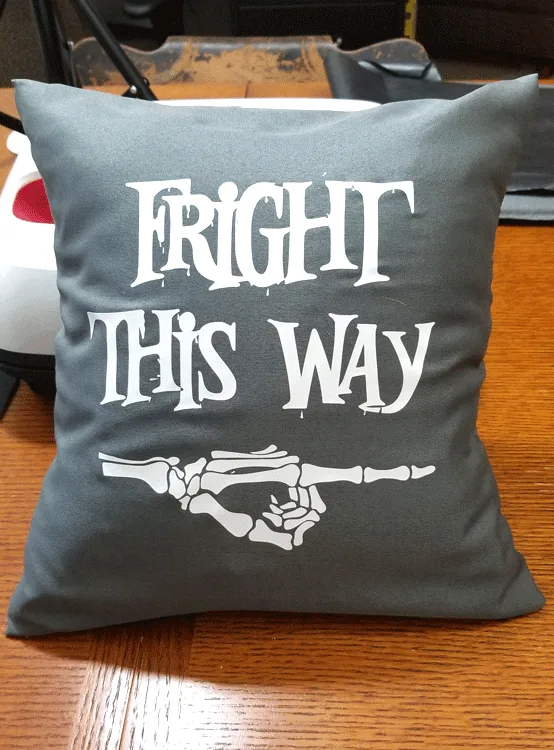 I love the way these all turned out. And if you love them you will also love this Dead and Breakfast Shadow Box!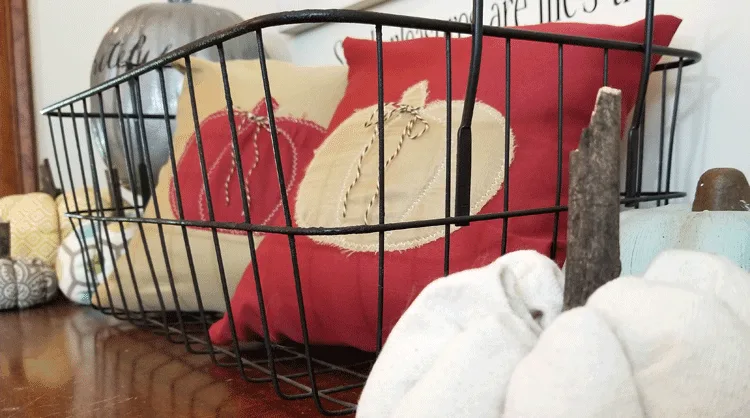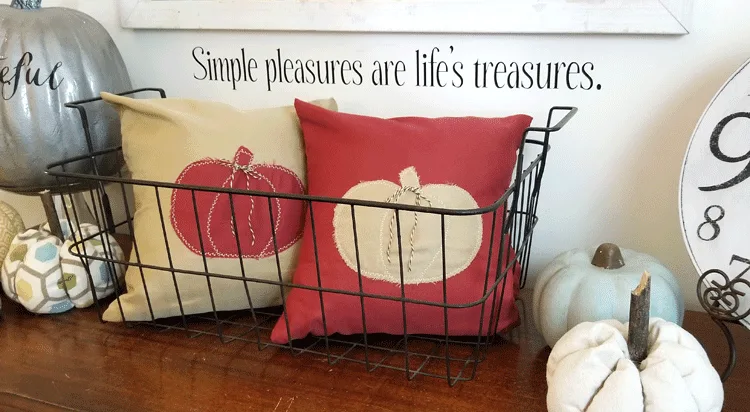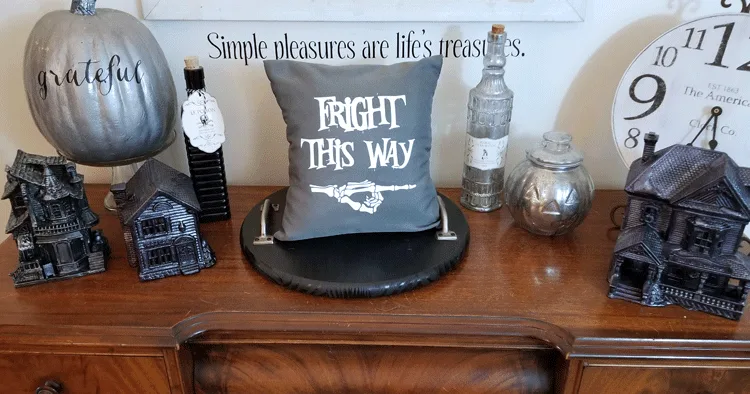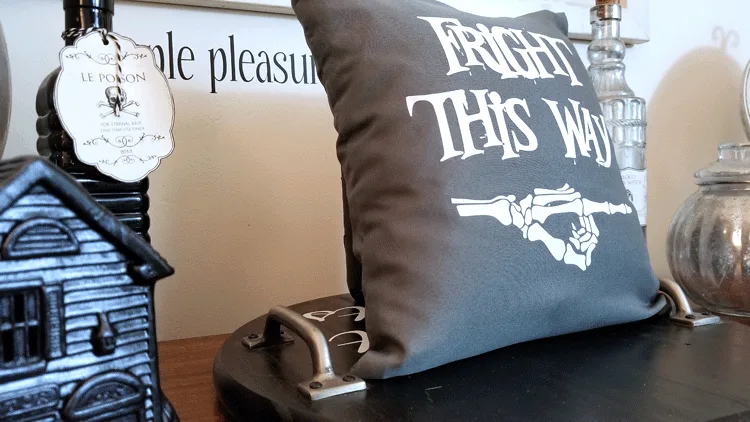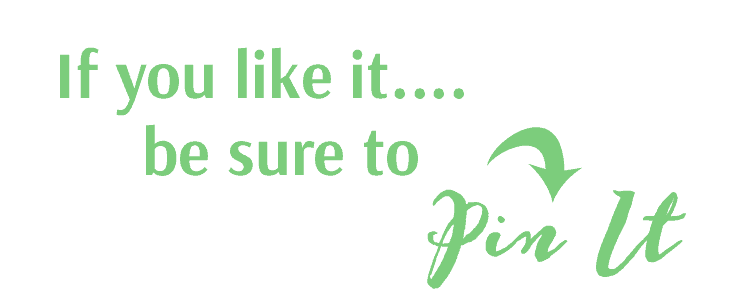 Here are several images! Feel free to pin one or all of them!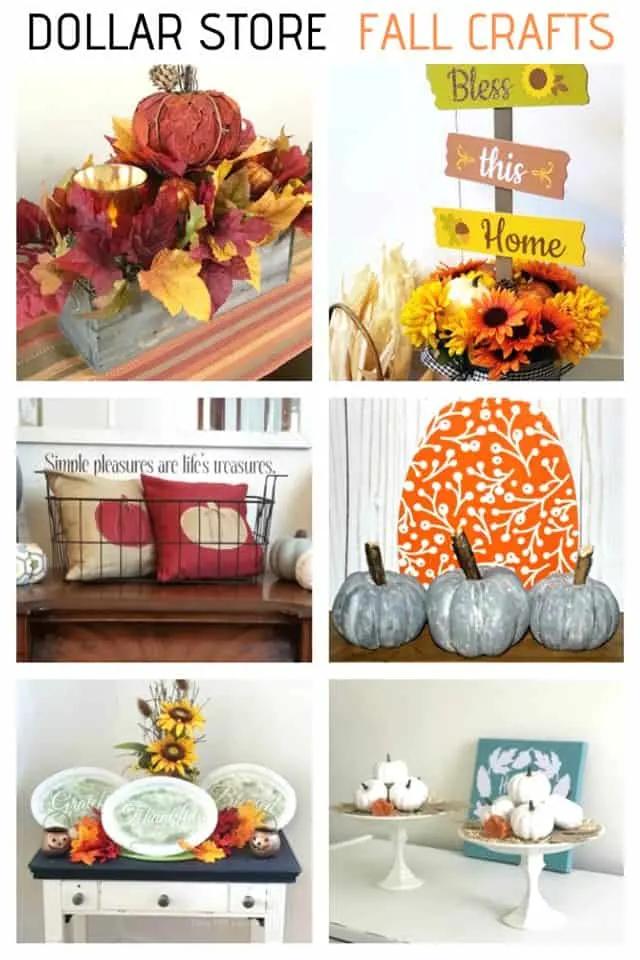 Please check out more amazing fall Dollar Store DIY's on our Dollar Store Divas blog hop!
Thanks so much for stopping by!
Michelle