These days farmhouse decor has been so popular and you can find it many, many places but I want to show you some of my favorites available on Amazon for every room in the house.
I have included affiliate links for you convenience. You can read my full disclosure here.
So, in this post I have chosen six farmhouse products for the kitchen, the living room, the bedroom and the bathroom. I can picture all of these products in my home and I love them. Enjoy!
Farmhouse Decor For The Kitchen
I love a little decor in my kitchen and I have definitely been gravitating toward the farmhouse look. You can see the Ipad/recipe book holder I made. I even used it this past weekend when I was making pies. It was so handy.
Here are some really fun farmhouse decor products you can get from Amazon to spruce up your kitchen decor.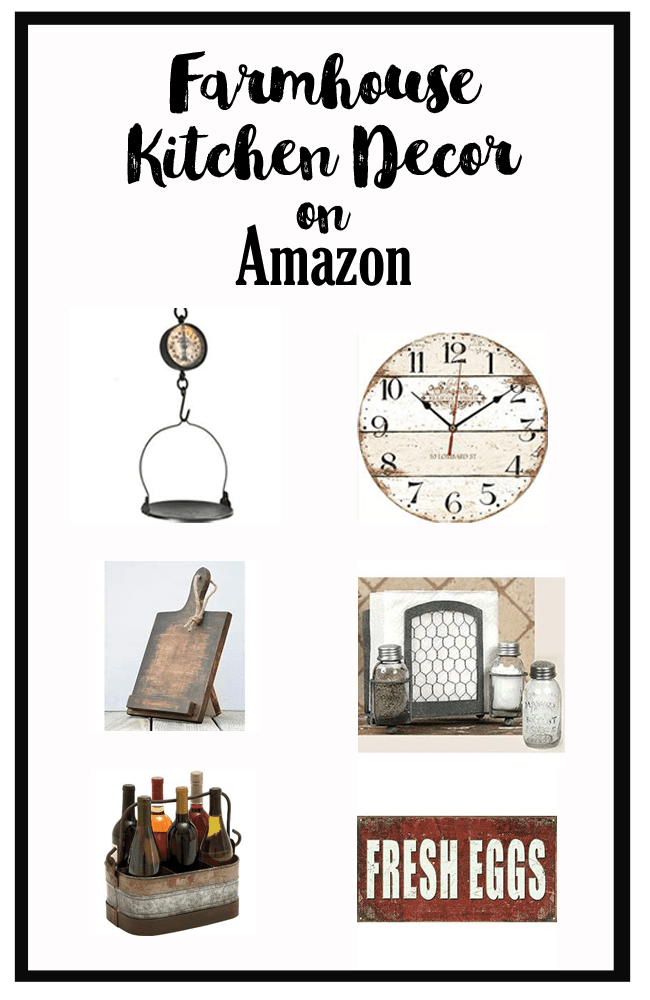 Hanging Scale * Wooden Wall Clock * Ipad/Recipe Book Holder
Salt & Pepper/Napkin Caddy * Wine Bottle Holder * Fresh Eggs Sign
My personal favorite from this group is the metal wine bottle holder. I can just see this in my little wine area in my kitchen. I love it!
Farmhouse Decor For The Living Room
The living room is usually the first room I think of when I am shopping for home decor. I seem to rotate the items based on my newest find. Do you do that? Right now I am pretty happy with what I have in there but after finding some of the following items I may have to change it up again.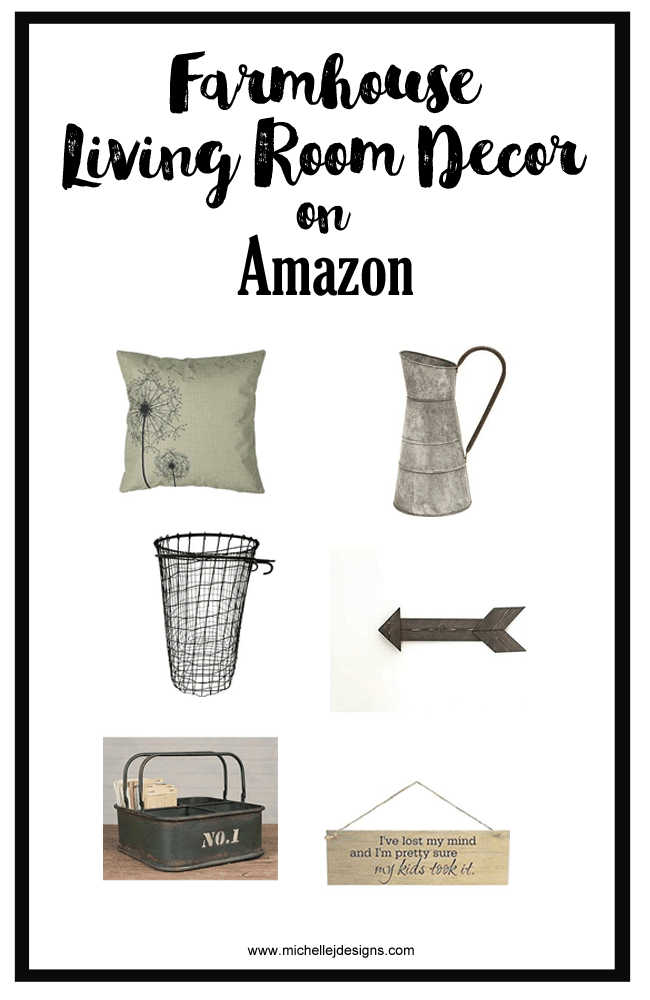 Dandelion Pillow * Metal Pitcher/Vase * Tall Wire Basket
Wooden Arrow * Metal Organizer * Lost My Mind Sign
I am pretty partial to the metal items in this grouping but I love the sign because, for me…it is true! LOL! I totally blame my kids.
Farmhouse Decor For Your Bedroom
I have just recently started really sprucing up our bedroom. It has been a mish-mash of things for the longest time. It is really starting to look pretty. Now I need to add some details to it. I am in desperate need for drapes and Amazon has a nice selection including the ones shown below.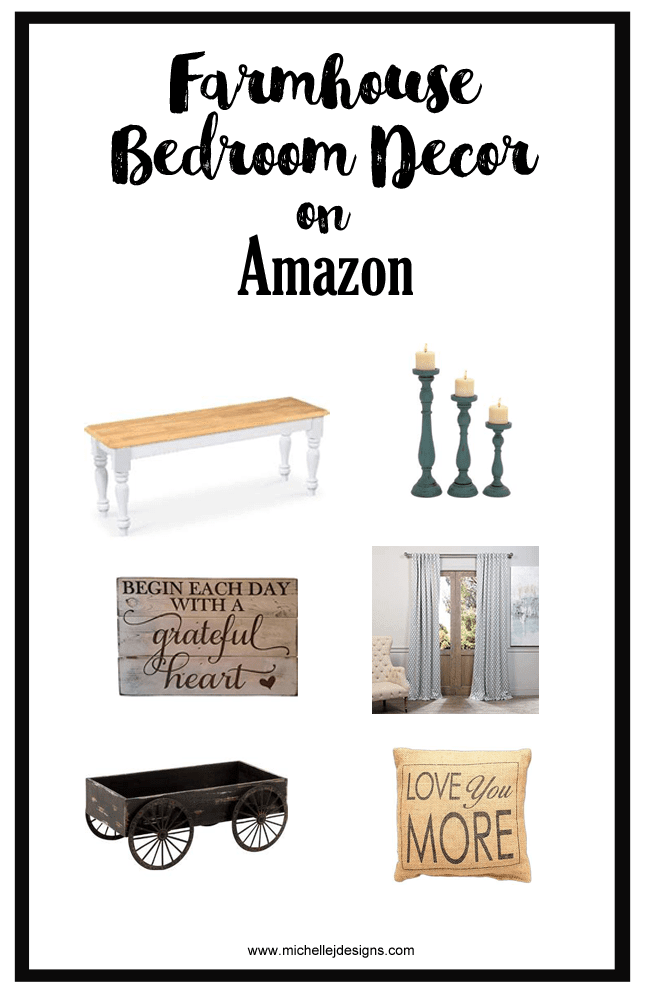 Farmhouse Bench * Candlesticks * Grateful Heart Sign
Pretty Drapes * Wooden Cart * Love You More Pillow
I included the bench because I think it would be perfect at the end of the bed and the little cart…well, it could go in any room but I always need a place to store some of the smaller pillows that come off the bed at night. Wouldn't it be cute holding the pillows?
Farmhouse Decor For The Bathroom
My bathroom needs a huge over haul so these some of these items are going on the list of things to add for decor.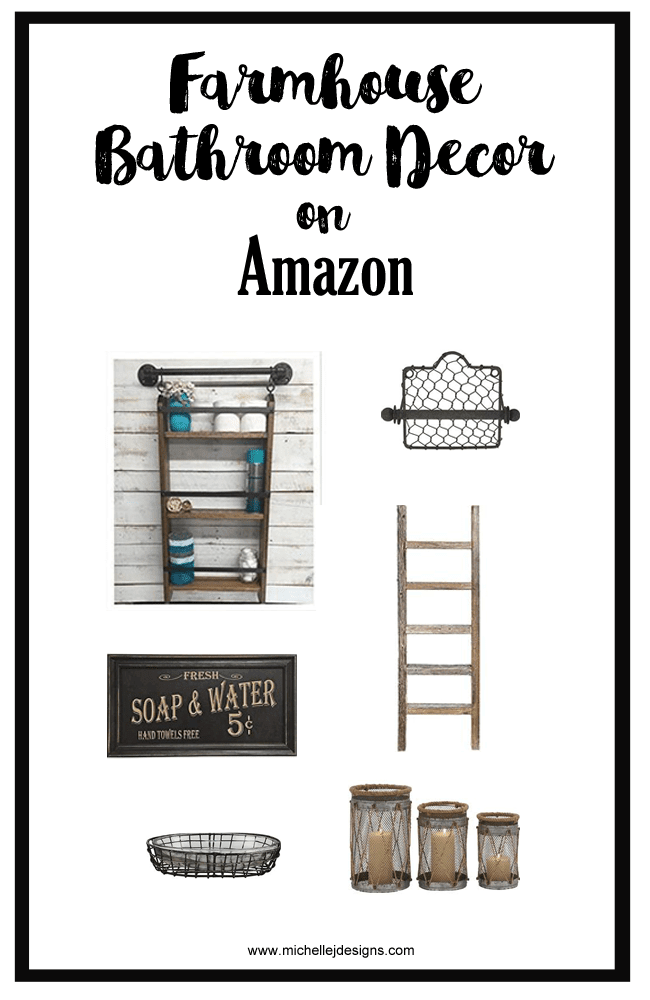 Hanging Bathroom Organizer * Chicken Wire TP Holder * Soap & Water Sign
Wooden Ladder * Wire Soap Dish * Metal Mesh Candle Holders
Storage or lack of storage is a big problem in my bathroom. I love the hanging organizer and the ladder for towels, etc. I don't currently have any candles in the bathroom but I think it would be a nice finishing touch and I love the metal detail on this set of three.
There you have some of my favorite farmhouse decor finds on Amazon. I love browsing for decor and could literally spend hours doing it. But I don't always want to spend that much time finding the right item.
I hope this post gives you some great ideas for your home or some nice gift ideas for people on your list.
Thanks so much for stopping by.
Michelle