Paint a portion of a mason jar and fill with things that make you warm. This was the idea behind this Grinch Mason Jar Gift.
It's all about the Grinch! Who loves the Grinch as much as I do? LOL! I have such a great Grinch gift today and it will warm your heart….3 sizes!
I have used a large mason jar and filled it with all things warm like slippers, gloves, hot chocolate and coffee…with peppermint schnapps! All the things that make you go "AHHHHH" this time of year.
So grab a cup of warmth and let me show you how I put this mason jar gift together. It is easy and I bet there are a lot of Grinch lovers on your list that would love to have this gift.
If you like to make your own Grinch crafts and decor then you have come to the right place!
Or…
If you love painting and making glass crafts and gifts you will love it here.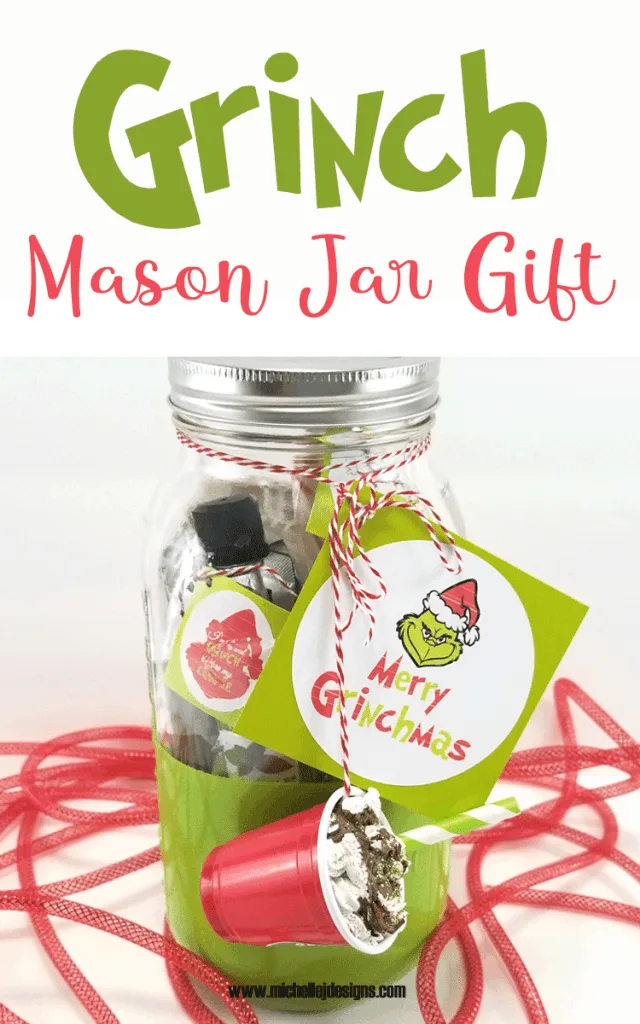 Grinch Mason Jar Gift
If you like to watch a step-by-step video tutorial click on the link below. BE SURE TO SUBSCRIBE TO MY CHANNEL AND AND HIT THE BELL SO YOU ARE NOTIFIED EACH TIME I UPLOAD A NEW VIDEO.
GRINCH INSPIRED MASON JAR GIFT
Of course you can put anything you like in these mason jar gifts but I try to avoid candy and food. Just because there is so much of it during the holidays and if you are trying to not eat every. single. bit of it then just don't give it to people. Right?
My idea was things that make you warm. The Grinch's heart grew three sizes because the people in Whoville made him see that Christmas was much more than gifts and food. I want to think that his heart grew but it also got warm. Just like the items in this Grinch gift.
The supplies you will need include:
I have included printable instructions with links to products at the end of this post.
Glass Mason Jar – any size to hold the items you want to include
Grinch Green spray paint
Painters Tape
Grinch Mason Jar Gift Printables
Slippers or Sock Slipper
Gloves
Hot Cocoa, marshmallows and a peppermint stick
Coffee packets and peppermint schnapps (optional…buy why not?)
Bakers twine
Hole punch
Other items that could be included:
Tea packets
Tea towels
Scarf
Candle
Gift card
Step 1: Prep the mason jar for paint
Decide how much of the jar you want to paint. I decided on less than half. I think I should have made it much less so you can see more of the goodies inside but I loved the the look of the green.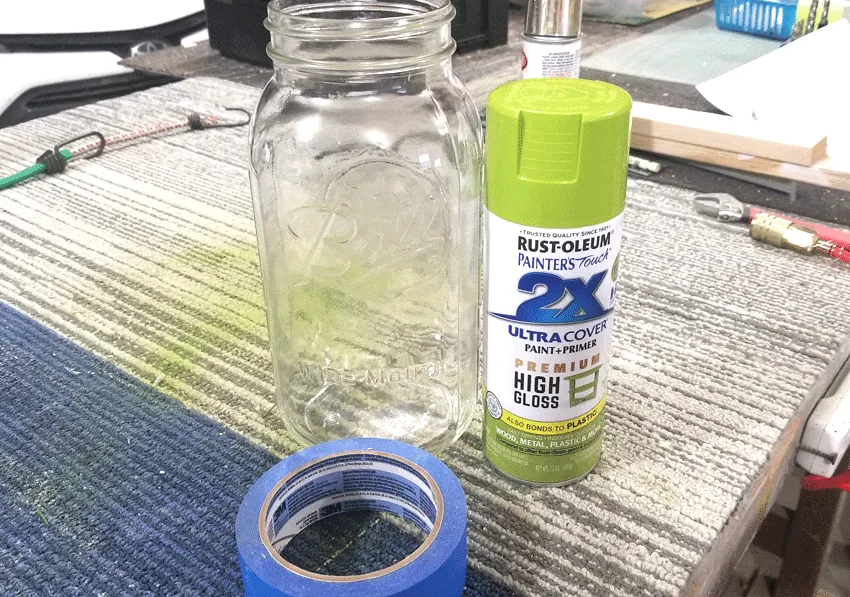 Anyway, use painters tape to tape off all of the jar you DON'T want painted.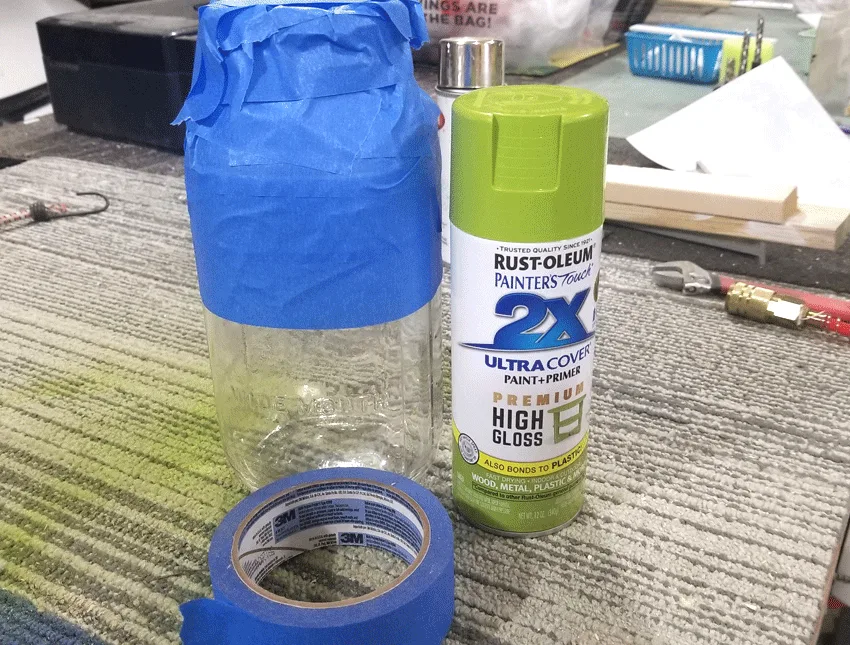 Step 2: Paint the jar
Glass paint for mason jars!
There are many different paints you can use for glass mason jars but the two I have found to work best are chalk paint and spray paint.
This time I am using the spray paint. I love the smooth look of the paint on the glass. There are no brush marks.
Rust-oleum is definitely my favorite brand. There are so many colors and you can get flat, sating or gloss in most colors.
Anyway, place your jar upside down and spray the un-taped area and the bottom of the jar.
Instead of spraying a thick coat of paint on (which is tempting) spray a couple of thin coats to cover the area. It will look better and not run.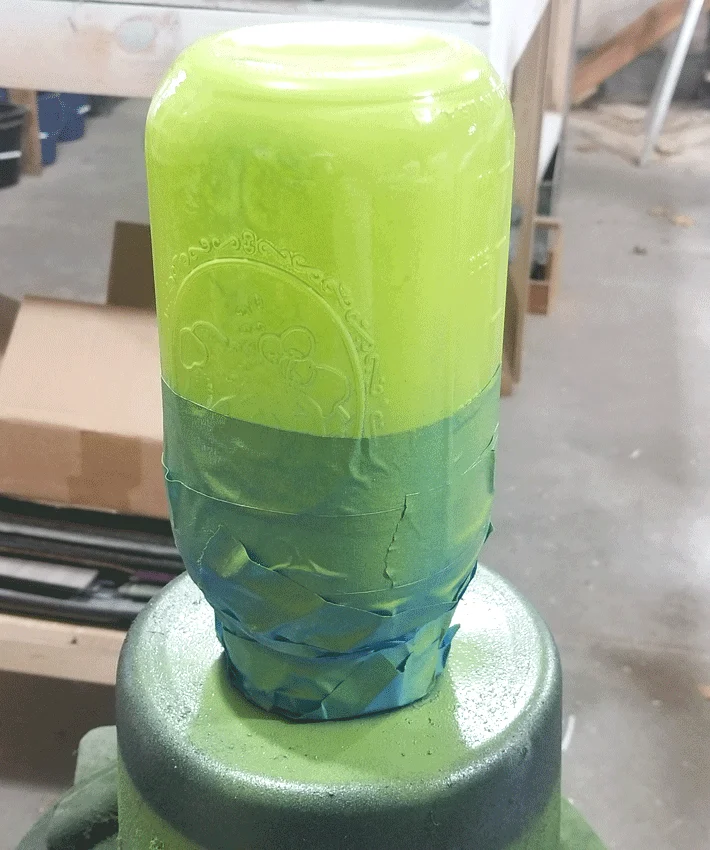 Remove the tape when the paint is completely dry.
Step 3: Print and cut the Grinch printables
This step is pretty easy once you figure out how the cut part works on the machine.
I created a PNG of the designs I used so you can upload it directly into your design space. I use Cricut Maker.
You can download the printables from my resource library.
Use the Print and Cut feature.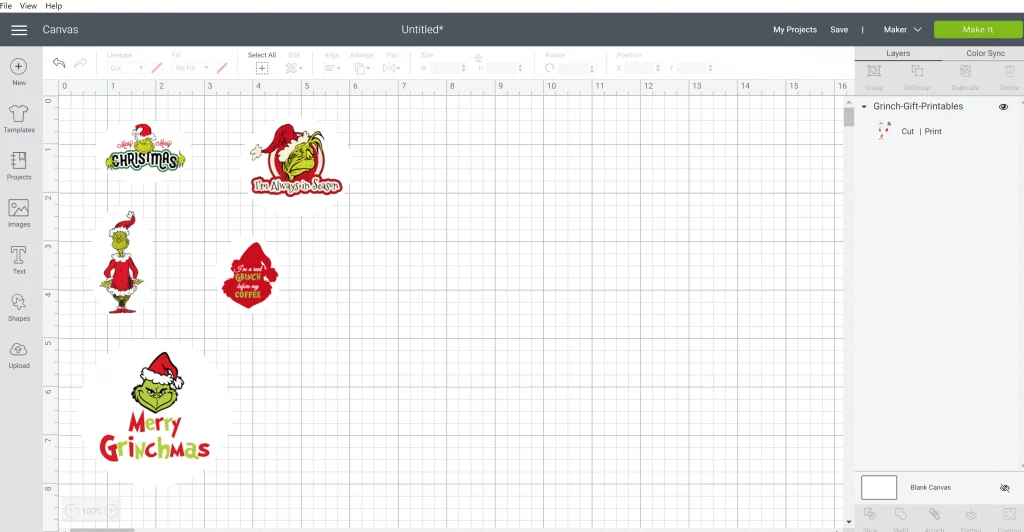 You can see the white backgrounds behind the Grinch designs. This is where the machine will cut.
First press the "send to printer" and print. I used printable vinyl for these designs.
After it has printed place it on the mat and enter the materials you will use. Then go ahead and cut.
Step 4: Make the tags
Once the designs are printed you can place them onto green cardstock and cut around them. I just decided to keep it easy and cut rectangles and squares behind the ovals.
If you would rather you can use your cutting machine and cut larger ovals to fit perfectly behind the print and cut designs.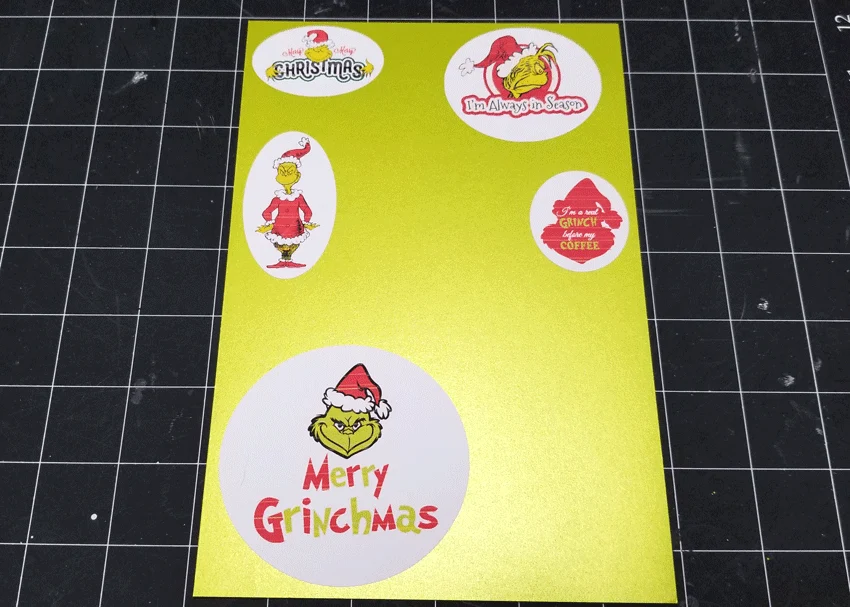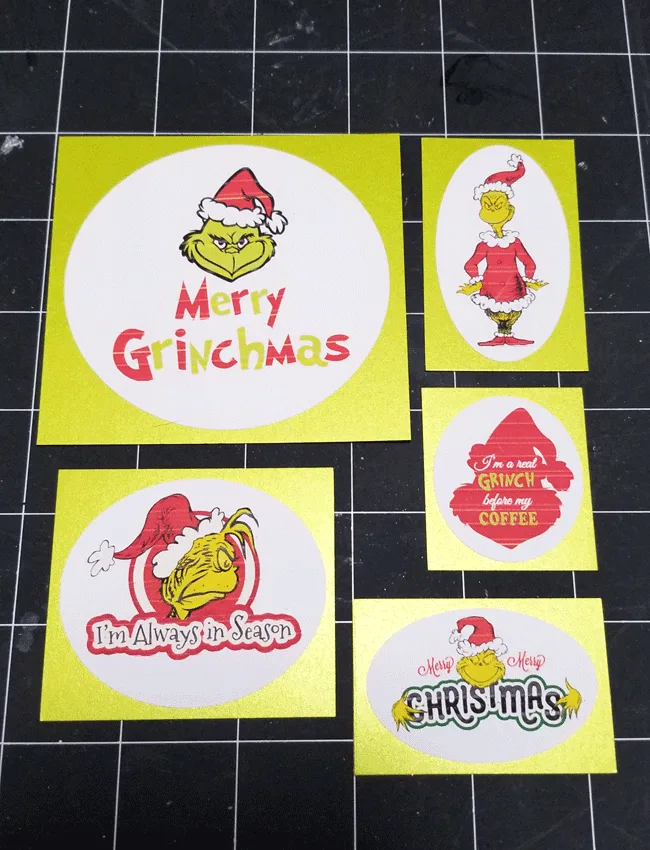 Don't look too closely at these prints. My printer SUCKS! I am asking Santa for a new printer and I hope he gets my message.
Step 5: Fill the mason jar
This is the fun part and the part that makes the gift so special. Adding these tags to fun things to put inside the jar.
I used my crop a dile hole punch (that I LOVE) to punch the holes in the tags and red bakers twine to tie them onto each piece. Here are a few things that were added to my Grinch Mason Jar Gift.
Slippers –
These are fun slipper socks with grippers on the bottom. They look so warm and cozy. They are from Dollar General.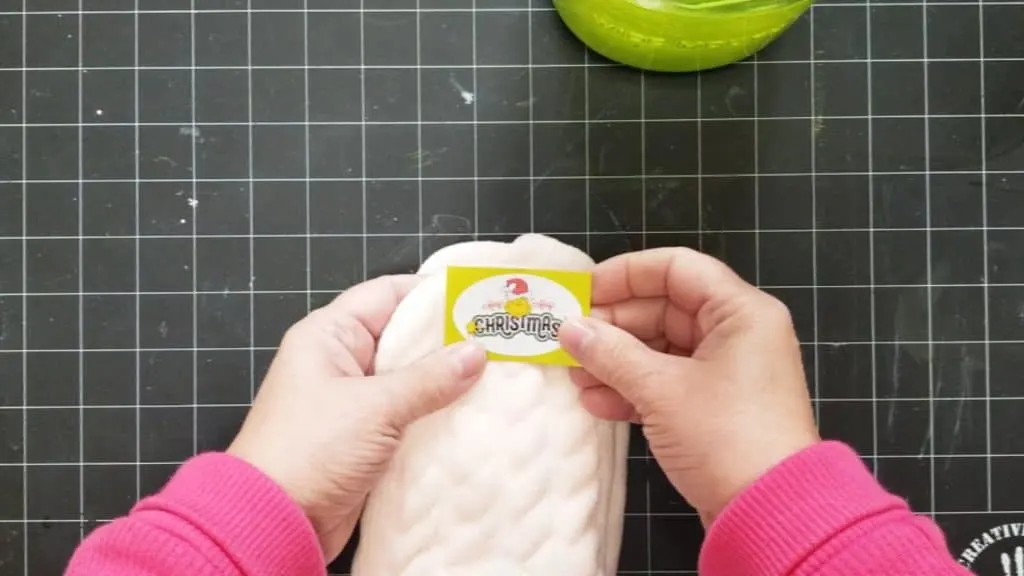 Gloves –
Red gloves were perfect for this warm-up gift. They came in a 2 pack at Dollar Tree so now I have a black pair I can use for something else.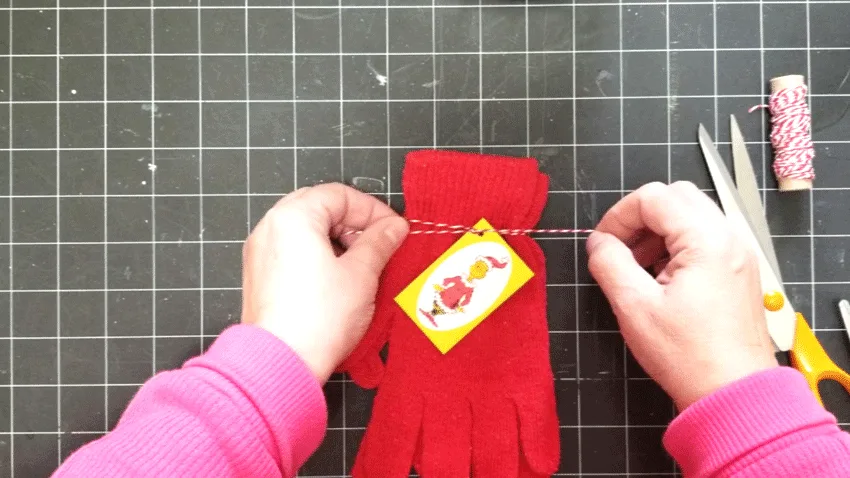 Coffee and peppermint schnapps
These are super cute little packages of coffee. I added the peppermint schnapps and not it is extra warm.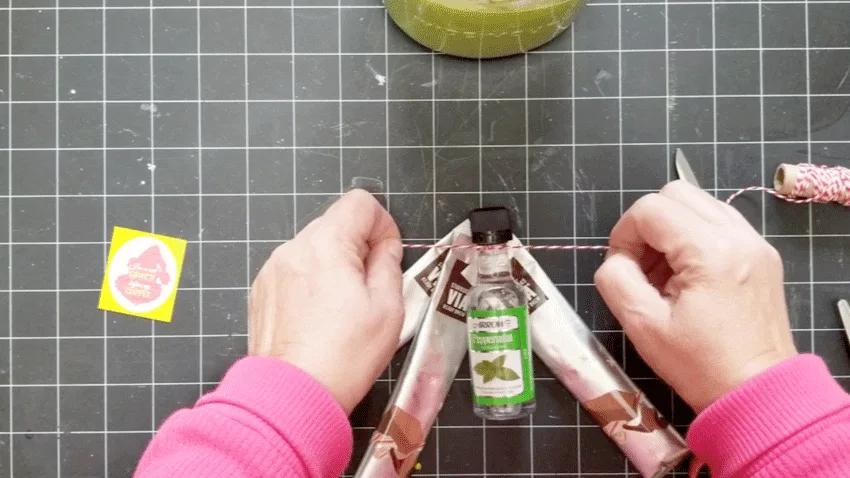 Cocoa, marshmallows and a pepermint stick.
I already had the cocoa from making my Christmas Cheer hot cocoa bar so I placed a little over a serving size into a cellophane bag. The marshmallows and the peppermint stick were placed in a different bag.
I used the silver wire tie to add the tag this time but used the baker's twine to wrap everything together.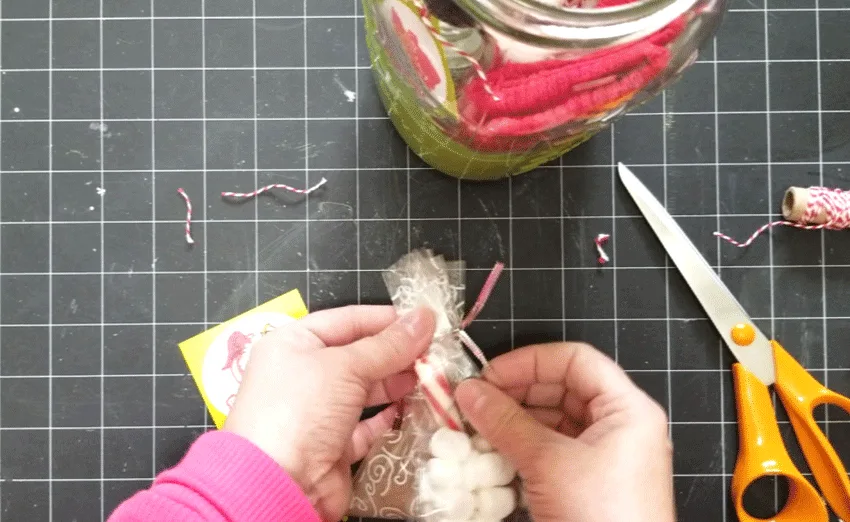 Add these as you make them to the mason jar. I added the slippers and gloves first to add height so the little things could be seen through the unpainted glass.
Here is my finished gift. What do you think?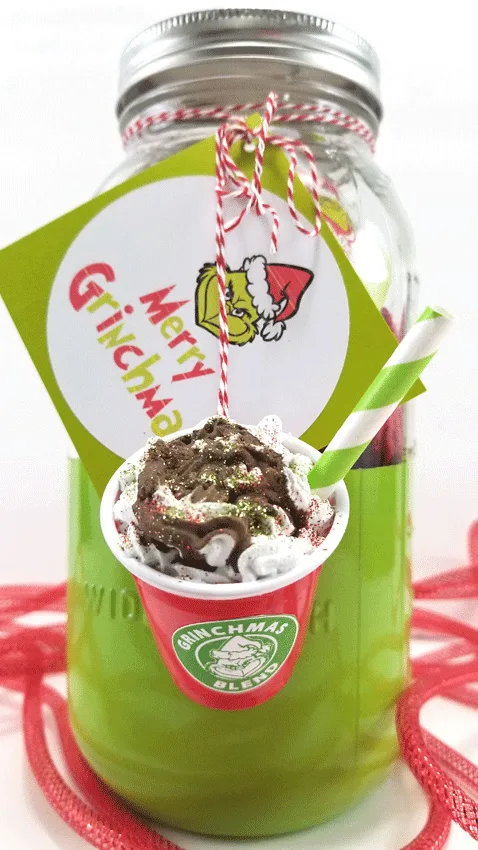 Materials Needed
I have added some affiliate links for your convenience. You can see my full disclosure here.
Grinch Mason Jar Gift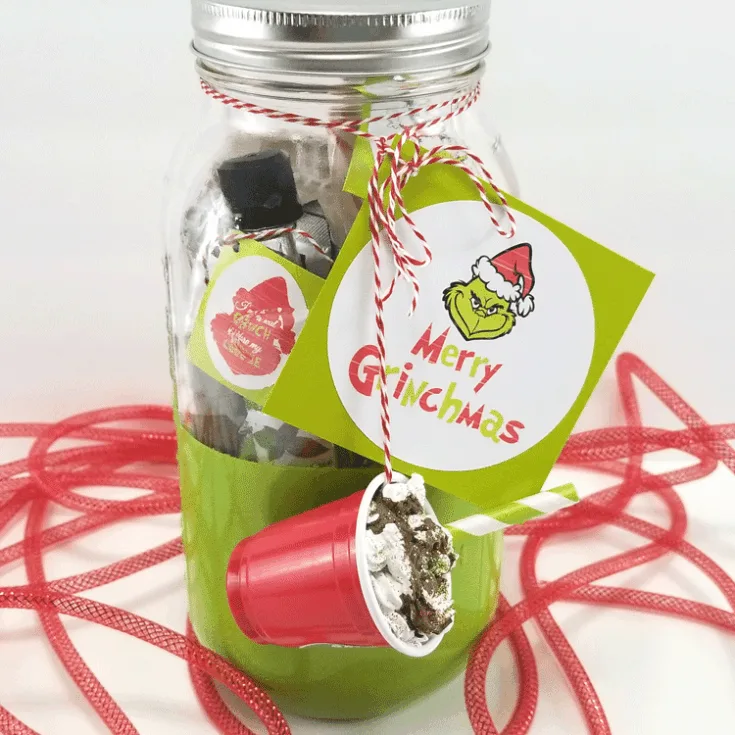 Paint a portion of a mason jar and fill with things that make you warm. This was the idea behind this Grinch Mason Jar Gift. Any true Grinch lover would adore this festive gift.
Materials
Painters Tape
Rust-oleum Spray Paint - Green
Slippers
Gloves
Hot Cocoa, Marshmallows and peppermint stick
Coffee Packets
Mini Peppermint Schnapps
Card Stock
Instructions
Use the painters tape to mask off anywhere on the jar you do not want paint.
Spray paint the un-taped portion of the jar
When completely dry, remove the painters tape.
Print and cut the Grinch Printables
Place the designs onto the cardstock then cut around them to make tags
Use the bakers twine to add tags to slippers, gloves etc.
Place the items into the mason jar.
Add a tag and and ornament to the outside of the jar.
Give as a gift to a Grinch Christmas lover!
Here are a couple more photos of the finished gift.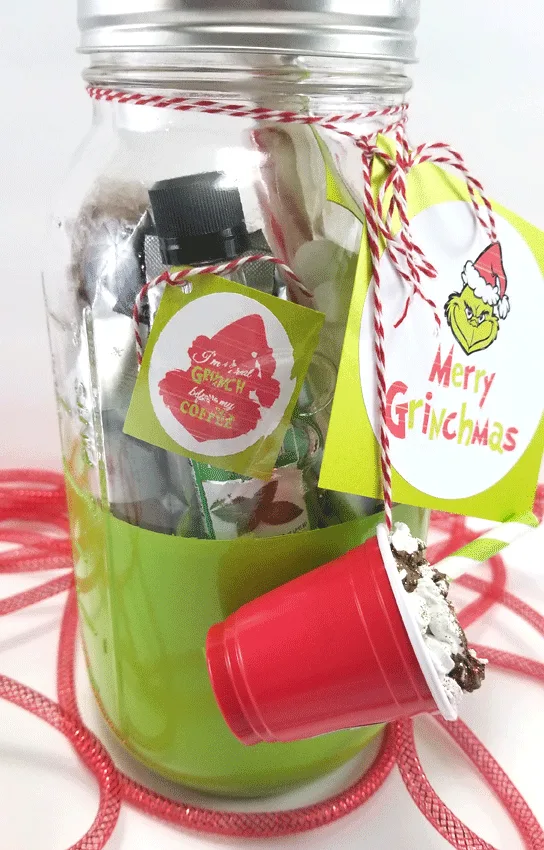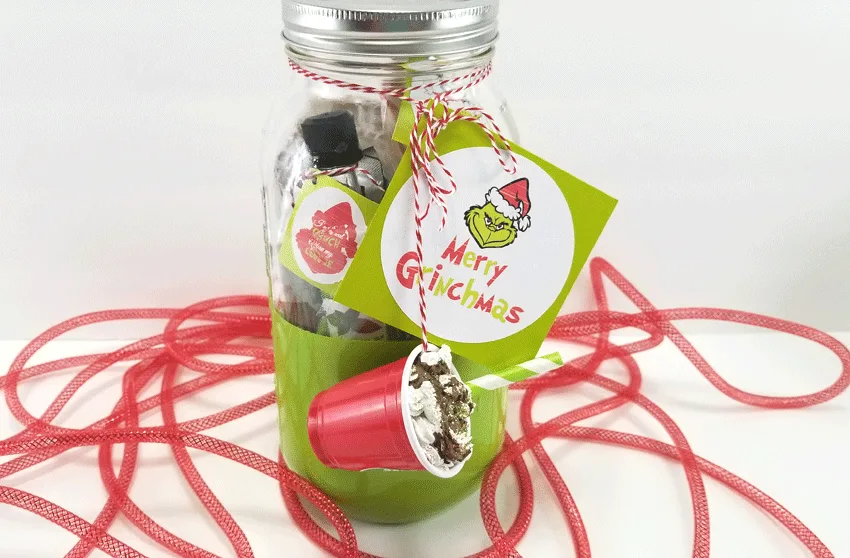 I hope this inspires you to make some sort of a gift in a jar. They are so fun and people love to receive them.
Thanks so much for stopping by!
Michelle