How To Create A Stunning Dining Room Bench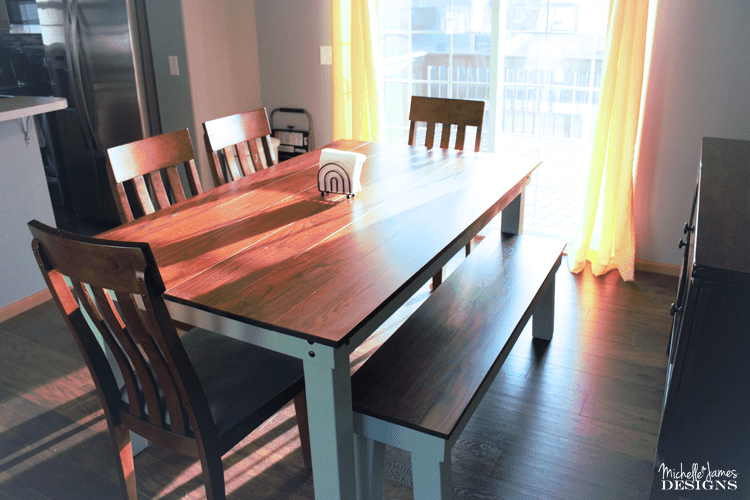 Hi there!  Do you guys remember the dining table we made for Ian and Hailey?  A little while ago we finished the matching dining room  bench to go with it.  We made it here, in our garage then drove it them and I got to get some photos of it in their room.  The best part is they were beyond thrilled and the bench completed their room.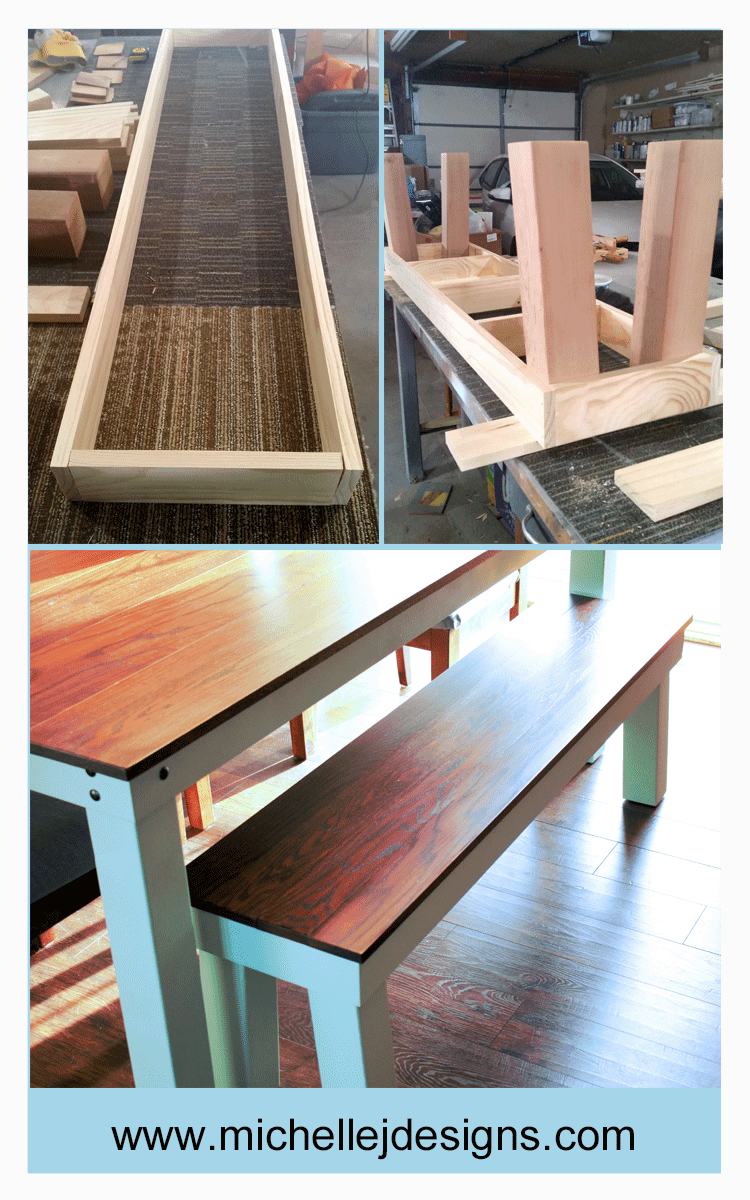 Building A Dining Room Bench
Supplies Needed:  I have added in a couple of affiliate links for your convenience.  You can read my full disclosure here.
Oak planks – 1 x 4 – 6 ft long
Pine Boards – 1 x 3
Cedar 4 x 4 – These were actually the cut offs from the table
Pine 1 x 2's
Screws
Drill
Drill Press
Wood Glue
Foam brushes for staining
Lint free cloths
Brush for painting
Paint – Sea Glass by Dixie Belle Paint Company
Getting Started
Jeff started by building the bottom portion of the dining room bench.  He built the top separate then we added the top to the base.  This makes painting and staining easier.
We had to make sure it would fit between the legs of the dining table so it ended up being around 5′ 7″.  Which means we cut the 6 foot boards down to size.
He started with a base for the legs using the pine boards he created a rectangle.

He added some support inside the base.  First he added the 1 x 3's from side to side then he added a small 1 x 2 to each of the support boards.  These make it easier to attach the top to the base.  These are the boards that will be screwed into the top.
These were all screwed in for strength.  He countersinks all of the holes and then we plug them, putty and sand them and you don't even know they are there.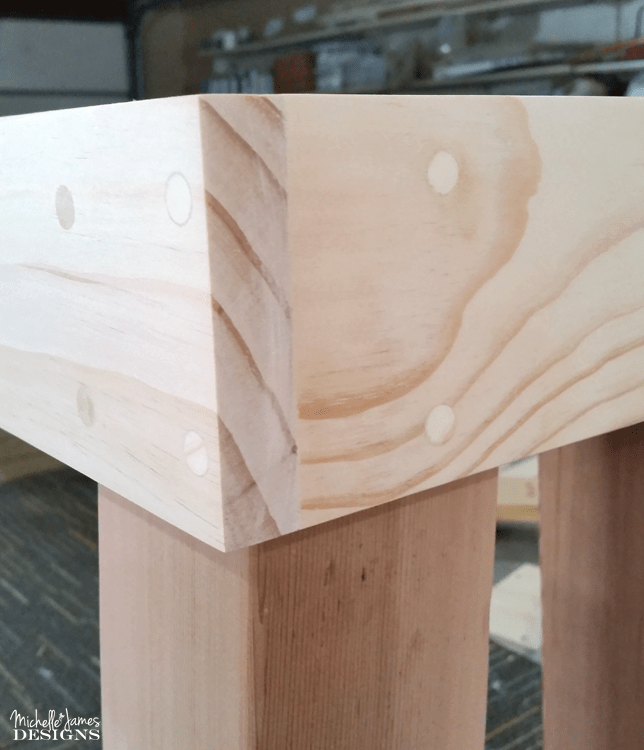 Next came the legs.  We wanted them to be at an angle so the bench would be more stable.  For this to happen Jeff cut an angle on the side of the cedar 4×4.  When he got them attached I was able to give it a coat of primer, then a coat of the Sea Glass paint.  You should check out the Dixie Belle Paint Company just to see.  This paint covered so nicely.  And I used a pretty small container for the bench and the table.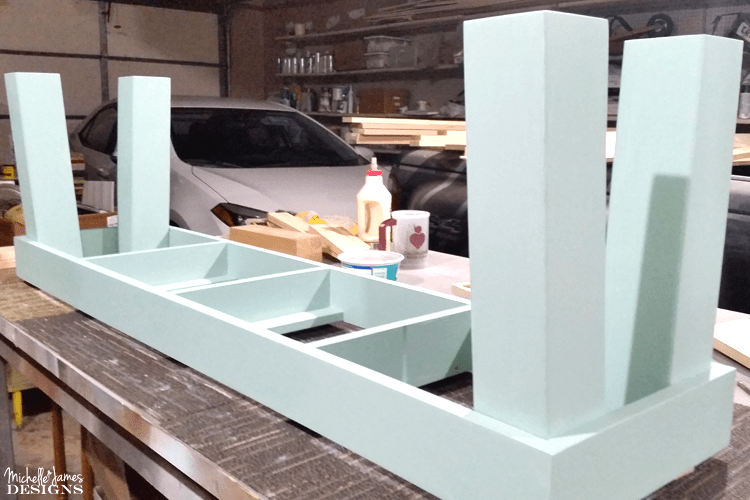 Making The Top
The top oak boards were first cut to length.  The top is a little bigger all the way around then the base.   Supports to hold all of the oak planks together were added on the bottom side.  Sometimes I think my husband goes a little overboard with the screws but he wanted one in each board and I guess two on the end boards for strength.

Then we got to stain it.  We used the Minwax Red Mahogany as the first stain.  Then we added three coats of the Polyshades letting it dry over night in between each coat.  I just love the staining process.   The wood grains are so pretty.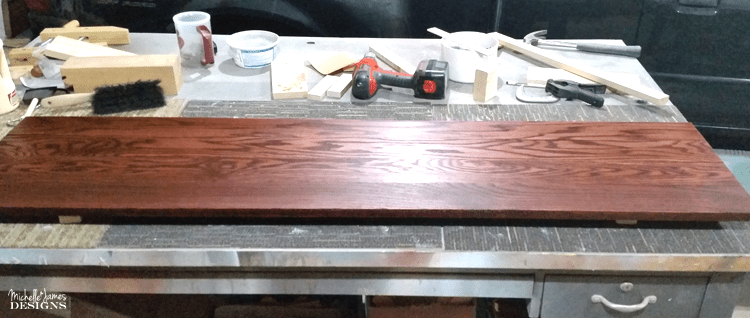 When the staining was all done we added the top to the bottom…again with 1 million screws.  LOL!  It turned out so pretty.  And I was so excited to be able to take the final photos in their actual dining room with the table!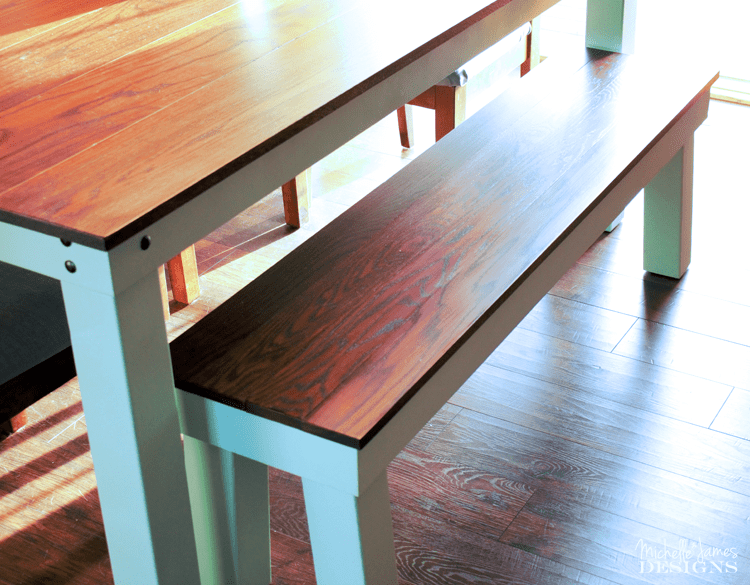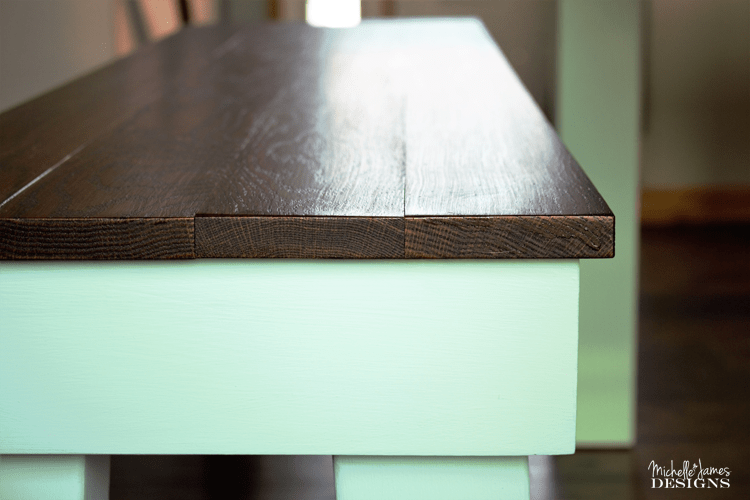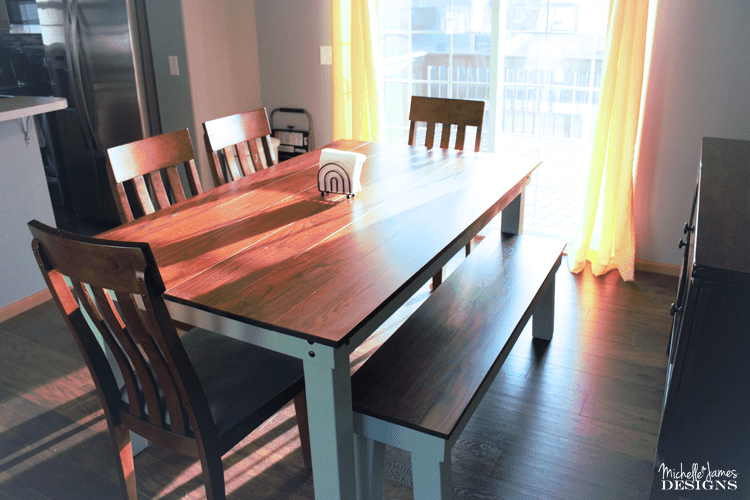 What do you think?  I am thrilled and so are they. It matches nicely in their room and looks beautiful with their new flooring.  It was a fun project and I am glad we could do something nice for them.
I hope you like it too.  If so…
Don't forget to pin it!!!

Thanks so much for stopping by!  I will be back on Thursday with my project for the May Silhouette Challenge!
Until then,
Michelle
Enter your name and email to receive tips and tricks, tutorials & deals!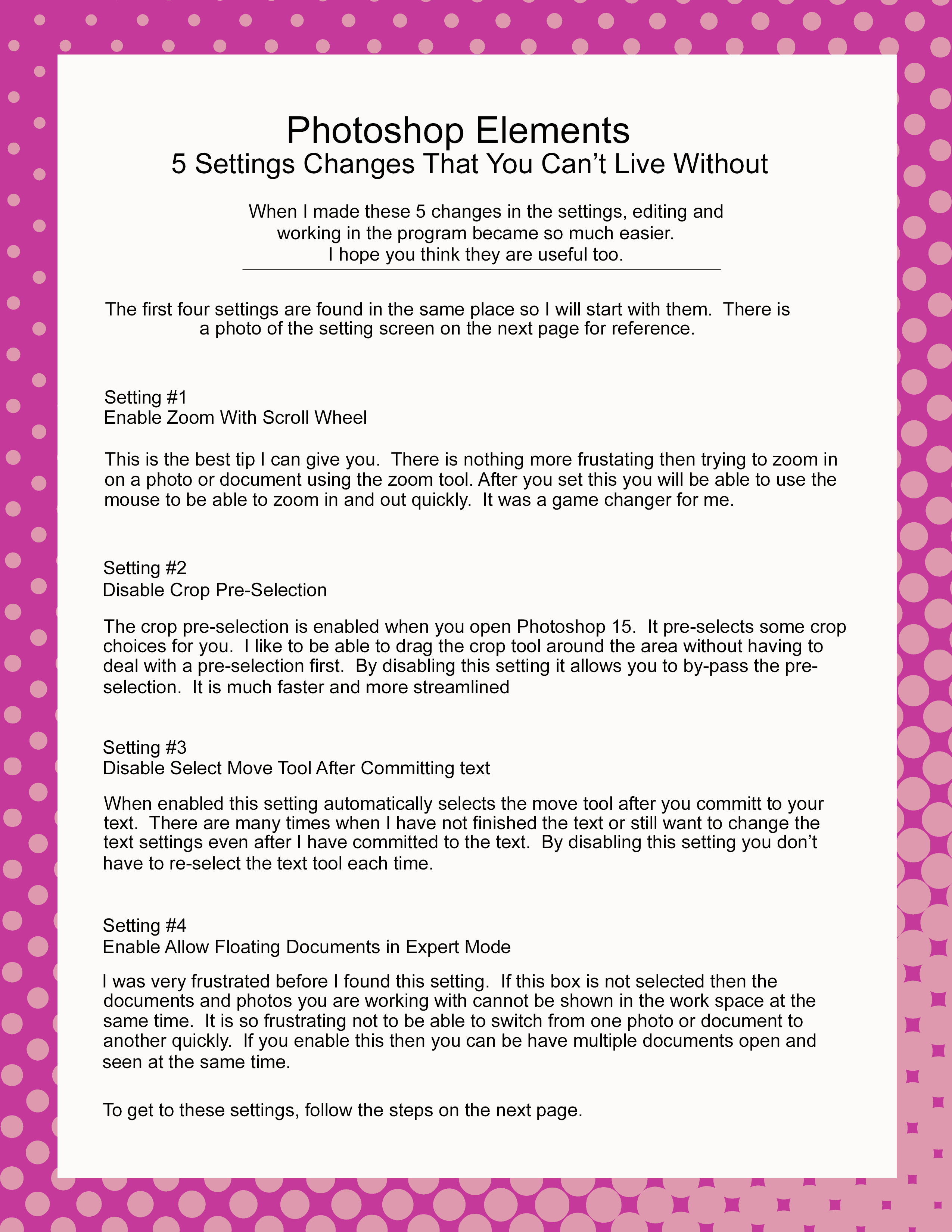 Sign up to get access to an instant download to my five favorite Photoshop Elements settings changes that will make editing and designing easier.
Your information will *never* be shared or sold to a 3rd party.