Hi everyone. Welcome to the Drawer Organization Blog Hop! For the entire month of April, 10 bloggers will be sharing the process of cleaning and organizing one drawer in our homes each week. To kick off the first week, we're focusing on drawers in our kitchen and dining rooms! I have included 5 tips for kitchen drawer organization! I hope you find these tips helpful when organizing your kitchen.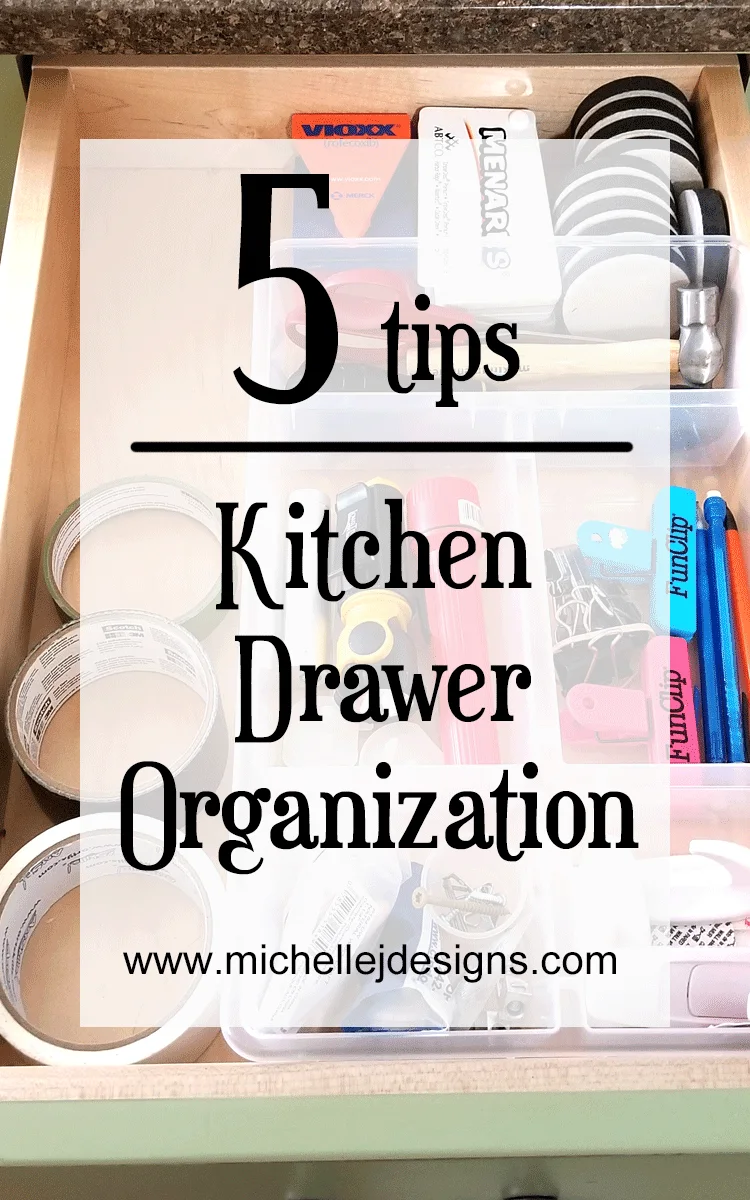 Drawer Organization Blog Hop!
As I mentioned above for the next few weeks we will be cleaning out our drawers, organizing and making the pretty! Doesn't that sound like fun? Week one is all about the kitchen. I have come up with 5 tips for kitchen drawer organization. I also need to thank Hailey, my daughter in law for helping me out. They were visiting and she loves to organize. I think she had fun putting everything back it's place.
My Pinterventures • Intelligent Domestications
DIY Adulation • Domestically Creative • Cookies Coffee and Crafts
Domestic Deadline • Across the Boulevard • Michelle James Designs
Mom Home Guide • Centsably Creative
5 Tips For Kitchen Drawer Organization
We all have different reasons and tips for organizing. These are my top 5 tips:
Tip 1 –
Don't break the bank – You don't have to spend a fortune on organizing products. Look around the house for things you have already that may do the trick. If you can't find anything then purchase inexpensive organizing units.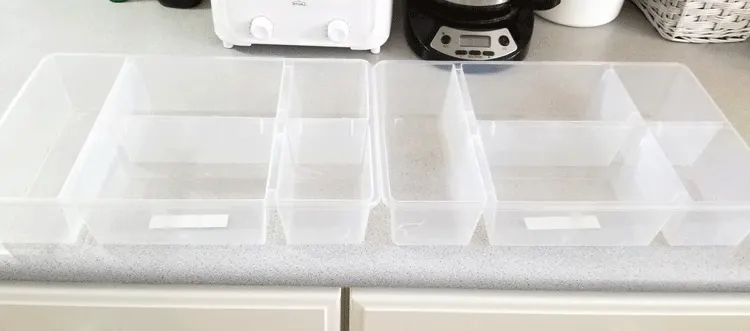 I have had these two for a long time. They may be from Ikea but seriously…I don't remember. I was using one in my dresser and it was never quite right and the other was still empty on top of my dresser. Wow!
I cleaned them out and got them ready for their new home.
Tip 2
–
Remove everything from the drawer and throw away anything you haven't used, is expired, or you no longer need.
This is one of my drawers before I organized.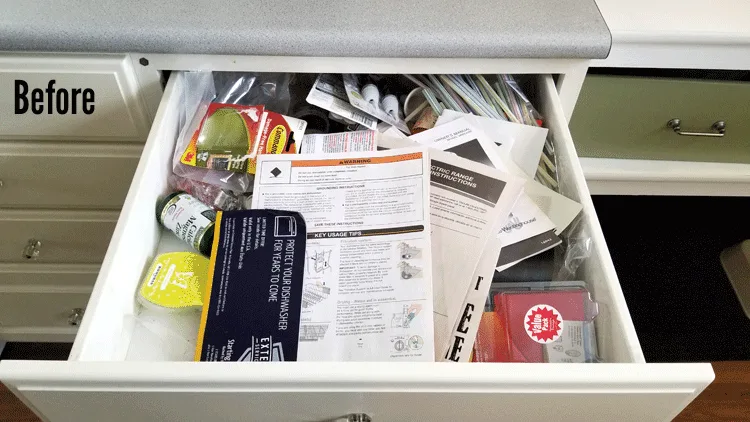 I took everything out and set it into piles on the island and started pitching the things that I didn't need. For example: the vitamins were out of date and the empty boxes of command strips were still in there because I like to look at the boxes for the directions. Are any of you like me and can't remember anything? I need instructions.

Tip 3 –
Keep items in drawers closest to where they will be needed most. You can see that I have a corkscrew and a couple of bottle openers. These things needed to stay in this drawer since it is close to my wine area. The appliance manuals could go in a different drawer but this is where I will be setting up the rice cooker or the crock pot. If I need to look at one of these they are close by. They will stay in this drawer too.
Tip 4 –
Keep like items together. In the mess above is a pair of "utility" scissors. We use these for different things but they are not for crafting or sewing. They are almost a tool of sorts. I felt they belonged in a different spot.
The second drawer that needed some organization is in the island by the sink. It is more of our "tool" drawer. There are flashlights, screwdrivers, duct tape and other things.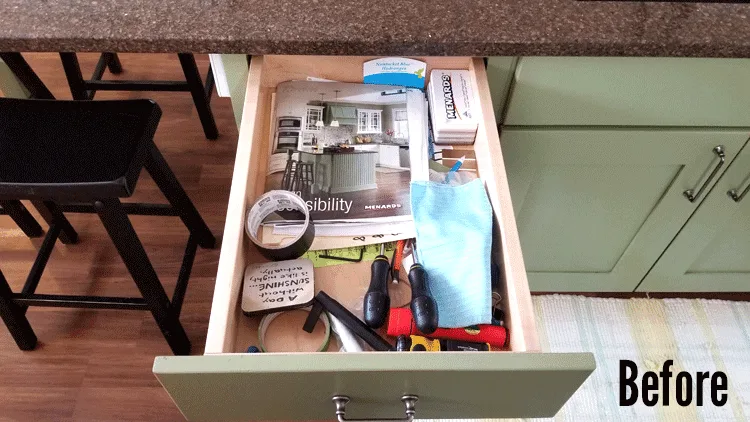 Just as before, all of the items came out before they went back in. I threw stuff away and moved things to a "better" place. Some of these things are paint chips from the kitchen and dining room and the brochure about our kitchen cabinets. I like to keep these things but they do not have to be here.
Tip 5 –
Leave room for growth. These drawers were not stuffed to begin with but now I have plenty of room for other like items. This makes me happy!
Here are my, now organized drawers. Drum roll please…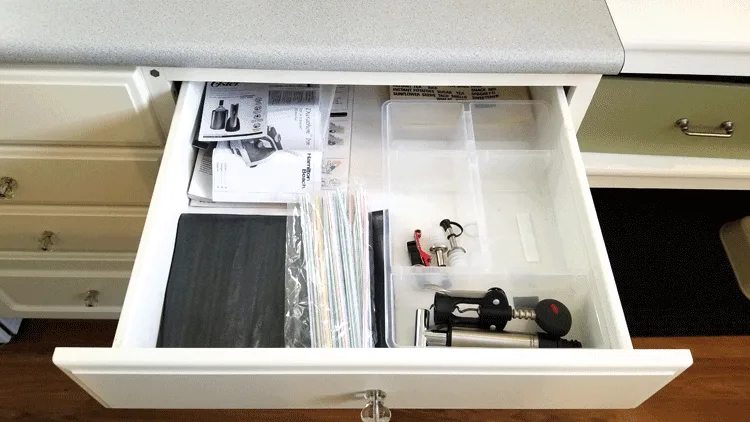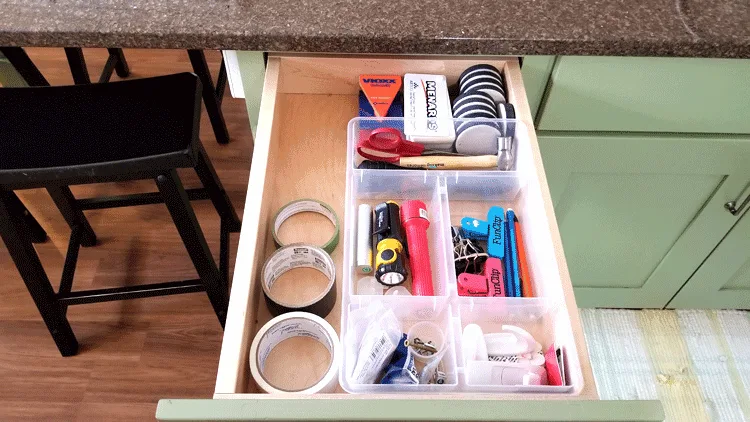 They are working well and I can find everything I want instantly. I don't have to rummage anymore. It is so great. What do you think?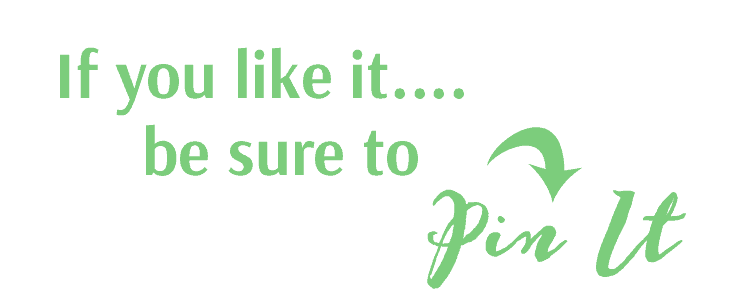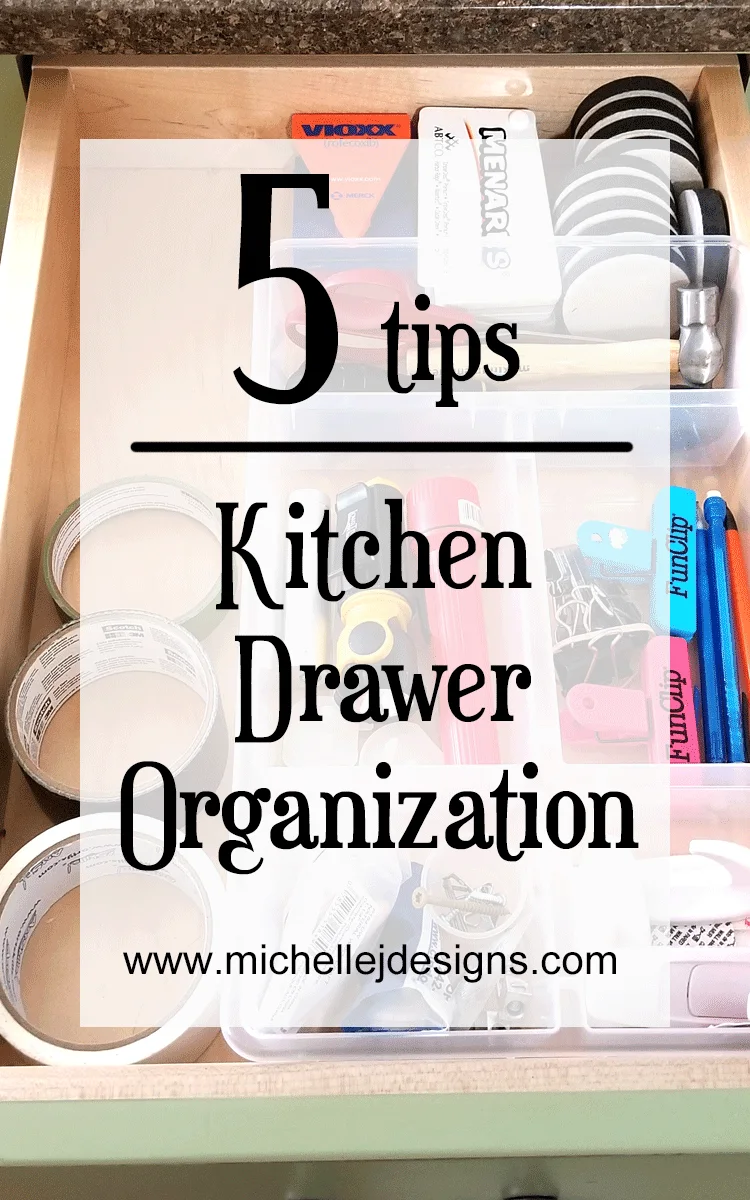 I hope you enjoyed these 5 tips for kitchen drawer organization. You can check out some of my other storage and organizations posts by checking out my storage and organization gallery!
Thanks for stopping by! You can check out the other bloggers kitchen drawer organization by clicking the photos below!
Michelle