Hi! Welcome to the beginning of my Christmas decorating. Today I am showing you how I used some outdoor Christmas decorations from Oriental Trading Co. to beautify the little space by my back door.
This post is sponsored by Oriental Trading and I was given product in exchange for my post and review. All of the opinions are 100% my own. You can read my full disclosure here.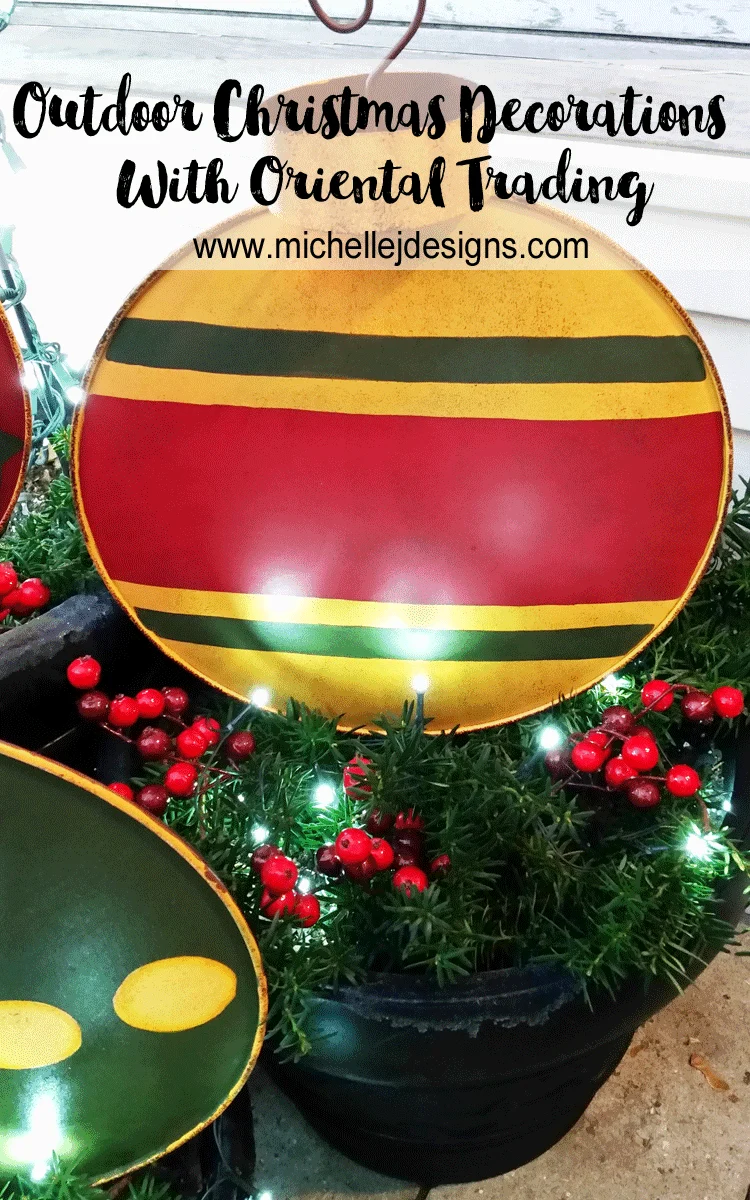 Outdoor Christmas Decorations
So Jeff and I are not really outdoor Christmas decoration people. We gave it our best shot when the kids were home and actually put up some lights for a few years but neither of us like the idea of getting up on the roof so we just stopped doing it. Then every once in a while I would try to do something creative by the back door. Last year we made an ornament topiary that turned out pretty fun.
This year I got these metal yard stakes from Oriental Trading and I thought they were pretty cool. They are about 16 inches around and come with a stake that goes into the ground. The picture on the website is a really good representation of the the color. They are really nice.
The only thing I would change about them is the height. They are all of the same height and I think it would be nice if they came in varying heights.
I decided that I wanted them in pots by the back door so I varied the heights of the pots instead and by painting the pots all black they worked together.
First Attempt
This was my first attempt. I added greenery around the ornaments and the tree of lights behind one of them. This pic is during the day.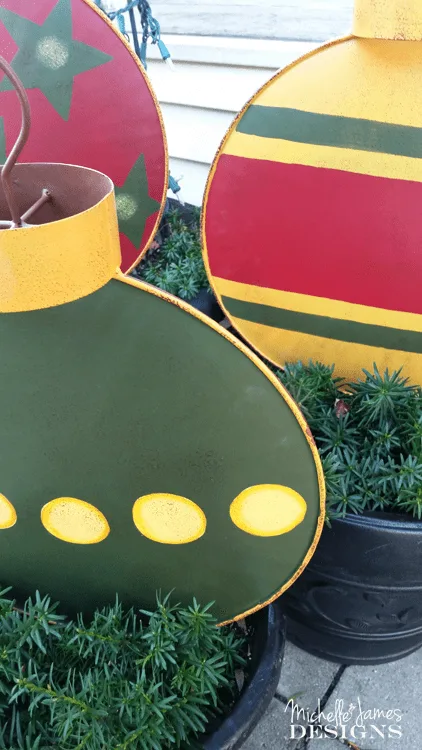 This was in the evening.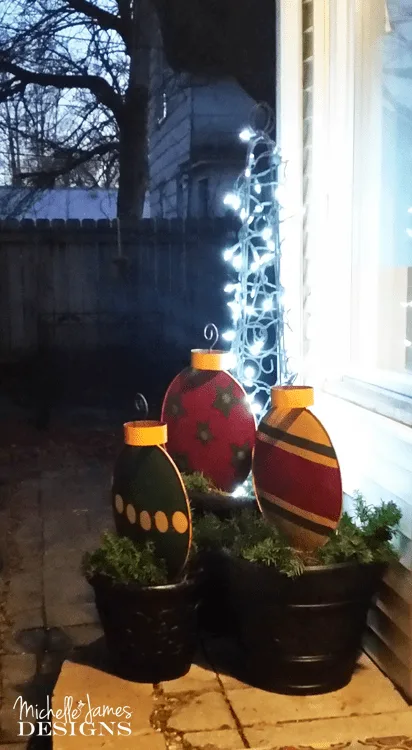 Making It Perfect
It needed more. I purchased some berries and I got some battery operated lights at the Dollar Store for the two front pots.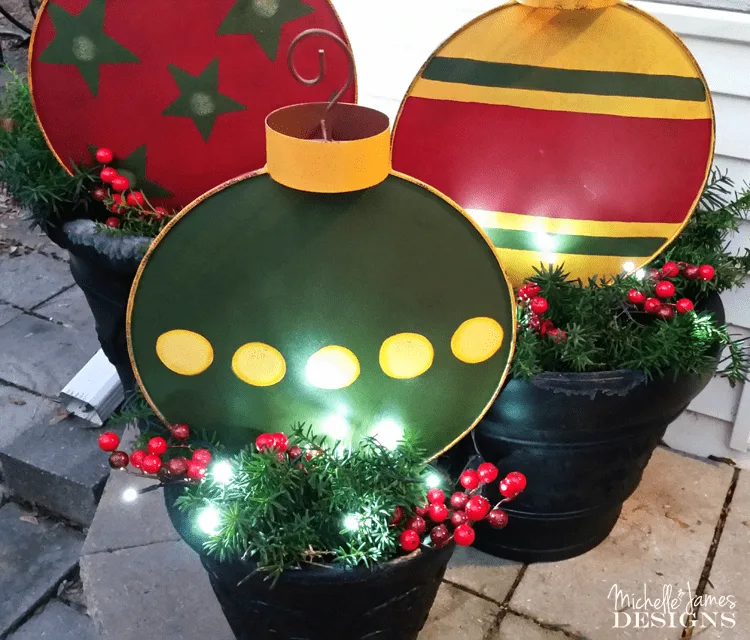 These two items really spruced up the entire display and I think I like it just the way it is. I took these in the early morning before the sun was all the way up.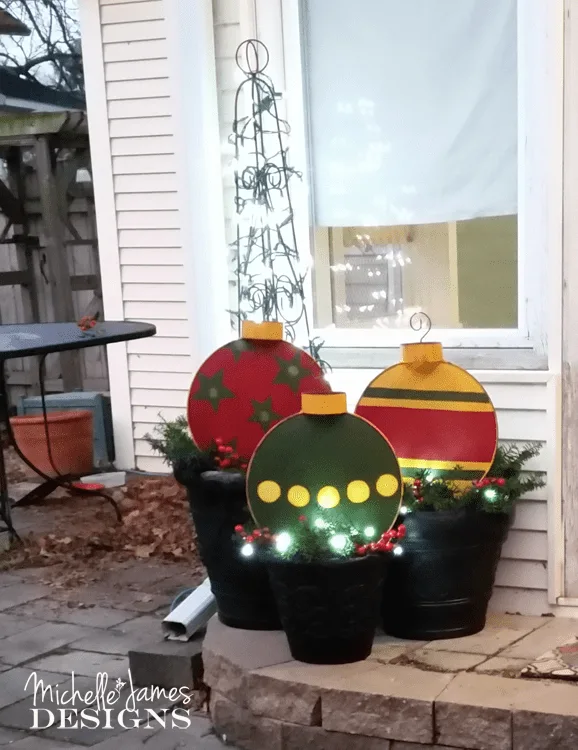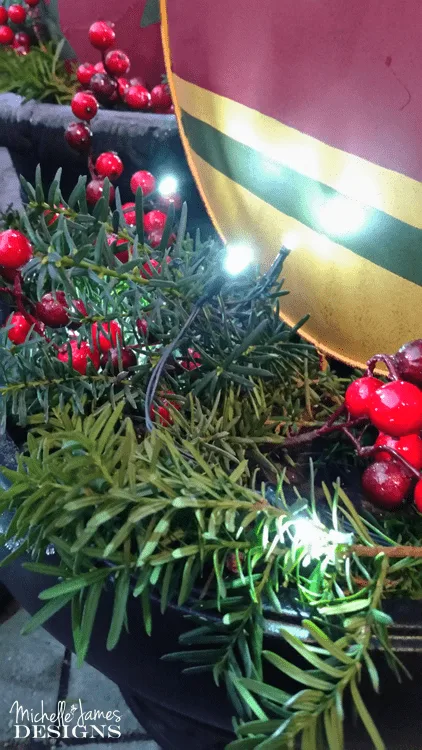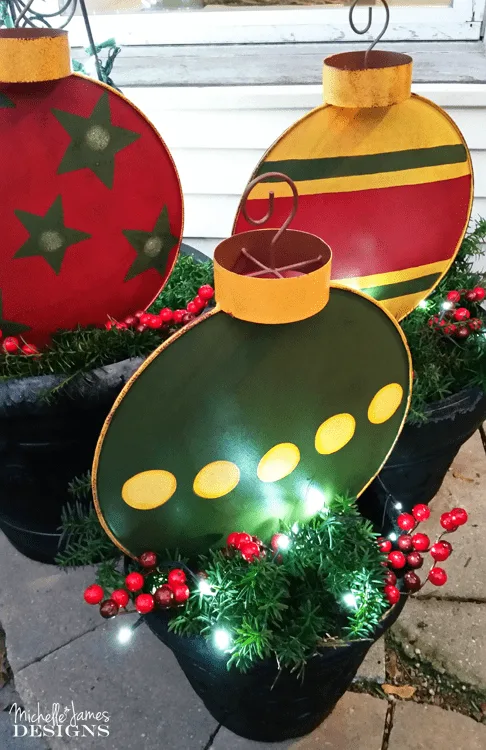 What do you think? I love to see this when I walk in and out of the house. Just like my summer garden, it makes me smile every time. It is festive and, I believe, will hold up well in our snowy cold weather because they are a nice heavy metal.
Be sure to check out the Outdoor Christmas decorations and all of the other fun Christmas products at Oriental Trading. I had not seen a catalog from them in a long time. But it was not hard for me to find some really nice things that were perfect for home and holiday decor at a great price.
Thanks so much for stopping by!
Michelle