Hi! If you know me at all I am not an "outdoorsy" person but I do like creating pretty outdoor spaces to enjoy while being outdoors or to see when I arrive home after work. It just makes me smile!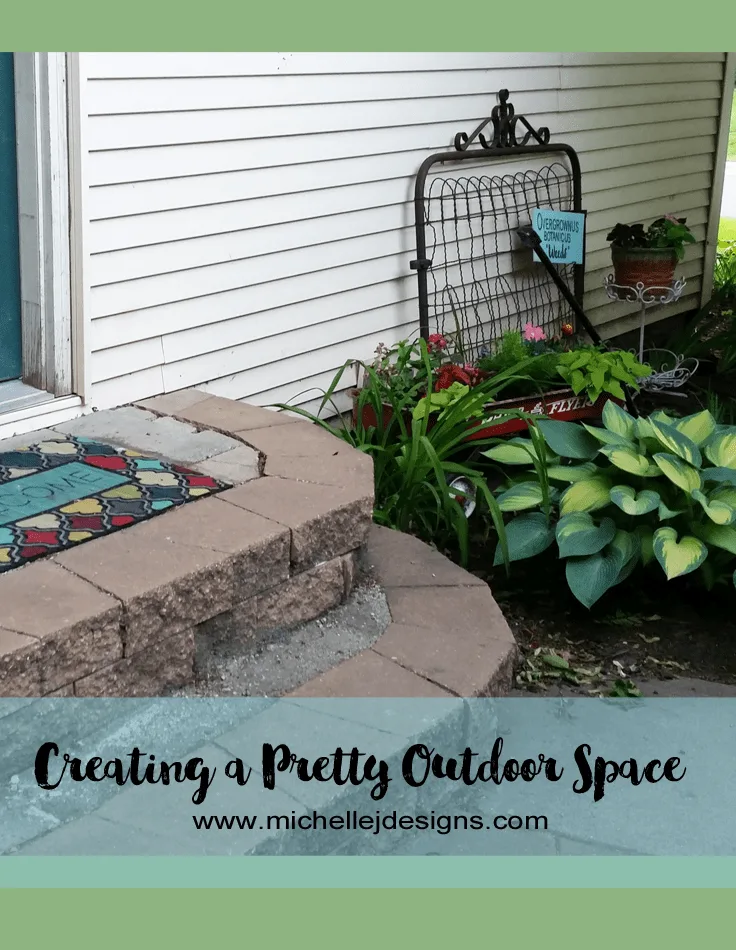 Creating Pretty Outdoor Spaces
When we moved into our house 20 years ago the back yard was nothing but a pile of dirt and a bunch of weeds. I knew I wanted a nice patio area where the boys could play, we could entertain, or just a place to sit and relax.
So we added pavers, a fence with a gate and a nice tree. We topped it off with a nice piece of play equipment for the boys. It has been one of the best things we have done to this house. But maintenance can be a bitch! LOL! Of course that is with any yard and landscaping. It is just not our thing.
There have been times when the weeds behind the garage have been up to my waist. I kid you not. But, I have really tried over the last couple of years to keep it up and looking pretty so we can go out there and enjoy it.
I have been looking for an old garden gate to purchase and use as decor but hadn't found one until this year. I finally found one and I love it! So, this is what I did to create these lovely outdoor spaces!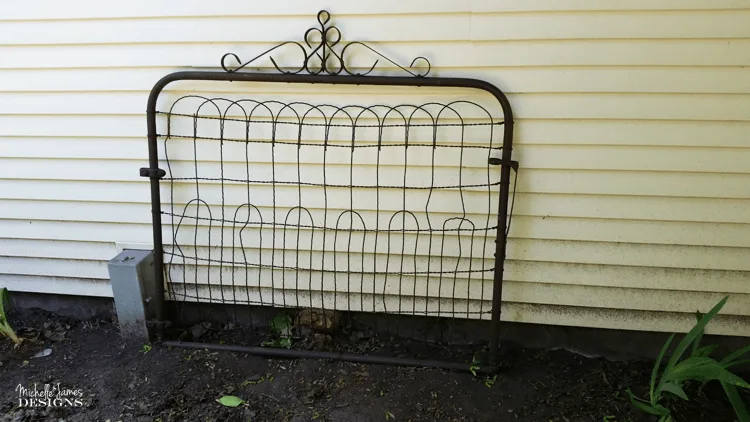 The first one is the most prominent along the side of the house as you walk up to the back door.
This is where my new garden gate is. It obviously needed something around it.
I purchased some different flowers and greenery and went to work. Chloe, once again, is my helper.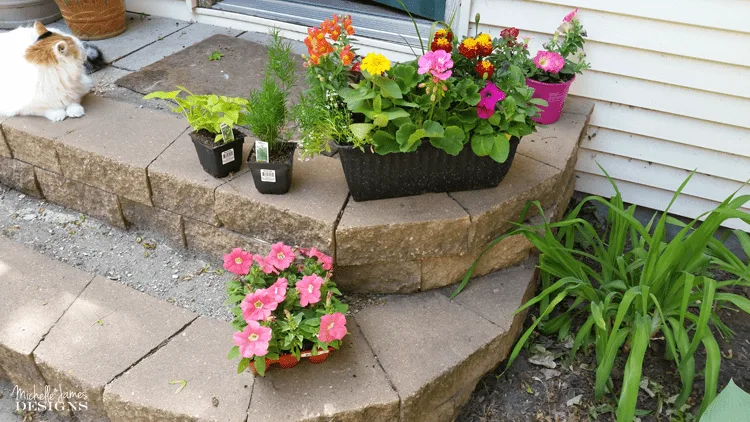 The boys' Radio Flyer wagon just sits in the garage so I thought it would make a nice place for a lot of the new plants. I added some gravel on the bottom for drainage then some potting soil for the plants. Remember that I am not an experienced gardener. I just plant what I like. I do look at the shade/sun requirements on the tags. I have a lot of shade so full sun plants don't do well. The larger pot at the top of the steps in the photo above did not specify so I just took a chance in a part sun/shady area.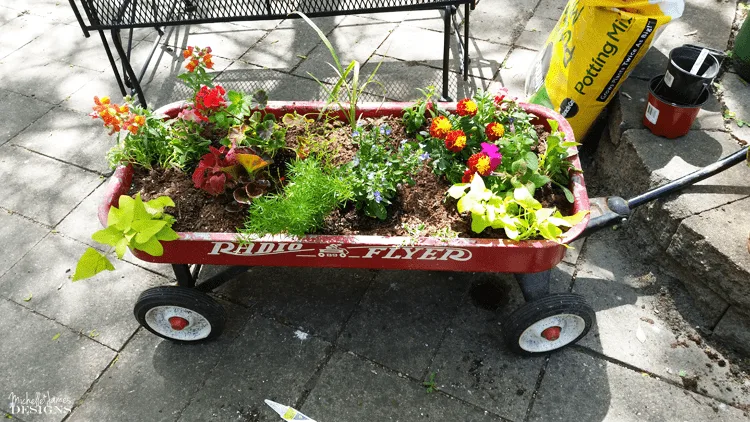 I just decided where I wanted everything and planted them into the wagon. I had some of the plants leftover for more of my outdoor spaces. But this is what the wagon looked like.
Then I got busy with some pots. They are mostly by the back door. But I also wanted on on the other side of the gate.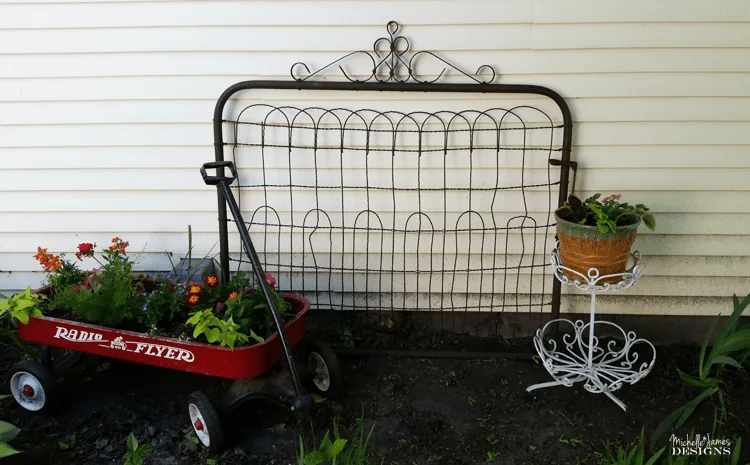 I like the white plant stand but I am not sure it matches with the wagon and the gate. I am on the search for a fun wooden chair to put in it's place. What do you think? In the meantime it stays.
I was also able to somewhat hide the little gray box on the side of the house a little bit with the wagon.
I created a fun sign for the gate too.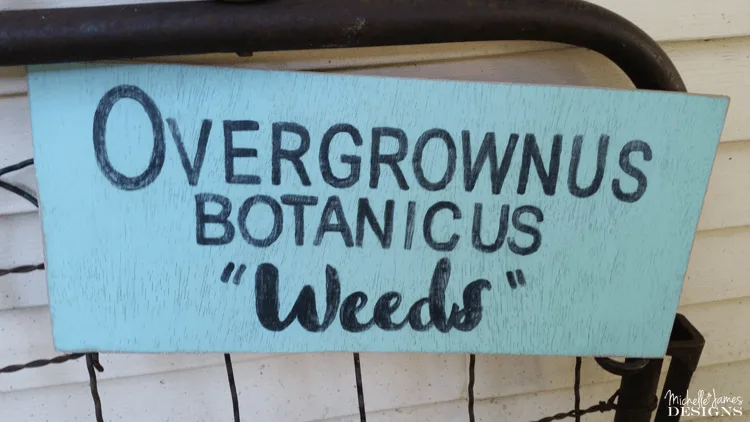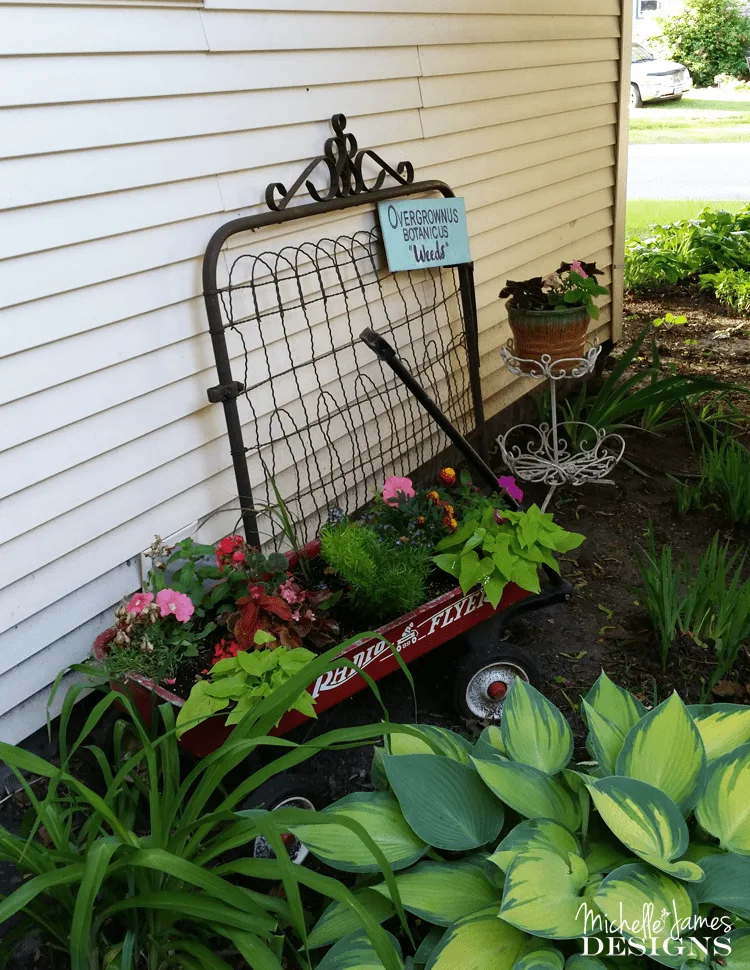 I love to see this everyday! And I am more willing to take of the weeds because I want to keep it looking nice.
Here are some more pics of my outdoor spaces. I still need to fill the buckets on the fence and one more container but I think I have created an nice place to relax and have a glass (or two) or wine.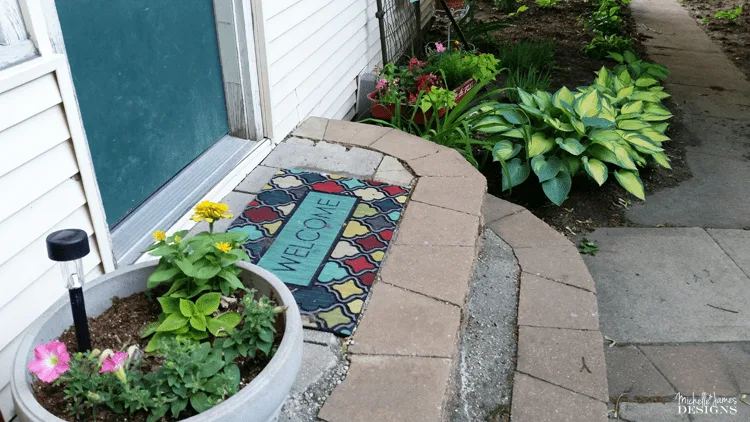 And I topped it off with a new, colorful door mat from Lowes. Pretty, right?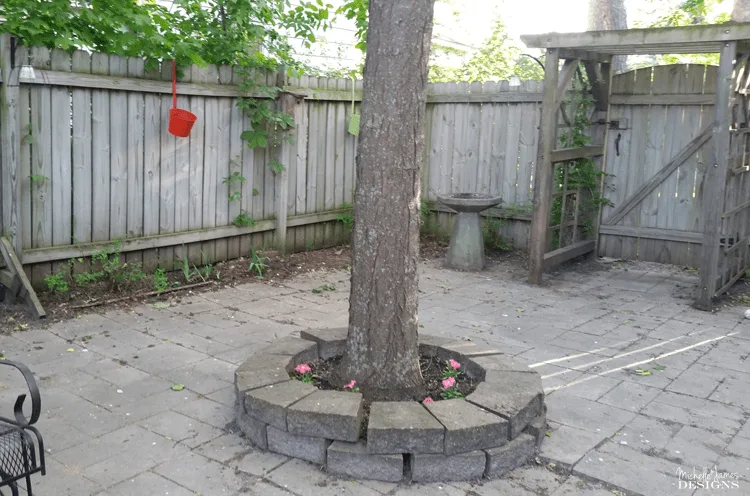 I am hoping these little petunias will fill in around the tree soon. They are somewhat skimpy right now.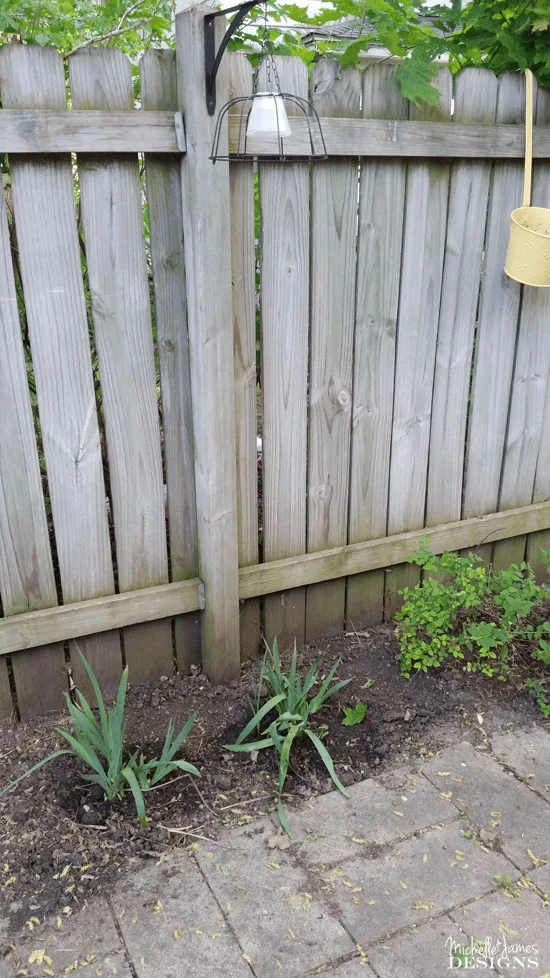 One of my friends gave me some Iris last year. I had planted some of them on the other side of the fence but never got these got in the ground until now. They survived outside in the plastic bag all winter and now are happy in their new home. Above the Iris you can also see my Dollar Store Outdoor Lighting. These things are still working. LOL!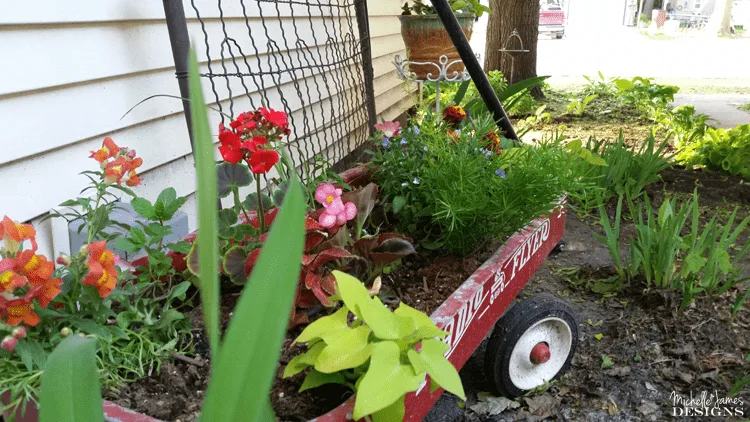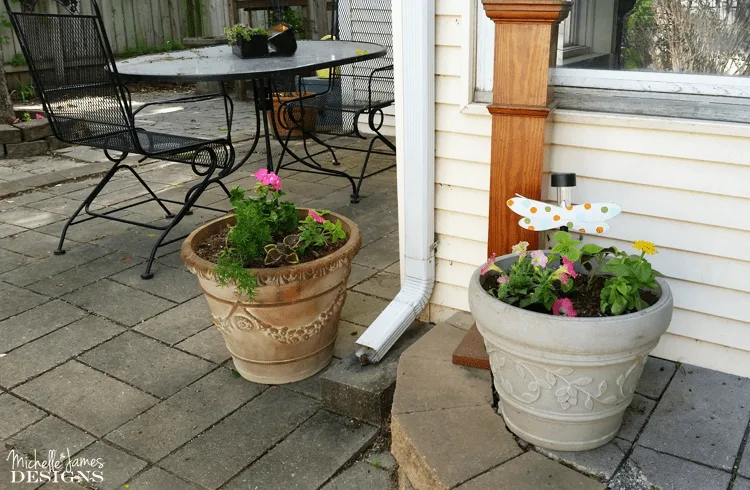 It makes me happy every time I look at them and wonder why I don't plant more.
If you like this post….as a special treat I have some other outdoor space ideas from my blogging friends you can check out below! If you have an outdoor space post please feel free to link up and share!
Thanks for stopping by!
Michelle