Hi friends! Welcome to Christmas week. I am still decorating because I really wanted a large canvas that I could hang on the wall. So, I decided painting on canvas was the best way to make this work.
I mentioned it to Peggy and she offered me the canvas she had purchased at a garage sale for $1. Isn't she the bestest friend? I was really happy because it was the perfect size.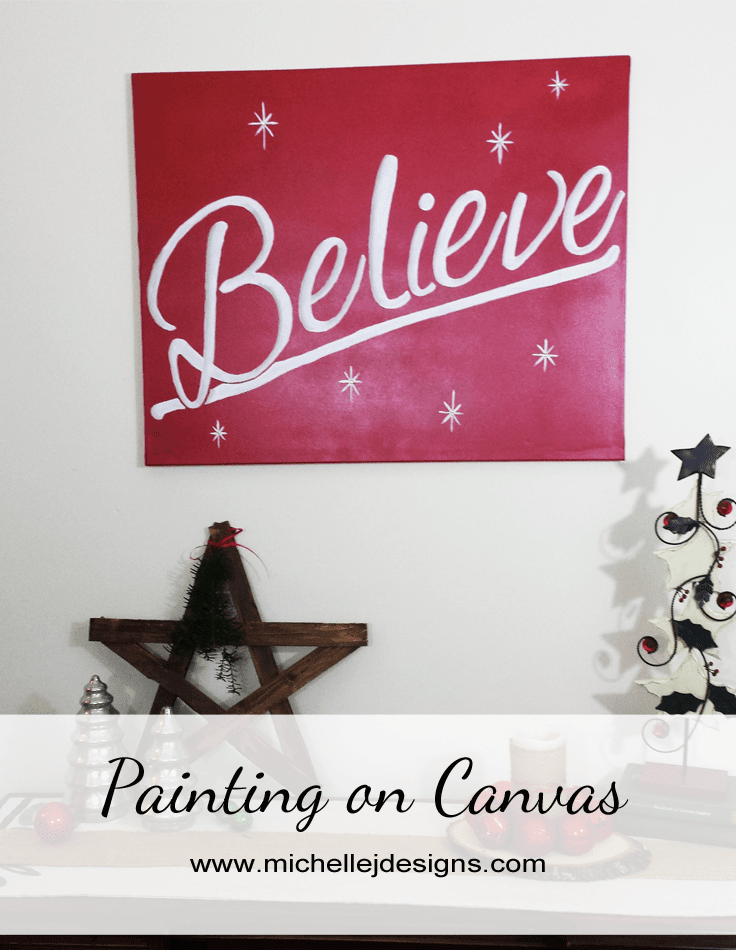 Painting on Canvas
Painting on canvas can be a daunting task. Sometimes I just stare at it wondering if I should start because I may ruin the whole thing. But you know what? You can paint over it and start again if needed.
This is how I created this very large BELIEVE piece of art for my holiday decor. I am really excited about it.
Below are some affiliate links. If you click on a link and make a purchase I will receive a small commission at no extra cost to you. Every little bit helps to keep my blog running and creating fun projects and tutorials like this one. I appreciate it very much. You can see my full disclosure here!
The canvas was white when I got it. So, of course, it needed some color. I had some of the red metallic spray paint left over from my Wine Bottle Holiday Decor class so I used it. It took about 3 coats of the red paint to get it looking good.
Then I cut the letters out of my new Silhouette! I know, right? We took advantage of the great deal on Amazon and Jeff and I are both excited to use it. As of now (December 20, 2015) the great deal is still going on so if you are thinking about it…you should check it out.
Anyway I wanted pretty big letters to cover most of the canvas. The canvas is 3o" x 24″ and the "B" took up the entire 12×12 cutting mat. Then I cut the other letters separately. I was able to fit more on a sheet after the "B" was done.
Then I laid them out on the canvas to get until I liked the way they looked.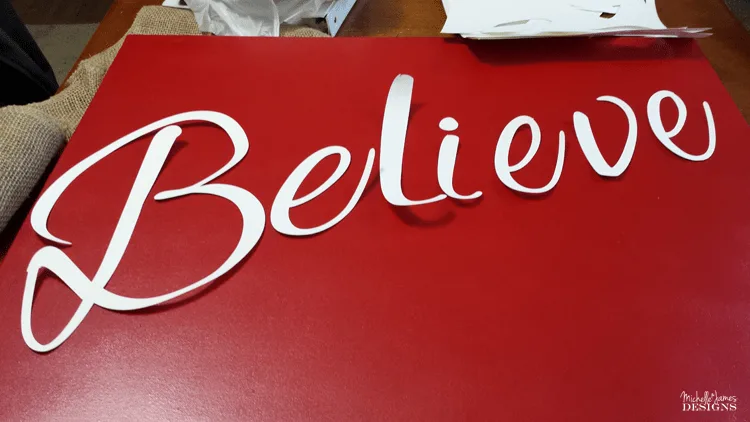 I used a large ruler to make the bottoms even. A yardstick would work great as well.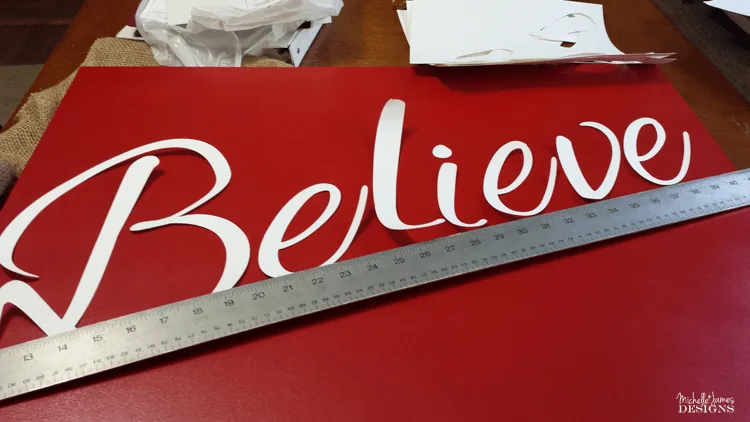 Then I used chalk to trace around the edges of the letters.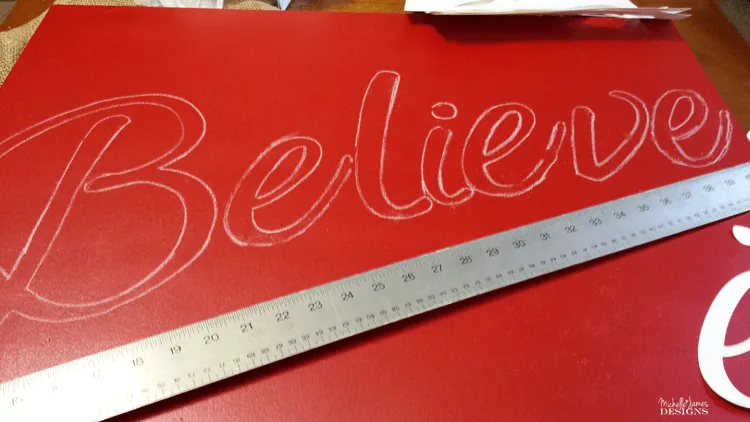 After that I used white, acrylic craft paint and started filling in the letters. This was after the first coat. I added an "underline" to give it just a little more umph!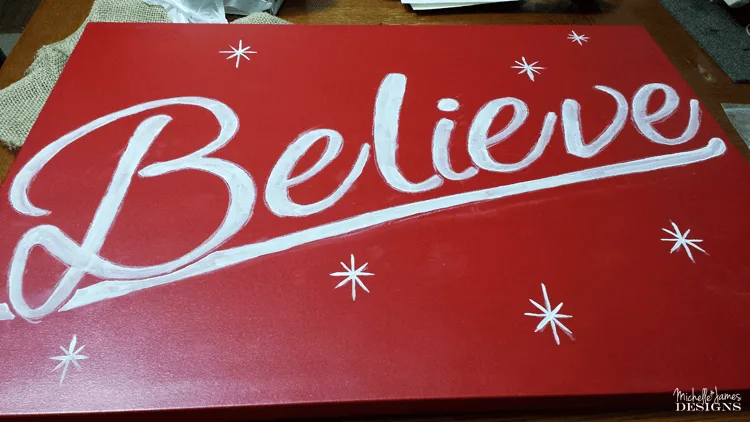 I added some fun stars or twinkles around to fill in some of the extra space. It took 3 coats of the white paint. But then it seemed so stark. I was trying to figure out what to do when Jeff suggested some shading on the letters to add a little depth. I loved this idea.
I used to take toll painting classes…way back in the day and I was able to remember some of my toll painting tricks for shading. I think it is called floating. If I am wrong someone please let me know. You use a flat brush that is somewhat wide. Dip your brush into water then fill up just half of the brush or one corner of the brush with paint. Start at the top of where you want to begin your shading with the paint side next to the edge. In my case it was the edge of the letter. Begin pulling your brush down. I leaves a sort of "gradient" of paint. Heavier on the side with the paint, then the water helps to lighten it at the other side creating a soft shading effect.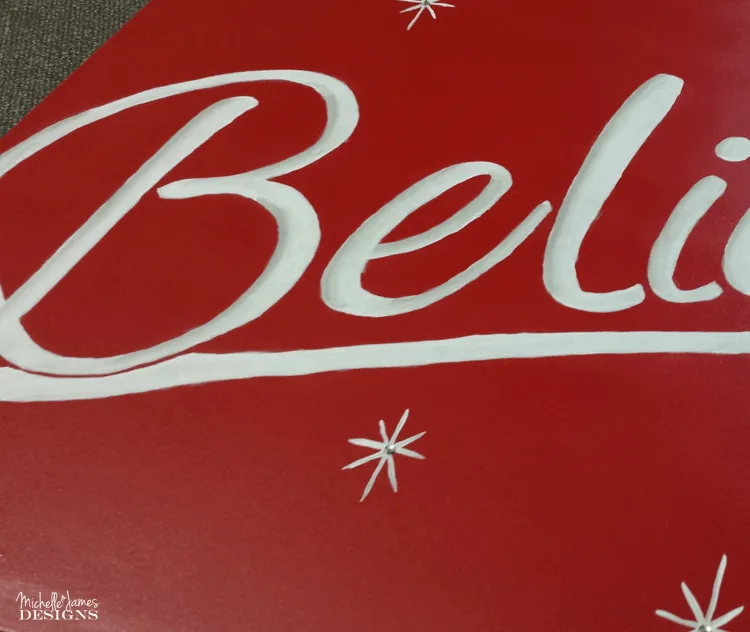 It is light but you can see the gray paint on the left side of the letters. It really added to the design. Then I added some green rhinestones to each of the twinkles. Can you see them in the above photo?
Here it is hanging on the wall. What do you think?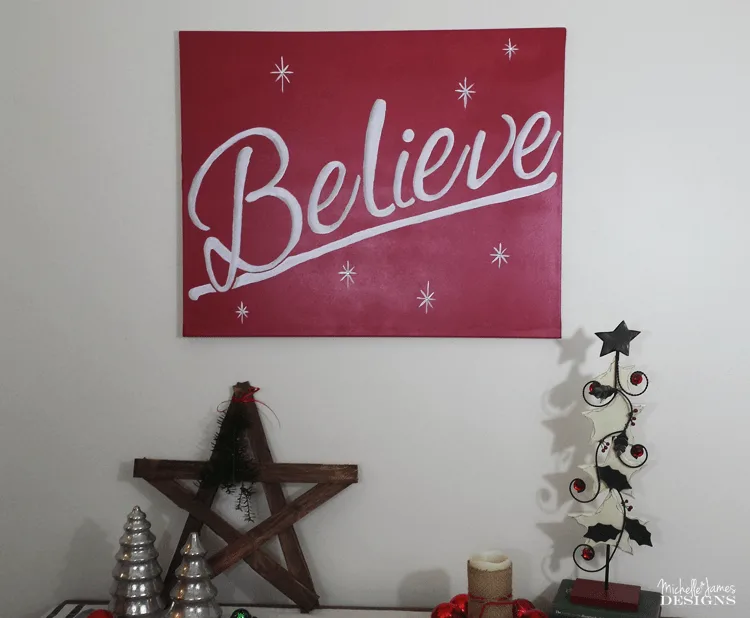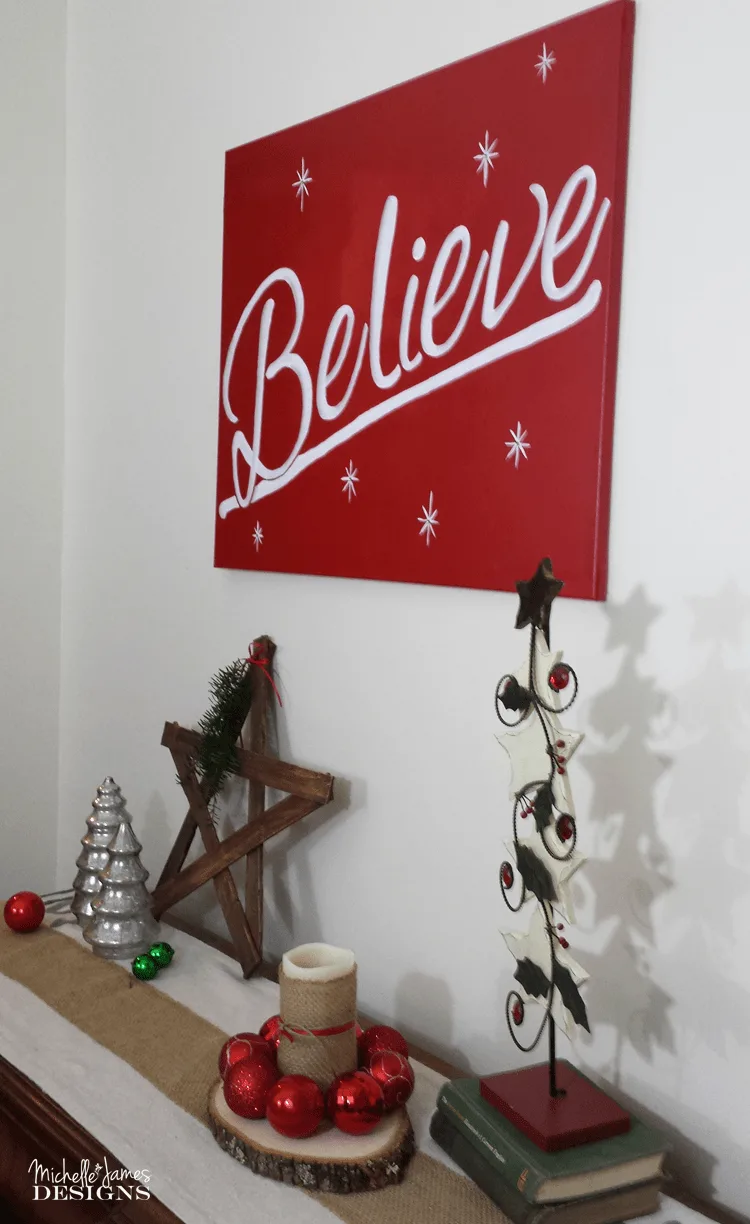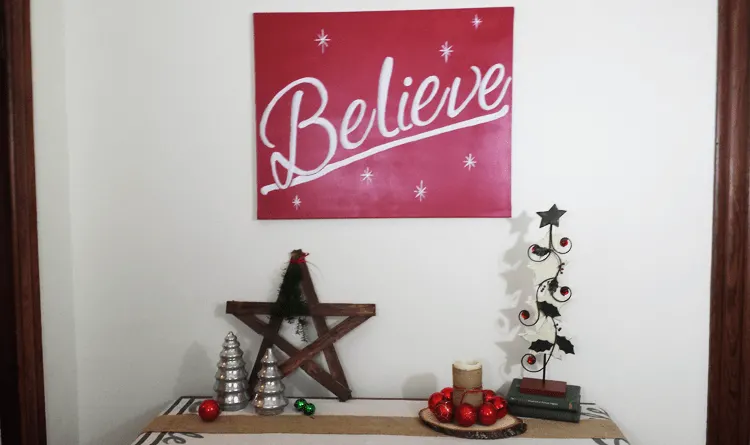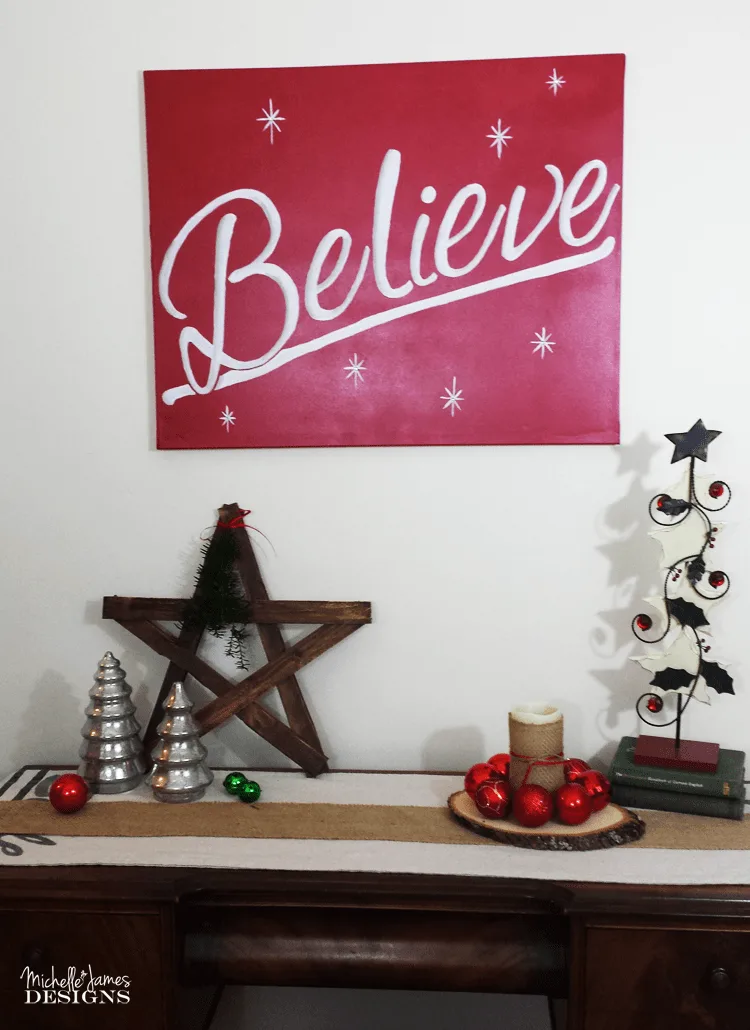 And there you have it. Any easy way to create a large holiday home decor by painting on canvas. I hope you liked my little tutorial and will come back again! Thanks so much for stopping by!
I am sharing this post at: