Are you looking for a way to create fun personalized drinking glasses? Color changing vinyl creates a fun interactive gift for any occasion!
If you have spent any time reading my posts then you already know that I love making gifts for my friends and family.
Glassware always seems to be a fun way to give a gift so today I am working with a stemless wine glass and a beer glass to show you just how fun these can be.
Valentine's Day is my "special occasion" but this can be anything. Changing up the design is easy and then you can personalize as much as you want. How fun is that?
I am using vinyl for my personalized drinking glasses. So there is some of my favorite Craft Glossy vinyl on these glasses but I have also included something really special, Color Changing vinyl!
It is purple when it is cold and pink when it is warm. I can't wait to show it to you!
If you LOVE Dollar Tree crafts and gifts then you are definitely in the right place.
If you love painting and making glass crafts and gifts you will love it here.
Personalized Drinking Glasses
I got these stemless wine glasses and beer glasses from the Dollar Tree. They are cheap and they are glass but they are really nothing special.
But…add in some color changing vinyl and you have yourself a fabulous new gift!
It is amazing what a little bit of vinyl decor can do…right?
This color changing vinyl is so cool. It is from my favorite vinyl company StyleTechCraft! They are sponsoring this post and were generous to send some of this vinyl to me so I could try it out!
You can follow them on Facebook. They are always posting their new colors and fun ideas for vinyl.
Materials Needed:
Dollar Tree Stemless Wine Glasses
Dollar Tree Beer Glasses
Color Changing Vinyl – Pink/Purple
Black Craft Glossy Vinyl
Red Craft Glossy Vinyl
Transfer Tape
Rubbing Alcohol
Cricut Maker or other cutting machine
Step 1: Upload your design to Cricut design space
I am a member of Creative Fabrica. This is a great resource for SVG files and fonts. This is where I got these designs. It thought they were cute. I don't like beer but some of my friends do.
Once I had my designs I uploaded them to my Cricut design space. I did these one at a time.
Step 2: Re-size your design to match your project
Usually the file that you upload needs to be re-sized to fit your project. You can adjust the size by grabbing the corner knobs around the design.
If you need to change width and height separately you will need to unlock the design by clicking on the little padlock in the lower left corner of the design.
I haven't talked about the hearts yet but this photo shows the padlock and knobs I am talking about.
Step 3: Use design space to create the look you want
I knew this design would be pretty small on the drinking glasses so I got rid of some of the small things just so they wouldn't cause me trouble.
To do this you can click on the little "eyeball" icon on the right side next to each layer you do not want to include in the cut.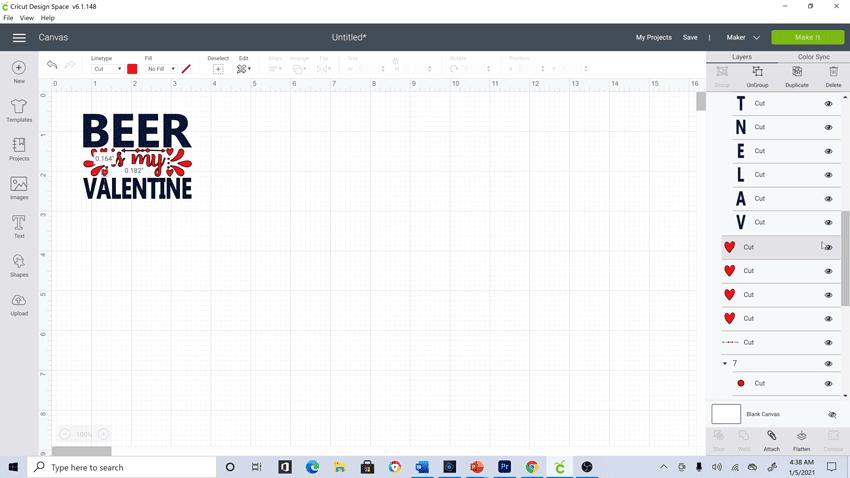 You can see how the design starts to change.
I have removed the small dots and hearts and the script font.
The font was going to be small so I wanted to have a more blocky font that is easier to weed.
Step 4: Add in a different font
Once I had the little bits removed I added in a different font. Just click on the Text icon in the panel on the left side of the screen.
Type in your text. I added an extra space between my words. They looked a little too close together.
Once the text looks good, re-size it to fit in the space.
Step 5: Create some hearts to cut
I wanted to add some extra hearts around the text so I am just going to add them now.
Choose the heart in the shapes tool on the left side of the screen. Copy and paste by right clicking on the heart and choosing copy. Then right click again and choose paste. Then you will have two hearts.
I added three hearts and resized them to each be a little bit different.
I wanted to cut the color changing vinyl out of the main part so it could be more dramatic. So I cut it out for the words Beer and Valentine and I used it for the hearts.
CUTTING TIP: The color changing vinyl is thicker than the craft glossy vinyl. I used the following settings on my Cricut Maker:
Premium Vinyl
Metallic Glitter
and I used the "more" setting instead of the "default" setting for the pressure
Step 6: Cut out the design
Cricut will separate the mats but color. Add your vinyl to the mat and cut out one color at a time. You can also group together the like colors and click on Attach at the bottom of the right side of the screen. This will keep the design in the exact same place to cut.
Step 7: Weed your designs and add transfer paper
Use whatever tools you love for the weeding. I have a "picking tool" from StyleTechCraft that I use all of the time.
You can also use a pair of tweezers that have a fine point at the end. Those are helpful too.
When your design is weeded add the transfer tape to the top of each design. Be sure to keep entire words together. I also kept the middle part of the design with the little designs together.
Step 8: Start placing design onto drinking glasses
I started with the middle section (the little black design and the "IS MY" text). I really don't think I can get things straight anymore. My eyeballs must be off. LOL
After the center parts were down I added the color changing vinyl text pieces then the hearts.
These next photos will be for both the wine glass and the beer glass so you can see them.
Finishing up the personalized drinking glasses
Now that you have the vinyl all done. Let's test these guys out! Just click the little play button at the bottom right of the video.
How cool is that? Wouldn't that be a fun gift to give? Fill the drinking glass with some candy and add the beer in as a fun bonus!
Here are some more finished photos!
Printable Instructions with links to materials
I have added some affiliate links for your convenience. You can see my full disclosure here.
I hope you think this is as cool as I do. I love it.
Thanks so much for stopping by.
Michelle