I wanted to create a sweet spring time kit that includes subtle flowers and fun spring time sayings to compliment your photos. I believe this kit is just that.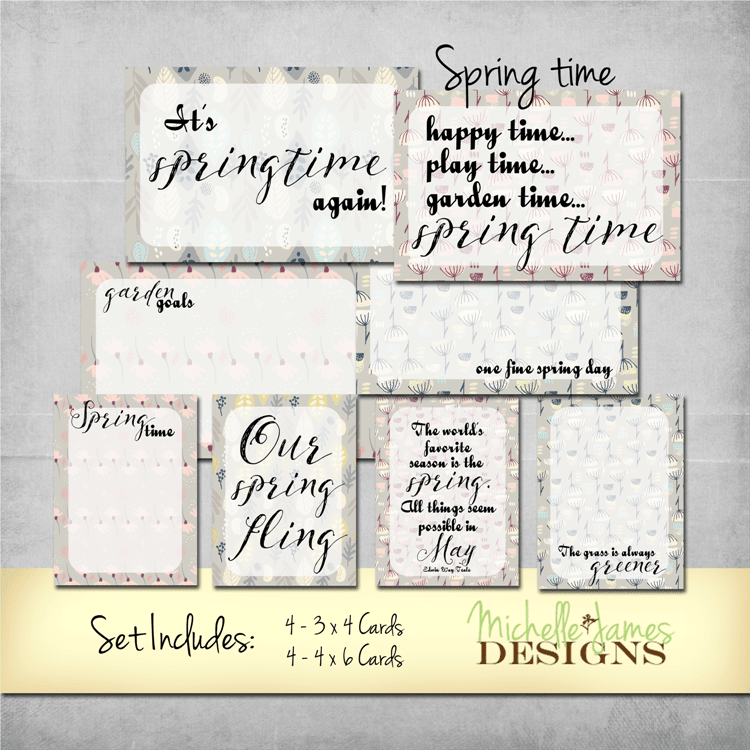 Spring Time Kit
The Spring Time Kit includes four 3×4 cards and four 4×6 cards. Two of each size are journal cards and the other two are fillers cards. The flowers are pretty but not too bright to interfere with the photos on the page. I always believe the photos should be the main focus of any page. After all, that is what scrapbooking is for right?
I have included two print sheets for those of you who create traditional scrapbook pages or the traditional Project Life. Or you can print them and use them for card making. They are very versatile as all of my scrapbook kits are.
You can download this kit by clicking on the "add to cart" button below.
I hope you will stop by the shop and see all of the 13 Project Life/pocket page kits that I offer. Plus you can check out my freebies and download them to use for your personal use.
I would love to design kits that you are looking for and would like to hear your ideas. I try to design one kit per week and am always looking for the next theme, holiday, or quirky fun design. I would also love to hear from the Project Lifers out there. Do you like 3×4 or 4×6 better or a mixture of both in the kit like this one. You can leave a comment below or use the Contact page to send me an email. Either way I will respond.
If you like this kit please share with your friends. It is hard to get my brand out there and I really do need all of the help I can get when it comes to people seeing them. I appreciate any and all shares!
Thank you for stopping by!
I am sharing this post at:
Work It Wednesday