Are you guys ready for some amazing St Patrick's Day gifts and home decor ideas? I have searched the interwebs and found such great ideas from many different bloggers! I am so excited. Here we go!

Let's get started with these amazing St Patrick's Day gifts and home decor ideas! So, in no particular order:
You may click on the photo or the link below the photo to see the original post. Enjoy!
No. 1 –
I struck gold when we became friends gift bag. I love this simple idea of a bag filled with whatever you. This is a free printable. Be sure to grab that! And it is filled with all sorts of gold wrapped candies. I love that it isn't just gold coins though. Too fun!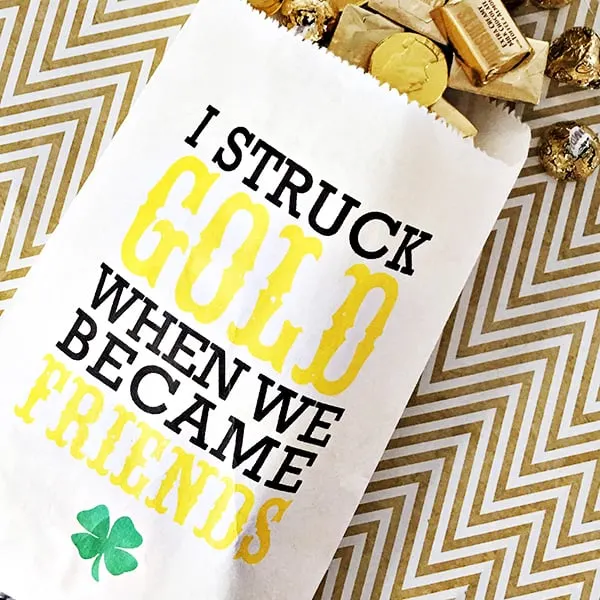 No. 2
Pinch Me Burlap Sign – This "pinch me" sign is made from burlap and would such a great addition to any St. Patrick's Day decor. Go see how she did it!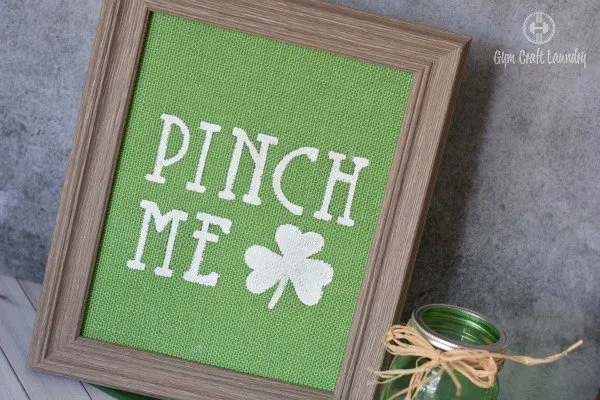 No. 3 –
DIY Shamrock Wreath – I love the different shades of green in this wreath. It makes me happy! Wouldn't you love to create one of these for your home? These would also make great St Patrick's Day gifts!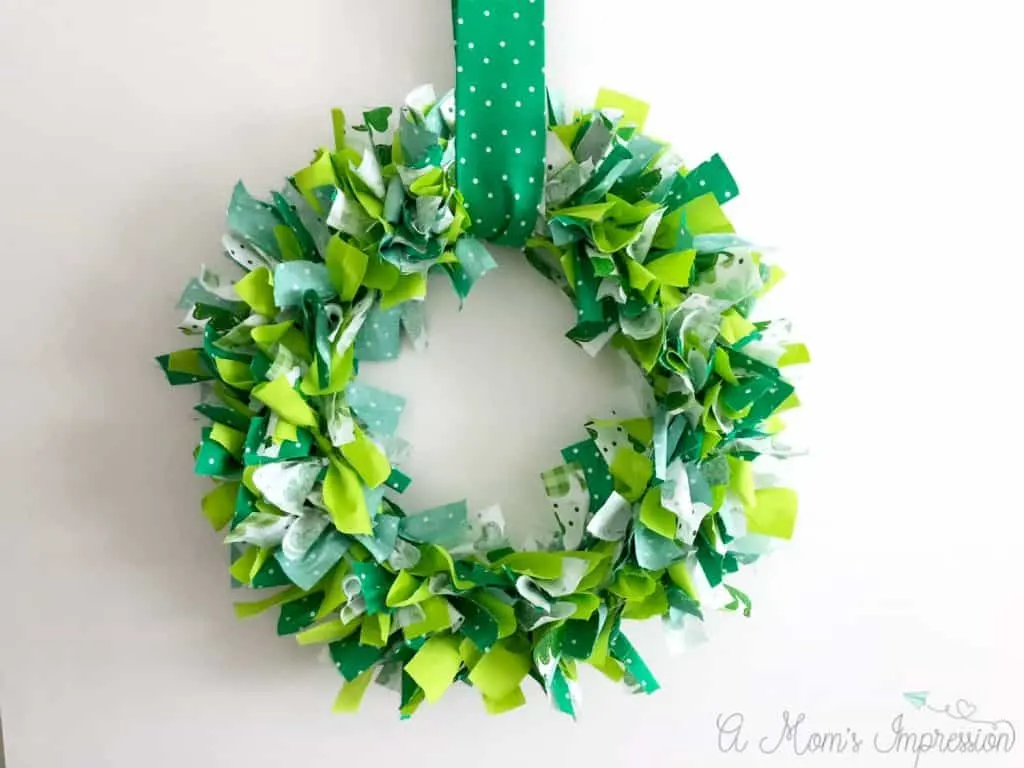 No. 4 –
St. Patrick's Day Lotto Gift – I thought this was very clever. I give lotto tickets as gifts sometimes and if you didn't want to give at St. Pat's you could always change the wording to say "happy birthday" or whatever the occasion.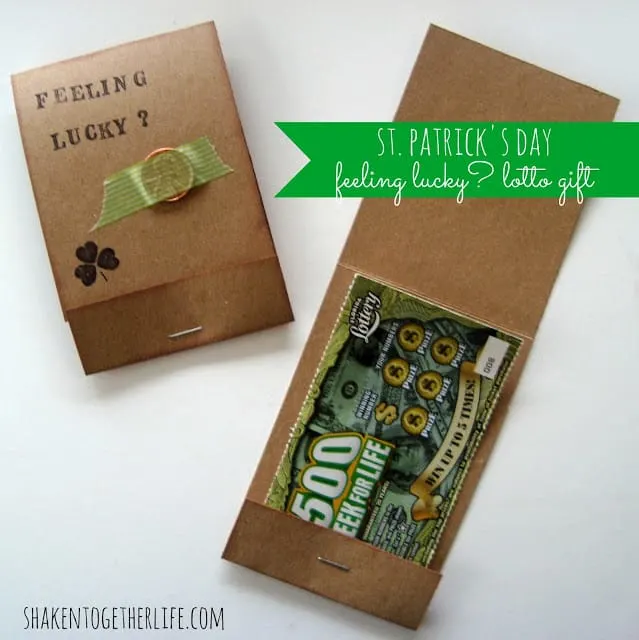 No. 5 –
St. Patrick's Day Rainbow Printable – This one is another free printable for you to use as a tag or whatever you like. She has added it to a jar gift! You know how much I love gifts in jars. They are one of my favorite things. Go grab the printable!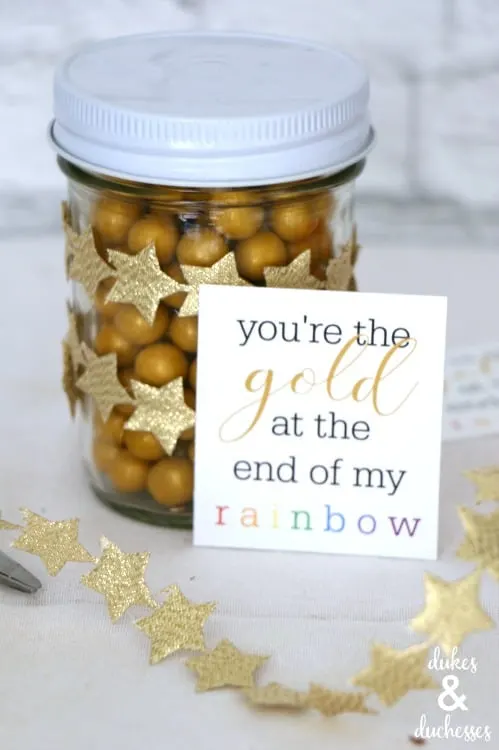 No. 6 –
Iron On Glitter Vinyl Shamrock Shirt – The shamrocks were created using a Cricut cutting machine from the green glitter iron-on vinyl. It is the perfect St. Patrick's Day shirt for a little girl. You can see how it was made by checking out her post! Super cute.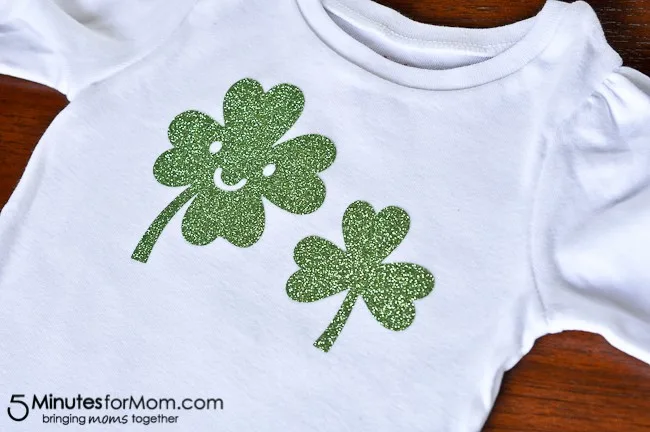 No. 7 –
St. Patrick's Day Mason Jar Decor – I love mason jars and decorating with mason jars. I made these to add some St. Pat's cheer to my living room. I was a little lacking in the St. Pat's decor area. You can see the full post here!
Again, these make great St Patrick's Day gifts and home decor!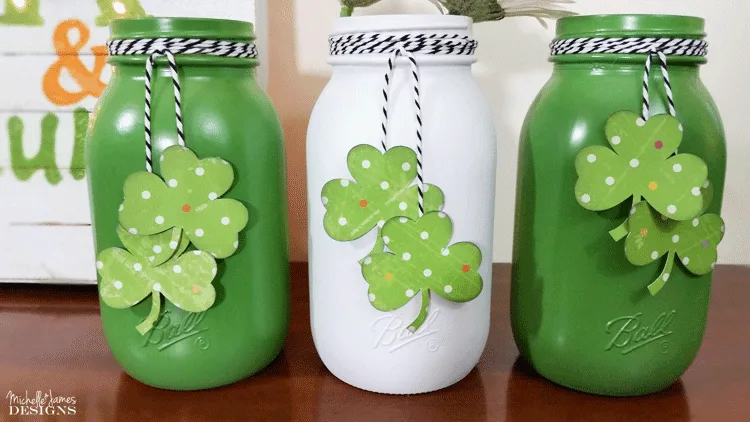 No. 8 –
DIY Paper Four Leaf Clovers – This one is another cutting machine (Cricut) project. These guys are so cute cut from the glitter paper and they seem so easy to make and create! You can follow Heather's instructions on her post to make your own!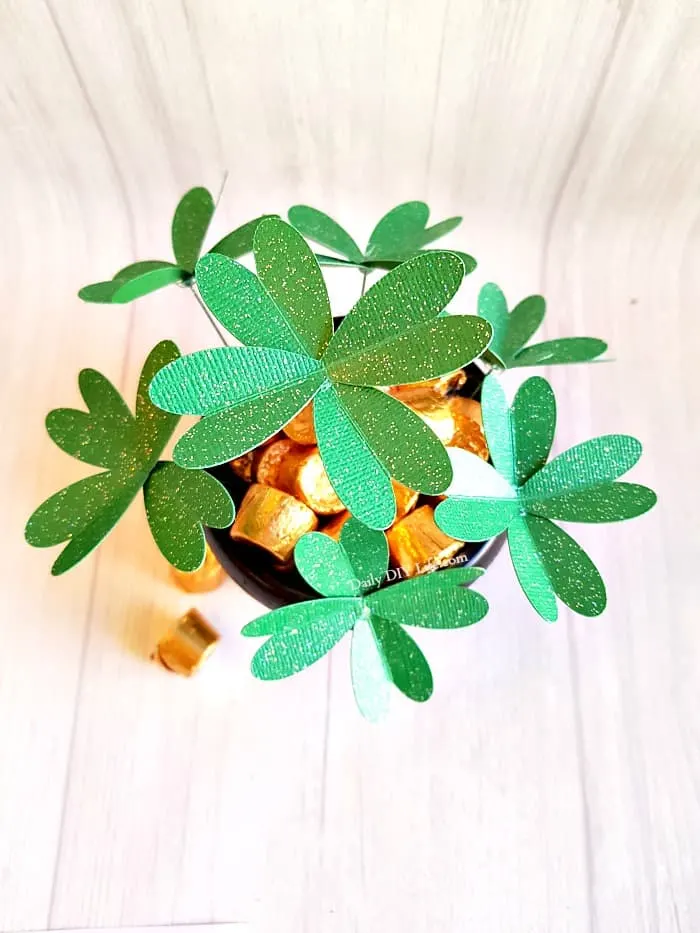 No. 9 –
DIY Lucky Bolster Pillow – Throw pillows add a lot to a room. I have never made a bolster pillow by The Country Chick Cottage makes it look so easy. The letters that spell out "Lucky" have been created with bakers twine. It adds a great touch!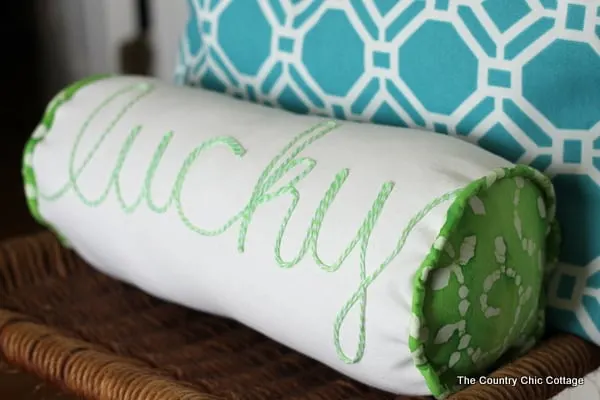 thecountrychiccottage.net
No. 10 –
Up-cycled Leprechaun Hat Treat Cups – Do you have some green paper cuts and plates left over from last year's St. Pat's party? Put them to good use and make these adorable leprechaun hat treats. Head over and learn how to make these for the kids…or the adults.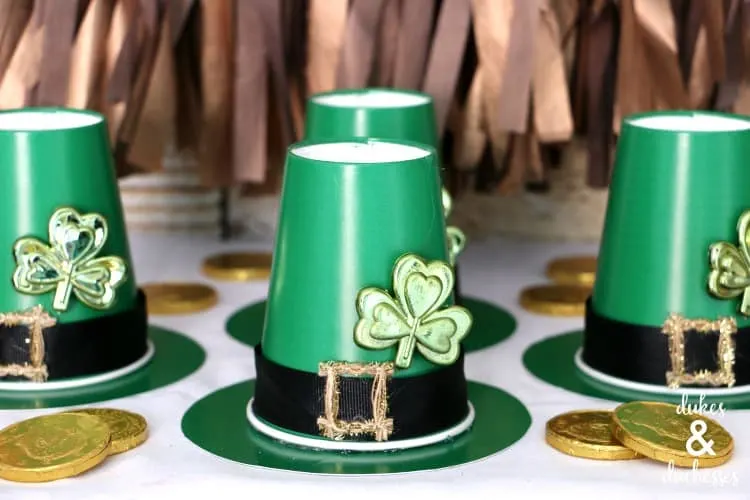 No. 11 –
It's Your Lucky Day Scratch Cards – I think is so clever. I can think of a million reasons to give these. Change the text a little bit and you have a birthday card, or an anniversay, or a housewarming. So many things…. And the scratch off part is just 2 ingredients! How cool is that?
No. 12 –
Leprechaun Popcorn – All I can say is "yum" to this. I love those mint m&m's and together with the popcorn?…My mouth is watering right now. You can get the full recipe on her blog!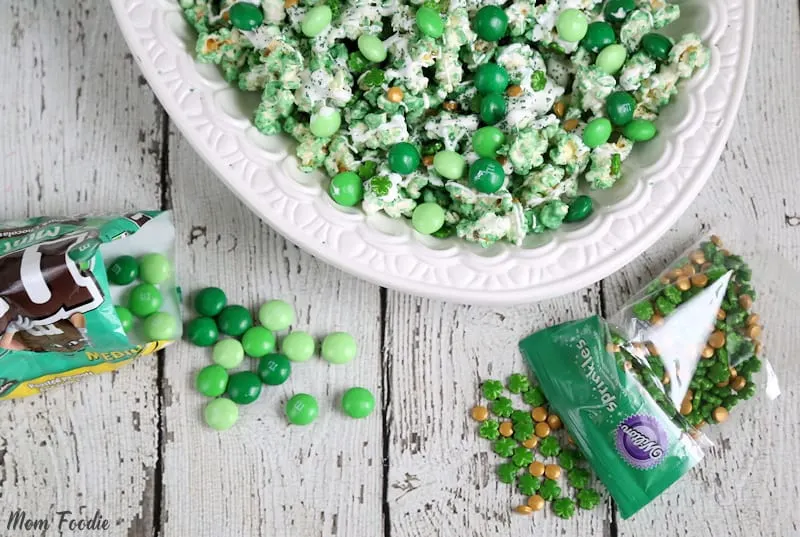 No. 13 –
Shake Your Shamrocks Throw Pillow – This was a pillow I custom designed using Shutterfly. All I had to do was upload my design, choose the size and make some color choices. Then it was sent right to my home. I love this thing. You can read the post here! I also created a wall canvas.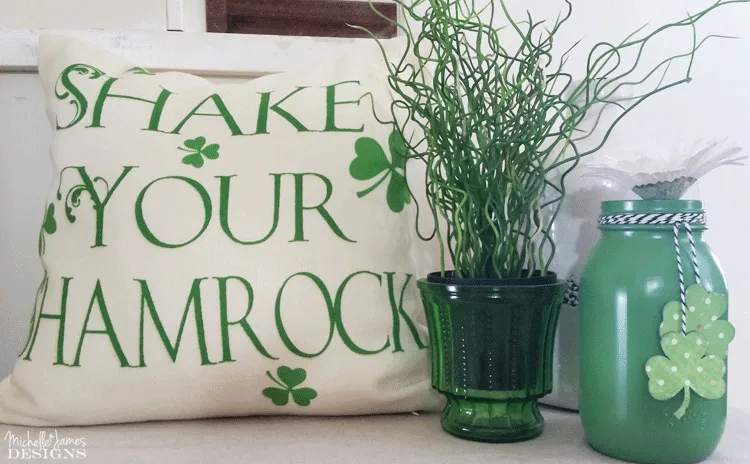 No. 14 –
Lucky Pallet Sign – This is so simple and festive all at the same time. I love the different patterns of paper and how it all comes together.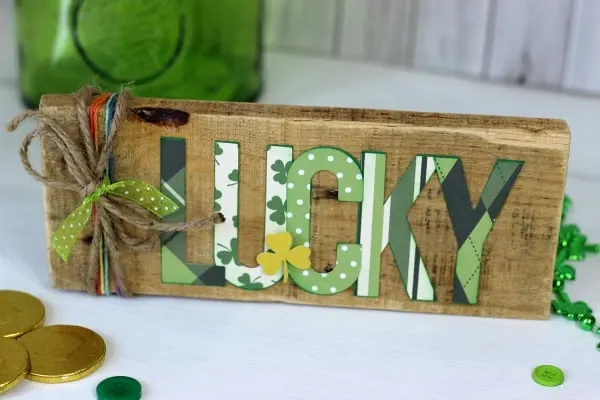 No. 15 –
Lucky Me Card Free Printable – This handwritten free printable is gorgeous. The inside reads: to have you. But in the original post it says you can print the front and leave the inside blank if you prefer. Go grab it!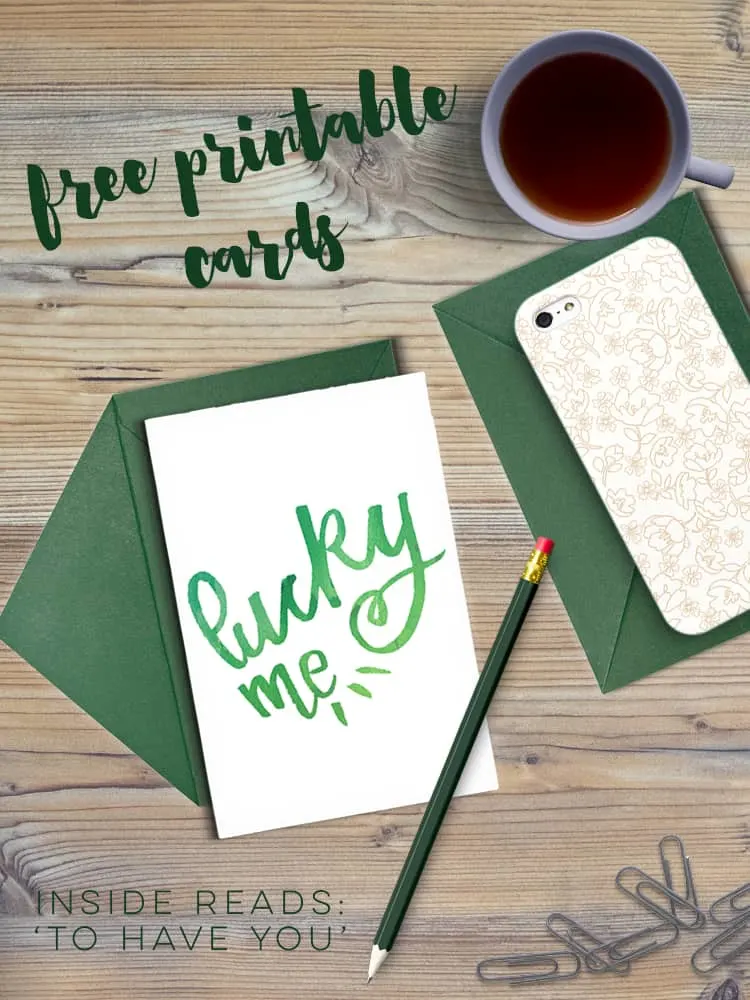 No 16 –
Lucky Shamrock Coin Bags – Nothing can go wrong with drop cloth bags and glittery heat transfer vinyl. These are adorable and with the help of a Silhouette cutting machine she added the shamrocks! Then they are all tied up with twine.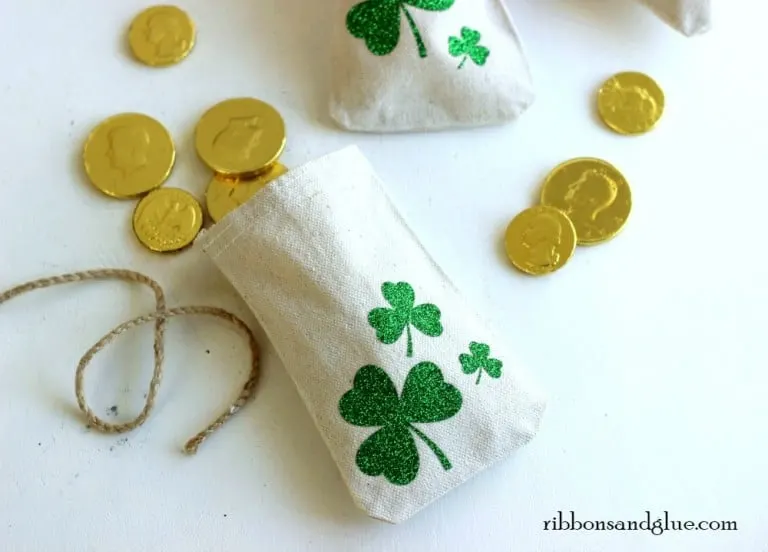 No. 17 –
Rainbow Candy Treat – It so colorful and love that each color of candy has a corresponding colored container. They are from the dollar store too which makes it even better! And gold coins in the last container. It's perfect!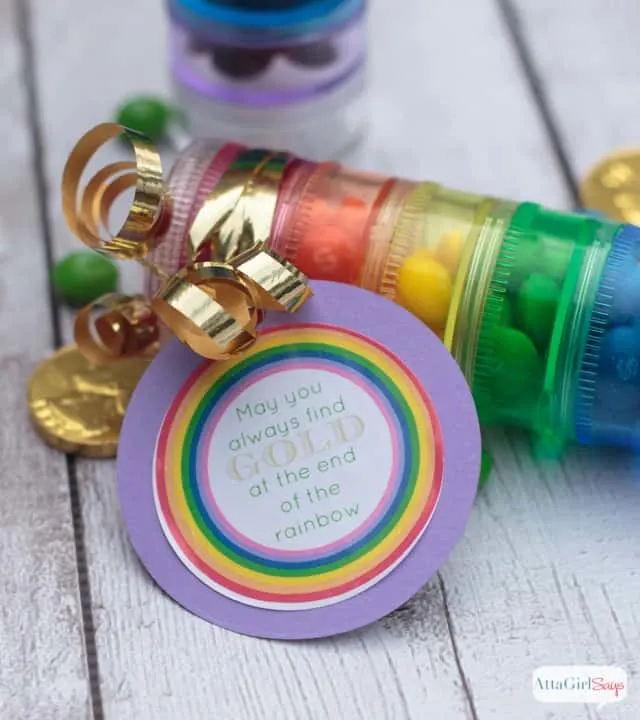 No. 18 –
St. Patrick's Day Burlap Wreath – This was another one of my great projects from last year in my St. Pat's decorating frenzy. I do love it though and am hanging it proudly again! You can find the tutorial here!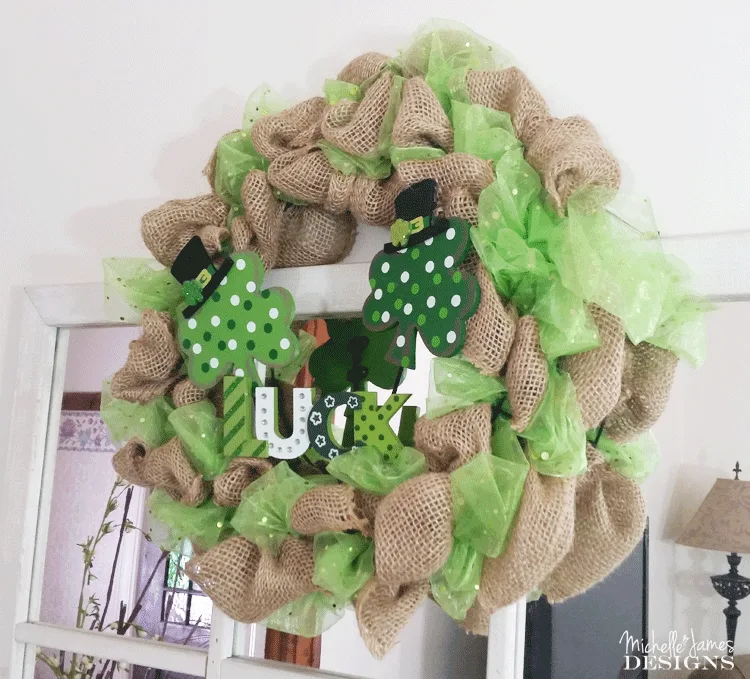 No. 19 –
St. Pat's Magic Vases – These are so clever. I love the look of the raised designs on the jars. Check out the tutorial. I think I am going to try these. You all know I love mason jars!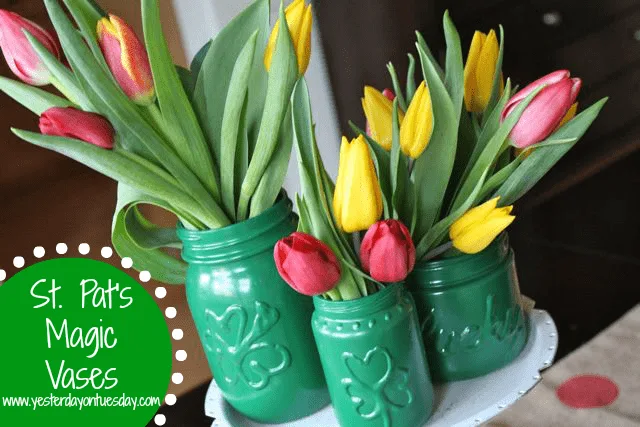 No. 20 –
Easy Rainbow Trifle – This looks so refreshing! I love cake and whipped cream and pudding but together they must be fabulous. You can find the recipe and instructions on the post! Plus it is so pretty!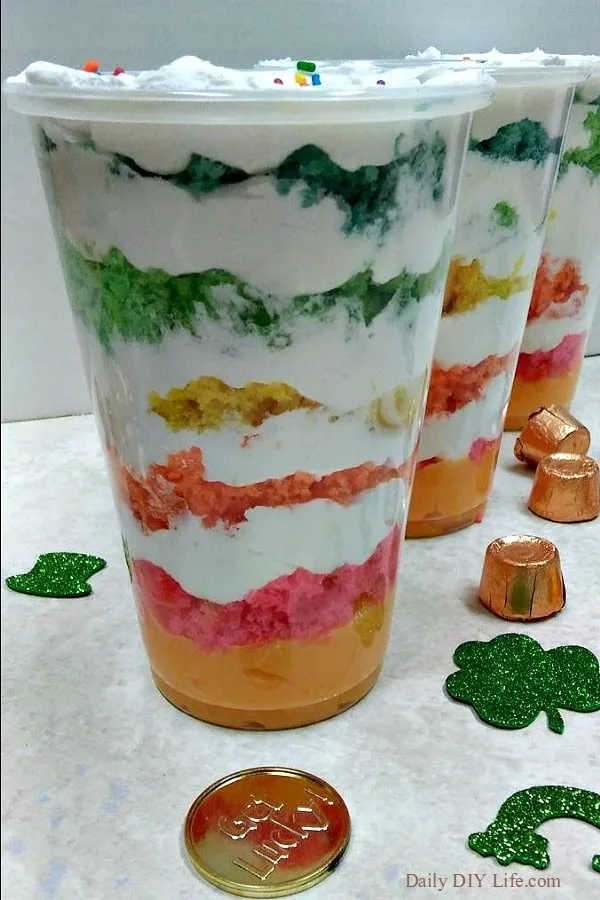 There you have it!!! 20 amazing St. Patrick's Day ideas. I hope you enjoyed all of them as much as I did.

Thanks for stopping by!
Michelle