I am excited to show you guys this upcycled herb garden! This is my second post for the Thrift Store Upcyle challenge and you know this is right up my alley. I love all things thrifted!
Last month I painted this colander and used it to show off the wooden Easter eggs. This month I did something a little more unique.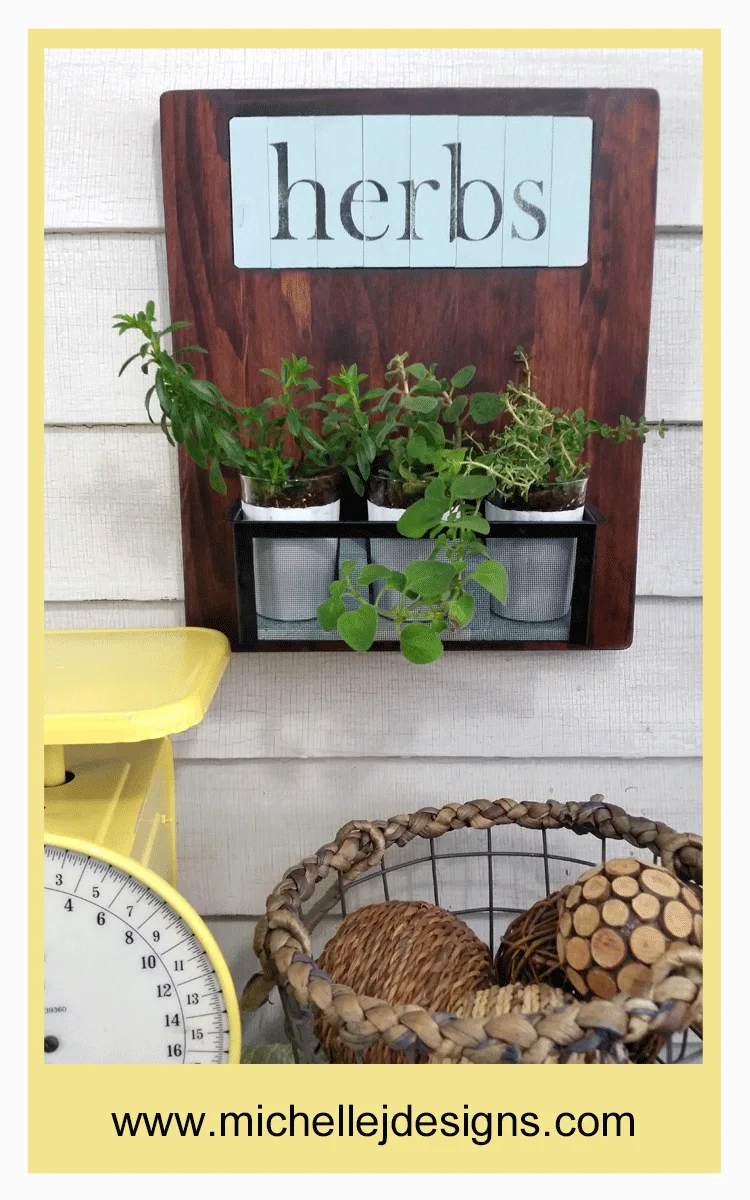 Thrift Store Decor Upcycle Challenge
The Rules:
Upcycle an item(s) from a thrift store, resale store, or garage sale into a new piece of decor.
There's no monthly theme.
There's no budget to stick to.
Meet the Hosts
Amanda | The Kolb Corner Erlene | My Pinterventures Kim | Made in a Day
Dru | Polka Dot Poplars Maureen | Red Cottage Chronicles Pili | Sweet Things
Debra | Shoppe No. 5 Marie | DIY Adulation Havalah | Sisters, What
Chelsea | Making Manzanita Ann | Duct Tape and Denim
Molly | Just a Little Creativity Ashley | 3 Little Greenwoods Kimm | Reinvented
Kim | Farmhouse Made Victoria | Dazzle While Frazzled Sara | Twelve on Main
Chelc | Inside the Fox Den Michelle | Our Crafty Mom Jeannee | Shepherds and Chardonnay
Jennifer and Vicki | 2 Bees in a Pod Lora | Craftivity Designs
Ali | Home Crafts By Ali Denise | My Thrifty House Kathleen | Our Hopeful Home
Jeanie | Create & Babble Michelle | Michelle James Designs
Make sure you follow our board on Pinterest for more upcycled decor inspiration!
Upcycled Herb Garden
This is the how this herb garden started out.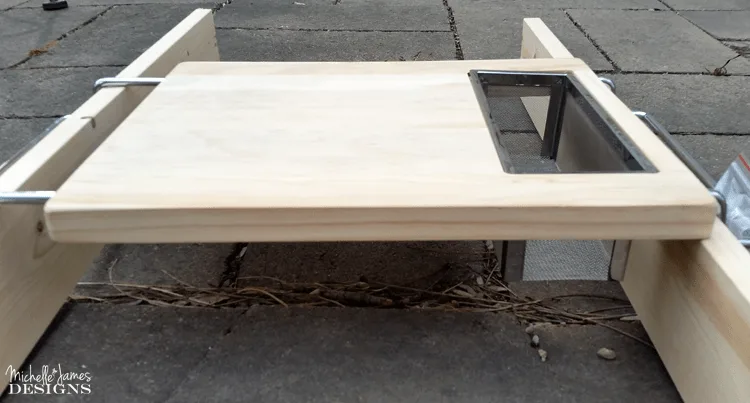 I got this cutting board at a garage sale fundraiser for a couple of dollars. This was almost a year ago.
It had the metal handles that insert into the sides so it would fit over the sink and the wire basket for the bits and pieces but I really liked the wood grain.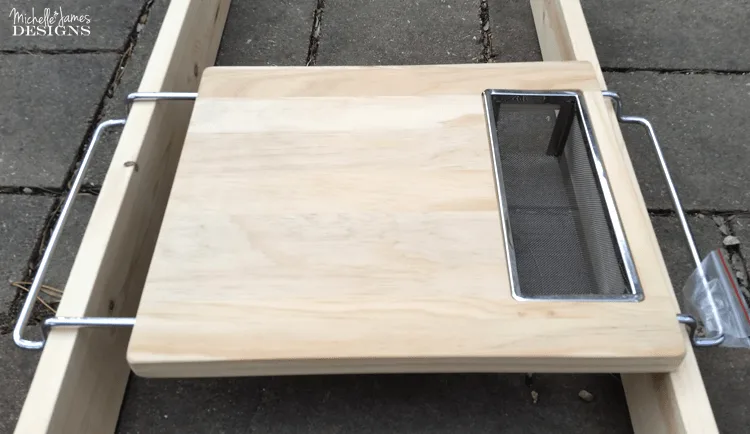 Supplies Needed:
I have included some affiliate links for your convenience. You can read my full disclosure here.
Cutting Board – I found the exact one I used
Minwax Wood Stain– I used red mahogany
Minwax Polyshades – I used Dark Walnut
foam brushes
lint free cloth
3 long paint sticks – I picked these up at the hardware store
Rustoleum Chalked Paint – Serenity Blue and White Linen
Black acrylic paint
Black Satin spray paint
Sanding block
Wood Glue
Miter Saw – or saw for cutting paint sticks
2 small screws
Drill
Saw tooth picture hanger
Herb plants
The Process
As I mentioned above the wood grain was so pretty on this cutting board so I stained it instead of my usual painting. I only put on one coat of the stain but then after it was dry I added three coats of the polyshades letting each coat dry over night before adding the next coat. This is the same process we used on the dining room table we made for Ian and Hailey.
The wire, mesh basket was going to be holding the herbs so I needed to cover the hole in the wood. This is where the paint sticks come in. They were the perfect thickness to fill the opening and not stick up above the wood. Jeff cut the paint sticks to length then we had to trim the width of the two outer pieces so they would all fit nicely.
I painted them with the Chalked paint in the Serenity Blue and used wood glue to place adhere them.
You know I love to create my own stencils. I used the Silhouette and the vinyl to make an "herbs" stencil. The black acrylic paint was perfect to use with the stencil.
When it was dry I sanded and distressed it a bit.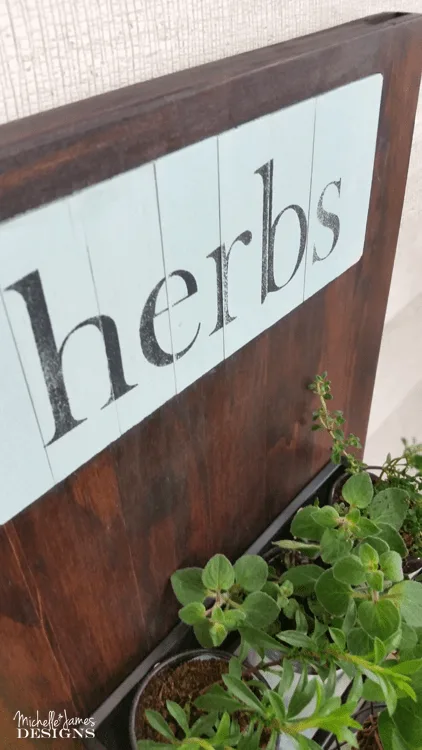 I spray painted the mesh basket black as well.
I found some small juice glasses at a garage sale as well and painted them with some the White Linen Chalked paint from the rim down. They each received two coats of the paint.
Putting It All Together
Jeff works at an architectural firm and sometimes he gets the old samples of Corian, Formica, etc. I dug around in the sample boxes and found three that fit into the wire basket and worked with the colors that matched. I also painted two small pieces of wood to match the painted paint sticks.
This was all to keep the little glass planters from moving around and bumping each other.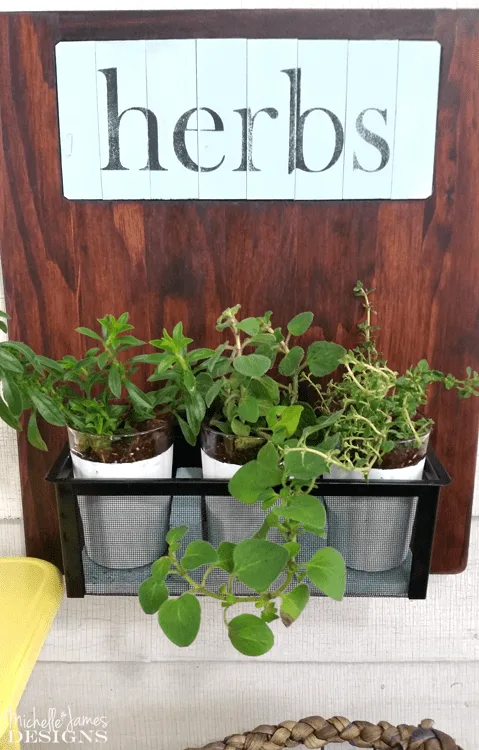 We attached the wire basket to the wood with screw and hung a picture hanger on the back. Then it was done! I love it. I think I will need to break out the grow light to keep them alive. And the cats have been very interested so I will also need to keep them away. It is a full time job so wish me luck.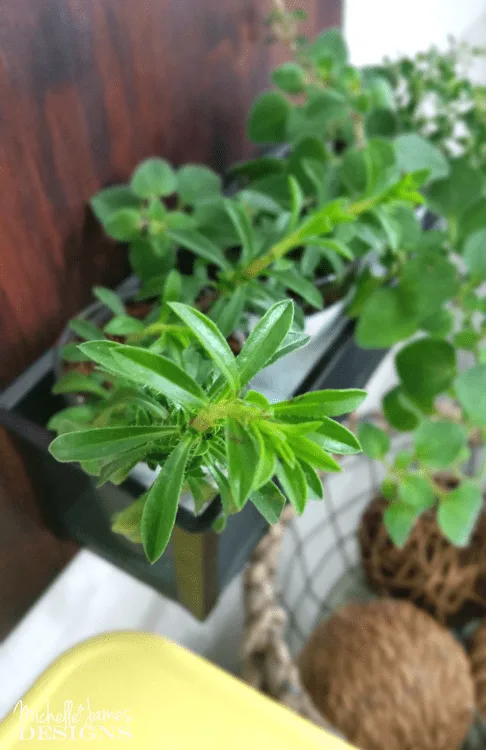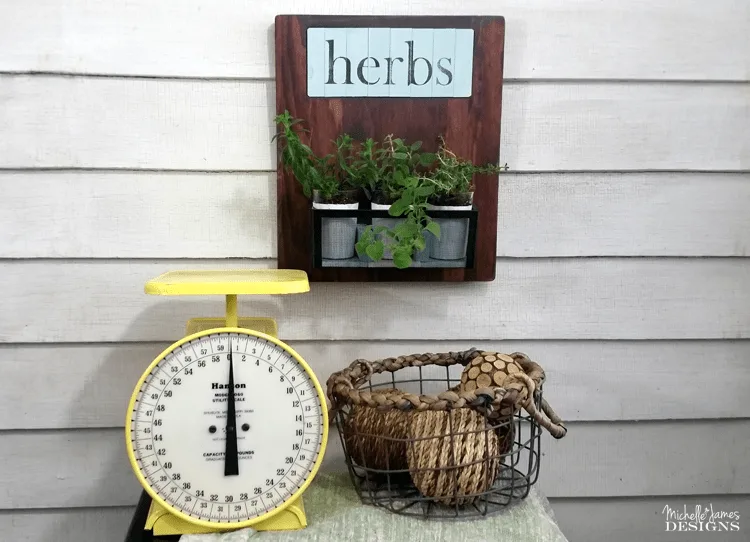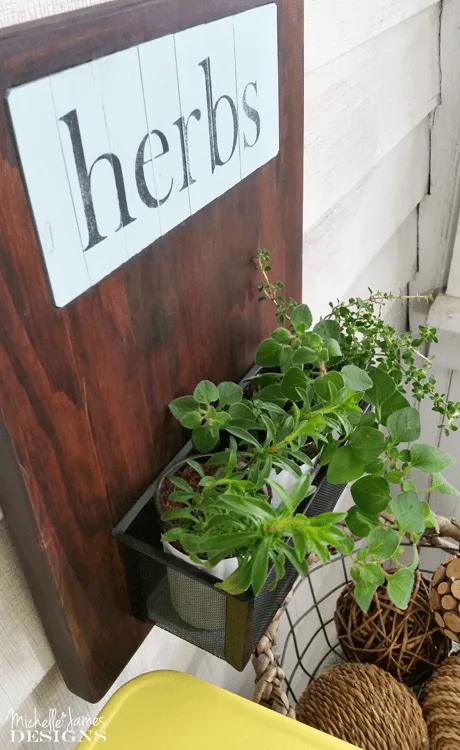 ---
And now for more thrifty goodness!
Check out what my fellow upcyclers created below!
Thanks so much for stopping by!
Michelle