Hello and welcome to week three of the drawer organization blog hop. This week is bathroom drawer organization. I hate and I love it..and you will find out why!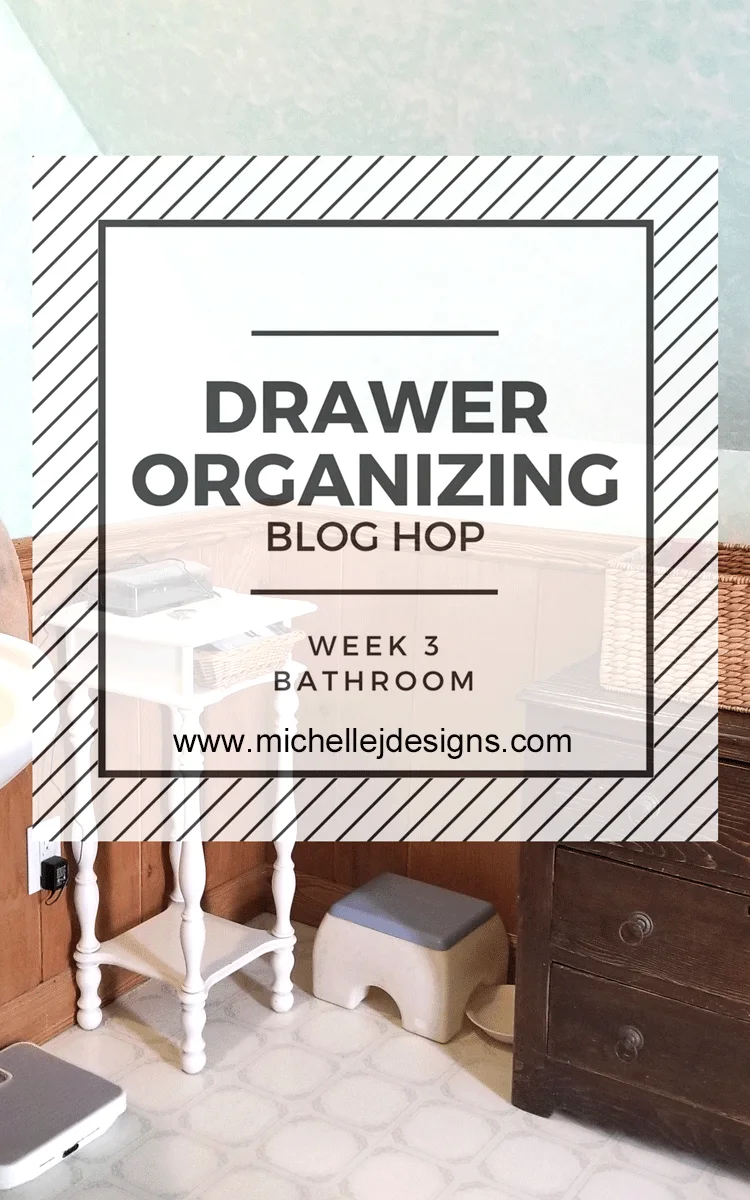 Welcome to the third week of the Drawer Organization Blog Hop! For the entire month of April, 11 bloggers will be sharing the process of cleaning and organizing one drawer in our homes each week.
My Pinterventures • Intelligent Domestications
DIY Adulation • Domestically Creative • Cookies Coffee and Crafts
Domestic Deadline • Across the Boulevard • Michelle James Designs
Mom Home Guide • Centsably Creative
Bathroom Drawer Organization
I am going to show you never before seen pictures of my bathroom. It is hideous so I don't photograph most of it…ever. I did take some photos when I posted about our litter box furniture piece but only one side.
We have lived in this house for 22 years and it is the only room that hasn't been re-done. I am embarrassed to say that but it is true. It still has the beautiful sponge painting. But not just on the walls…on the tub as well.
This is a pic of the entrance from the hall.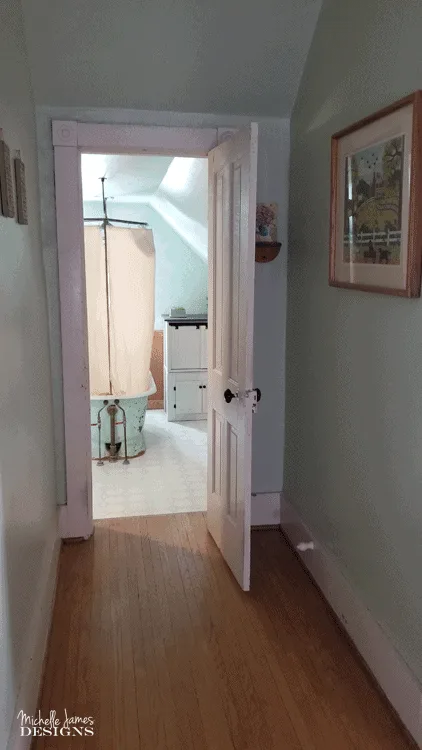 There are no built in cabinets for storage and a pedestal sink so that means no storage at all. Here are some more photos. We have added dressers for storage.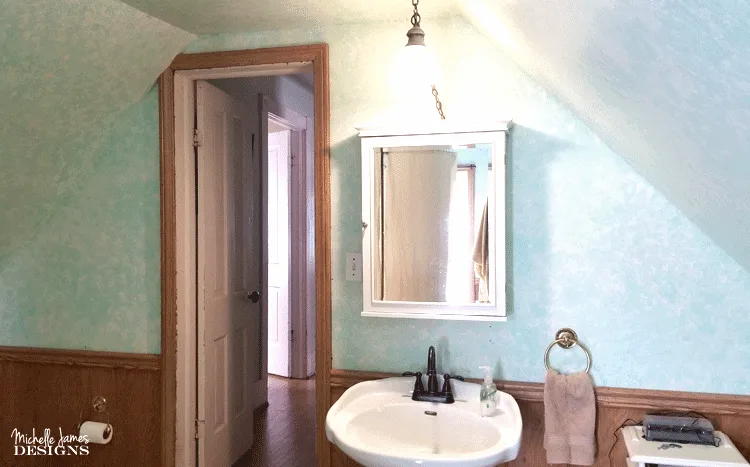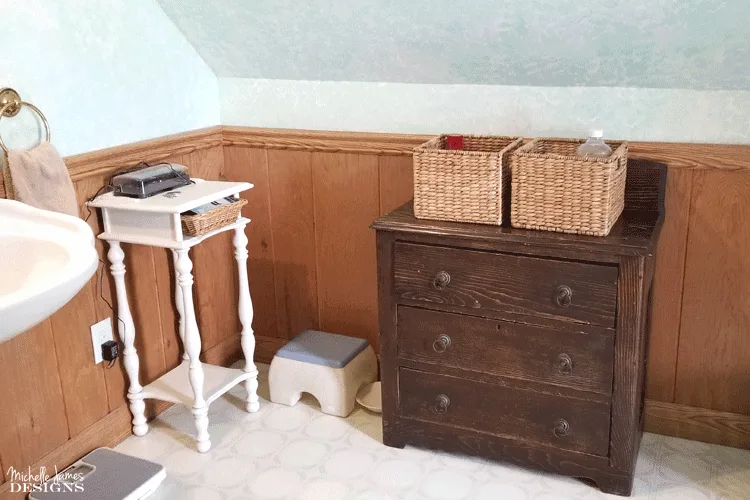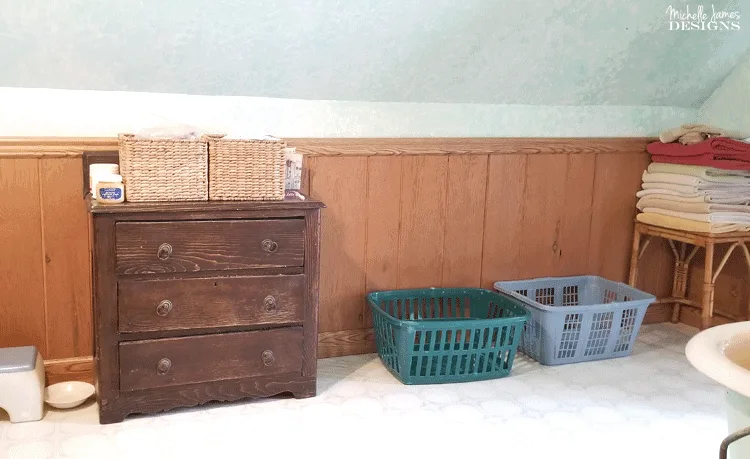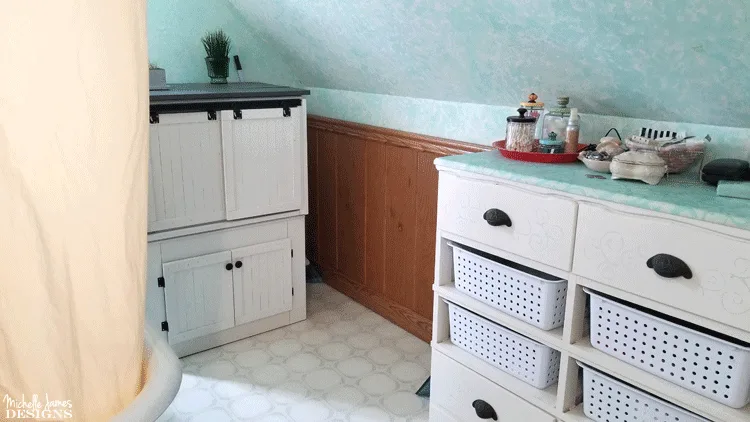 One dresser in particular has been in this room a very long time and as the years passed and we added the new dresser I sort of just caring about the old one. The drawers were full of garbage. This is the part I hate! Before the organizing. The gross-ness of it all. It is the worst.
These drawers were particularly awful.
It is this small brown dresser.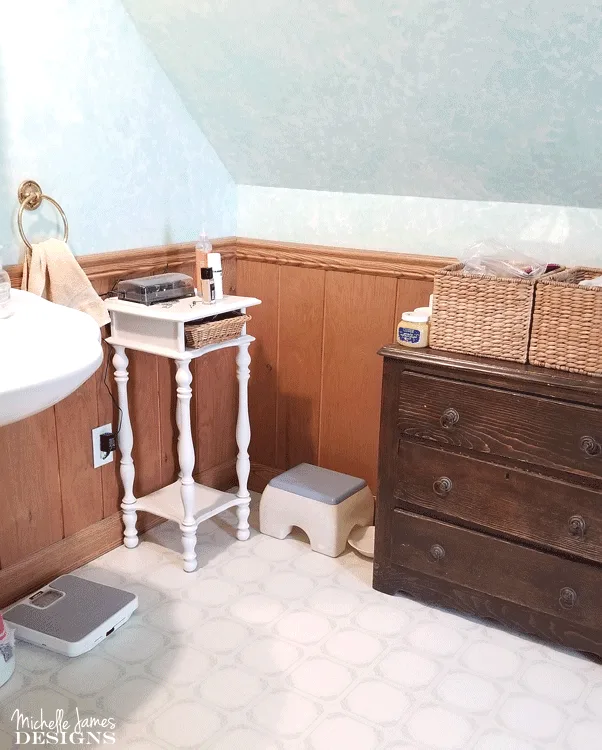 The Organizing Begins
These were the drawers when I started. Luckily they aren't too big. I grabbed a large garbage bag and got started. I really only kept a few things from each of the drawers.
The top drawer- before.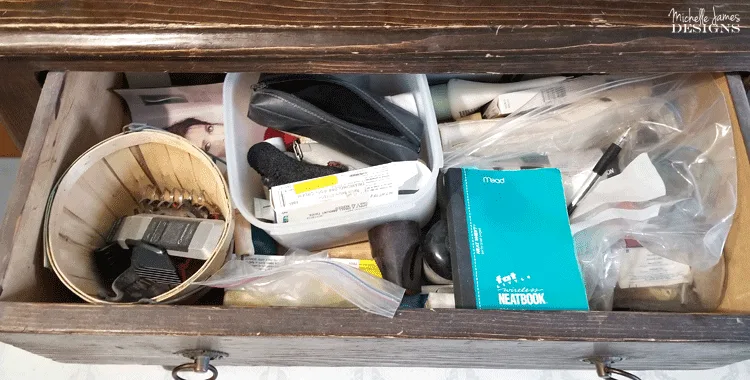 Middle drawer – before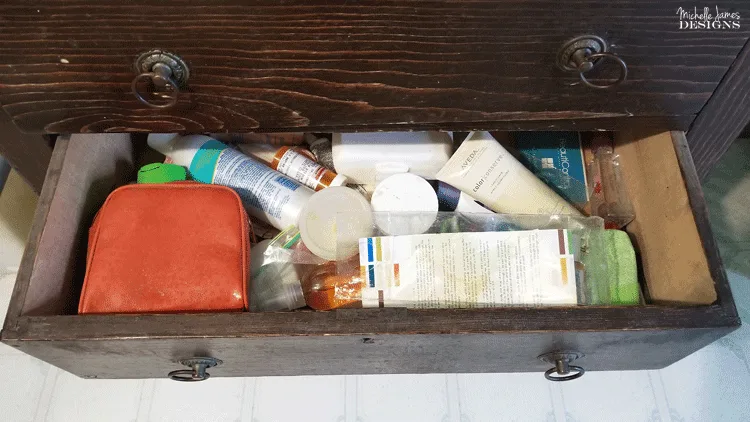 Bottom drawer – before – seriously, this was all that was in it.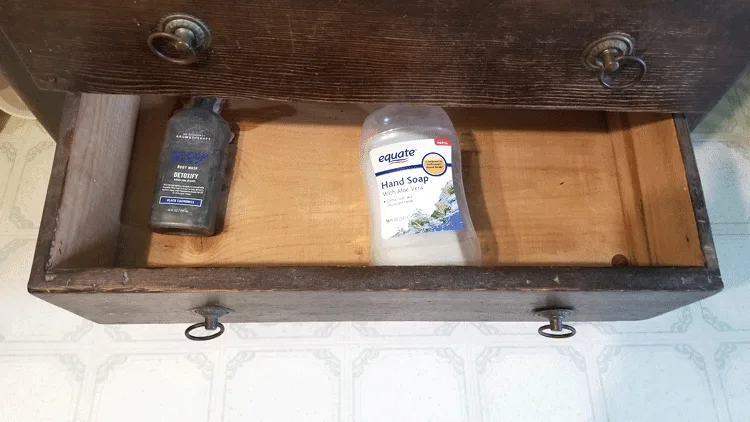 Emptying Everything Out
As mentioned before I grabbed a large garbage bag and got to work pitching all of the old lotions, medications, broken hair clips and more. I got all of the drawers emptied, cleaned out and put some clear contact paper in the bottom of each one.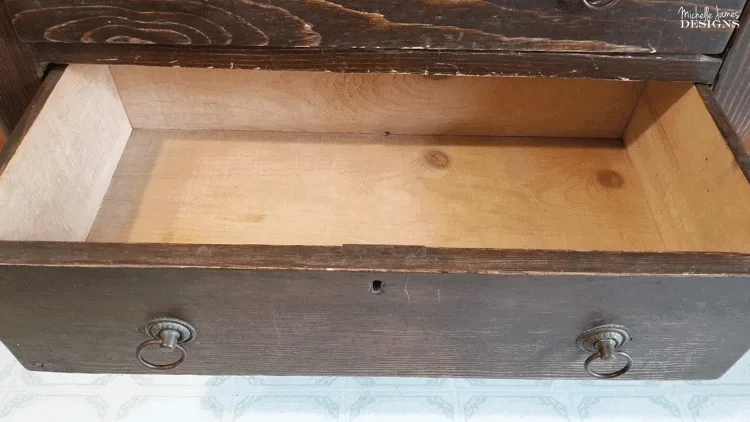 No proper drawer organization post is complete without some containers. I got these green containers at the dollar store for my pantry organization project but they worked well in the middle and bottom drawers for different items. They are bright but it's okay for now.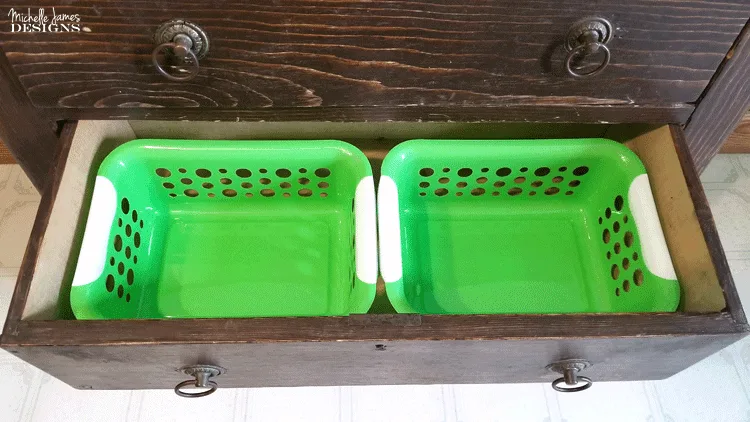 The top drawer needed different containers so I stole some from other parts of the house. This is how the top drawer turned out.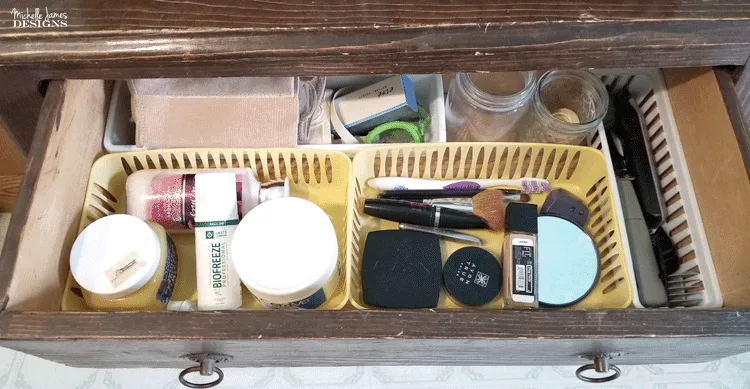 The things I use most often such as lotion and my make up are in this drawer. Plus some other odds and ends.
I got started on the middle drawer next and this is how it looks now. It has some hair products that don't get used too often, tape measure if I get brave and a notebook. You never know when you need a notebook, right? It was there before so I kept it in. Don't ask me why. LOL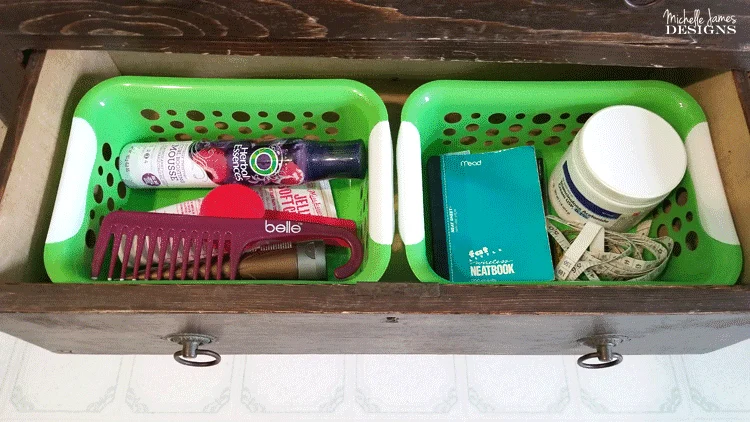 And last but not least, the bottom drawer. Chloe wanted to check it out too.
It now houses some of the extra stuff. An extra bar of soap, travel bottles, kleenex and the little make up bags that I use for travel as well.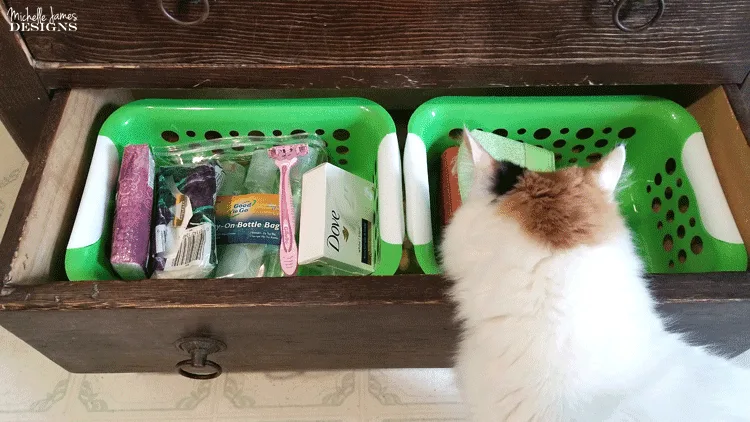 The drawers all look so pretty, Now I should refinsh the dresser. That is for another day.
I am happy with these and now I love the organizing! Isn't it funny how that works?
Be sure to check out the other bloggers on the hop. I bet they don't have embarrassing bathroom photos.
Thanks so much for stopping by,
Michelle
For more bathroom drawer organization ideas, visit the other host blogs below.