Well I made great strides last weekend on my Pantry project. This post is Pantry Re-Organization phase 3. You can see phase 1 here and phase 2 here. You can also see the recipe box I re-purposed for use in my pantry.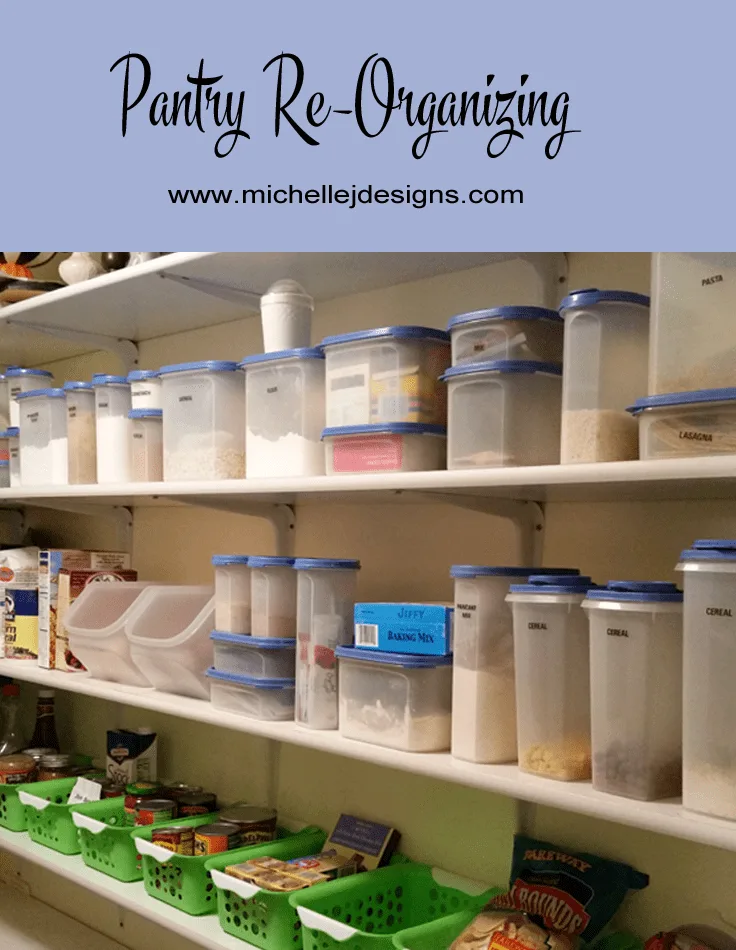 Pantry Re-Organization Phase 3
I decided to get into the thick of things last weekend with this pantry re-organization.
I started by reigning in the plastic grocery bags and our re-usable grocery bags. We needed to keep some of the plastic bags. We use them when we scoop the litter boxes. I am not sure of a better way but I am trying to think of something. I don't like the thought of filling the land fills with these bags. I know that Peggy uses a product that is similar to a diaper genie. This could be a good option.
The re-usable bags are a little out of hand but I need to keep some in our vehicles so that will help filter the ones in the pantry.
I don't even think I had a picture of the area of the grocery bags and the re-usable bags from before. They were overflowing onto the floor and on the the shelves.
After the bags were cleared out I was able to move some things around and make room for the baking sheets and muffin pans. I used a metal file folder to stand them upright next to the trays that were already there. The difference is that now you can see things and find them easily.
The mixer and blender were on the top shelf before. Since we don't use them THAT often I moved down one shelf.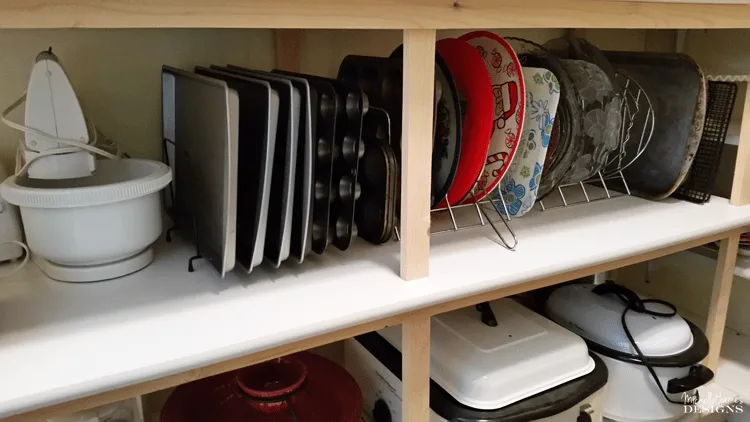 I re-arranged the dishes a little bit and removed some items that were never used. So this side of the pantry now looks like this.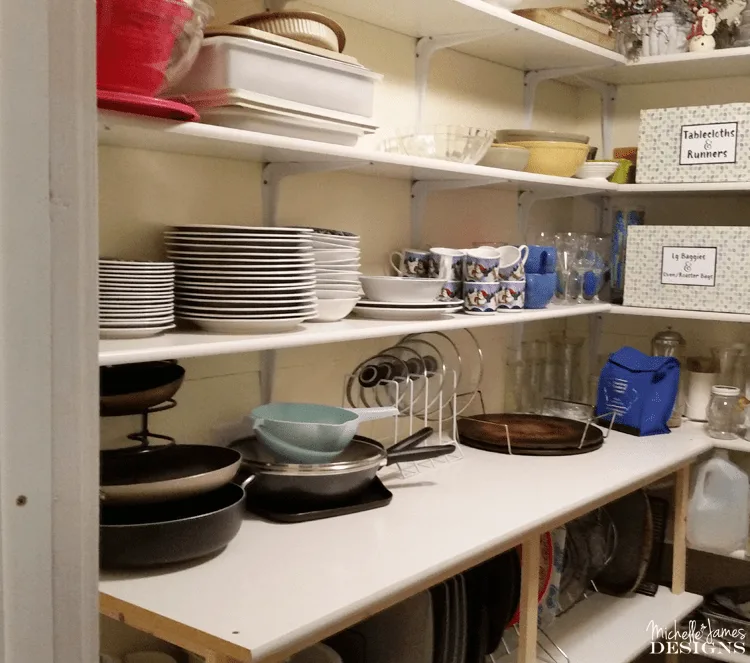 This was the before picture. Things are just a bit more organized.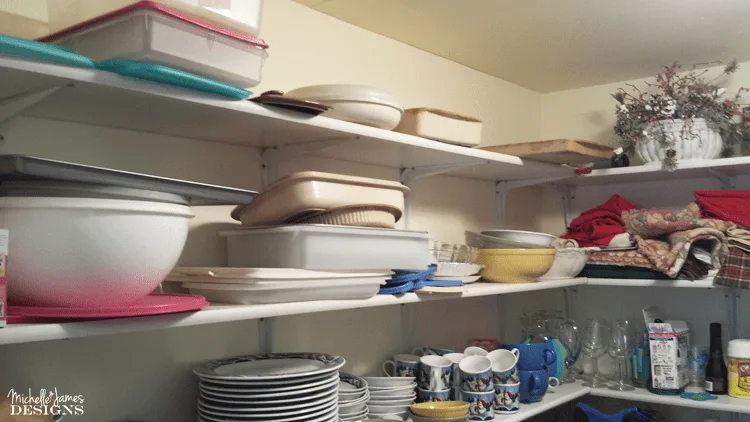 Once this side was done I started on the other side with the expired food. I had no idea some of it was as old as it was. WOW!
Then I rounded up all of the empty Tupperware containers. If you remember from my Phase 1 post I was struggling with purchasing new containers or just adding more tupperware. I am so glad I didn't buy more because I found a lot that I can be using. This picture includes some of the new found Tupperware.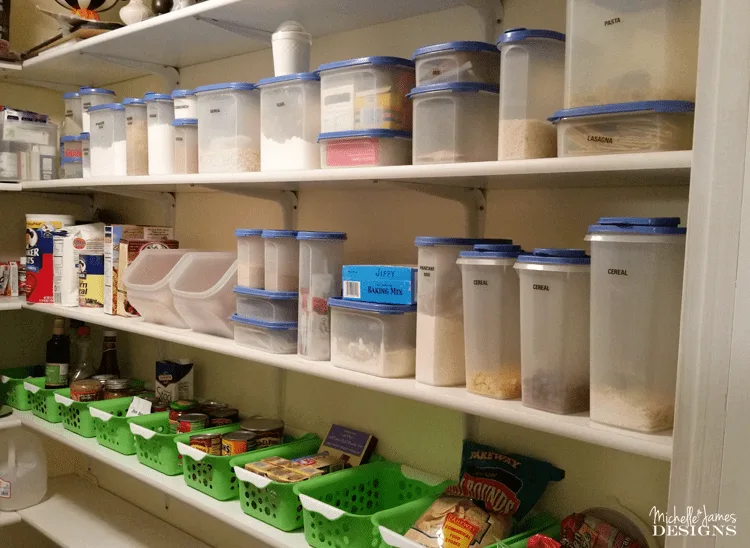 Here is the before pic.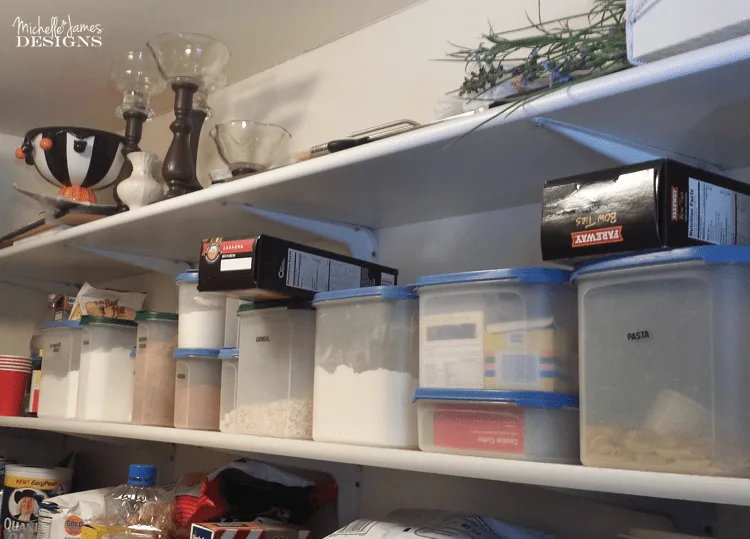 Things are just more organized and I can see what I have.
I found these green baskets at the Dollar Tree and purchased the 11 they had in stock. I got lucky because they fit perfectly across this shelf. They are great for snacks and canned foods that we like to be able to see and get to easily.
I can tell you that if is hard to get out or to put away, we won't keep it up. These, so far, have been easy to deal with.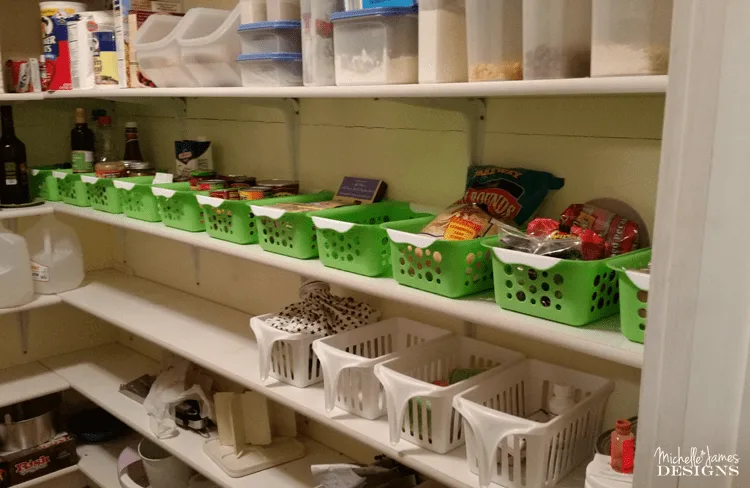 I still have a lot to do as you can see in the photo below there are still some problem areas.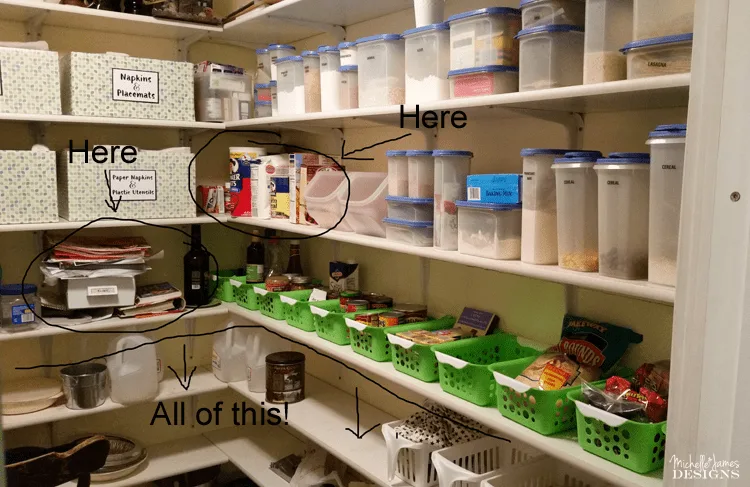 I will be addressing these areas next and removing some items into my kitchen cupboards and moving some things from the cupboards into the pantry. I think I have opened a can of worms. But it really needed to be done.
I am definitely getting there on my pantry re-organization but it all takes time.
Be sure to keep stopping by so you can see the final, organized pantry when I get it done! I am happy with my progress so far.
Thanks for visiting,
Michelle