This was a fun project. I love finding a bargain and making it into something useful. Check this out…a cassette tape holder to an organizer that sits next to my bed on the table.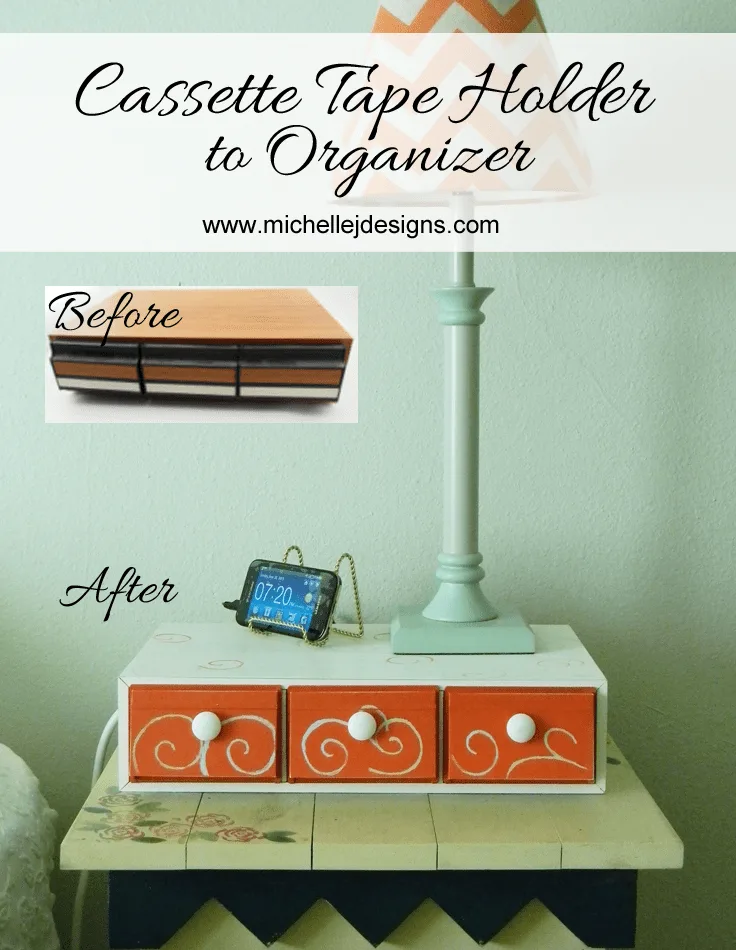 Cassette Tape Holder to Organizer
I found this at a thrift shop for $1. I had seen them re-purposed into paint holders and such so I bought it. It sat around for a while and I wasn't sure what to do with it.
I am one of those people who like a functional bedside table. I use it to charge my cell phone at night, it holds meds that I may need during the night (who wants to get up and go all the way downstairs for a tylenol?) I like to keep scissors and I need a place for my glasses. And we use our old cell phone as a clock/alarm.
Plus sometimes I like to look at a magazine before I go to sleep.
This is the before picture of my space! Please don't judge me!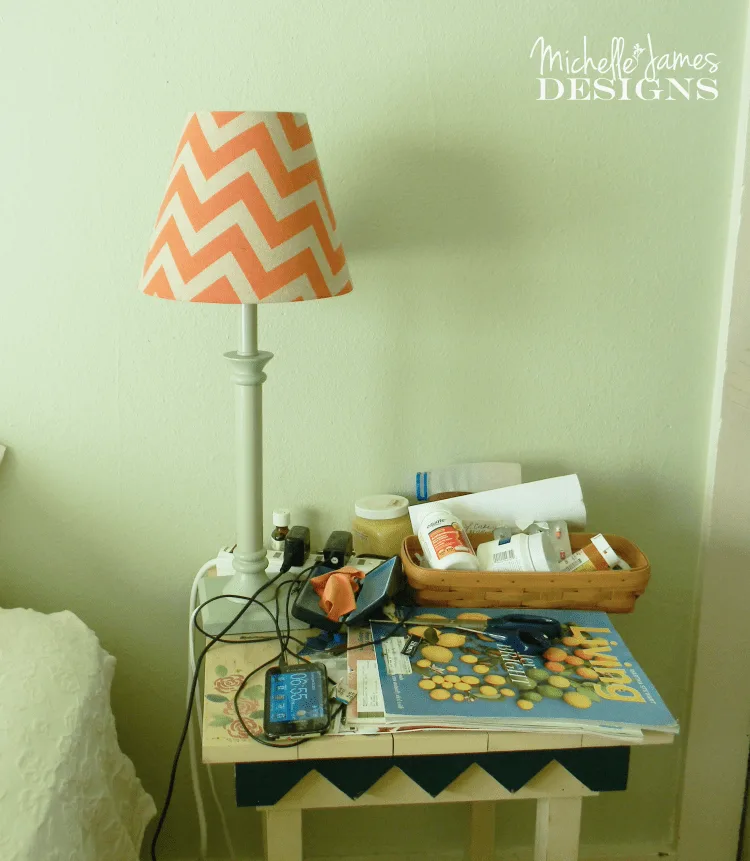 What a hot mess, right? The entire room needs to be redecorated. I do like my tables but they need some re-vamping as well.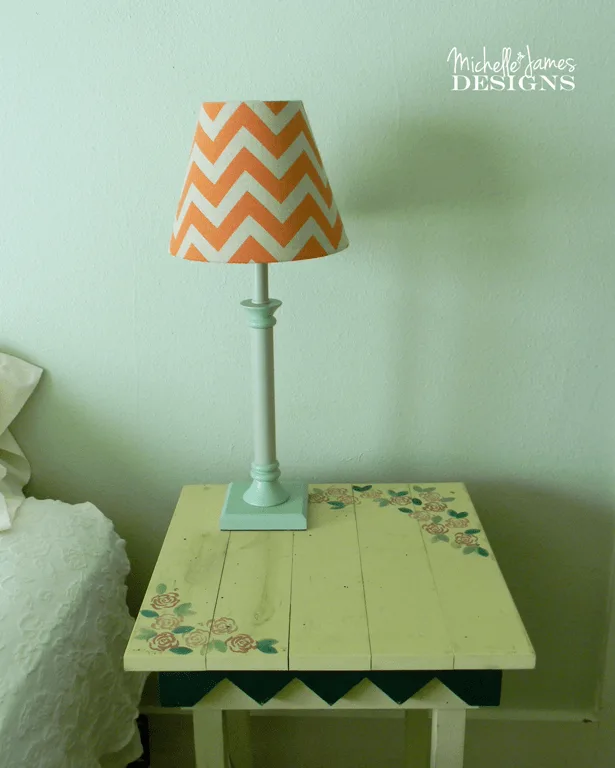 Jeff made the tables and I painted and stamped them many years ago. I think the late 90's. I am going to keep them but as soon as I get my new bedding they won't match any more.
The bedding that I wanted from Walmart. It is no longer available. Check out the budget friendly bedding I made from a drop cloth. I love the oranges, blue and greens and the light and airy feel with the pillows.
I am including some affiliate links for your convenience. You can read my full disclosure here.
During this process the cassette tape holder evolved. I knew I wanted to cover the fronts of the drawers so Jeff suggested this plastic. He cut it for me and it worked great.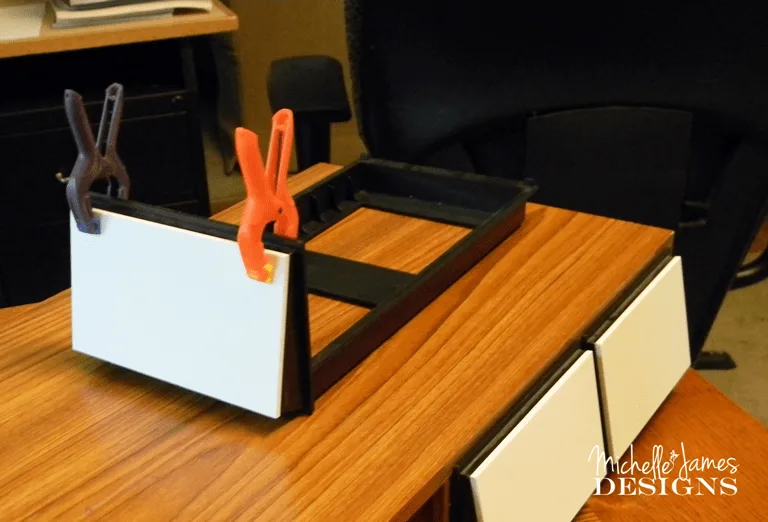 We glued them and used some clamps until they dried. I still thought they were a little plain so I used a small strip of balsa wood as a bit of detail.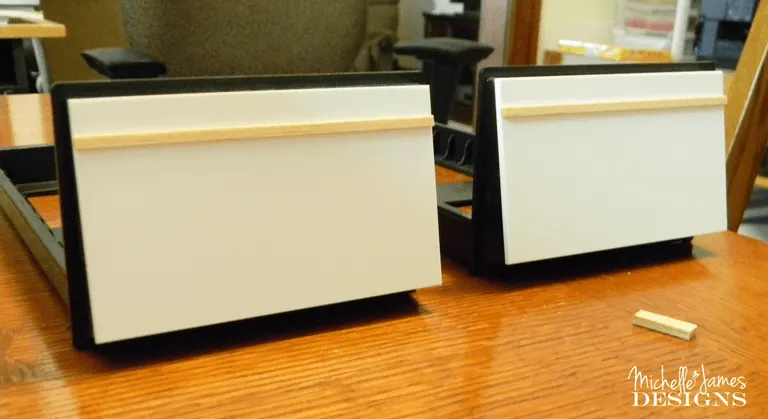 Then they were ready to spray. I wanted to match my new (non-existent) bedding so I used orange for the drawers and an off white for the base both are my favorite from Rust-O-leum.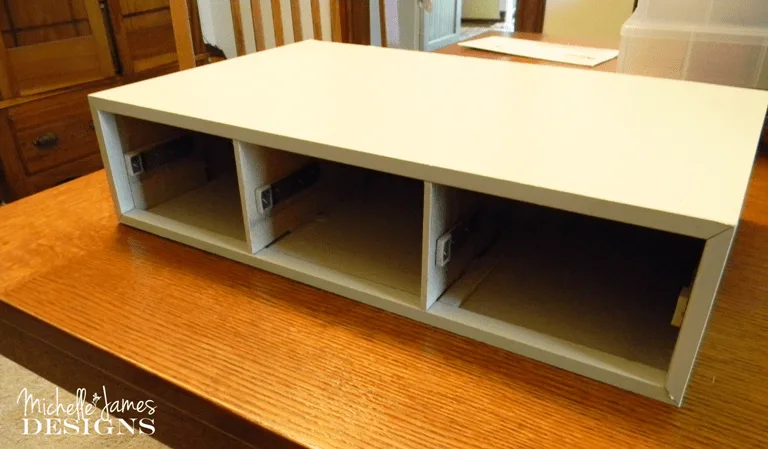 In my head I could see some swirlys stenciled on the front and the top in the green, blue and orange to sort of mimick the design in the comforter.
It didn't come out exactly how I envisioned it but it is close. I am happy with it.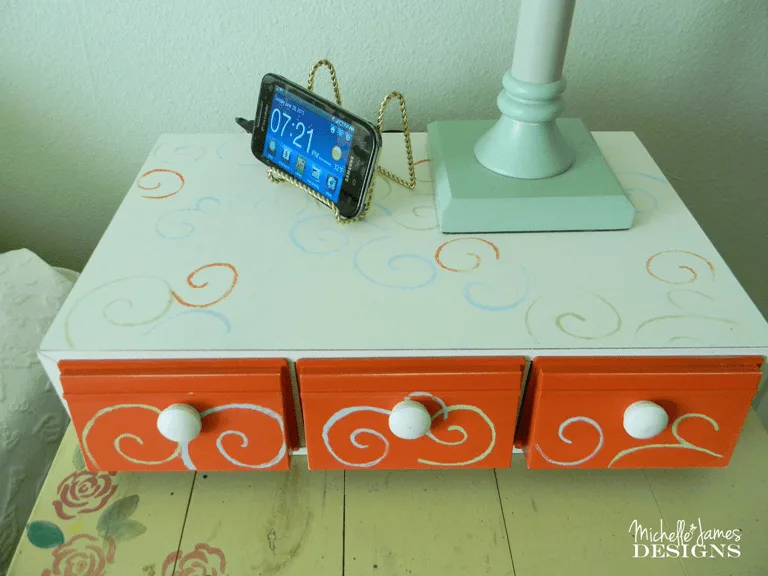 It adds some whimsy to the room.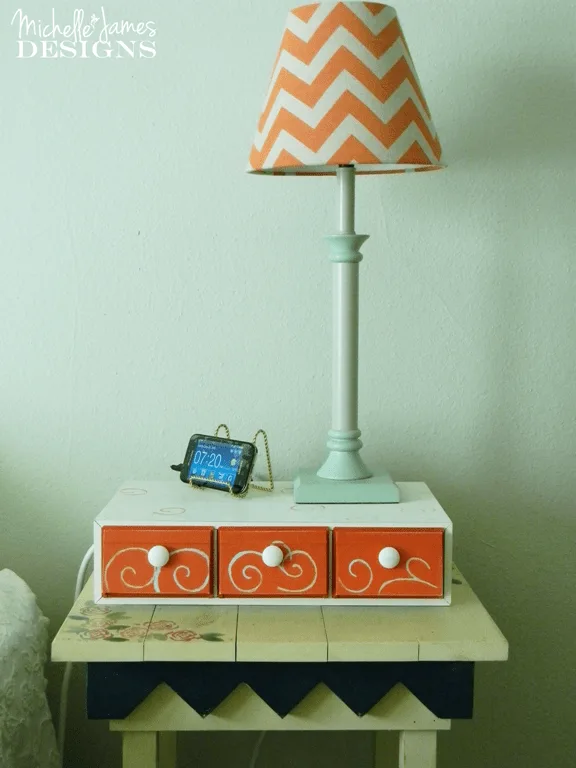 Plus it does it's job organizing all of my junk and stuff that I "need" by the bed. I purchased a little easel for the cell phone clock/alarm and hid the charging cords behind the entire box. Now it is so much neater. There is nothing worse than cords all over the place.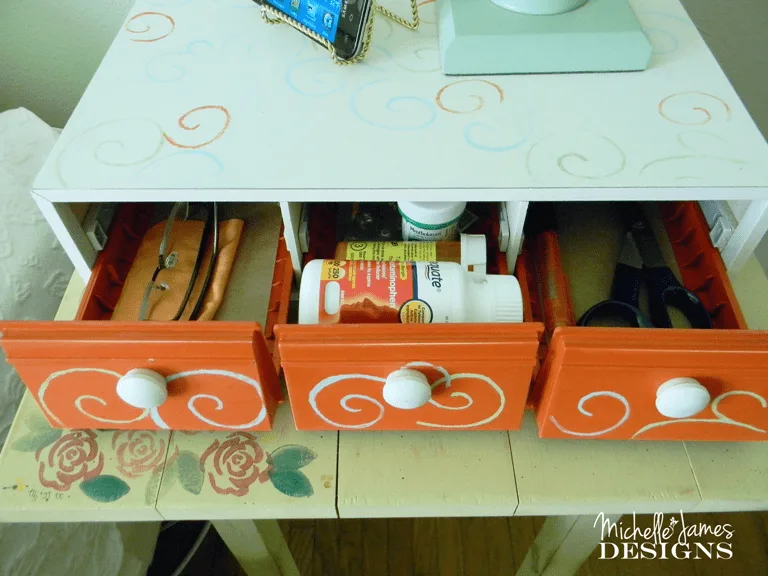 What do you think? I really like it and am glad I did it. This cost me at total of $7.51. That includes the cassette tape holder $1, the paint $3.10 on sale and the button drawer pulls at $2.99 and tax. That makes me happy as well.
Update: We have updated this room with a new headboard made from shutters and some new sconces. It looks really nice. This organizer is still in use too!
So, there you have it. Another successful up-cycle project. If you like it, please share! Thanks so much.