A Craft Organizer That Will Blow Your Mind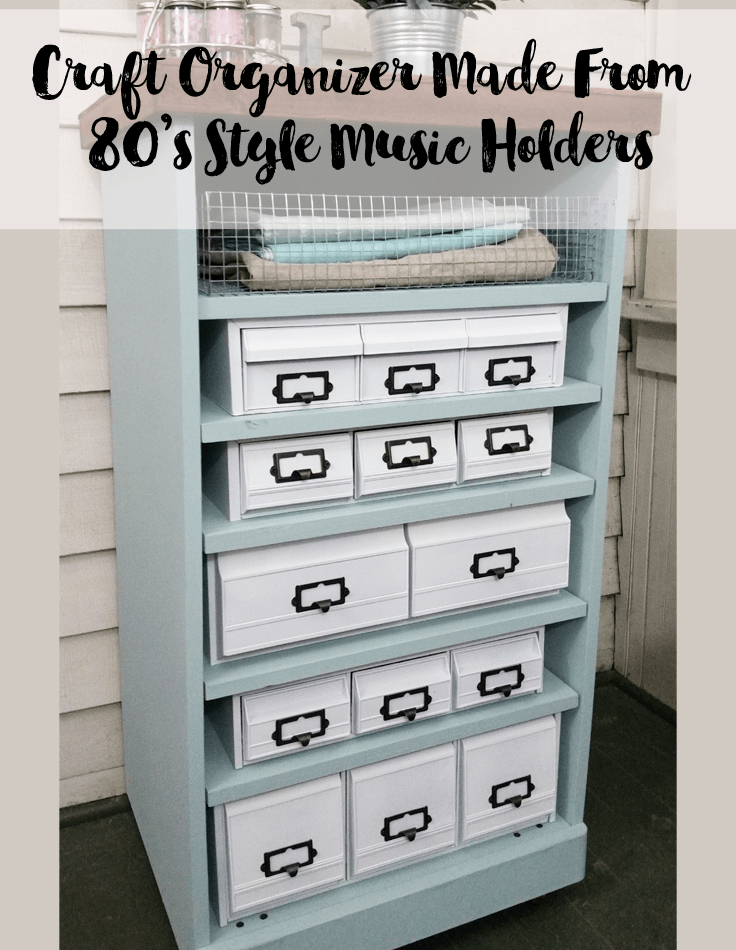 Hi! This project took me a while to complete. Whew. I am glad it is done and I love the way it turned out!
This is my entry for the August Fab Furniture Flippin' Contest. This month's contest was sponsored by D. Lawless Hardware and the theme was "Class It Up".
They sponsored the contest for last August as well when I made the Coffee Station. I love their huge selection of drawer pull, knobs and more. They provided me the hardware for the drawers and the wheels on this organizer unit.
Some or all of the hosts of The Fab Furniture Flippin' Contest receive monetary and/or product compensation from the sponsoring brand, D. Lawless Hardware, in order to complete their themed projects. D. Lawless Hardware will also provide the prize package for the contest winner.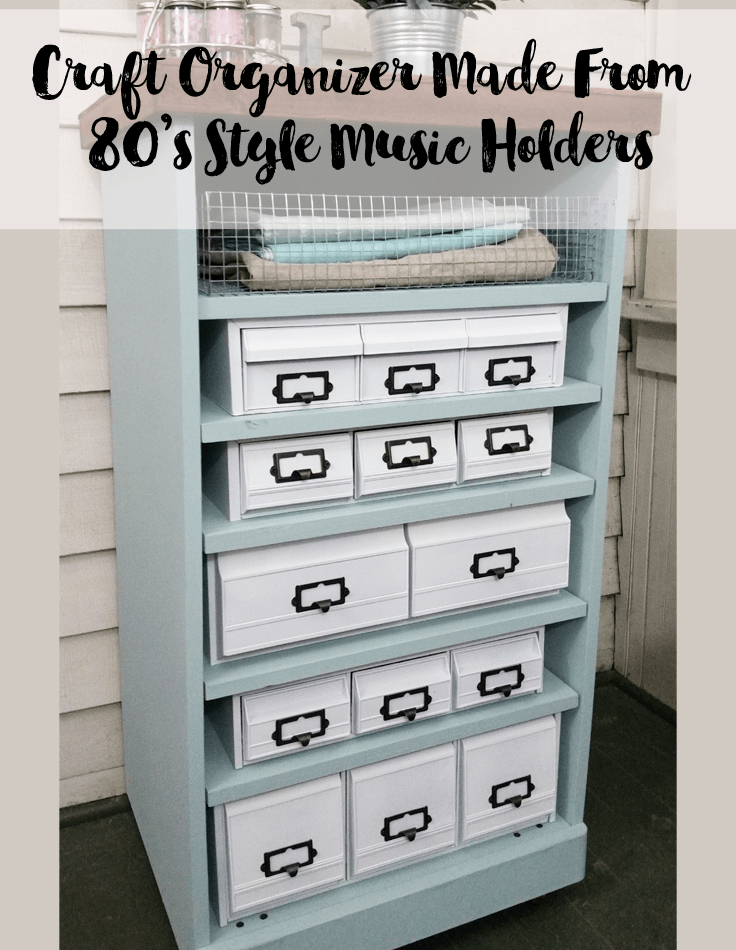 Craft Organizer
Now this did not always look this good. Here is what I started with.
First was a $5 stereo case from the Goodwill. I removed the front small panel across the top with the RCA logo on it and the glass piece on the front.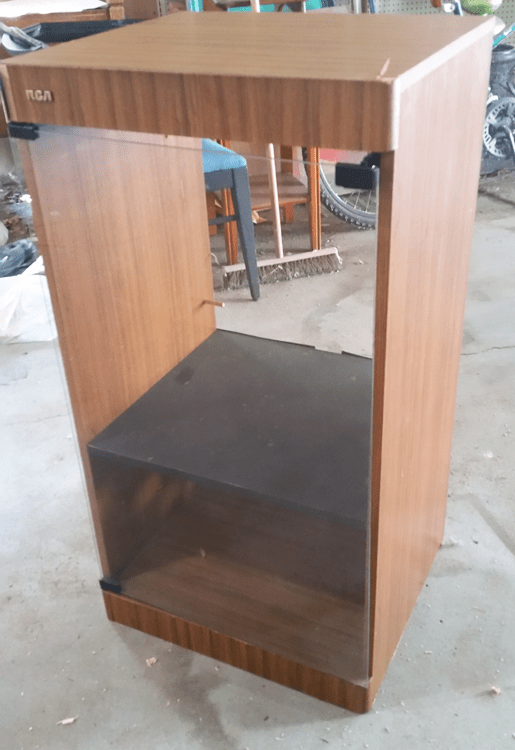 I primed it, as always. Then used my favorite Americana Decor Chalky Finish paint in Vintage. That is the final color from the first photo.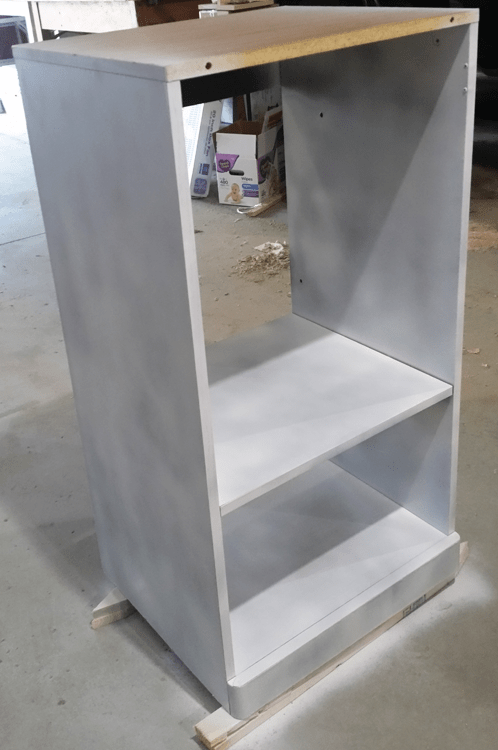 I also found five different cases. One is a cd case, one is to store vhs tapes and the rest are for cassettes. I spent $4 on all of them.
When I first had this project running through my DIY mind all of the drawer units were the same width and length. But in reality, they are not.
The threes cassette tape holders were the same and the two larger units were the same width. But there was about a 2 inch difference between the larger cases and the smaller ones.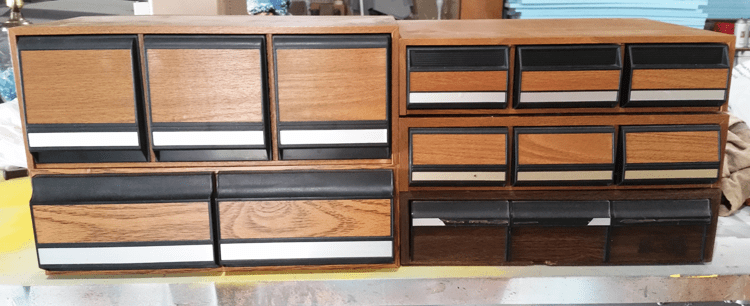 And don't even get me started on the differences in the depth. Sheesh!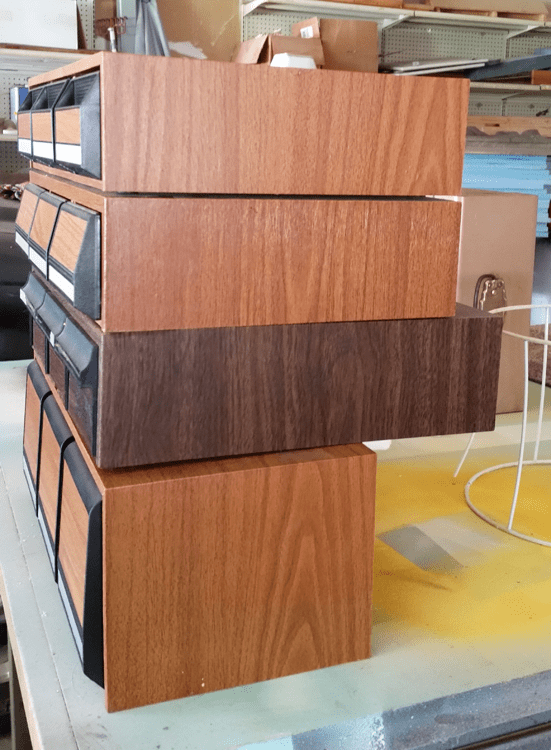 OMG! How am I supposed to work with this? I didn't think they would stack very well so I decided to put a shelf in between all of them.
But first I primed and painted all of the drawers and the cases white. They looked so much better. I
The top of the unit was in decent shape but I wanted a more updated look. Jeff built a top to size just like the one on the baby cabinet I did at the end of last year.
I used a very watered down brown latex paint on the top so the wood grain of the lath would show through.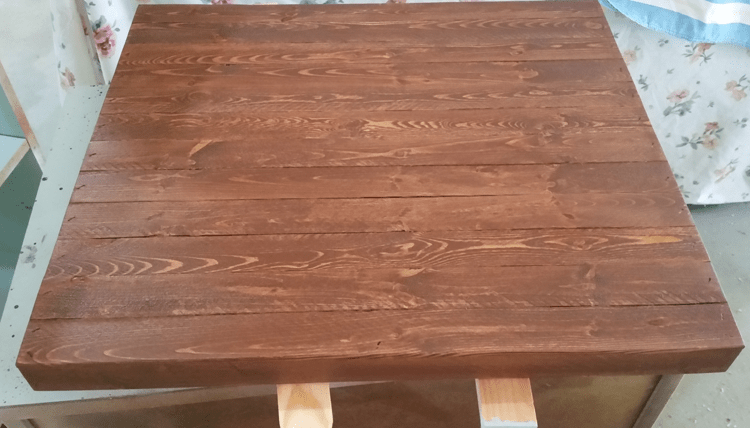 Once everything was painted Jeff added the awesome wheels to the bottom. I didn't get a photo of the entire bottom of the unit but he added some wood blocs to drill into for the wheels. I was excited to have it be able to roll if I needed to move it. It is a little heavy.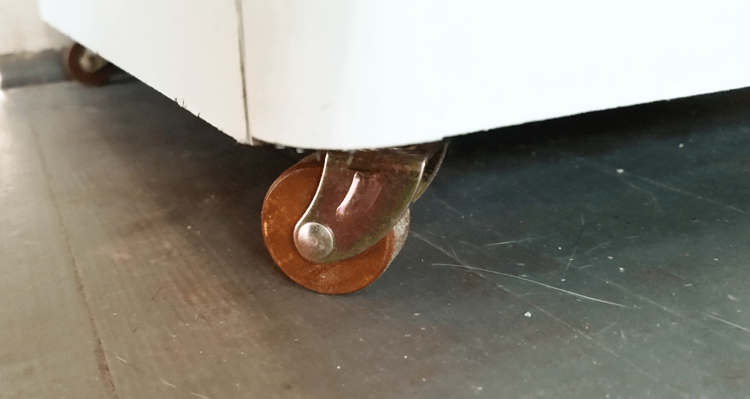 Then we added the fun bookplate drawer pulls, also from D. Lawless to the drawers. Jeff made quick work of this with his drill and some matching screws. I love the way they turned out.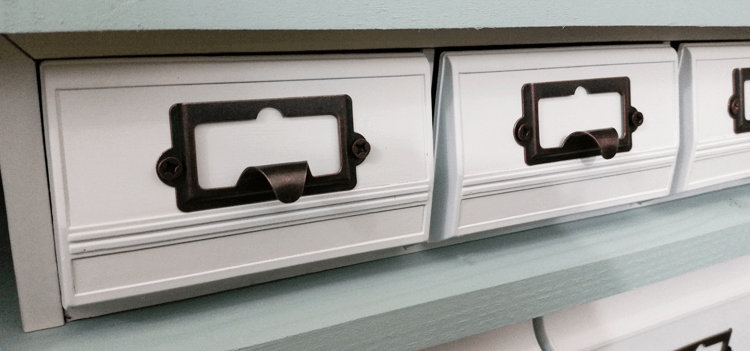 They really did "class up" those 80's style cases and made them look more cohesive as if they belong together.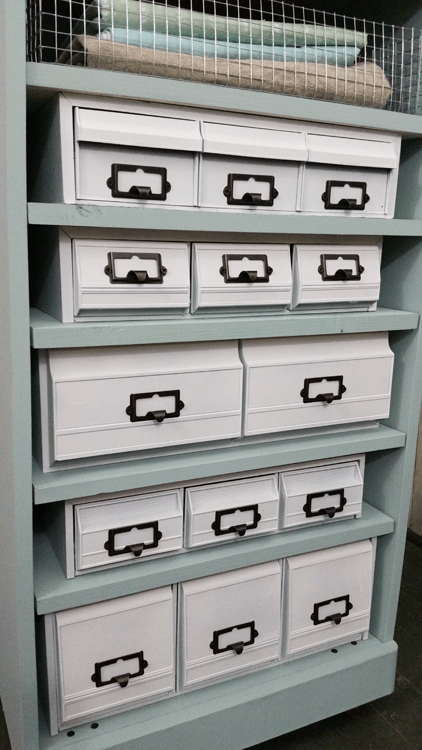 Once I get them all filled up with craft supplies they will be labeled…of course.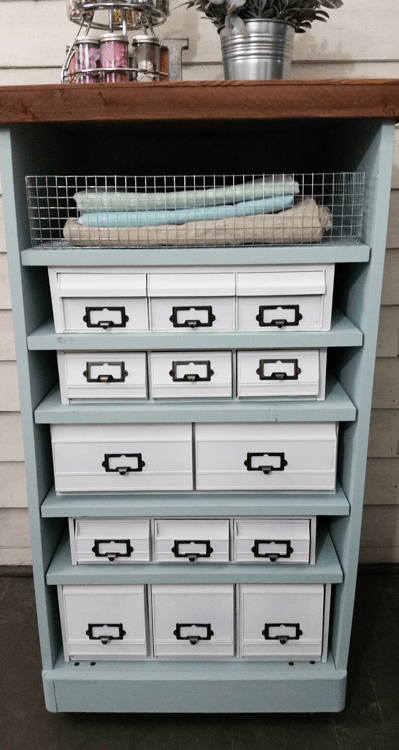 I also made the custom wire basket for the top shelf. I love that I could make it pretty much make any size I wanted. That will be a post for next week so be sure to stop back.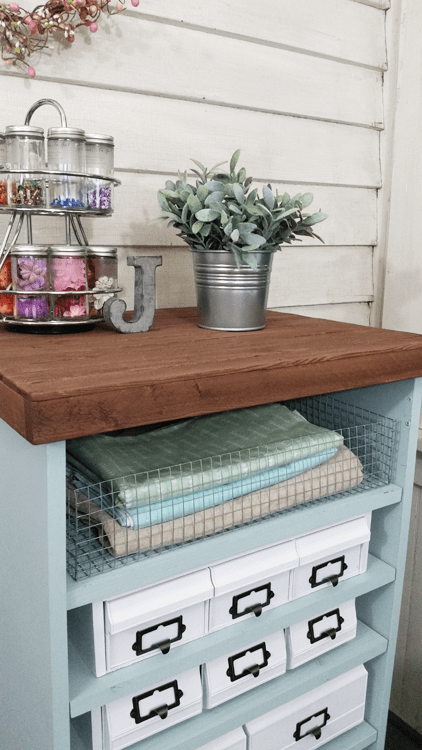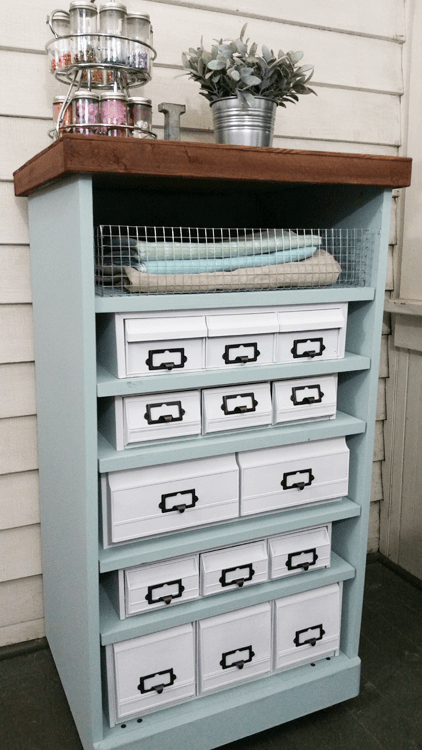 I just love it and I can't wait to start filling it up with supplies. These drawer units make great storage. Last year I used one of the cassette tape holders to place on my bedside table. I use it everyday!
Thanks so much to D. Lawless for sponsoring the Fab Furniture Flippin' Contest this month. We have some awesome bloggers in this group that are so creative. You will want to check out all of the projects. You can find them at the host's blog at 58 Water Street.
If you are a blogger and are interested in participating in the contest you may email info@fabfurnitureflippincontest.com to get more information. What are you waiting for? It is really a fun thing to do. I get challenged each month and I love that.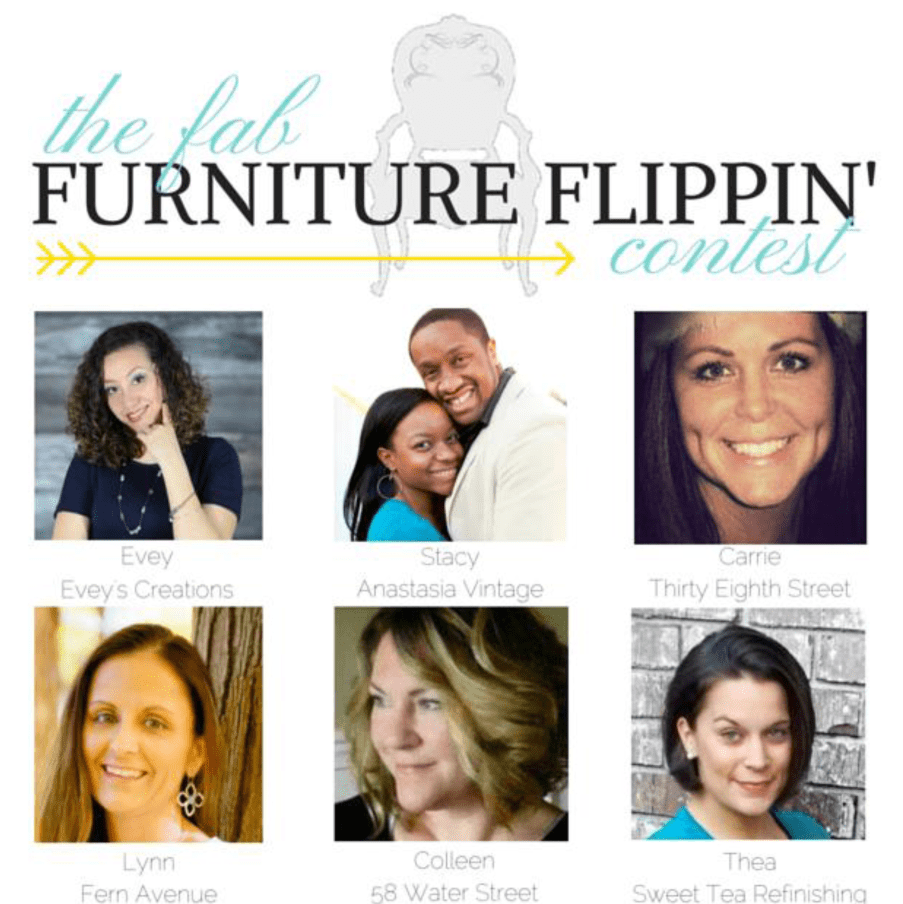 Update: The Inside
Since I posted this I have had many, many questions about what I am going to put in these drawers and many requests to see the inside. So I am posting some photos for you today.
Now, mind you when I took the original photos I did not have it stocked full of craft supplies. The drawers were empty. And to be quite honest I am still deciding what to put in them. But these are some of the thoughts I had envision when I stared this project.
I did not open each and every drawer because some are the same but these are all of the different "insides" there are.
This photo is of the best drawers. They don't have the holes in the bottom like the others do. If you can find these at garage sales or thrift stores they are the best!
My kitty PeeWee is at the bottom of the photo checking things out. LOL!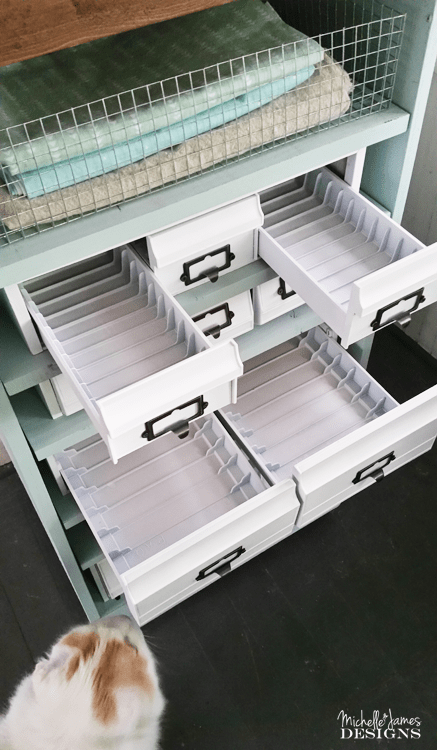 This is what I plan to put in these drawers. My larger bottles of paint fit quite nicely in the VHS drawers and my ink pads fit in the cassette drawers. I have a lot of ink pads so this may be the perfect solution for them.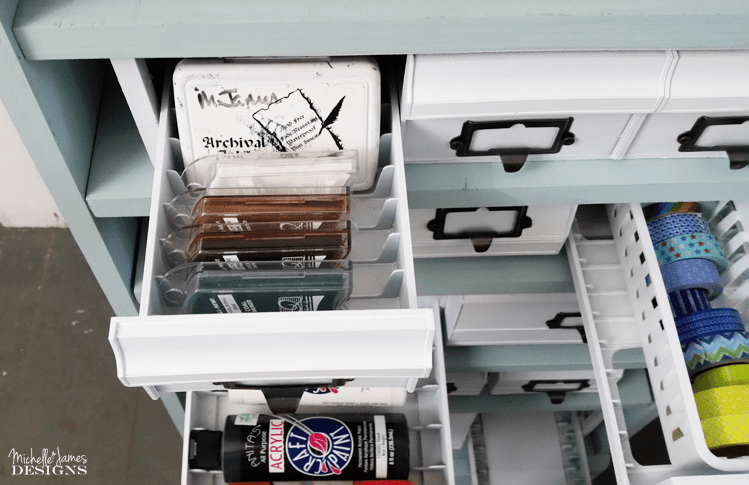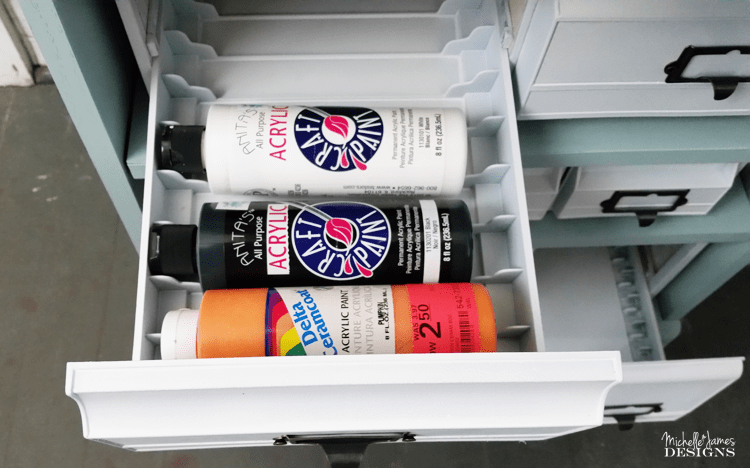 Some of the drawers have holes in the bottom.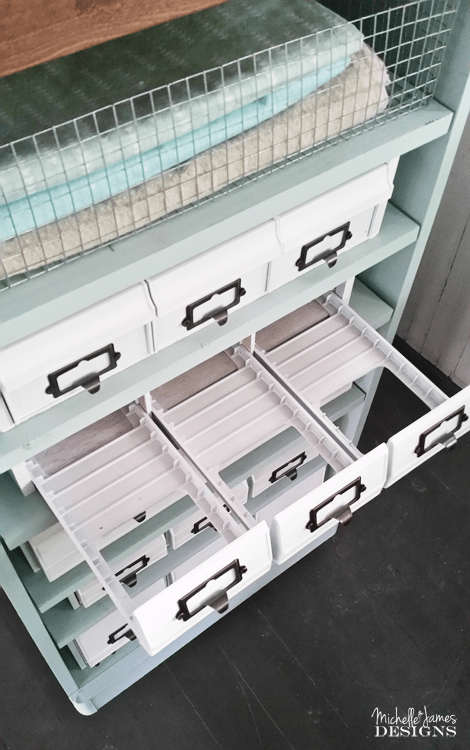 This is the same photo as above but you can see in the lower right corner I have place a thin, plastic basket from either Walmart of the dollar store in it with my washi tape. The basket is thinner than the drawer and I have been looking for a better basket/container that will fit but until I find it this may do.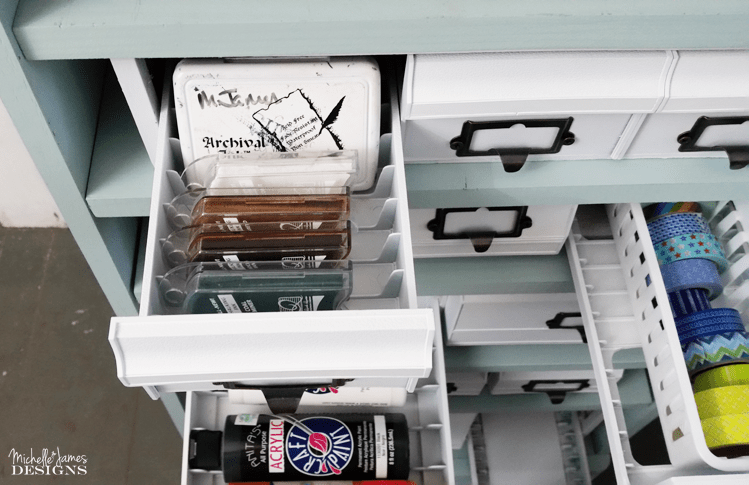 Or you can place a piece of wood, chipboard or plastic in the bottom. We happen to have some poly-styrene sheets that we cut to size to fit. This covers the hole so you can add products with out baskets.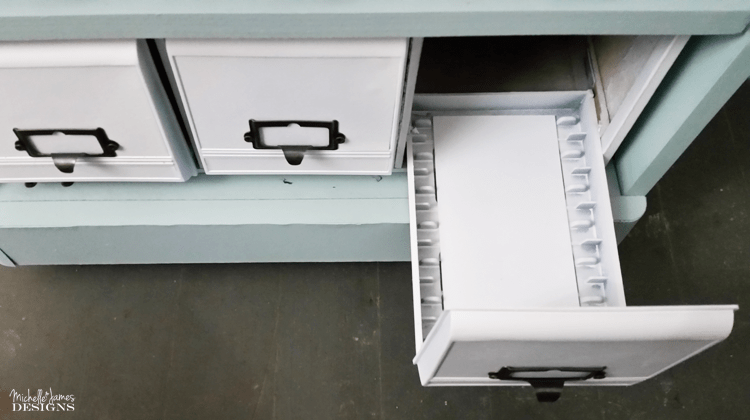 I hope this answers the questions to the inside of the drawers. When I get them all filled up and labelled I can add another update.
If you like the project I made please share it with your friends and on Pinterest. Here is a photo you can share. I really appreciate it.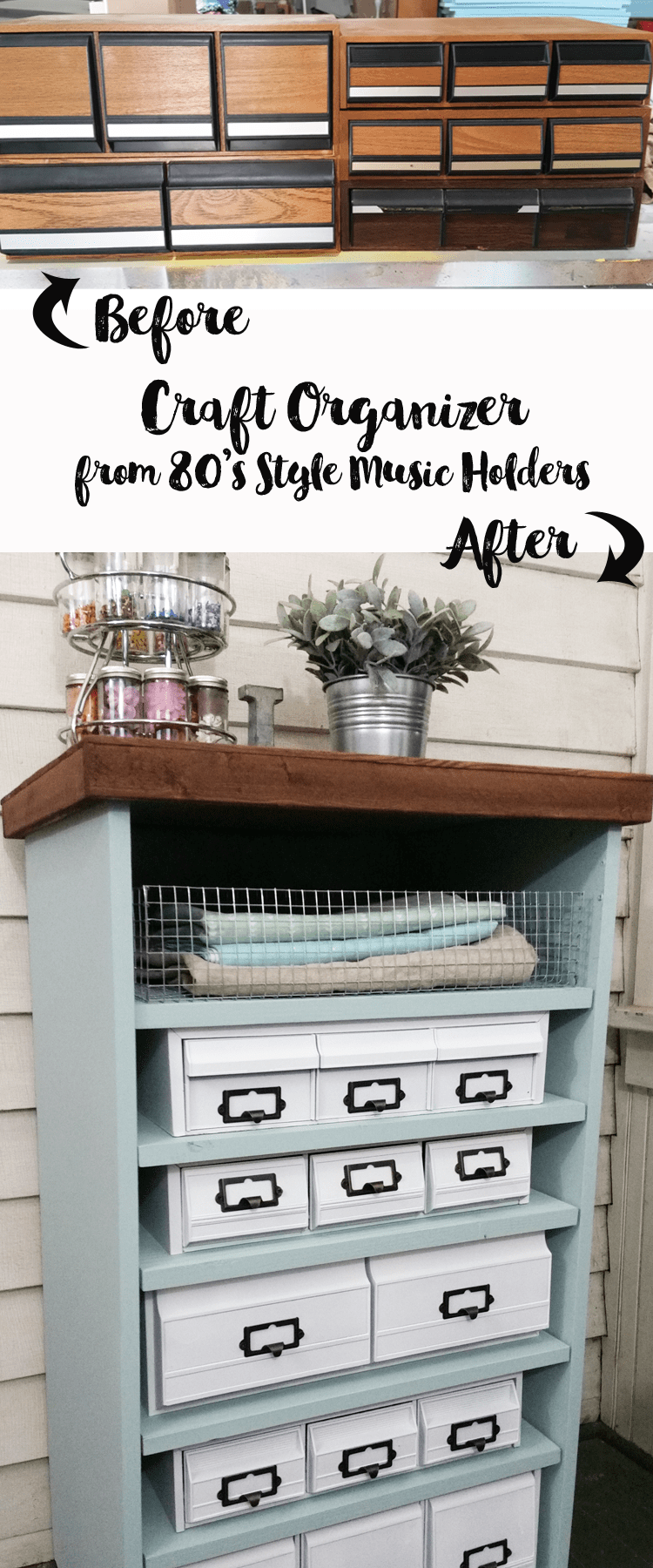 Thanks so much for stopping by!
You can see more of what I do and blog about by clicking on the following links:
Happy Crafting!
Michelle
Enter your name and email to receive tips and tricks, tutorials & deals!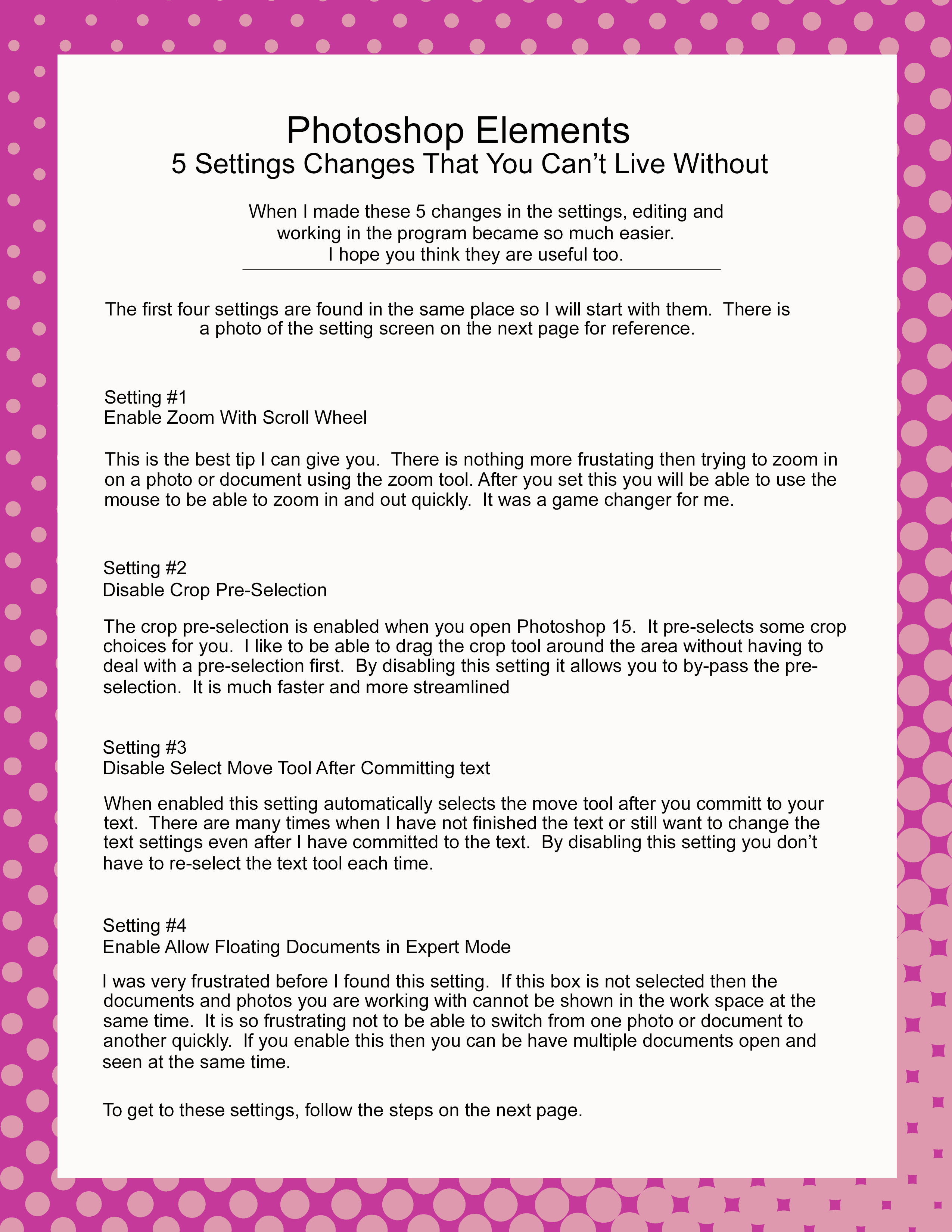 Sign up to get access to an instant download to my five favorite Photoshop Elements settings changes that will make editing and designing easier.
Your information will *never* be shared or sold to a 3rd party.