Hi! I was looking for some faux pumpkins the other day and was shocked at the prices of the nice, off white one. It was almost $30 and it was not very big. It stood about 8 inches tall. Anyway, the ugly ones seem to be a lot cheaper but….they are ugly. Well, I am here to show you how to transform foam pumpkins into pretty fall decor for your home.
You can also see my faux mercury glass pumpkin in this photo. It was super fun to make as well.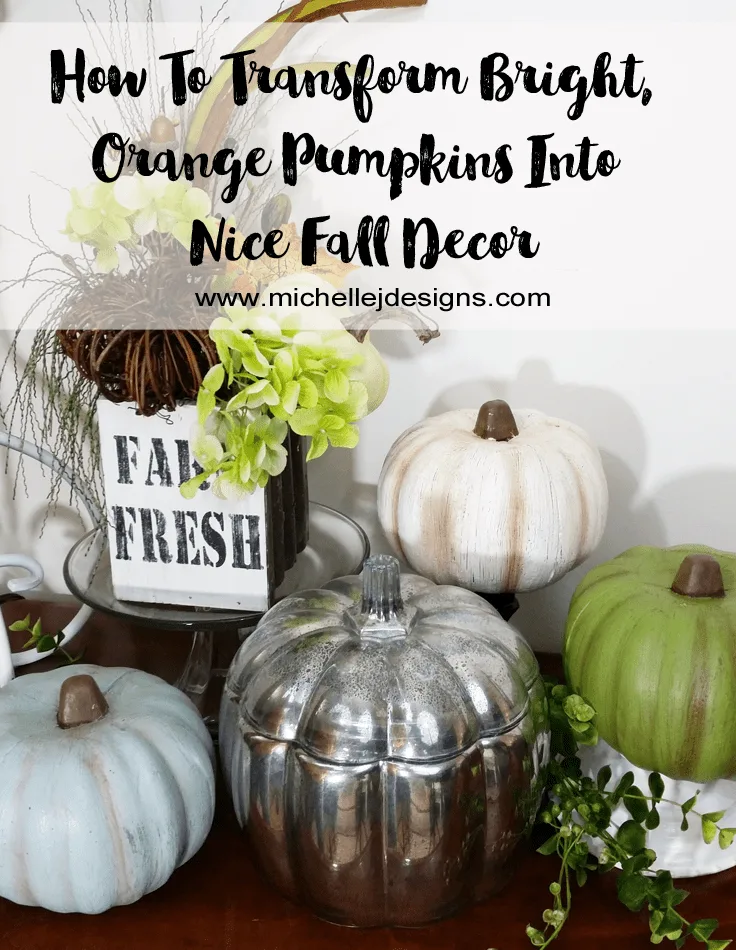 I had gotten these foam pumpkins at a thrift store last year for .50 each. They truly were quite hideous. They were so bright.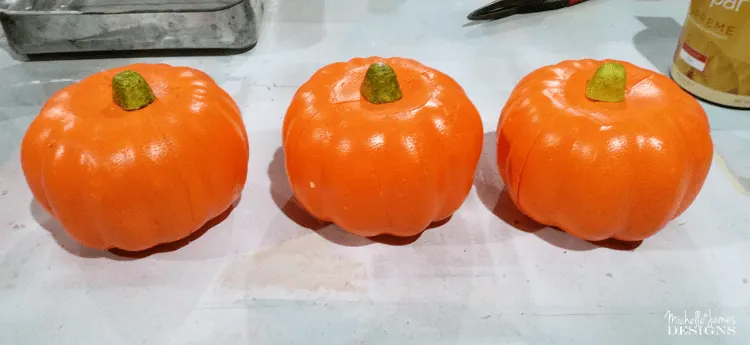 But with a little paint these foam pumpkins were totally transformed into some thing I am proud to display.
I wanted to spray them but spray paint and foam don't mix well. I have tried it and the paint eats away the foam in different spots. So I decided to paint a latex paint on them first. Then I was planning to spray them.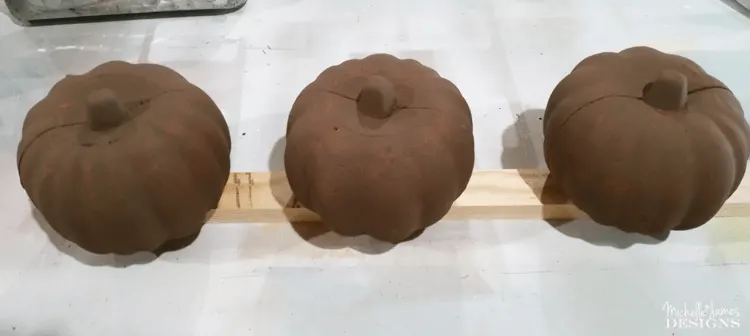 I have included some affiliate links for your convenience. You can read my full disclosure here.
After the paint was dry I took them inside to use the chalk paint on them. I decided the colors I already had in the chalk paint were better than the spray colors I had.
I brushed each one in a different color. I used my Americana Decor Vintage, White, and Green paints.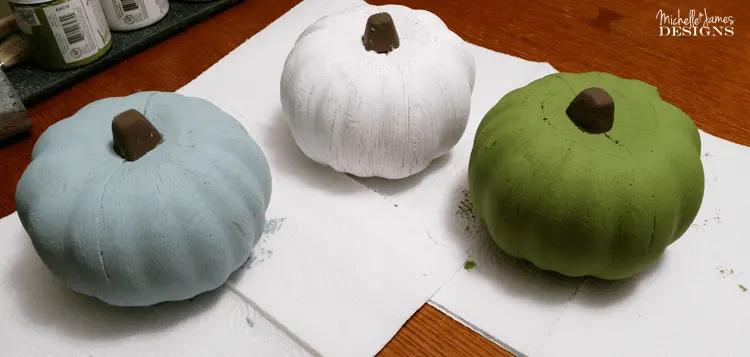 This was just one coat. And I decided to leave the stems brown. I wanted to sand them a little bit but it didn't seem to make a difference so I just left them as is.
They needed some depth though so I used Burnt Umber in an acrylic craft paint and and old technique I learned a long time ago when I took some toll painting classes.
It is called floating and it creates sort of a gradient look with a dark to light "float".
Use a smaller, wide brush and load it with water from a cup. Then you add a little bit of paint to just one corner of the brush and brush it a few times onto a plastic lid or something to blend it in.
When you paint you place the loaded corner of the brush along the area you want to be darkest and glide the brush along. It is fun and creates a nice, almost shadow look.
This is what I did to create a shadow look for the lines on the pumpkins. I think I may have gotten some of them a little too dark. You can wipe it off with a cloth since there is some much water and you can also go back and blend a lot with the brush.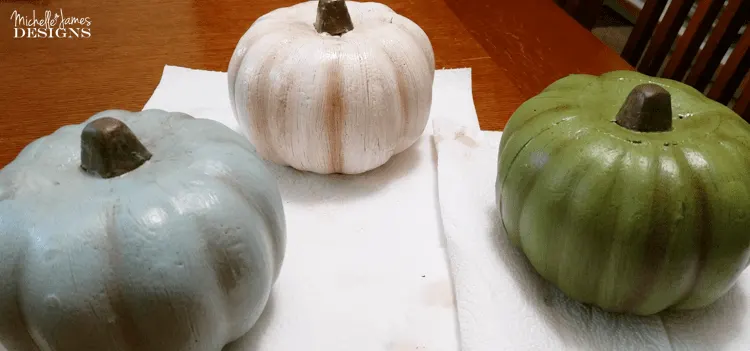 After this part dried I added the creme wax and buffed them out a little for some sheen.
I really like the way they turned out.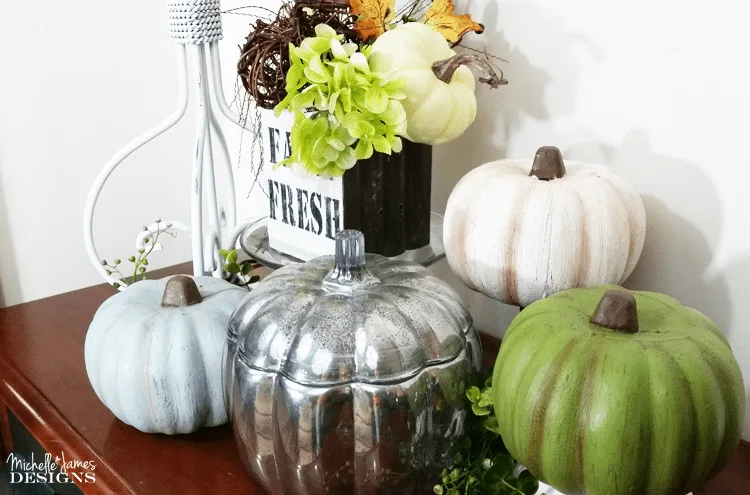 What do you think?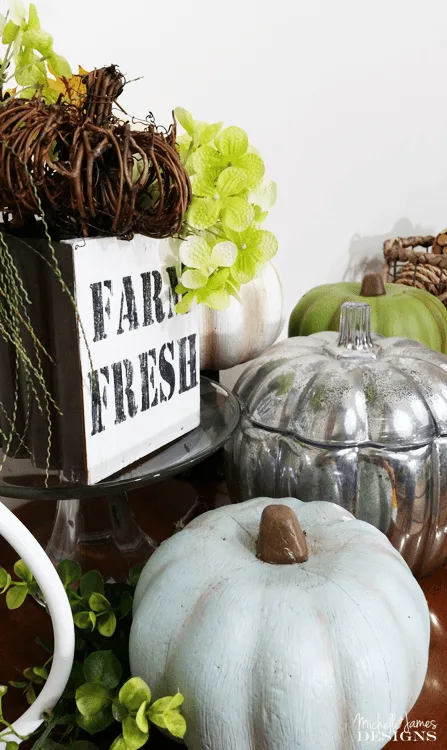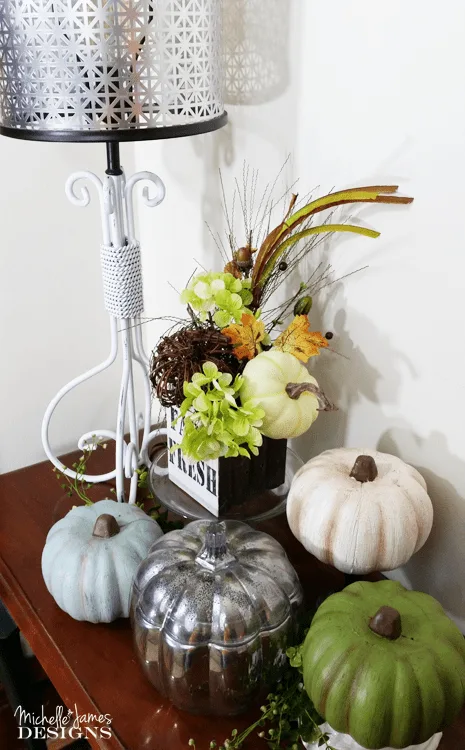 These ugly foam pumpkins now match perfectly with my decor and I am so glad I did it. It only took me a day and this was a lot of waiting for paint to dry. You can do it too.
If you like it please pin it! I love to see my pins on Pinterest. LOL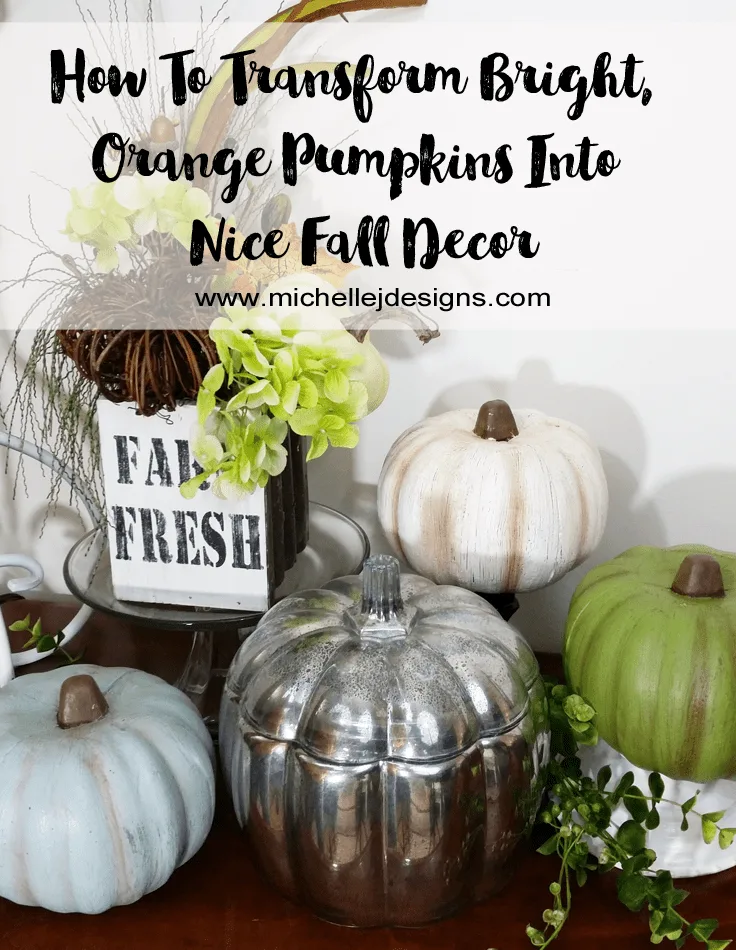 Thanks so much for stopping by!
Michelle
If you like this you may also like these fun posts!