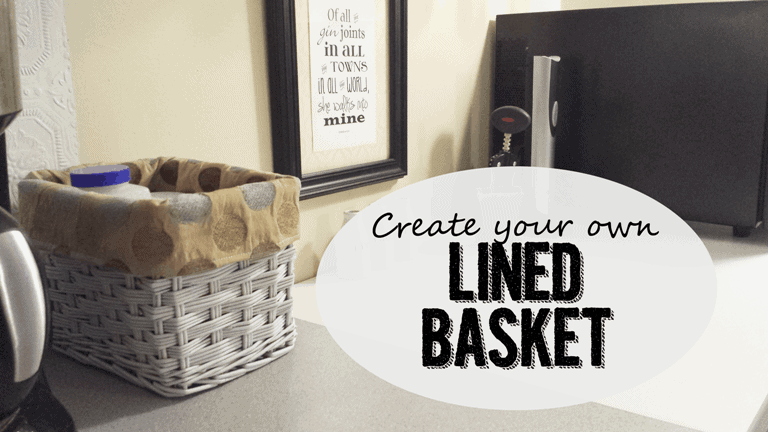 I have always wanted to try making a lined basket.  Well, I guess the lining for a basket.  I see them and they look so nice.  I have even bought some lined baskets to use for organization in my home but I have never actually sewn the lining for one.
So I decided to try and although it is far from perfect.  I think it turned out pretty good.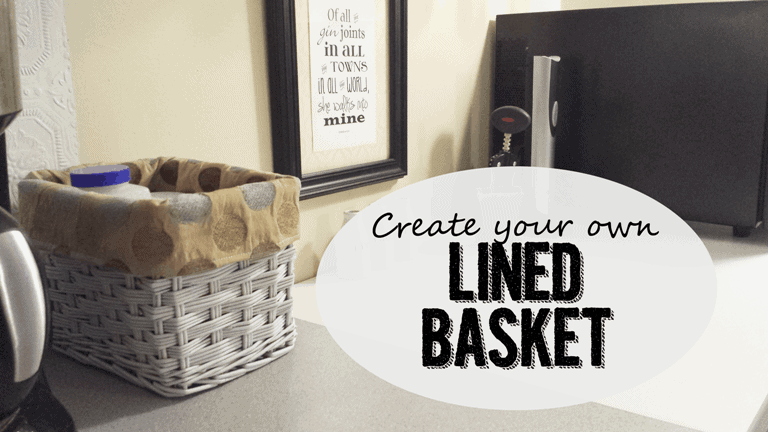 Lined Basket
The supplies you will need are:
basket
fabric for lining
ruler/tape measure
pen/pencil
spray paint
sewing machine and matching thread
scissors
pins
Lets get this basket started.
First I took my basket into our garage for a spray paint.  I turned it upside down because I wanted the bottom to be painted too.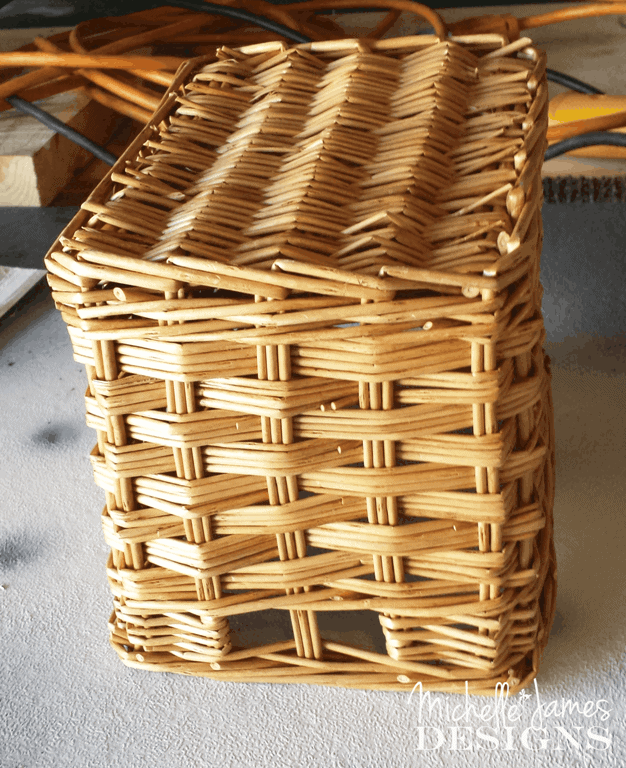 I used the same spray paint that I used on the bells for my Christmas Swag.  It took a few coats because of the wicker weave.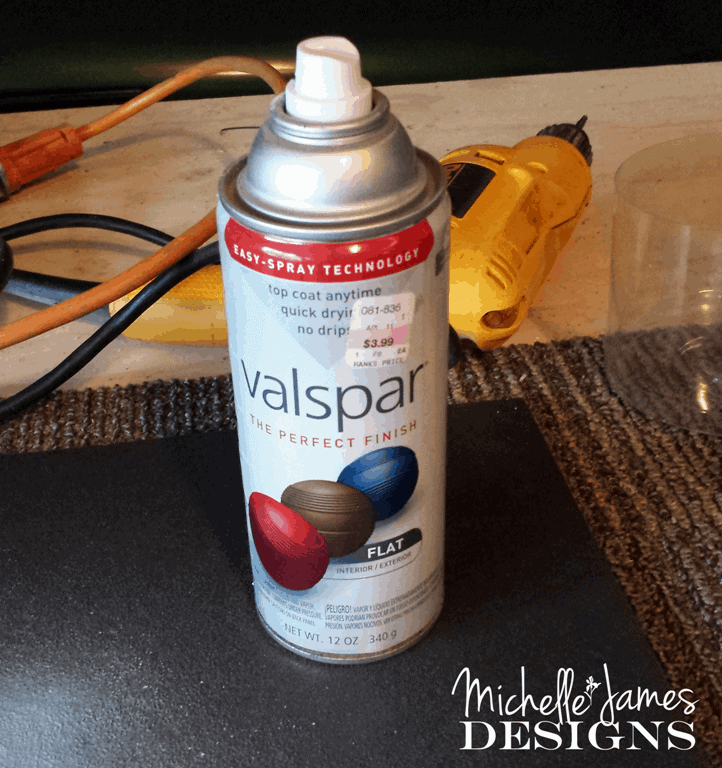 After it was painted and while it was drying I worked on the lining.
I measured the sides of the basket and added for 1/2 inch seam allowances.  The basket I decided to use had a slight slant from the top to the bottom so based on my measurements the top of the fabric needed to be 28 inches while the bottom needed to be 23 inches.  I wanted it to go all the way around with one seam up the side or back.
I also wanted the lining to fold over the top and hang down about 2 inches so I gave it an extra 2 1/4 inches of width.
Then I measured the bottom of the basket for the inside bottom piece and again added for 1/2 inch seam allowance.
This is how my fabric looked after I got it measured and cut from the fabric.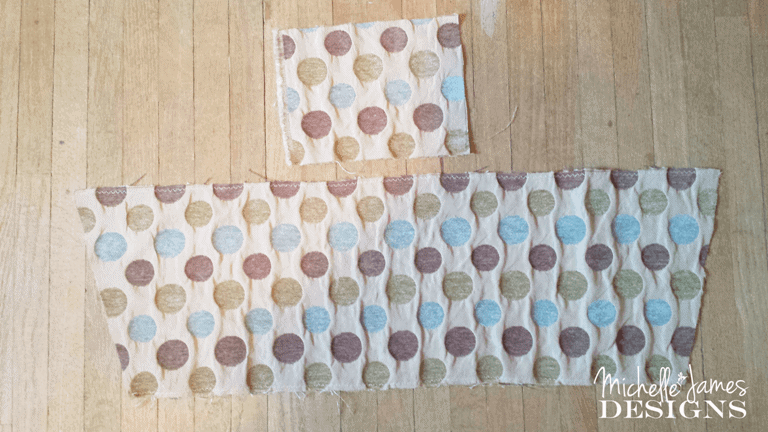 I needed and nice finished edge at the top so when it was folded over the basked it would look nice.  I used the zig-zag stitch on my machine along the top of the fabric first.  I do not own a serger and this is the next best thing.  It keeps the fabric from fraying too much.
Then I used the iron to press the folded edge about 1/4 inch.  This gives it a nice crease and it makes it easier to stitch.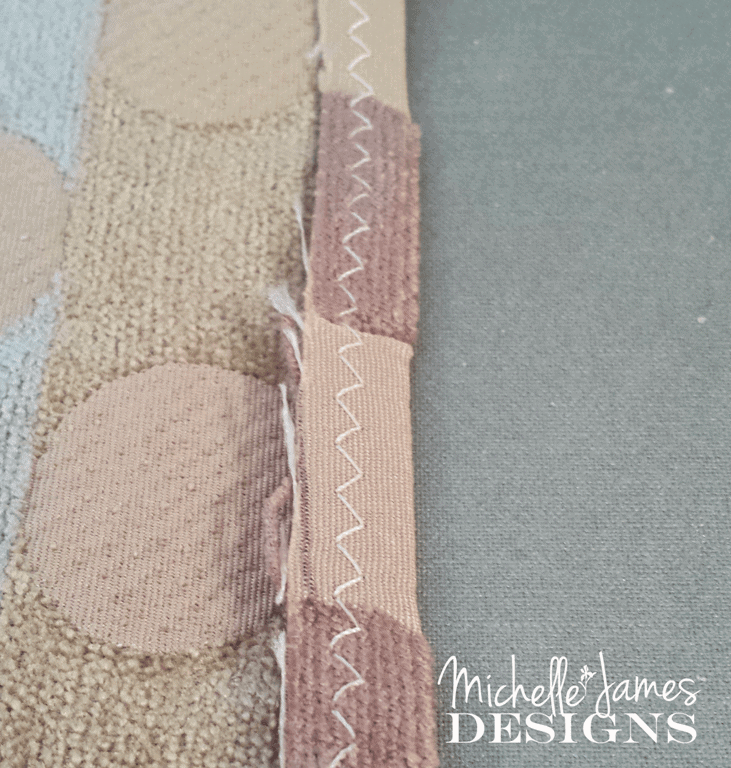 Then I stitched this down.  I used a tan/cream thread to help coordinate with the lighter basket.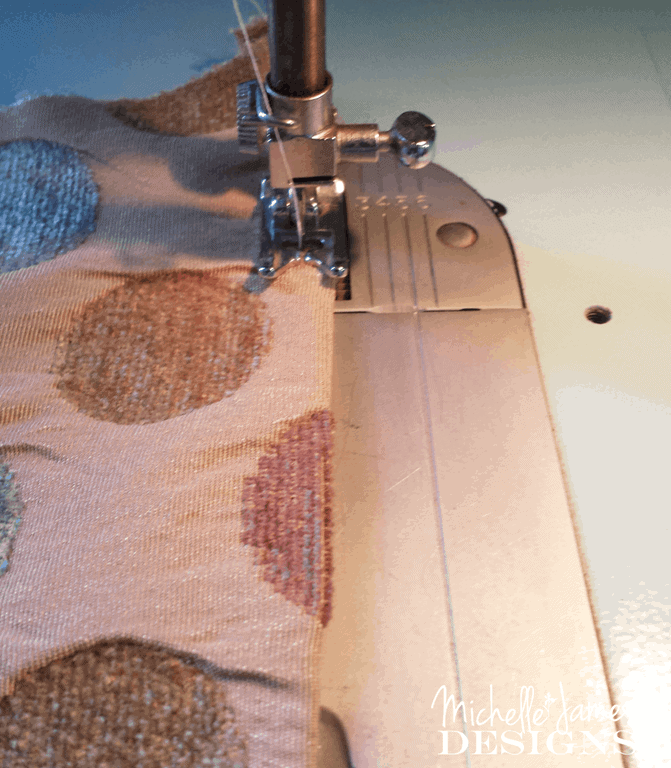 Then I placed my right sided together and stitched up the side (or back as it turned out)
It was now time to fit the sides onto the bottom piece.  Remember I have never made a lined basket before so I was just praying that my measurements were right.
So, pin the bottom piece to the bottom edge of the side piece (oh my gosh, does that even make sense?) Make sure you have the correct sides facing each other.  In this case it is right sides together.  Pin all the way around being careful of the corners.  I started by placing my one seam on the side piece as the back of the liner.  I have to admit I had to unpin and repin because I ended up with a big gap.  So I just started over and did not pull the fabric as tight when I pinned.  There were some gaps but I knew they wouldn't show too much so I kept on going.
Here is what it looked like when I finally got it pinned together.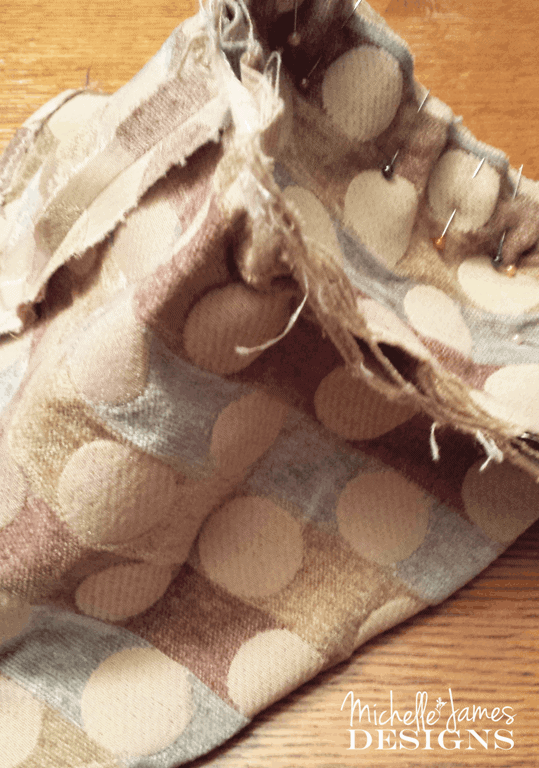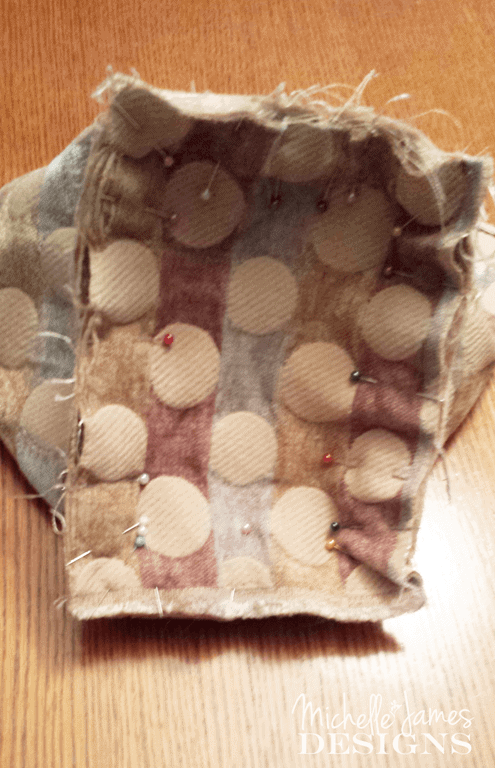 I slowly stitched around the edge being careful to square off each corner.  Basically when I got to the corner I kept my needle down, lifted the presser foot and turned my fabric so I would be stitching down the next side.  I went slow and was able to come out with just a couple of little puckers in the fabric. I was okay with that.
I removed the pins and fit it into the basket.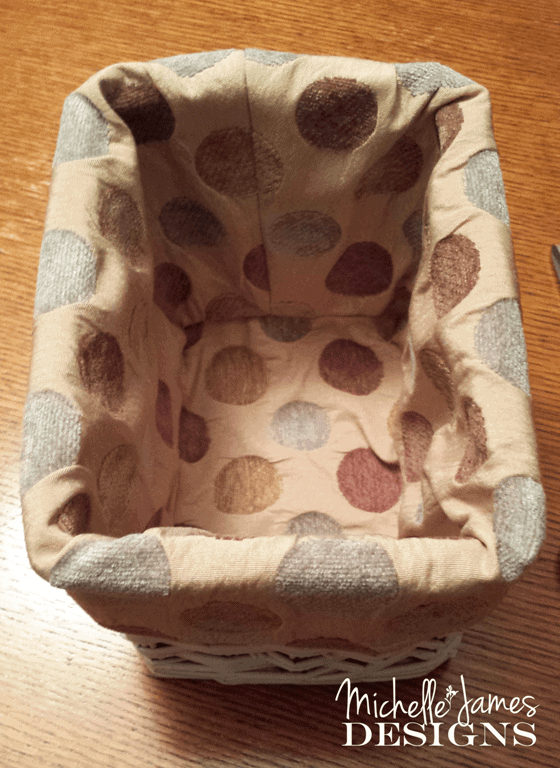 The sides are a little loose but I don't mind it.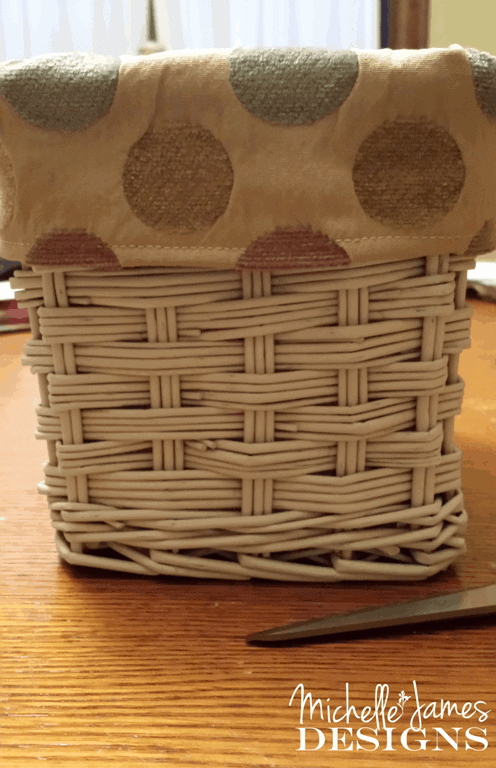 I needed a lined basket to hide the medicine that we keep out on our counter.  I was getting sick of seeing it there but if I put it away I don't seem to remember to take them.  I think I have some sort of problem.  But anyway….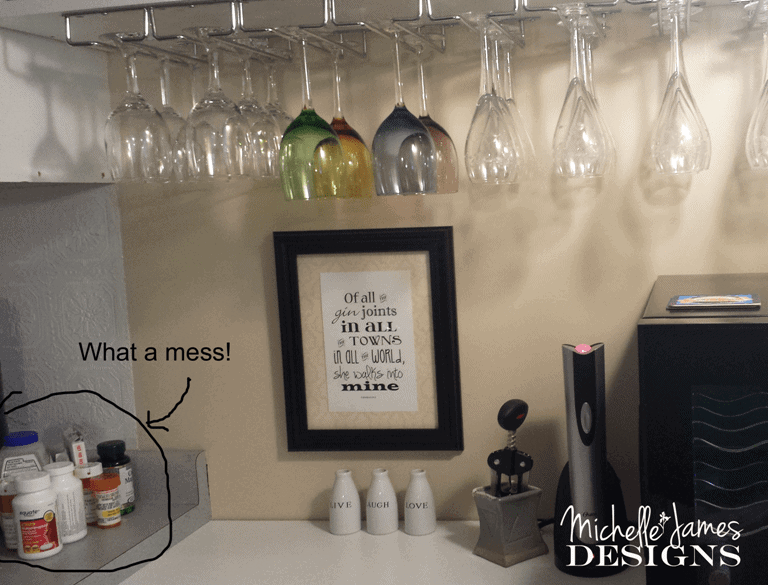 Now it is much prettier and I am always happier with less clutter.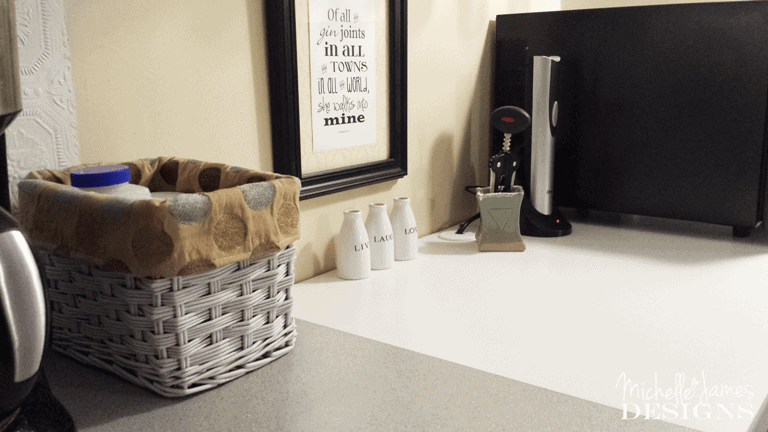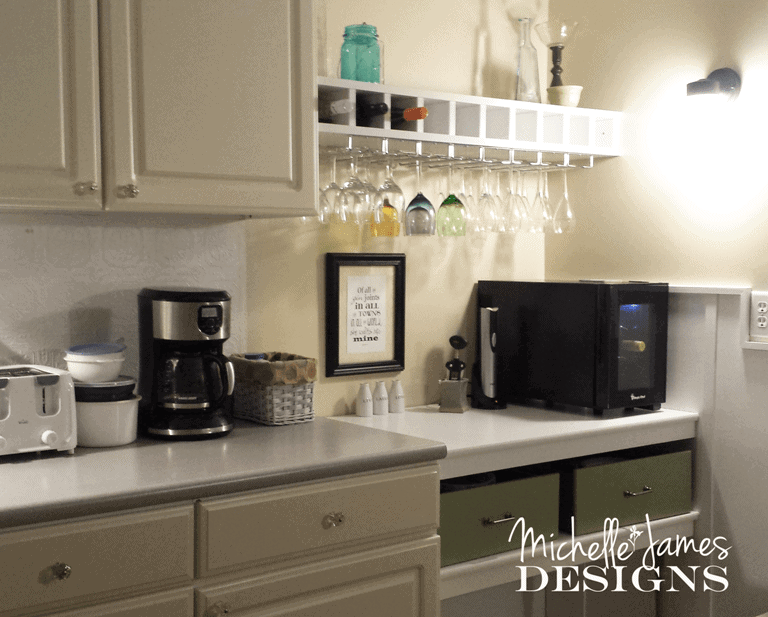 Doesn't that look much better?  I am very happy with my finished lined basket.  I hope you will make one too.
Thanks for stopping by and don't forget to follow me on Facebook, Twitter, and Pinterest and if you liked it, please share this post using the buttons on the side.  I appreciate it.
I am linking up today at:
Enter your name and email to receive tips and tricks, tutorials & deals!
Sign up to get access to an instant download to my five favorite Photoshop Elements settings changes that will make editing and designing easier.
Your information will *never* be shared or sold to a 3rd party.