HI! I have another great Old Fashioned Milk Paint Co. post for you guys today. I am so in love with this color and how this piece turned out. The Old Fashioned Mild Paint Co is sponsoring this post and I received this beautiful paint in exchange for this post. All opinions are 100% my own.
The color is Buttermilk and I used the Daddy Vans wax to give it a good finish. I am getting the hang of this paint and I like it. I have also used the Old Fashioned Milk Paint on this sleek table that I re-did for Brian's apartment and the Ottomans from flea market tables that we use daily in our living room.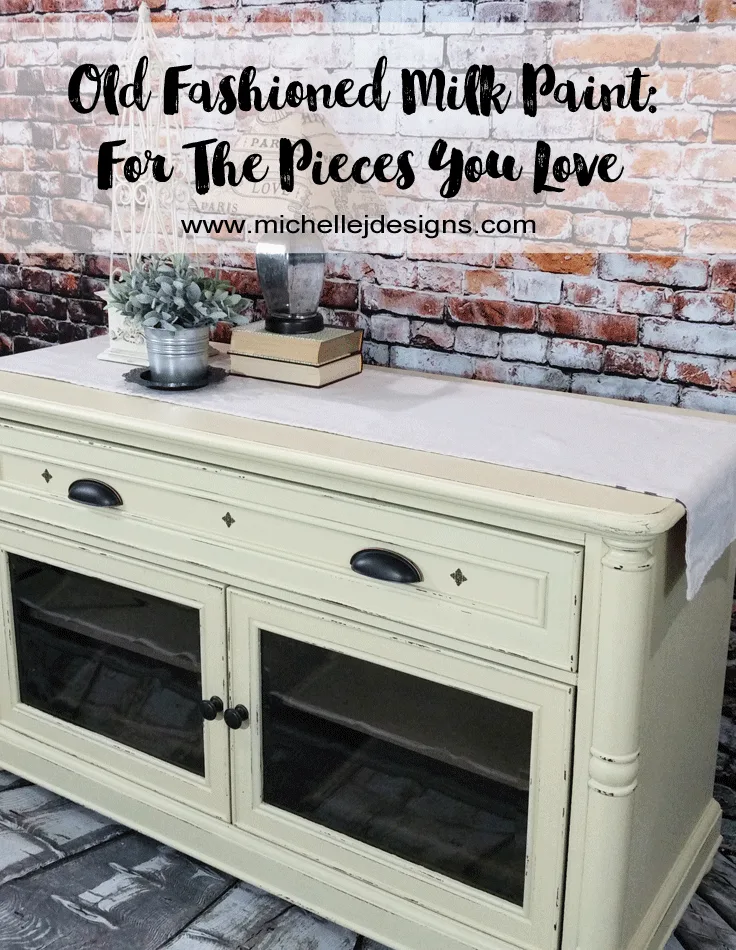 Buttermilk Old Fashioned Milk Paint
I have to be honest that this project included one mini disaster after another but I FINALLY got it done.
I found this piece on one of the for sale groups on Facebook for $50. It was just what I wanted for towels in our upstairs bathroom. We have kitties and to have the towels behind some cabinet doors would keep them "fur free". Plus it has a nice, large drawer for other storage.
So, Jeff and I got the pick up and went to get this guy.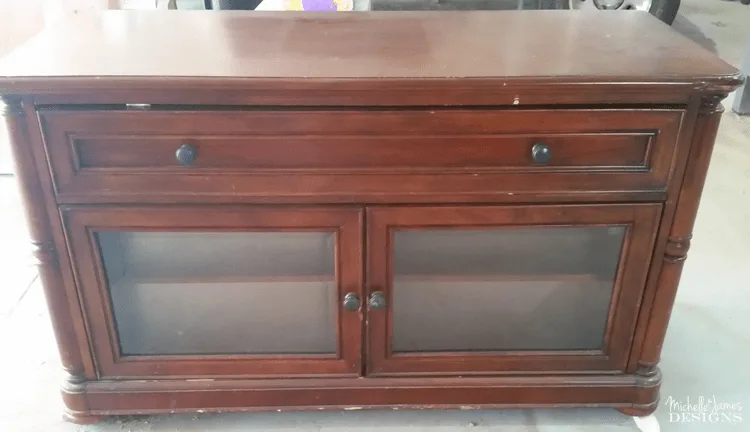 The first mini disaster, was that is was sooo heavy Jeff had to have the husband of the seller help him get it into the back of the pick up. Then we got home it stayed in the back of the pick up for weeks. After two of my friends helped us get it out and into it's "painting spot" in the garage Jeff said, "There is no way that is going upstairs. It is way too heavy". So….with that…my bubble was burst!
But I knew I needed to at least get it painted and use it for a project on the blog.
Here is another before photo.
I started with prep. I sanded the whole piece down to rough it up a bit and I removed the cupboard doors.
Then jumped right in with the paint.
I am in love with Buttermilk! This is the best color and I couldn't wait to get started.
I have included a few affiliate links for your convenience. You can see my full disclosure here.
If you have read about The Old Fashioned Milk Paint Co you know that their paint is a powder and you mix it with equal parts water. I added in the Extra-Bond too. This keeps the paint from chipping and you add it right into the paint when you are mixing it up. If you want a nice chippy look then don't add in the Extra-Bond. I wanted distress, but not chippy.
The second mini disaster was that I started using my paint sprayer but because I did not strain the paint I was having some problems with the sprayer clogging up. Then it would come out really fast. It was sort of a mess and I actually went through more paint than I had planned. So I let it dry, sanded it a bit and went in with the brush.
As I was painting it was taking several coats and I think it was because I decided not to prime the piece first. The dark color showing through the distressing is just too pretty and I had to try.
My paint was dwindling fast so the front, back and sides got done first. Then used a brown latex paint inside the cupboards and the drawer to add contrast to it.
I could tell there was plenty of the Buttermilk paint so I mixed up more and painted the top.
I took one morning and I added the Daddy Vans wax to it. I had never used it before and it really made the whole thing look so rich and finished.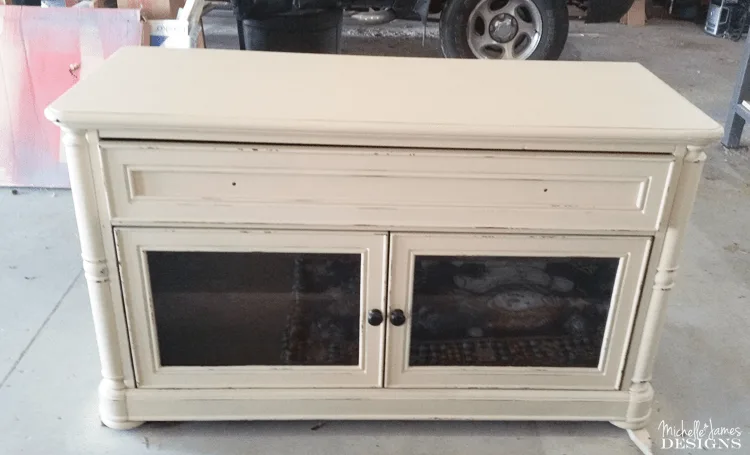 Then mini disaster number three hit!
I set the Daddy Vans can on top as I waxed and it chipped the top. Just one little piece but it was right in the middle.
I apparently did not add the Extra Bond to the paint for the top. So I sanded it down quite a bit and added two new coats of paint WITH the bond. After it was dry I applied the Daddy Vans and it "almost" looks like it never happened. Whew!
It was then time for the drawer pulls and apparently mini disaster number four! The original drawer pulls were a single knob but I wanted these cup pulls from D. Lawless Hardware.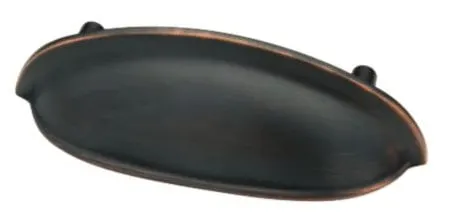 They have two screws instead of one. I asked Jeff to put the new holes on the inside of the existing holes. But….he put the second one on the wrong side. Ooops!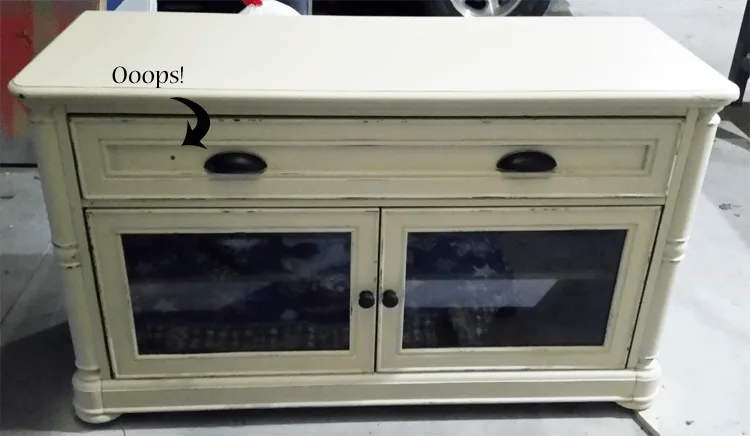 We needed to cover this up so he found some decorative elements at Hobby Lobby and screwed them on. I actually think they added to the charm of this piece.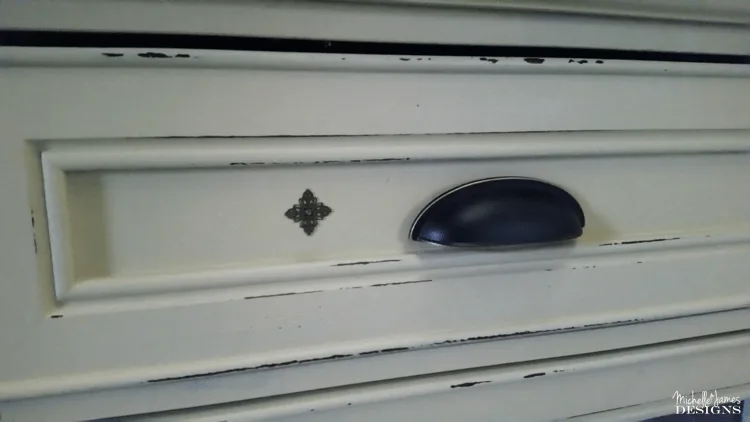 What do you think after averting the mini disasters?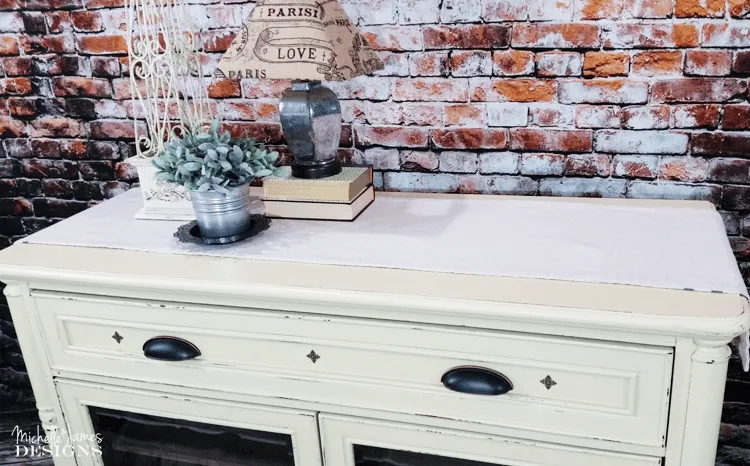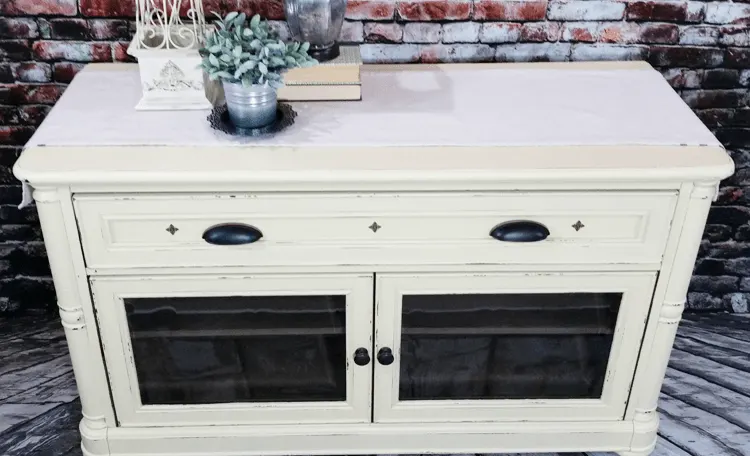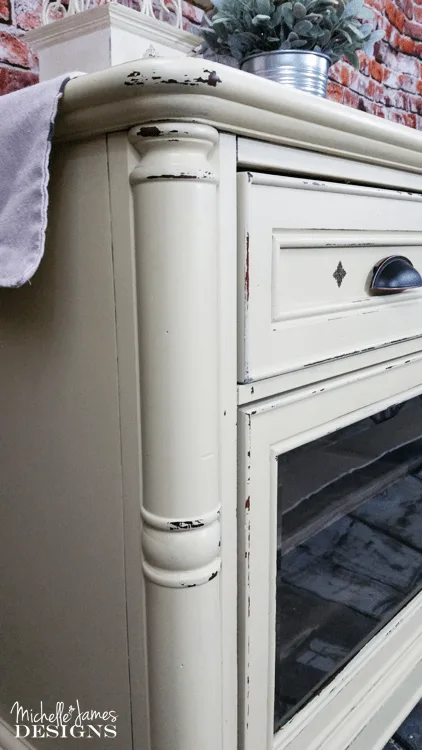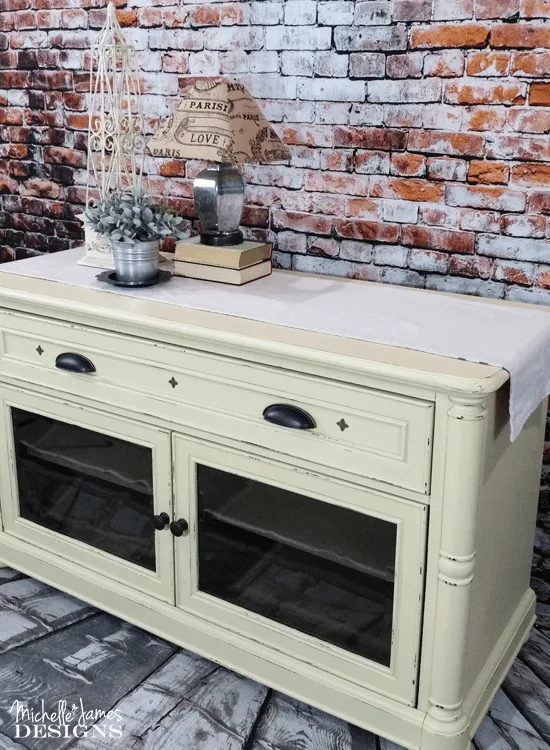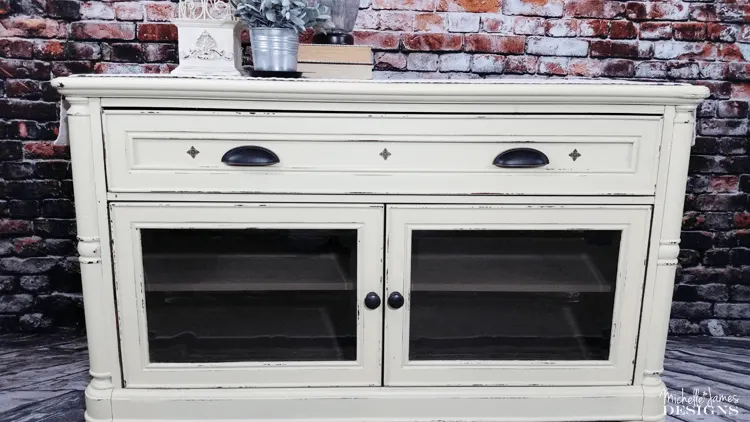 I think it turned out so nice. Now I need to decide to keep it or to sell it! Haha. It is a hard decision. What would you do?
I have another project done …now, onto the next one!
Thanks so much for stopping by.
Michelle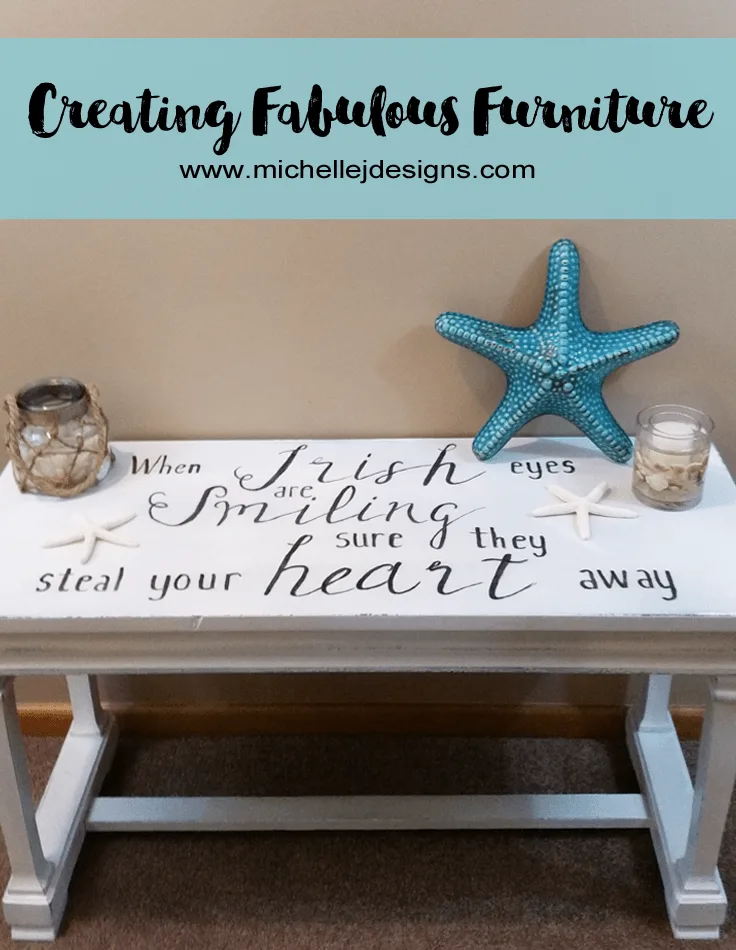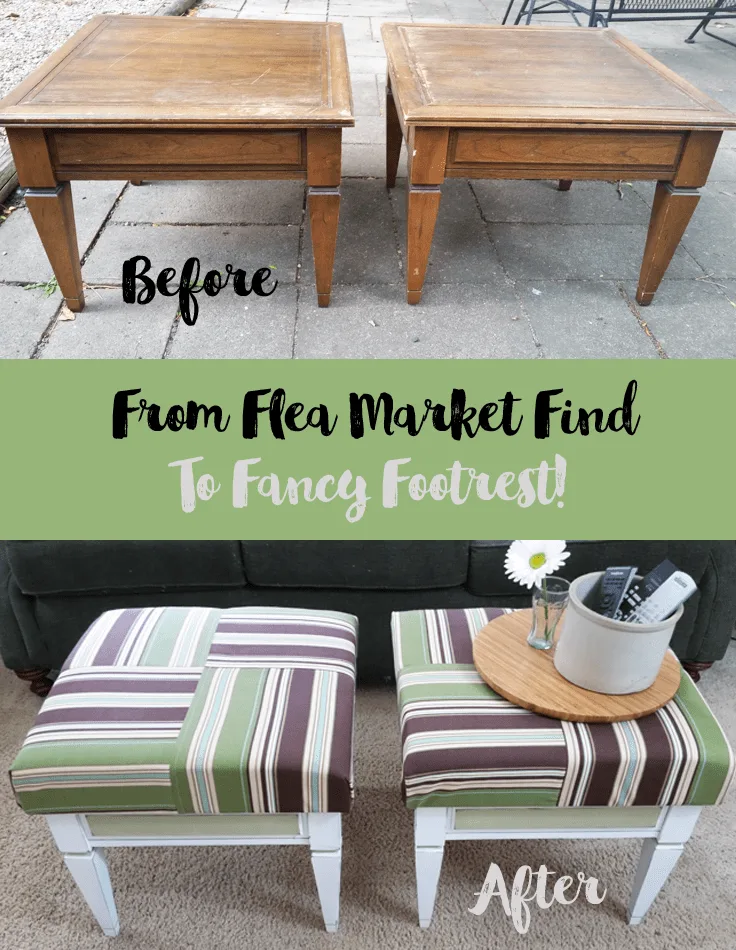 Ottomans from Flea Market Tables