Using paint pens on glass is the perfect, easy and fun way to decorate glassware for gifts and home decor.
Have you ever used oil based paint pens? They are great for and easy way to add a little fun to some glassware.
These Irish coffee glasses are from the Dollar Tree and you know how I love to use Dollar Tree items to make great gifts and decor.
I used the paint pens to add some shamrocks to the clear glasses and I think they turned out super cute.
This is my Dollar Tree post that some of my blogger friends and I put together…mostly each month to inspire you with budge friendly gift and home decor ideas.
Be sure to check out their posts as well!
If you LOVE Dollar Tree crafts and gifts then you are definitely in the right place.
If you love painting and making glass crafts and gifts you will love it here.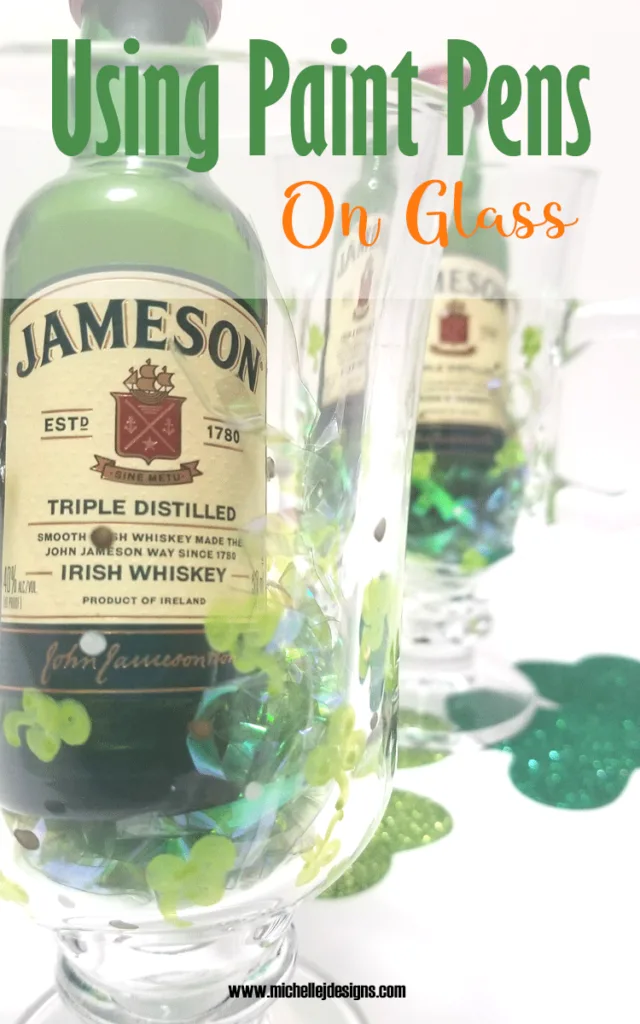 Using Paint Pens on Glass
You don't have to be an artist or great at drawing to use these pens on glass. I have created several other projects including holiday wine glasses and some fun solar lights made from Dollar Tree vases.
Let's get started with these St. Patrick's Day gifts.
Materials Needed:
I have added some affiliate links for your convenience. You can see my full disclosure here.
Oil Based Paint Pens – Green, White, and Gold
Mini Bottle of Jameson Irish Whiskey (optional of course)
Step 1: Clean the Irish coffee mugs
It is always good to start with a clean surface. You can wash the mugs with warm soapy water or use rubbing alcohol and a cotton ball to clean the glass.
Now we can move on to the fun part.
Step 2: Starting adding your design
For these mugs I wanted to add whimsical shamrocks. I say whimsical because I mean hand drawn and not even close to perfect. These are the colors I used.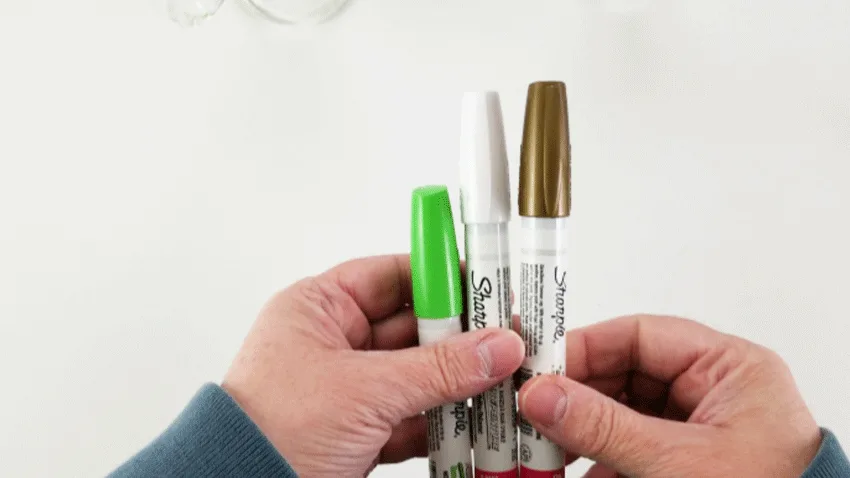 The lime green pen is perfect for this project. I drew three little dots in the shape of a triangle then added a little curved stem.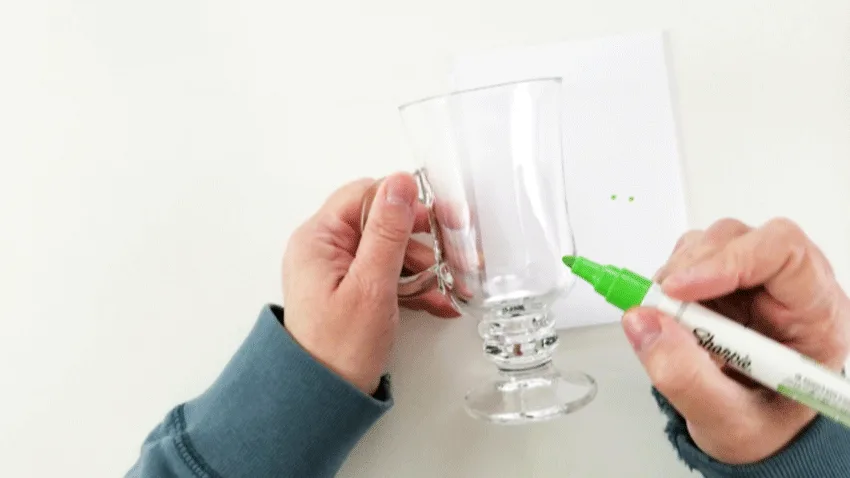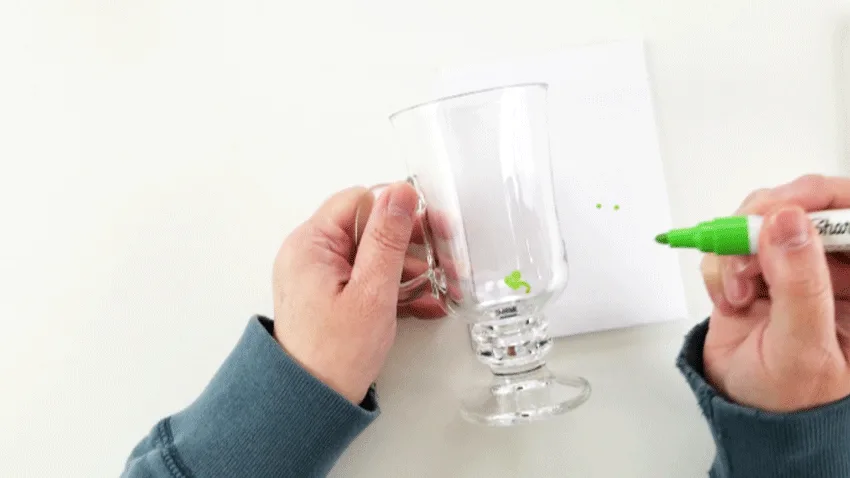 Keep adding shamrocks until you have gone all the way around the mug. Try not to get too close to the top where the actual drinking occurs.
When you have the perfect amount of shamrocks we are going to add some white and gold dots.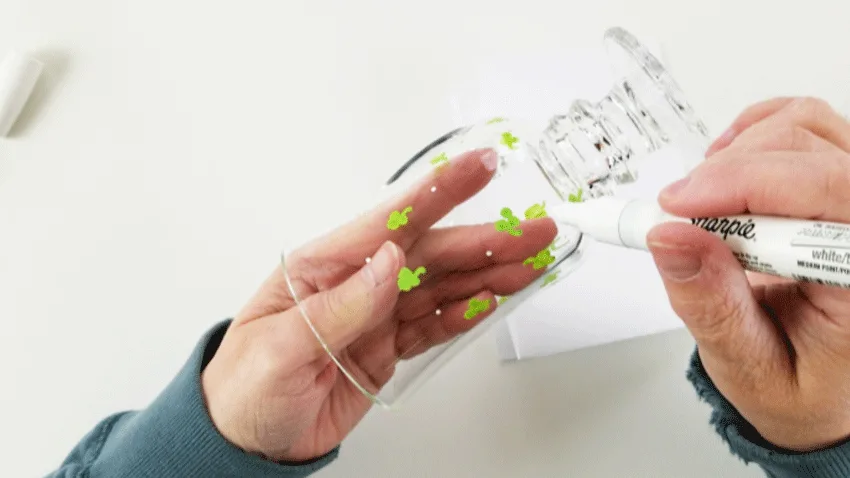 When you are happy with the amount of white dots, switch to the gold pen and add even more dots.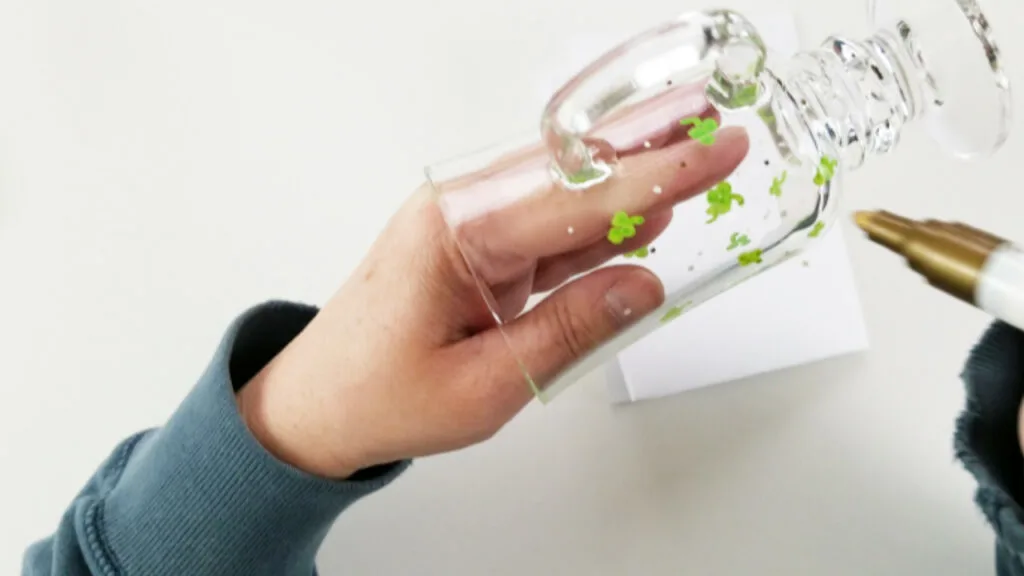 The gold dots were the last addition to my design but you can keep adding whatever you like.
Step 3: Bake your glasses
You read that right! We need to bake the mugs. This will heat the paint and keep it from washing off when HAND WASHING them. It is an important step.
Place your mugs onto a cookie sheet/baking sheet. Place them into the oven then turn on the oven to 250 degrees.
Bake for 2 hours. Then turn off the oven and let them cool in the oven completely.
Then remove from the oven.
Step 4: Add the Jameson Irish Whiskey and Easter Grass
The final touches for this gift are the mini bottle of Irish Whiskey and a little bit of green or white Easter grass at the bottom of the mug.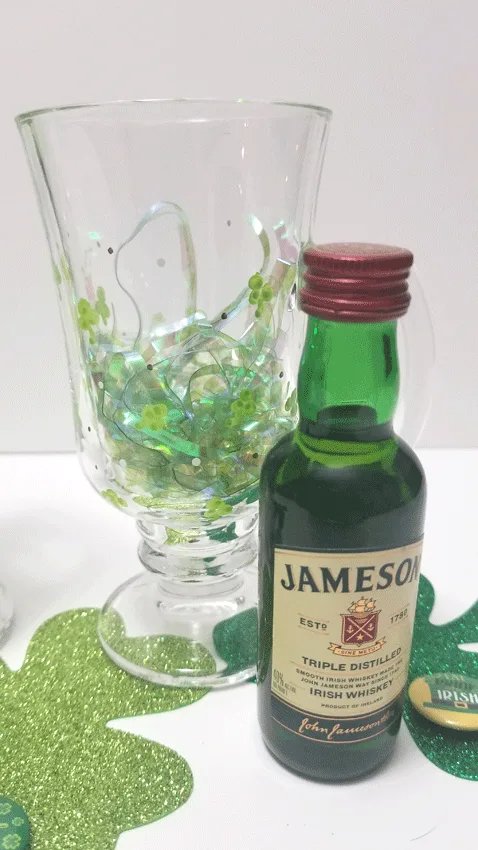 You could also use Bailey's Irish Cream but I could not find a mini Bailey's bottle anywhere in my town. So weird!
Here are some more photos and a great recipe for Irish coffee made with Jameson Irish Whiskey.
If you are not an alcohol fan you can add a little packet of cocoa or coffee and it would be just as festive and fun.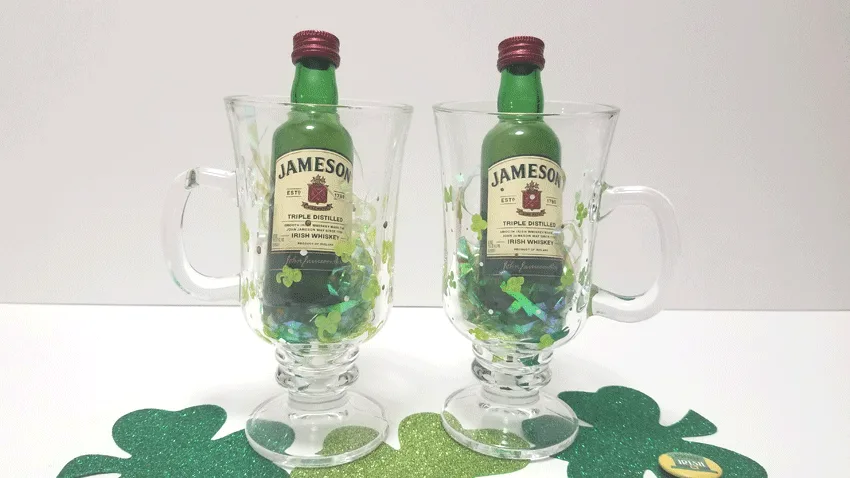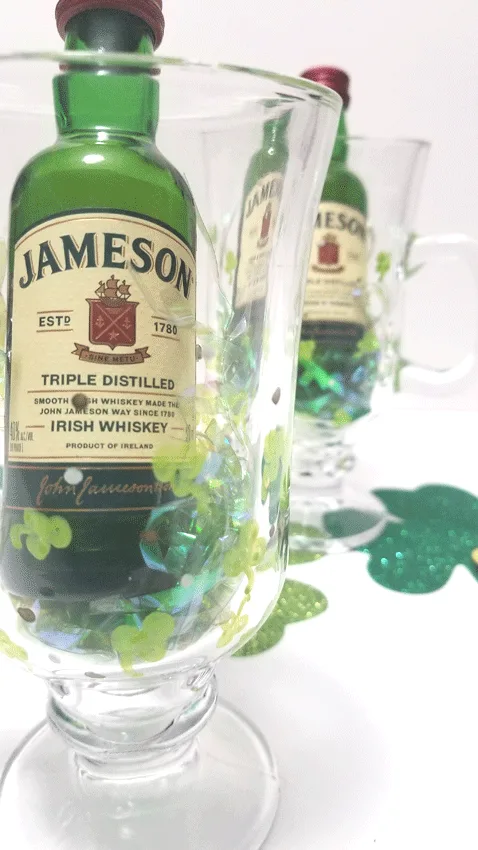 Yield: 1 serving
Irish Coffee With Jameson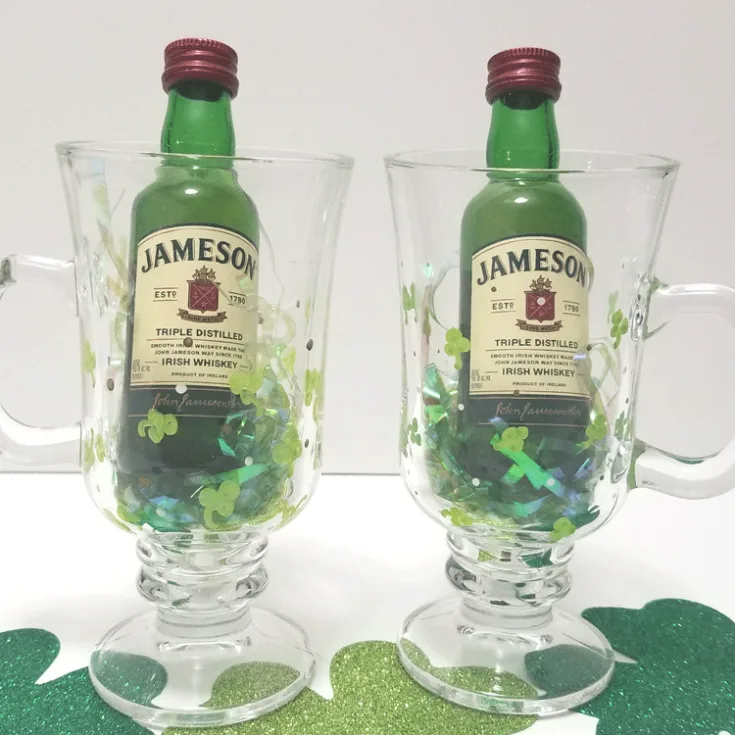 Ingredients
1 cup strong coffee
2 Tablespoon Jameson Whiskey
1/4 cup slightly whipped heavy cream
1 tablespoon Raw Cane Sugar
Instructions
Brew coffee and add 1 cup to the shamrock Irish coffee mug
Stir in the raw sugar
Add the Jameson Whiskey
Top with slightly whipped cream
Enjoy!
Posts from my friends!

Be sure to visit these blogs to find more Dollar Tree St. Patrick's Day inspiration
And for more inspiration check out our Dollar Tree Facebook group. It is full of great ideas from members.
Thanks so much for stopping by!
Michelle