I am in love with mason jars so combining them into home decor is awesome! Take a look at my painted mason jar welcome sign.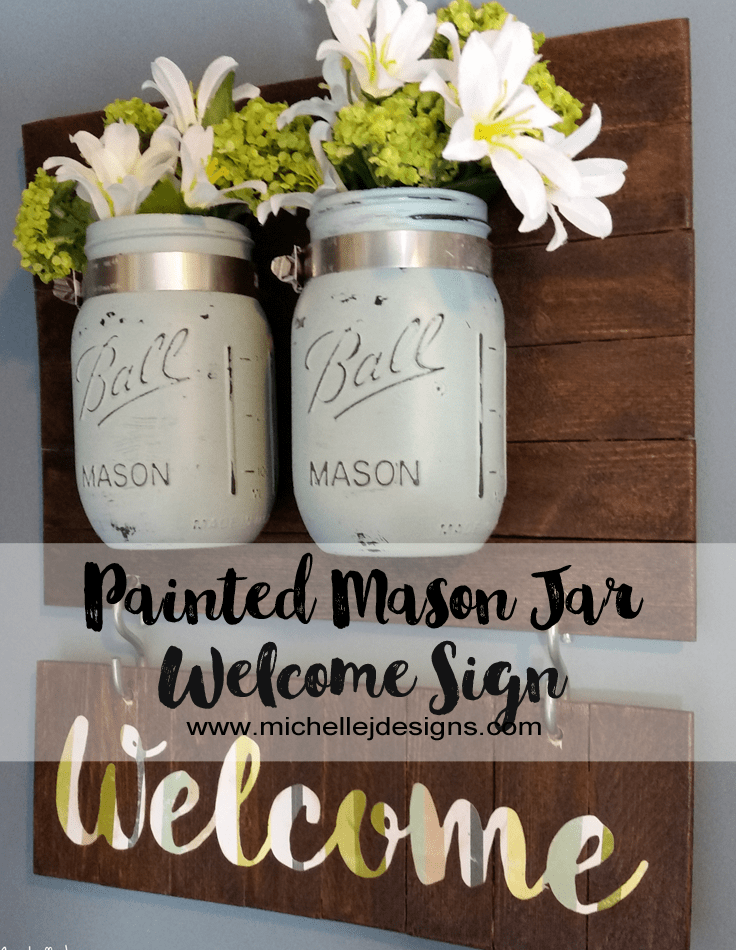 Painted Mason Jar Welcome Sign
As I mentioned above I love mason jars and projects using mason jars. I have an entire Pinterest board of mason jar ideas that you can follow if you are an addict like me. This is the first time I have painted them with chalk paint though and it really turned out nice. In the past I have tinted them. You can see how those turned out here!
This was originally a class I offered here in town. It was great fun!
Materials Needed For Mason Jar Sign
Two Mason Jars – pin size
Wood lath
Two Pipe clamps
Screws and washers
Drill
Paint/stain
Chalk paint
Flowers
Patterned paper
Cutting machine such as Silhouette or Cricut
Two S hooks
Getting Started
We had the wood pieces pre-cut, stained and put together for the class. But each lath piece was cut at 12 inches long. Then we place 6 of them side by side and used two pieces on the back to glue them together. This was the top part. The bottom part was done the same way but the 8 pieces of lath were cut shorter at 4 inches.
When the glue is dry paint or stain the wood pieces. I used thinned down brown paint for mine.
Then drill holes in the top and the bottom pieces so you can add S hooks.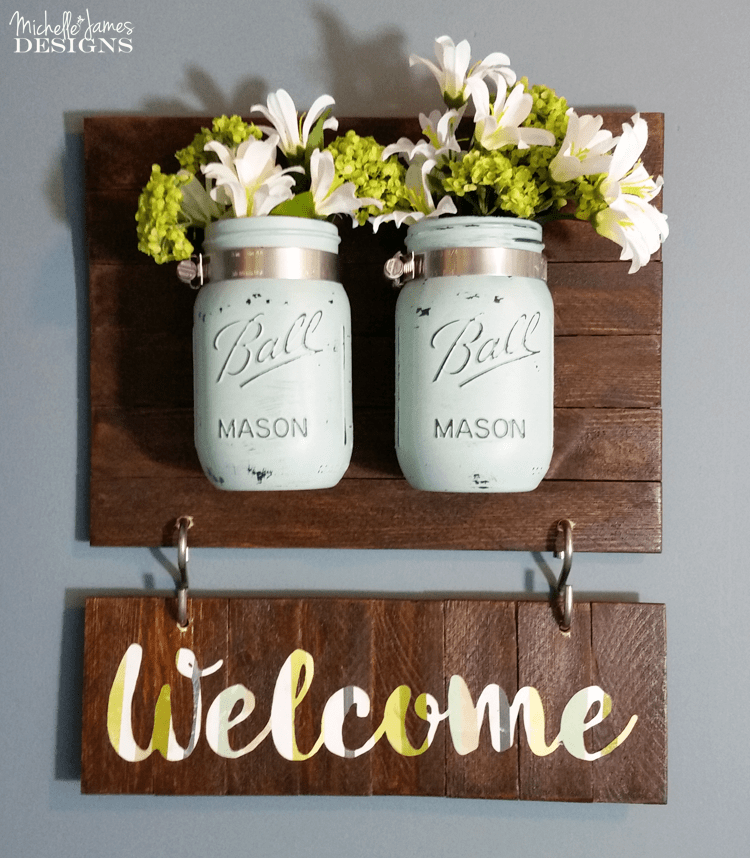 Paint Your Mason Jars
I use my favorite Americana DecoArt Chalky finish and the color is Vintage. After it is dry use a sanding block to distress the jars.
Add The Hardware
This is not hard but hard to explain. I have added a video I found on You Tube from DIY Playbook that explains it well with a nice visual video!
I love this project and I know you will too! Enjoy.
Thanks for stopping by!
Michelle