I am gearing up for our Thanksgiving dinner and thought it would be fun to have a little place card/party favor for everyone at the table. The mini mason jars are so fun so I made the perfect mini mason jar party favors for everyone to enjoy. Take a look!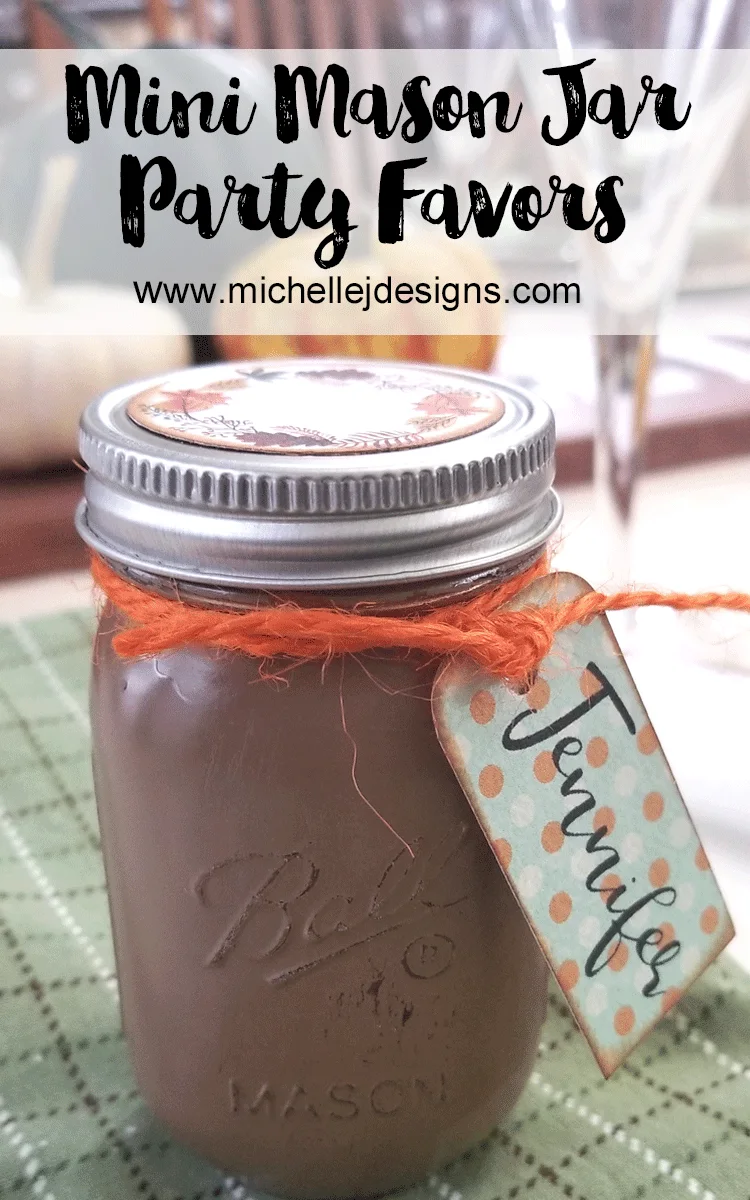 Mini Mason Jar Party Favors
This year we will have some extra guests at our Thanksgiving meal so I want to make it special. I am not a very good cook so the meal won't be spectacular but I am crafty. So, I am using my skills to create a tiny gift at everyone's place setting that they can take home.
I have teamed up with five of my blogging friends for this post and we are all sharing Thanksgiving Mason Jar ideas. This is so fun for me because you know how much I love mason jars.
Related Content:
If you like mason jar projects check out this page with 10 amazing mason jar projects!
But this is what you will need for these fun mason jar favors.
I have included some affiliate links for your convenience. You can read my full disclosure here.
Supplies:
Mason Jars – I used the miniature 4 oz size. They are so cute.
Spray Paint– I used three different colors – Paprika, Leafy Green and Leafy Green
Sandpaper
Scrapbook paper
Brown Ink – Quick Quotes Mocha Mama
Printer
Hole Punch– this is my absolute favorite for many reasons you can find here!
Twine – I used three different colors
Getting Started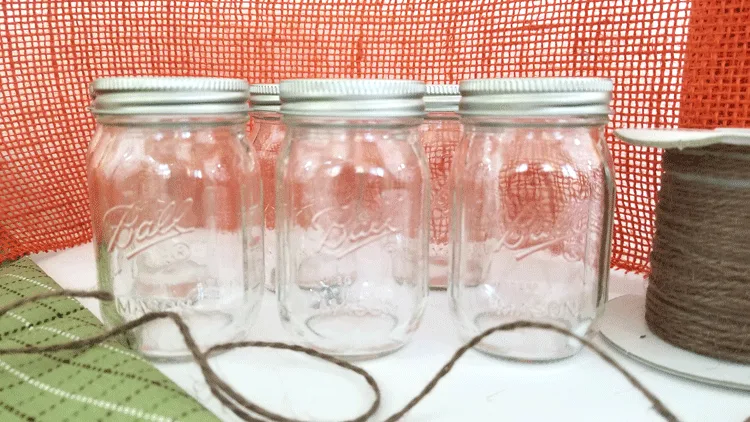 Disclaimer: I linked to Walmart for the jars above in the supply list. If you actually go into the store they are about half the price that shows on the website. I don't know why. This is not an expensive project but when I started looking at the jars online they cost a lot more.
Anyway, I started by spray painting my jars. Usually when I paint mason jars I start with the jar upside down then turn it over and give it another coat. This time I want to put some candy or some sort of food in them and I didn't want to have paint inside the jar so I only painted the outside of while they were upside down. Painting them this way may leave some spots unpainted but since we are going to distress them a bit we can just sand those areas as well and make it look like it was done on purpose.
Brown, orange and green were the fall colors I chose. But how cute would they in pastel colors for a baby shower, bright colors for a birthday, or white with a wedding accent color? I can see the possibilities.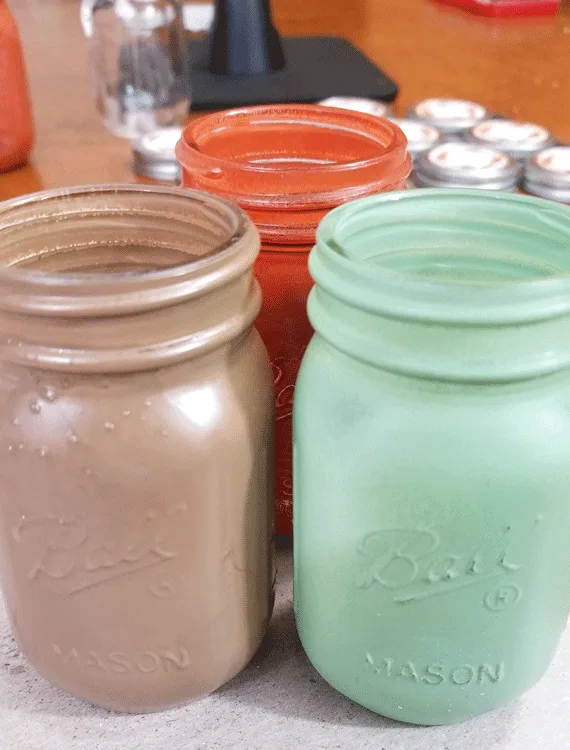 After the painting is done, use a small piece of sandpaper and distress the raised parts of the jar. The text, the lines, the numbers, the ridges at the top and any parts that didn't quite get covered with paint.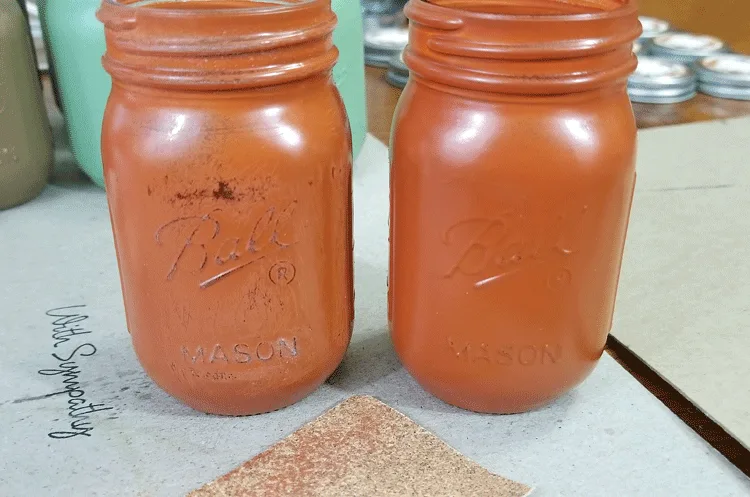 They can be lightly distressed as mine is or can you really get in there and distress a lot. It is totally up to you.
After sanding, wipe the extra paint powder off with a cloth.
Decorating The Lids
I did not paint the lids but I gave them some color with scrapbook paper. I punched out 1- 1/2 inch circles. One of the sheets of scrapbook paper in my kit was a sheet with pattern of fall wreaths. they were perfect so I punched a wreath for each lid.
You could use a cutting machine such as a Silhouette or a Cricut if you want but I wanted each wreath so it was just as easy for me to use a punch this time. Turn your punch upside down. Then you can see exactly where you are cutting and will get a perfect punch every time.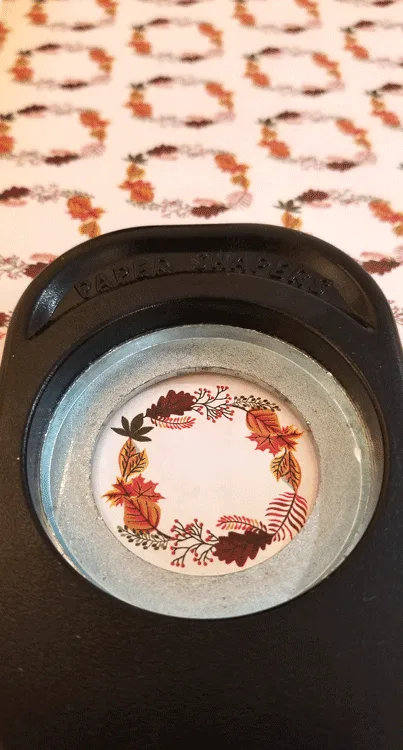 Use the brown ink to ink the edges of the of the circles then adhere them to the lid.
I like Powder Puff ink – Mocha Mama, for inking the edges. To do this hold the circle in one hand and the ink pad in the other and pull the ink pad down touching the edge just a bit to add some ink. I like to do this to get rid of the white core that some double sided papers have. Plus it adds a bit of distress and interest to the project.
Making Personalized Tags
Making the name tags is really easy and can be done in Word or a different program. My "go to" program for anything like this is Adobe Photoshop Elements.
Choose a font, and position the names on the document in the program so when they print all you have to do is cut them out.
These mini mason jars are pretty tiny so I used a 1″ x 2″ size. I printed the names onto my scrapbook paper then cut the tags to size. If the program you are using has rulers be sure to turn them on so you can make sure the name will be the correct size when printed.
I chose a paper that had pattern but wasn't too busy or bright. You want the names to stand out.
Print them on one side not in the middle so you can save the rest of the paper for more projects or cards.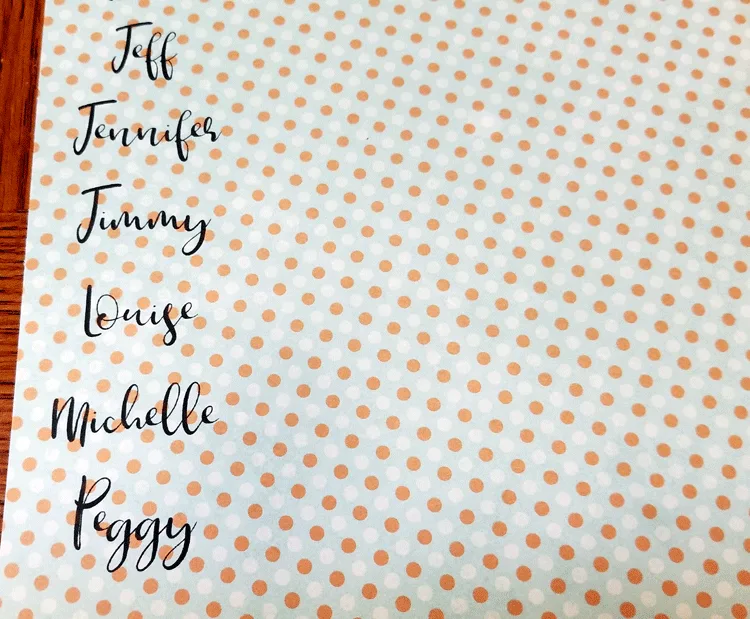 Cut them to size and round the corners of the "top" of the tag. I love my corner rounder from Memory Makers.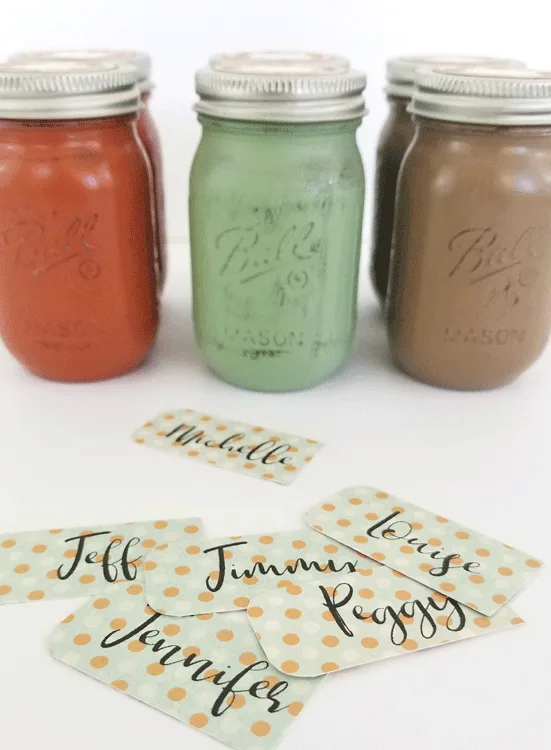 Then ink the edges like the circles on the lids and punch a hole at the top of each tag. Aren't they cute?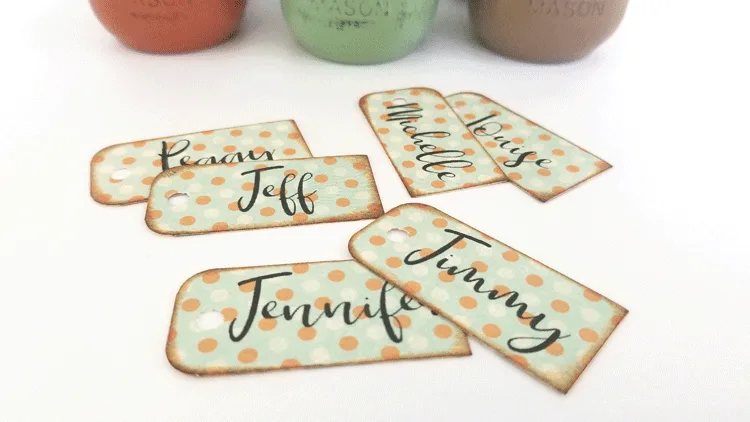 Adding The Tags
Once you have the tags ready to go grab your twine to attach them to the jars. Wrap the twine around the jar a couple of times, add the tag and tie a knot. Trim the ends and you are done!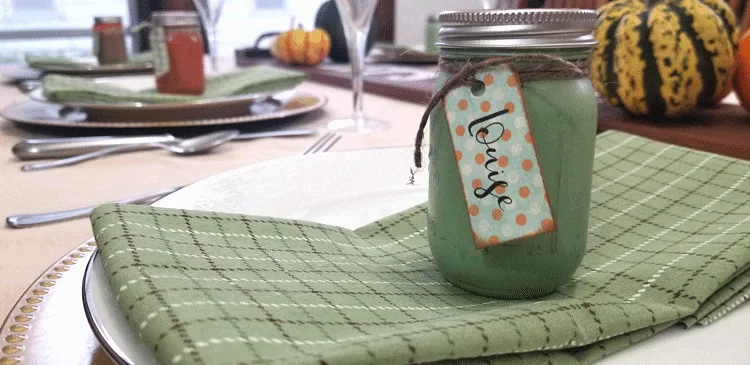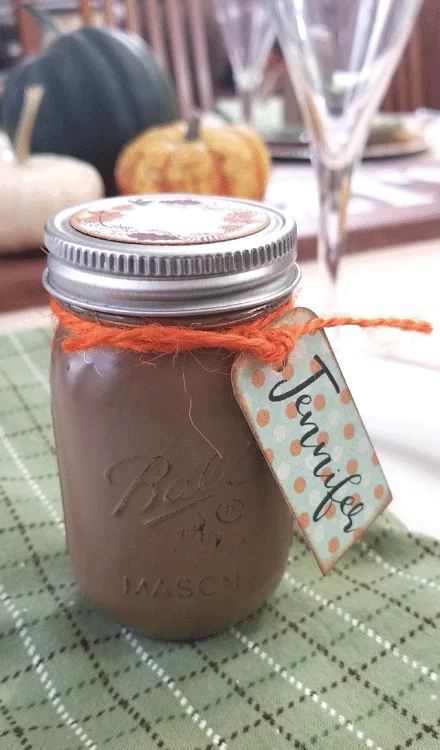 Aren't they just so fun? I love them and everyone has one at their place at the table.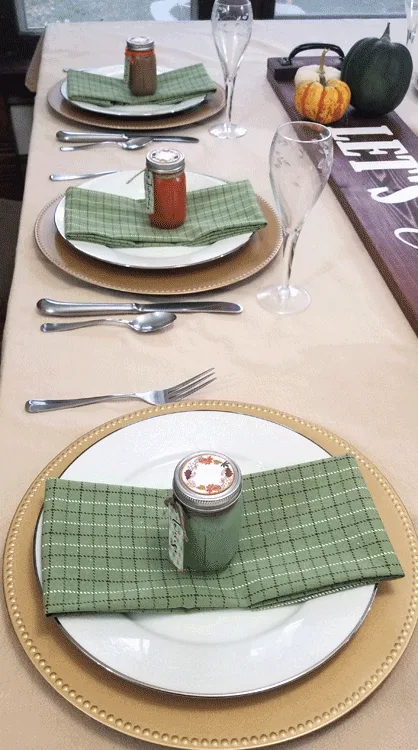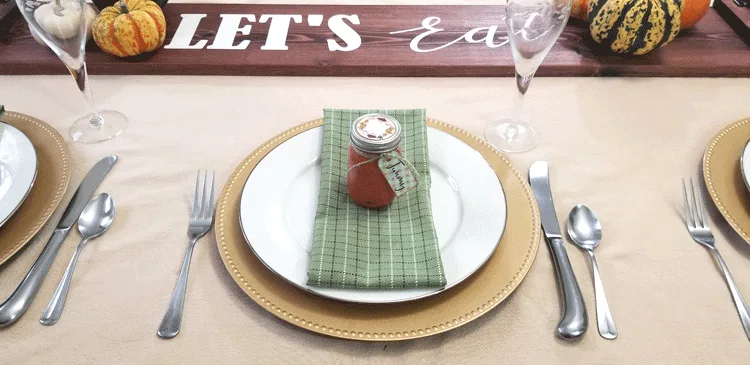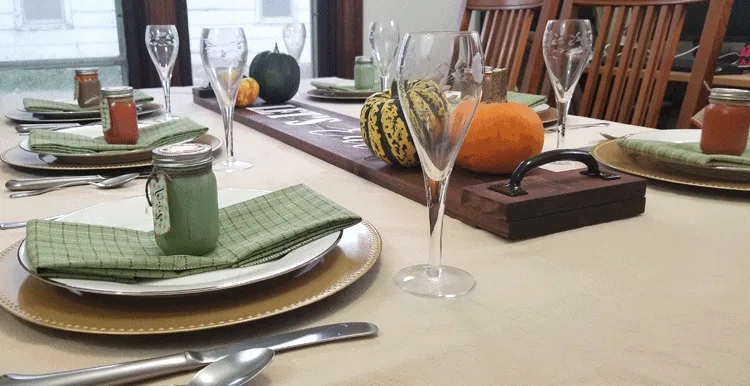 I am going to personalize the contents of each jar as well. Some people don't like chocolate, or candy corn, or whatever so I am going to make sure each jar has something that person loves inside.
Related Content:
This is such a great way to jazz up a table and make your guests feel special. I love doing this kind of thing. Plus if the turkey or pie isn't that great….maybe the cute, perfect mini mason jar party favors will make up for that. If not…alcohol!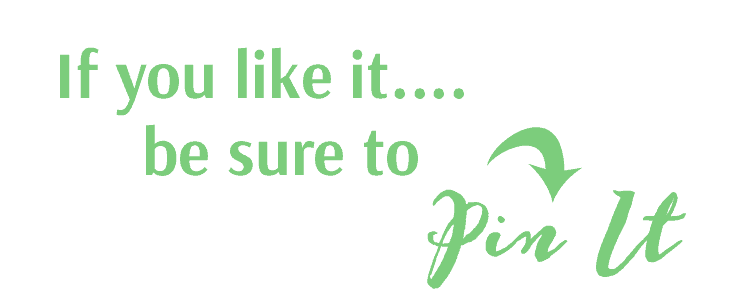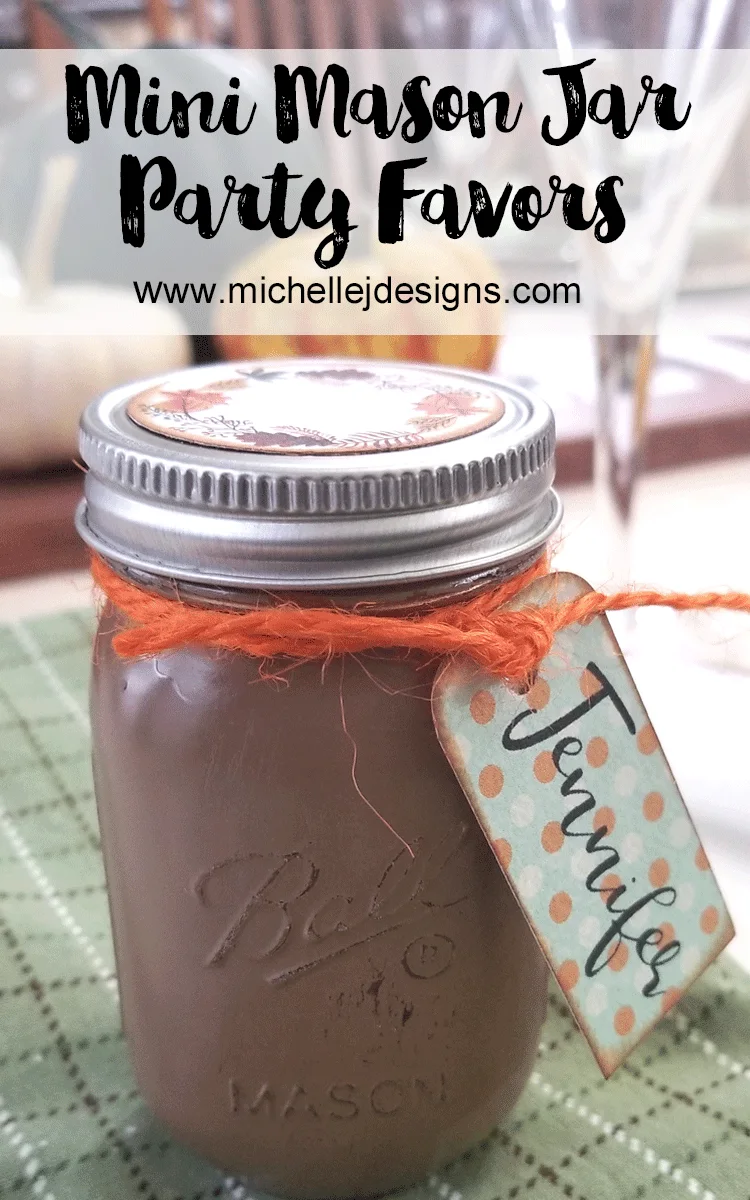 Please stop by these awesome blogs below and check out their Thanksgiving Mason Jar projects as well. There are so many creative ideas.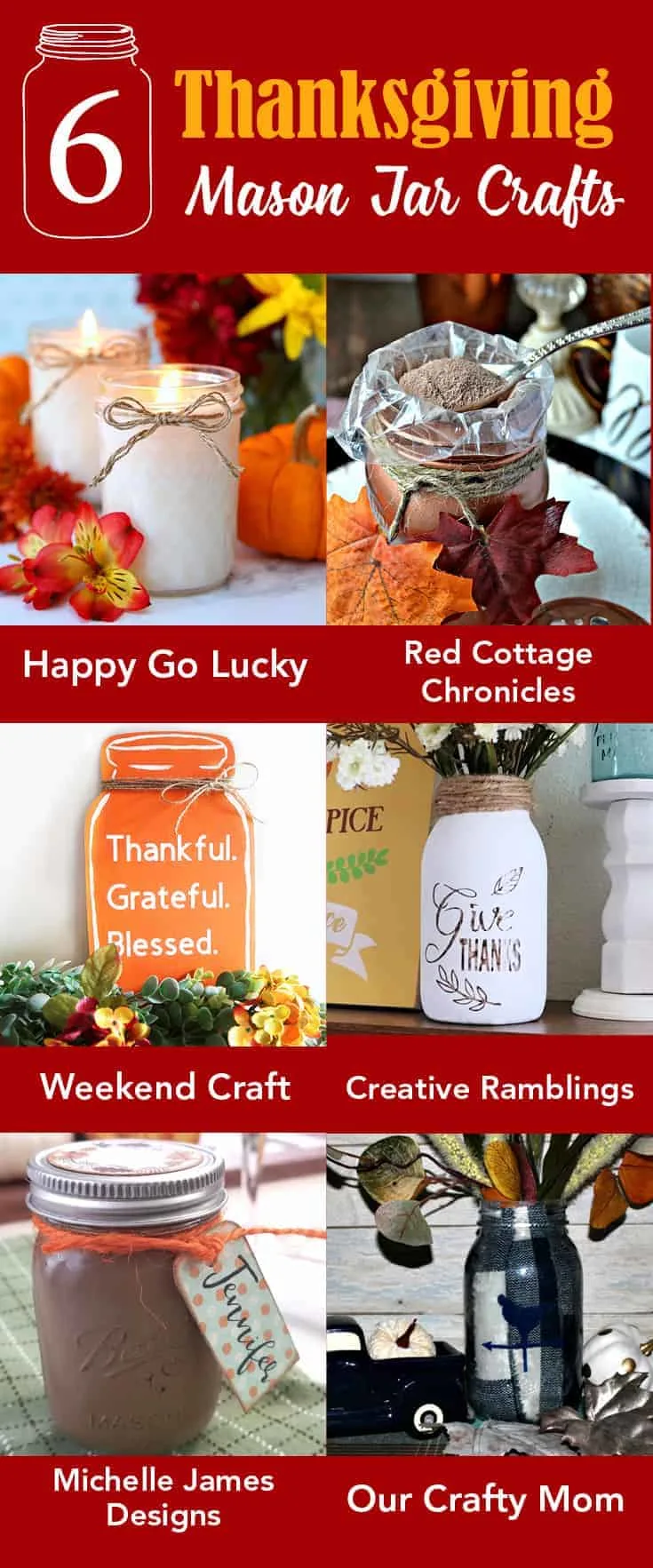 Thanksgiving Hostess Gift from Happy Go Lucky • Ball Jar Thanksgiving Favour from Red Cottage Chronicles • Thanksgiving Mason Jar Sign from Weekend Craft • Give Thanks Fall Mason Jar from Creative Ramblings • Mini Mason Jar Party Favors from Michelle James Designs • Make A Buffalo Check Mason Jar With Fabric from Our Crafty Mom