I am pretty excited about this project. I love how my DIY rustic wood table runner turned out and I can't wait to show you how to make your own! It is easy and budget friendly. What could be better than that?
DIY Rustic Wood Table Runner
Jeff and I always have some extra wood hanging around. This time of year I like to find things I can use to create some holiday fun! I found some great pieces of 1 x 8 pine boards in the garage. First I made our Grinch inspired stocking wall hanger and now I am making this rustic wood table runner. These wood pieces were a great find. So get ready for this fun farmhouse style table runner!
I have included some affiliate links for your convenience. You can read my full disclosure here.
Materials Needed:
4 foot long 1 x 8 piece of pine
2 – 3 inch pieces of 1 x 8 pine for the ends
Palm sander or sanding block
Foam Brushes
Rags
White Paint
Stencil – I made my own using my Silhouette Cameo
Vinyl
Drill/Screwdriver
Let's Do This!
There are really only a few steps to this table runner. Let's get started.
Step 1:
Make sure your board is the length you need for your table. Mine is 4 ft long. Also cut the two end pieces at 3 inches wide. The length should be the same as your runner piece. These two pieces get glued at each end and the handles get attached to them. They are decorative so if you don't like them you can leave them off.
Sand all of the pieces so they are smooth. This was a nice board to begin with so I didn't have to do too much sanding.

Step 2:
Stain Your Wood Pieces
I used Minwax Red Mahogany stain because it was what we had left over from making Ian and Hailey's dining table and bench.
Plus I love the color. Don't you?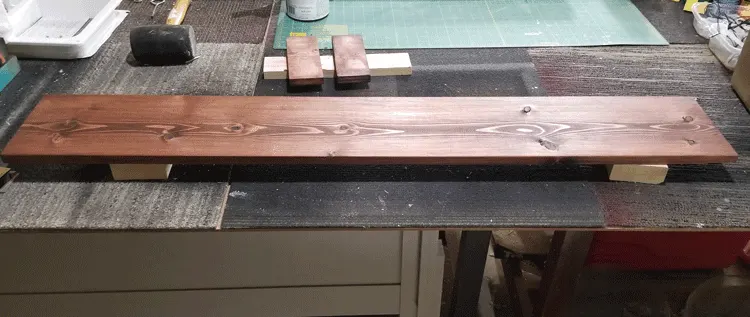 Apply the stain with a foam brush. Wait about 5 -10 minutes then wipe off the residual stain with a clean, non linty cloth. Old tshirts work really well for this.
Step 3:
Stencil the board (optional). I wanted a fun saying on my wood table runner so I chose to stencil the words "Let's Eat" with white paint. Wait until the stain is dry and cured for a couple of days before I painted it.
Creating stencils with my Silhouette Cameo is one of my favorite ways to get a custom look. I designed this stencil and cut it out of vinyl.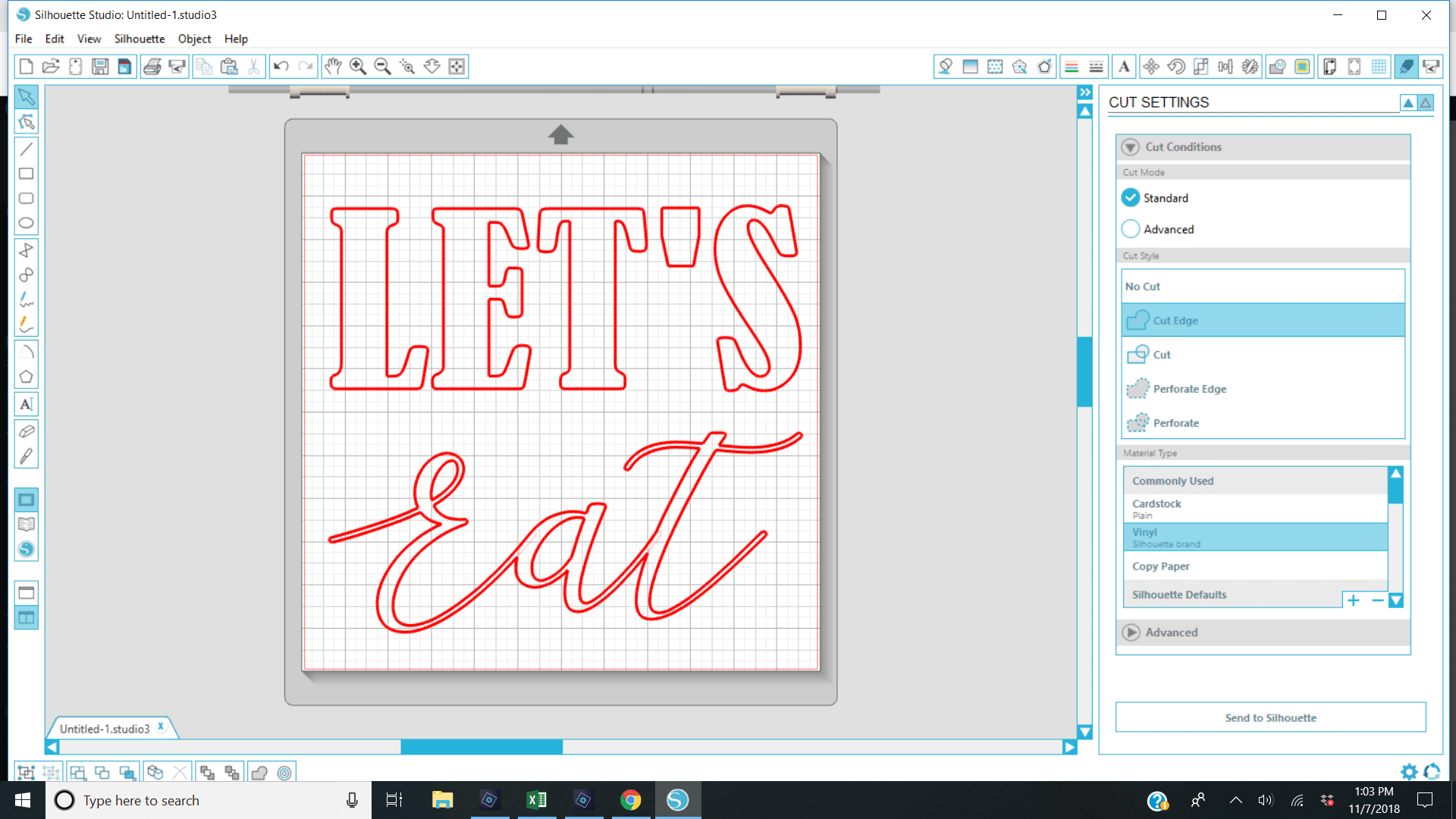 I used the StyleTechCraft transfer paper and a ruler to get the design centered perfectly on the wood table runner.
If you are new to transfer paper or a little scared of it like I was I created a video of the process from cutting the transfer paper to removing it after the paint is dry. Check it out!!
If you did not watch the video, grab your paint and apply it to the wood after you have the stencil in the right spot. If the letters are wide like the "let's" that I used try the regular paint brush. I started with a small stencil brush and did not like the brush strokes.
When you are done painting, remove the stencil. It works perfectly 99% of the time. (There is always that one time when things just don't go as planned.)
Step 4:
Add the side pieces and handles.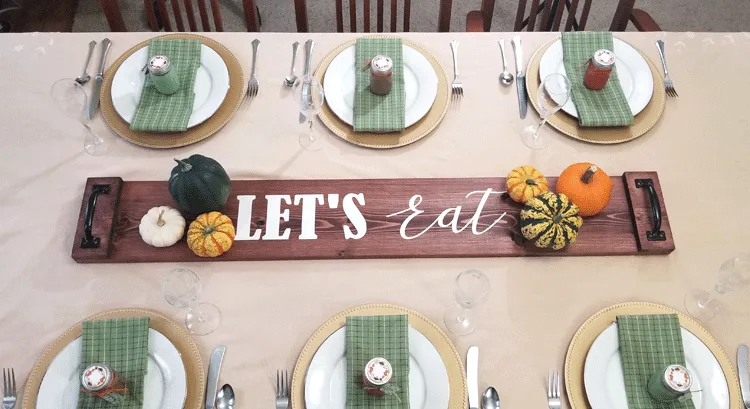 I love the look of the rustic bulky handles on the sides. It just adds to farmhouse look of the wood runner. In my opinion!
Use wood glue to attach the pieces then use the drill to add the handles.
You are done!
Doesn't it look fabulous? I can't wait to use it for my Thanksgiving Dinner.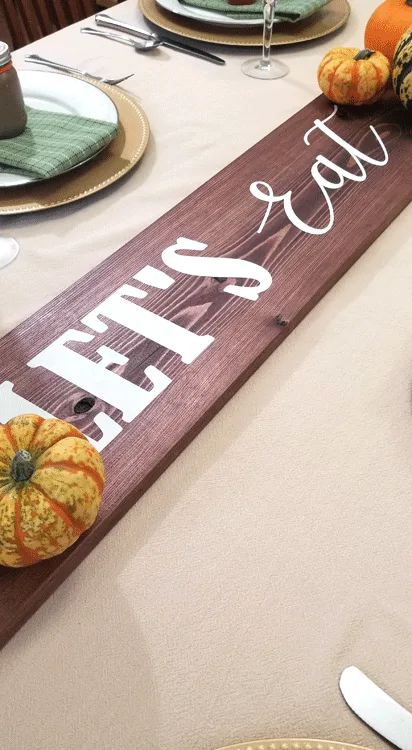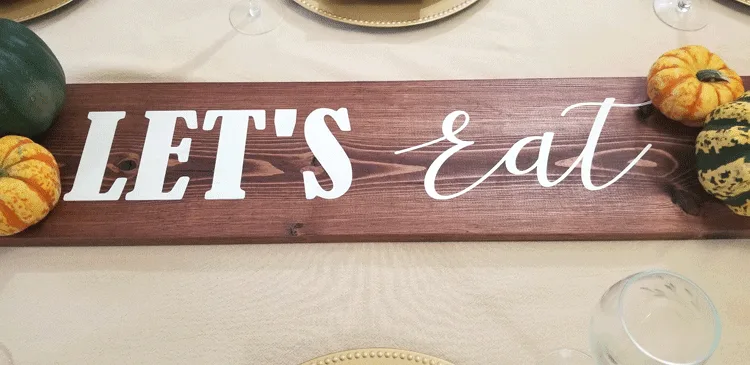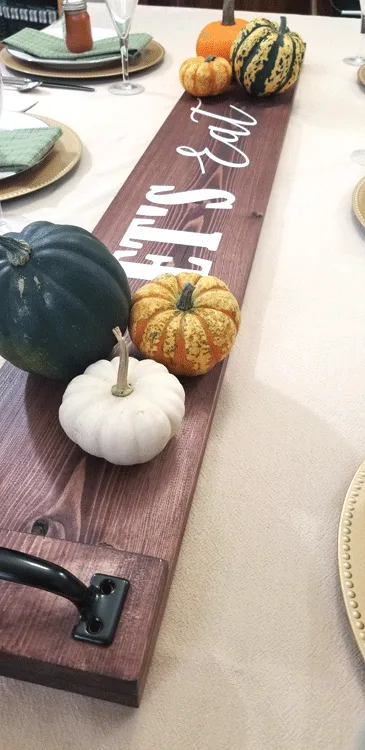 I hope you love it as much as I do.
Thanks so much for stopping by,
Michelle