I am so excited to FINALLY be able to work in my backyard patio area. We are still having rain but have had some nice days for yard clean up and planting. When I pulled my flower container pots out of the garage they looked faded, dingy and just down-right terrible! So, I turned to DecorArt and they really came to the rescue with their Outdoor Living paints. I am going to show you guys just how easy it is to rejuvenate painted planters and make them look new again.
This outdoor paint gave my pots a new life and my patio a new look and it can do the same for your outdoor space.
I have gotten together with five of my favorite bloggers to bring you a variety of posts using DecorArt paints. This is a sponsored post and I was given the paint I used. All of my opinions are 100% my own and you can read my full disclosure here.
Keep reading to find out about an amazing paint giveaway too. You won't want to miss it.
Rejuvenate Painted Planters
We are so excited to be partnering with DecoArt in this amazing Giveaway, where one lucky reader will receive over $100 in DecoArt products!
The prize will consist of:
3 8 oz Jars Of Outdoor Living Paint In Wildflower, Poolside, Succulent

3 16 oz Jars Of Curb Appeal Paint In Colonial Black, Estate Red, Hampton Blue

3 Americana Decor Paint Brushes
Now it's time to meet our wonderful co-hosts who have made this giveaway possible. Be sure to visit their blogs linked below to see what projects they have created using DecoArt products!
Giveaway Hosts:
Michelle from Our Crafty Mom – Outdoor Table From A Wooden Cable Spool | Heather from Daily DIY Life – DIY Rustic Wood Stained Bird House In Patriotic Colors | Shirley from Intelligent Domestications – How To Decorate A Bird House With Paint | Michelle from Michelle James Designs – Rejuvenate Painted Flower Pots | Beverly from Across The Boulevard – Patriotic Lawn Decor Sign | Toni from Girl, Just DIY – DIY Garden Signs From Fan Blades
Be sure to sign up to win at the bottom of this post!
Now, let me show you what I used for these rejuvenated painted flower pots.
Here is a printable supply and tools list with some affiliate links to the products! You can print this out for later.
Rejuvenate Painted Flower Pots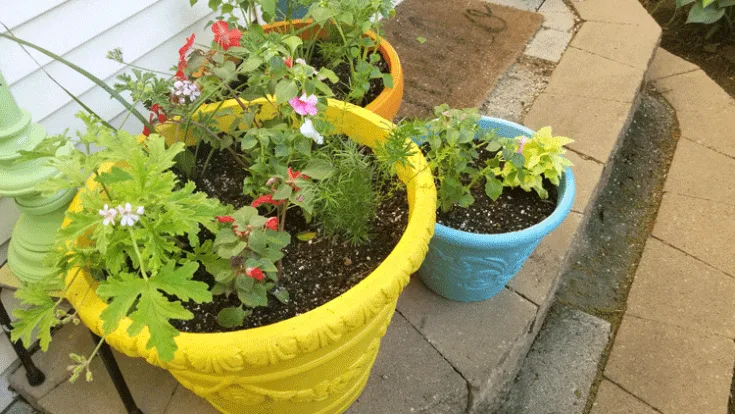 Rejuvenate faded painted flower pots and containers with DecoArt Outdoor Living paint products.
Total Time
4 hours
30 minutes
Instructions
Clean the outside of the pots and about 3-4 inches inside the pots for paint
Use the paint brush to add two coats of paint to each pot letting each coat dry before adding the next one
Let dry completely then add your favorite plants and flowers
Recommended Products
As an Amazon Associate and member of other affiliate programs, I earn from qualifying purchases.
Getting Started
These were the faded painted planters I have been using for several years now. When I took these pics they still had some of the leftover plants from last year. I know I am supposed to remove the plants before bringing them in for the fall/winter but I am so lazy! I just do it in the spring.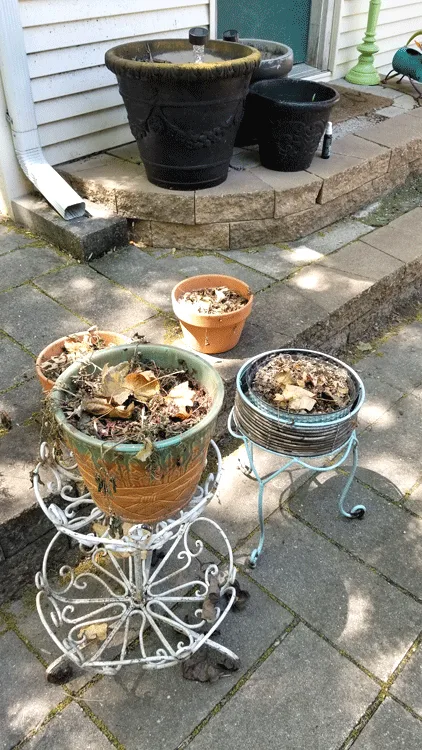 Some of these are terra cotta pots that I just want to paint for color. Others are just different and aren't cohesive. I have decided they don't have to be identical painted planters but I want a cohesive, colorful look.
The buckets that I plant and hang on my fence have been painted with orange, yellow, blue (teal) and green so I wanted the rest of the patio space to have these bursts of color as well.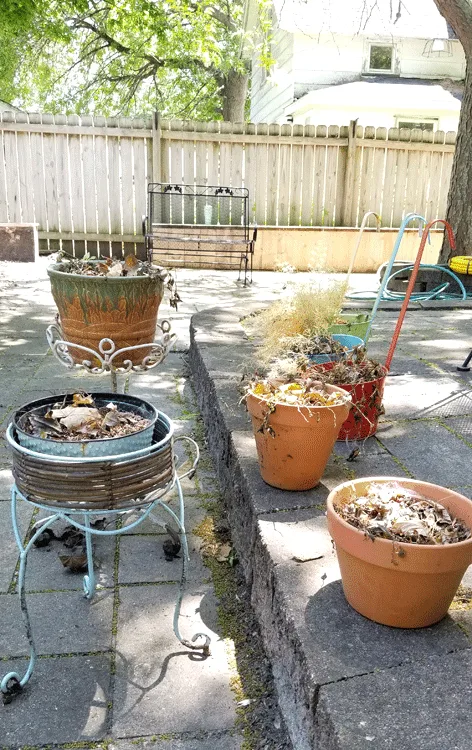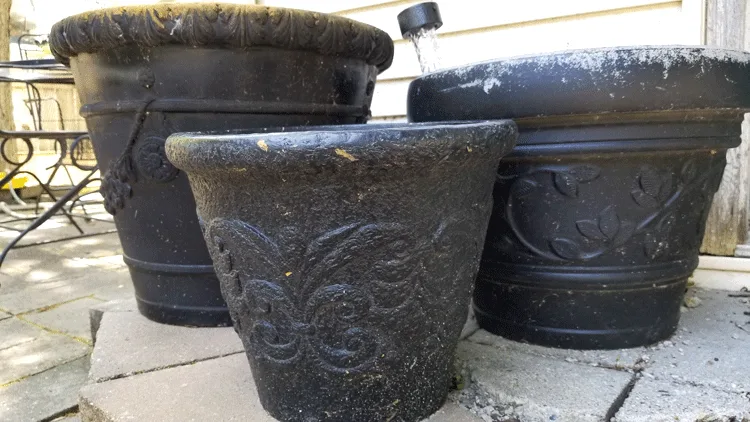 When I chose my product from DecoArt I chose the Outdoor Living paints in Picket Fence, Poolside, Succulent, Harvest and Sunset. They are so bright and pretty and I couldn't wait to start painting.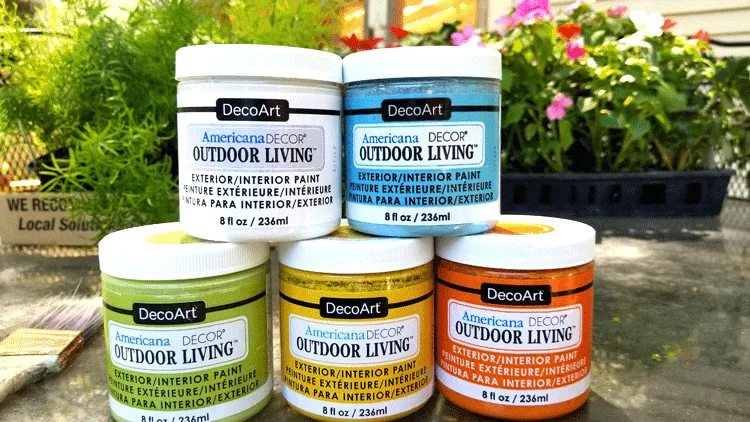 DecorArt Outdoor Living Paints
No matter which of the 30 colors you choose, these Outdoor Living paints are made for all sorts of surfaces. My painted flower containers are a mixture of foam, terra cotta, plastic and ceramic. They all took the paint well and now are resistant to water, scuffs and fading. They also work on wood, concrete, masonry and metal and no sealer is required. And they have a pretty eggshelf finish.
There are some of these paints included in the prize package so be sure to enter to win.
Easy Painted Planters
As I mentioned before I am lazy. I want my projects to look good but I want to get there the easiest way I can…on most things. When it came to the large, foam pots that I keep by my back door I did not want to remove the dirt and clean them up for paint so I cleaned the outside and removed enough dirt to be able to paint the inside about 3 or 4 inches into the pot. It worked great. This was the yellow pot after one coat.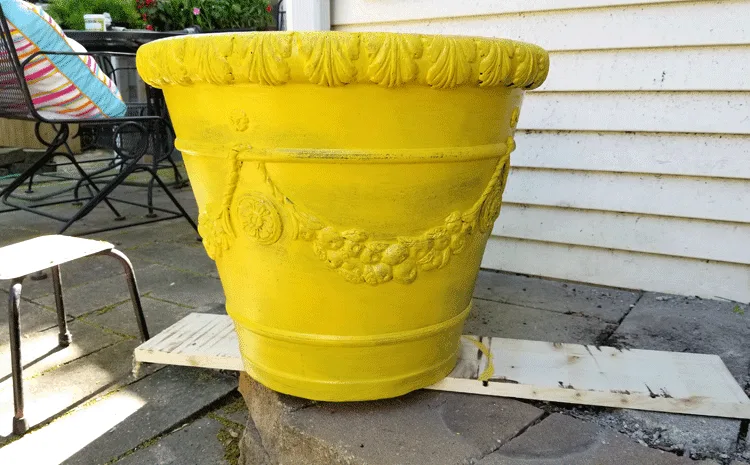 Each pot got two coats.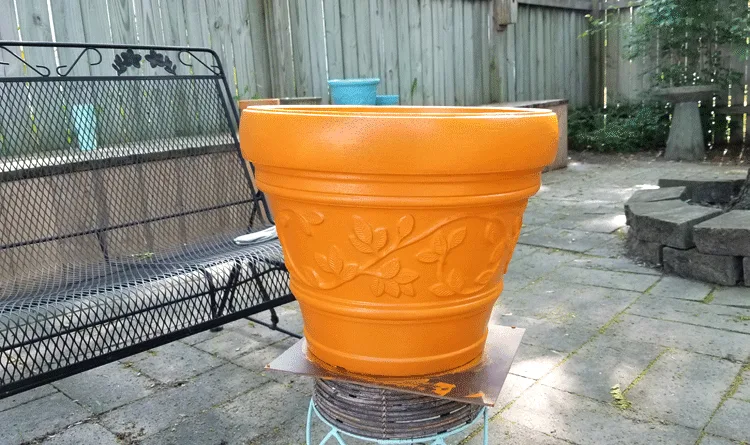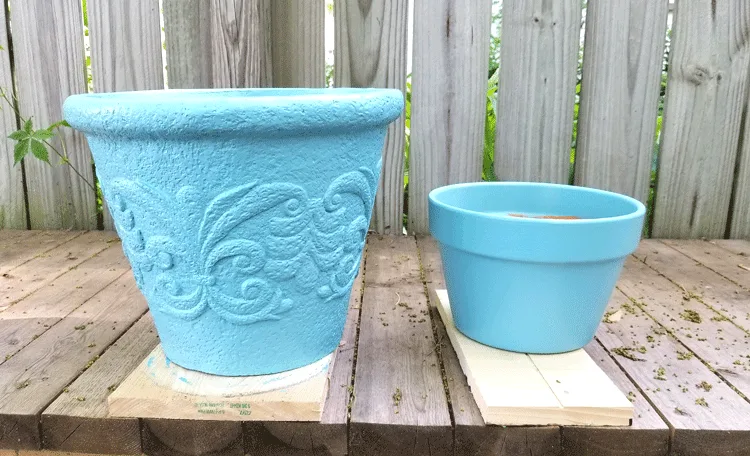 I used a regular paint brush and a foam brush just to compare the two with the paint. I liked the regular brush best but the foam brushes are inexpensive and can be thrown away if you want.
When it was all said and done they turned out really nice and now I can see color at every turn in my back yard patio space.
The Final Results Of These Colorful Painted Planters
Here are the finished painted flower pots. What do you think? You can see my upcycled solar lamp posts in the background.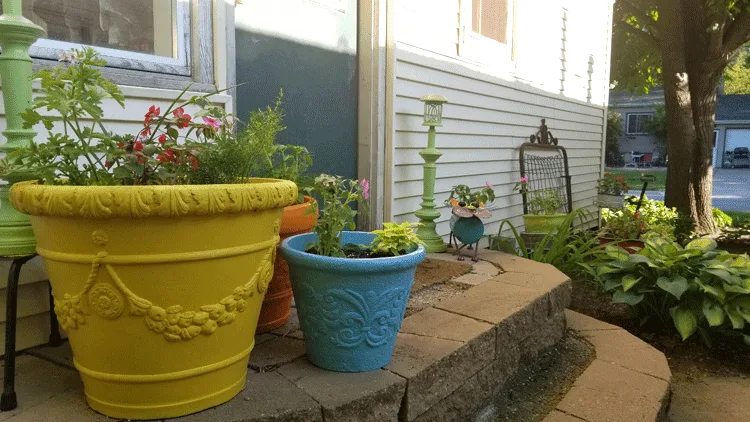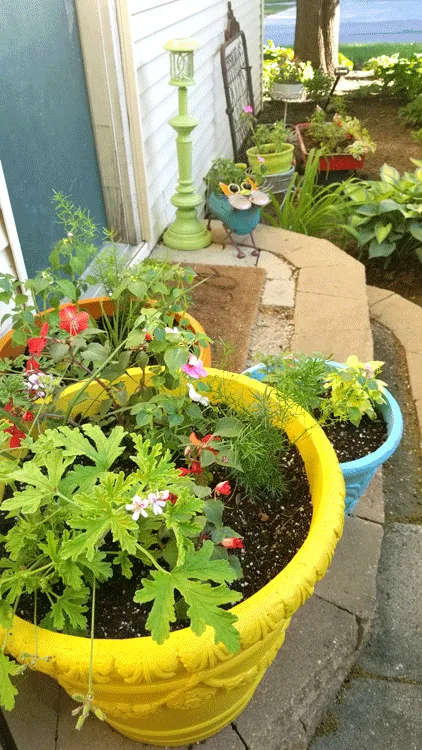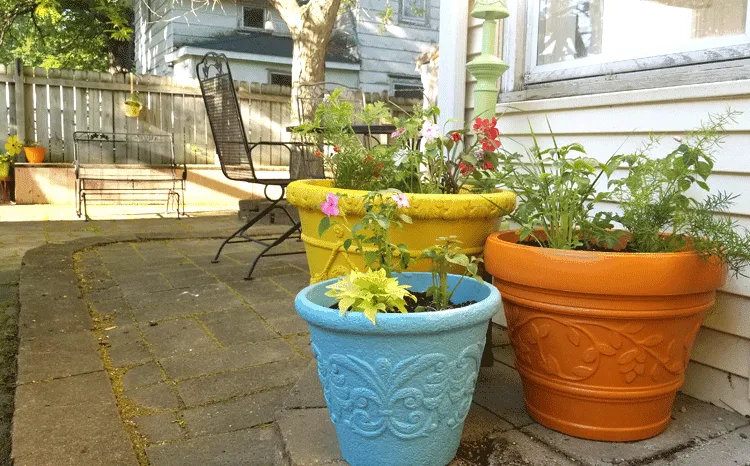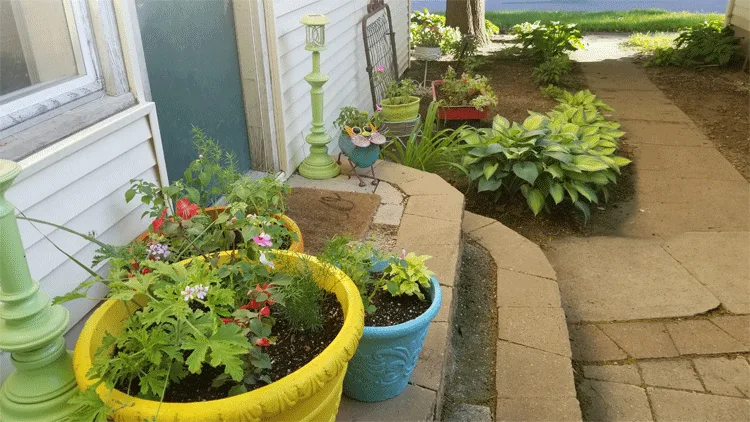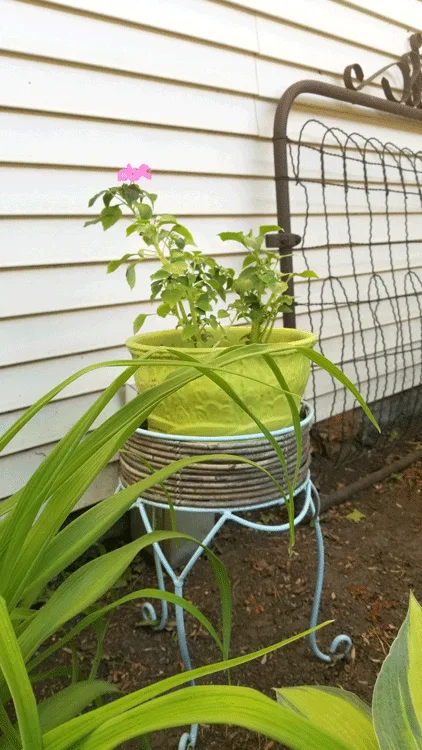 Even the plastic painted flower pots looked amazing!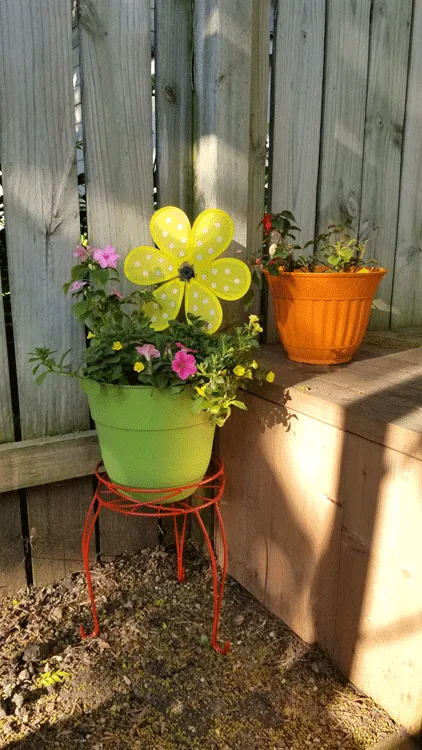 These next photos were taken the next day after a big rain. The ground may look messy from the trees but the painted pots still look amazing! This is our catio. The outside space for the indoor cats.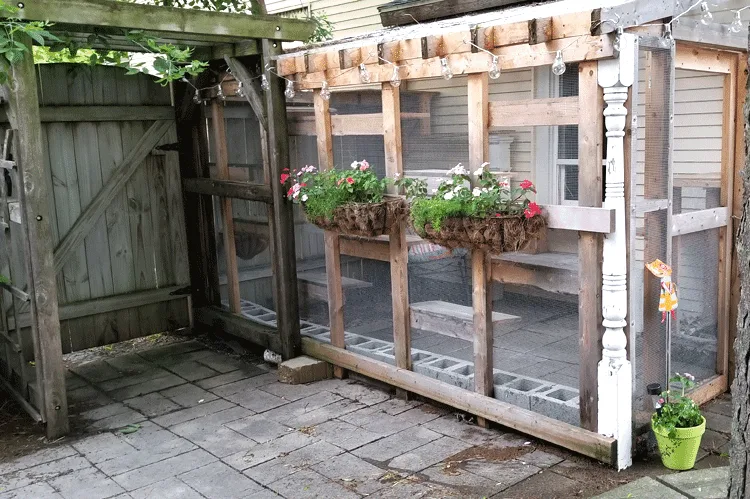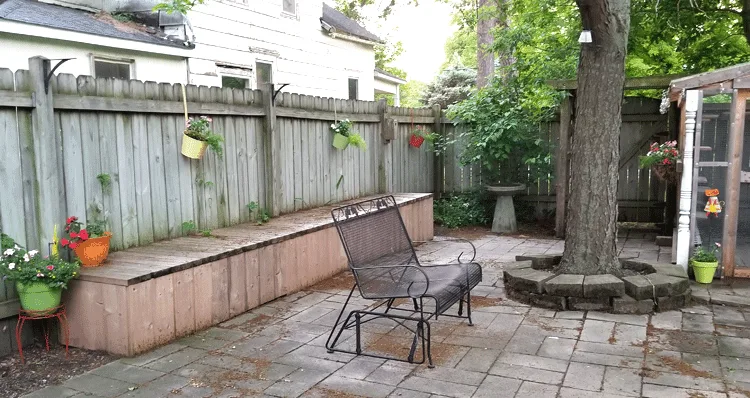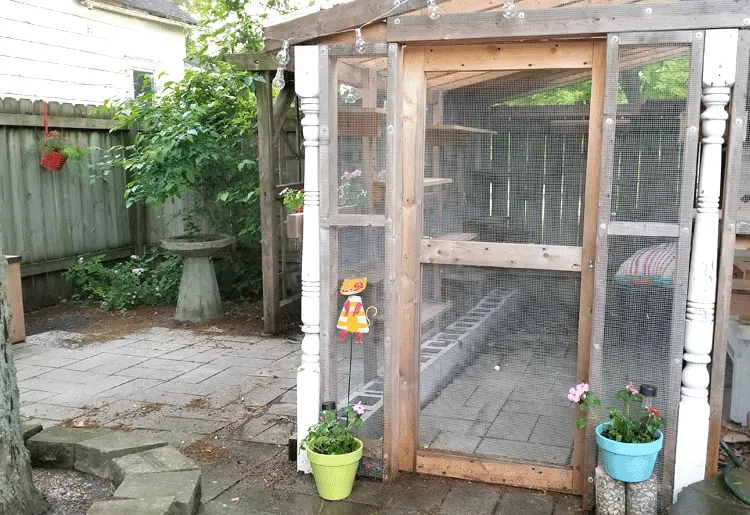 I hope you liked this post. It gives me great joy to walk into my space and see these colorful, rejuvenated painted flower pots.
Don't forget to sign up to win the paint package from DecoArt. It is easy and you could be the lucky winner. Wouldn't it be fun to win all of these paint products? Just think of the fun you could have. Good luck!
Please note you must be 18+ to enter and a U.S. Resident. One winner will be chosen at random. DecoArt is responsible for shipping the prize directly to the winner. This giveaway is in partnership with DecoArt. Good luck!
Enter Below!
Sharing is caring…please pin the image below: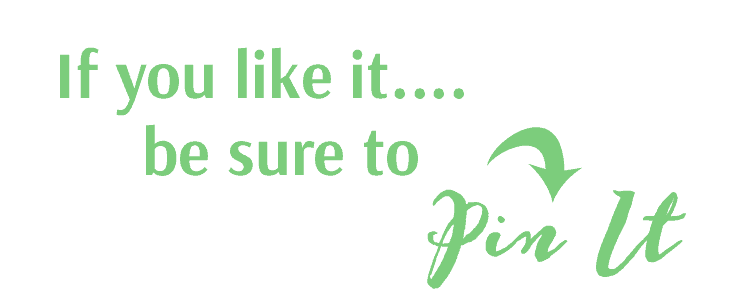 Thanks for stopping by!
Michelle