Welcome to part 3 of my Wedding Planning Series. If you missed the first two posts you can fine Part 1 – Wedding Websites here and Part 2 – Wedding Budgets and Planners here. This week we are going over Wedding Venue and Invitation Tips.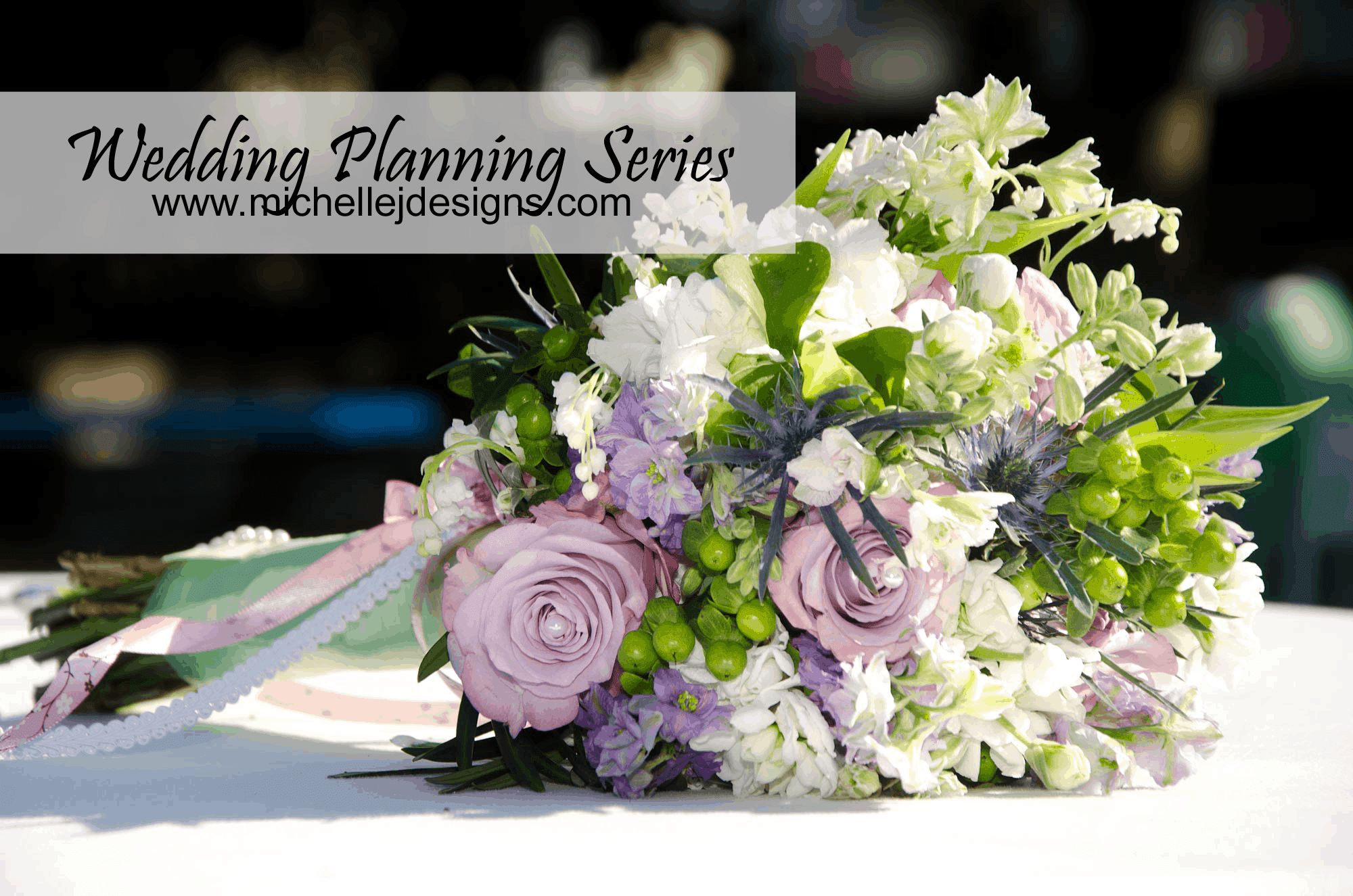 Wedding Venue and Invitation Tips
Wedding Venue Tips
So you have just gotten engaged…what now? You probably want to jump right into finding the perfect venue for your celebration. I don't blame you but there are a couple of things you want to figure out first.
1. Your budget – This is really important although somewhat of a horrible subject. Some venues may be waaay out of your price range and others will be perfect. You need to know before you get locked into something that you can't afford.
2. Your approximate guest count – I bet at every single venue you look at one of the first questions from the coordinator to you will be "How many guests are you expecting?" You need to have an approximate count so you can answer intelligently. All venues have limits and depending on room size it may be this one will be too small or to large for your guests. You don't want the room to look empty and you don't want to be squished in. It is like Goldilocks..it needs to be just right!
3. A date or at least a month – If you know the exact date and you are absolutely firm on that date then you will need to be flexible on your venue site. If you have a month in mind you can then ask which dates are available in that month.
4. The style of your wedding – This may be obvious but if you want a real, rustic wedding you probably want to check into places that are rustic looking such as wineries, barn settings and the like. If you want a more traditional look then you could check into country clubs or Hotel ballrooms. These can really help set the theme for your style.
4. Logistics for your guests – You may want to consider your guests when looking at venue choices. Is the ceremony going to be at the same place? or will it be at a church, garden, or beach in a different location? How easy will it be for guests to travel from the ceremony site to the reception site? Are there hotels close by for out – of – town guests? These are definitely things to think about but shouldn't be deal breakers.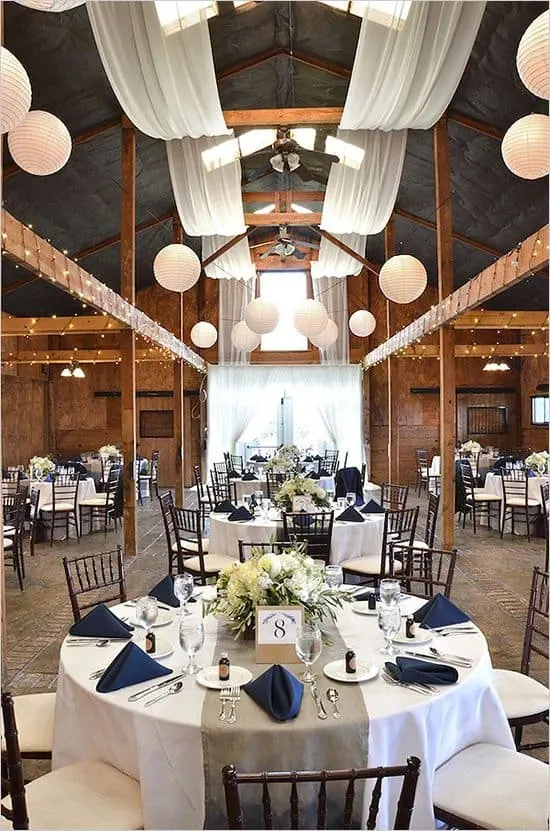 Pinterest via The Wedding Chicks
Ok. Now that you have narrowed down your choices for the venues there are questions you should ask the person you are dealing with.
1. What is included in the price?
If you rent this place do you have to furnish food, table linens, entertainment and the works or is any of this included? If you hire a Wedding Planner will they work with this person or do they have their own Wedding Coordinator?
2. Are there any restrictions
If they do have a band or some sort of entertainment they offer do you have to choose their option or do you have the choice to hire your own? If you plan to offer alcohol are there restrictions on what you can and can't serve or can you even offer it at all?
3. What are the deposits and payment requirements?
First of all if you place a deposit is it refundable if you change your mind? Can you make payments on the balance due or is due all at once?
4. Do they have insurance?
You want to make sure the venue has insurance that covers your guests just in case. I am sure most do but it would be a fair question.
5. Is it handicap accessible?
If it is an older building that has not been updated or in a small town where building codes are different this is a good question to ask of you have guests that need ramps, etc.
After you have decided on a venue be sure to sign a contract. Go over it in detail to make sure everything you need is included in the price – down to the last detail. Also be sure the date and time of the even are included in the contract or on a receipt.
There is a lot to think about when choosing a venue and I hope these tips will help. Here is a link to a printable Wedding Venue Checklist. This is something you can keep in your planner and have with you all of the time.
Wedding Invitation Tips
Wedding invitations definitely project the style, theme and colors of your wedding. I am making the invitations for my future daughter-in-law and when her guests receive it they will know right away that it is a destination wedding because it looks like a passport. (super cute by the way).
There are several places and ways to order and purchase wedding invitations.
1. You can order from your bridal shop. Most of the shops in our area carry Carlson Craft Invitations. I went to their site carlsoncraftproducts.com and you can find beautiful invitations but they need to be ordered from one of their retail locations. Usually the bridal shops have the book to look at and then you choose the invitation style, color and I am sure you can add on Save the dates, Accommodation and RSVP cards as well.
2. You can order a handmade invitation. If you have ever heard of Etsy there are a lot of vendors that create custom invitations and the matching add on cards. They will usually print them as well.
3. You can order from Wedding Paper Divas
This is a division of Shutterfly. They offer a wide variety of invitations in all sorts of colors. They will print them and send them right to you. They also offer Save the dates, shower invites, reception products such as menus, personalized napkins, favors and thank you cards.
4. You can order from Michelle James Designs. That is right. I offer custom wedding invitations. You can check out my Wedding Products in my shop. I offer the digital download for the product. So basically you purchase the invitation, then we work back and forth to have it customized especially for you. When it is perfect I will send you an email with the pdf, jpg, png or whatever file you want. Then you either print it yourself or have it printed. Shutterfly would be an example of a printing service.
If you don't see exactly what you are looking for in my shop then we can work together to create an invitation just for you. It would be very unique and no other bride would have it. Then the same principle for ordering and printing would apply. Easy peasy! I can also provide save the dates, accommodation/reception information cards, RSVP, shower invites, programs and thank you cards.
Not all of this is in my shop but please ask if you are looking for something that is not there. There is a contact me form in the menu bar at the top of my site.
These are a custom set I did for this bride, Kala.
Invitation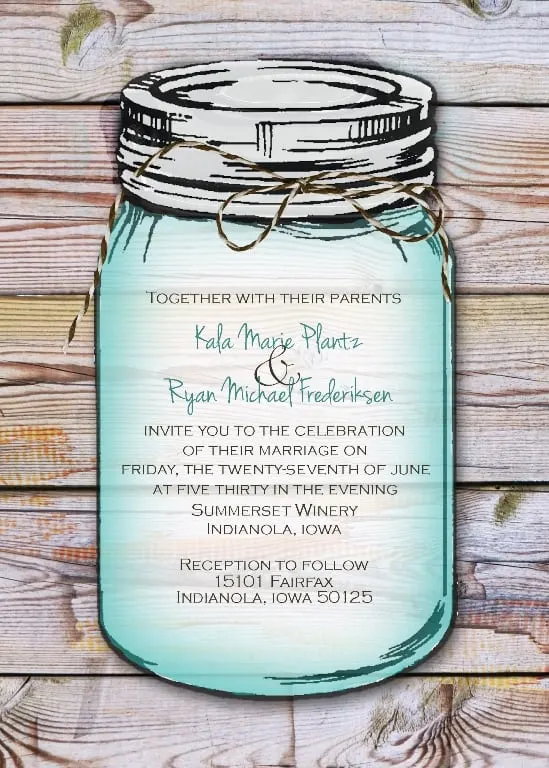 RSVP & Accommodations Card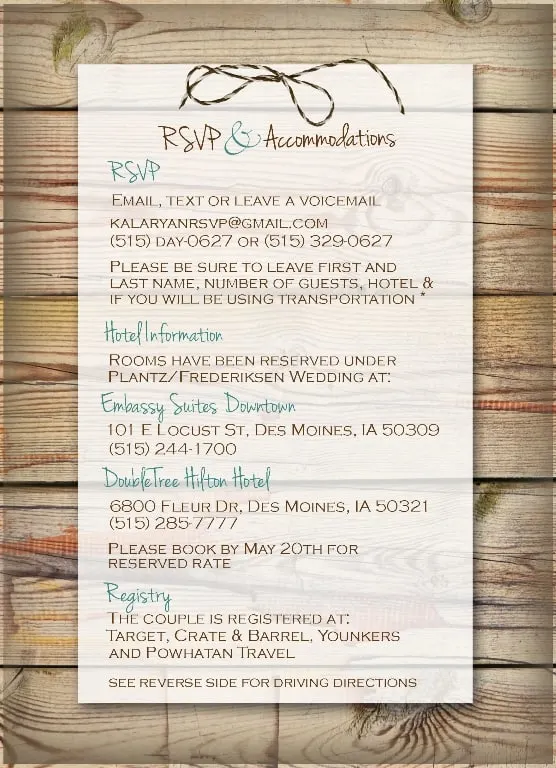 Driving Directions Card – was printed on the back side of the RSVP and accommodations card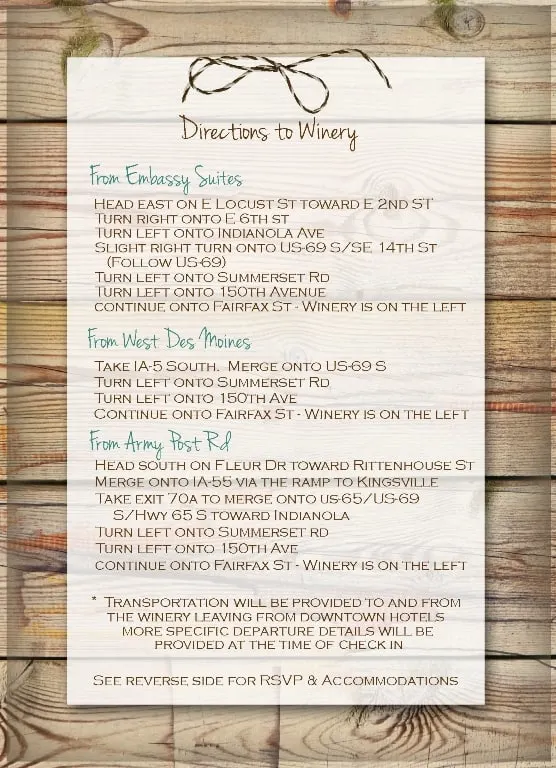 And her wedding ceremony program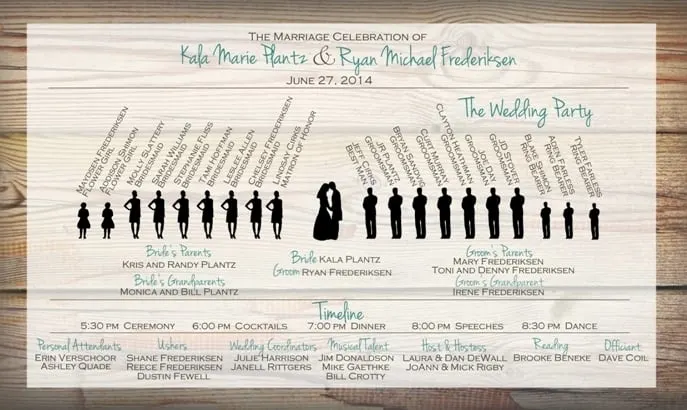 And 5. You can DIY and make your own invitations. So many people are so talented and love to DIY the entire wedding. I love this and it is definitely an option for your invitations as well. There are various programs such as Adobe Photoshop Elements that allow you to create beautiful invitations all on your own. This could be a money saver for you as well. You would only be paying for the printing and if you print them yourself then the cost of the paper and ink.
I hope this post gave you some great wedding venue and invitation tips. You need to choose what works best for you. There are many options available to couples and deciding can be hard. Be true to the style you want and to your budget.
If you enjoyed this post please share using the buttons on the side. if you have questions you can shoot me an email using the contact me form or leave a comment. I always read and respond to comments.
If you want to get my posts directly into your email please sign up using the bar at the top of this post or the box in the sidebar. And be sure to follow me on Facebook, Twitter and Pinterest.
Thanks so much for stopping by.
I am linking up today at Small Victories