I have been introducing you to some fun printables and products to think about adding to your Thanksgiving Day celebration. Last week it was ideas for your table and before that my own Thanksgiving Place Cards that I think would go well with the products in today's post. Because the products in today's post will add humor and style to your Thanksgiving Day.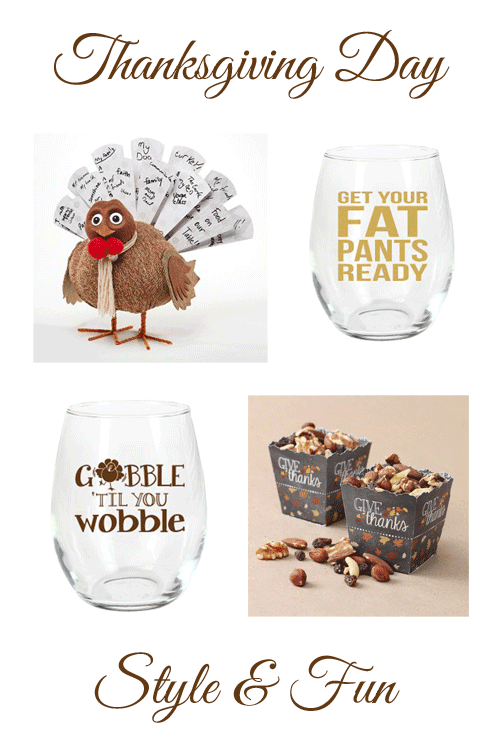 Thanksgiving Day Humor and Style
These products are all from Swoozies and Beaucoup If you have not heard of them you should head over and check out their sites. I have added affiliate links below for your convenience so you will be taken directly to that product on the site and don't have to search to find it. You can see my full disclosure here. Click on the link below the photo if you want to read more about each item.
They offer a lot more than just these Thanksgiving products including stationary and journals, invitations, wedding supplies and a lot more. They are fun places to shop.
So back to our Thanksgiving Day humor and style. I have four products to show you today and this one is by far my favorite. I would use these all of time. Not just for Thanksgiving. I think they are funny. Stemless wine glasses are extremely popular these days and so is the phrase "fat pants". These guys have combined the two into a fabulous product. So funny!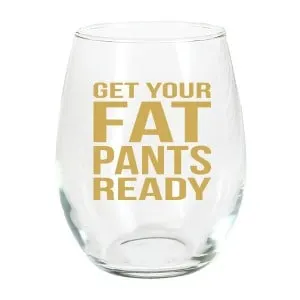 Fat Pants Stemless Wine Glasses
This turkey is not only a fun game to share why you are grateful it also feeds people in need. For each turkey sold 10 meals will be donated to families in need this year. You have to click on the link and read about it. I love this idea and he is pretty cute too.
Turkey On The Table Game For Families
Okay so if you are not into the fat pants wine glasses maybe these will be more to you liking. They are still funny and would definitely add some humor to your Thanksgiving Day and who doesn't love that idea?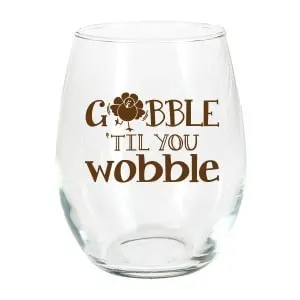 Gobble Til You Wobble Wine Glasses
The last product is a party favor. I think I would put these out before the meal even though people may eat too many it is a fun way to interact and start the gathering while waiting for everything to be ready. At my house everyone is usually there way before the meal is ready anyway.
Of course you can put anything you want into these cute boxes. I just love them. They would even be fun to give to co-workers before Thanksgiving. Just add a fun cellophane bag tied with a fun ribbon. What do you think?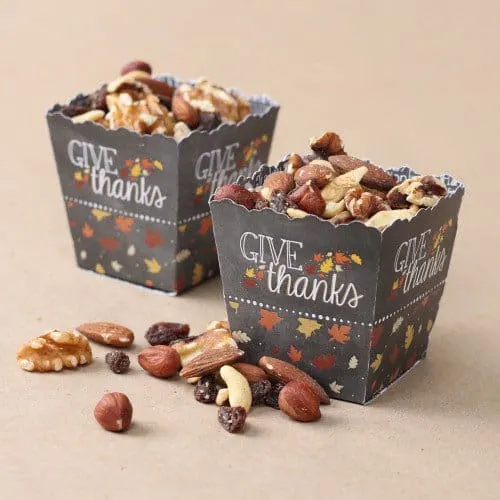 Well, there you have it. Four fun products to add humor and style to your Thanksgiving day!
Thanks so much for stopping by and don't forget to check out some of my printables!
Michelle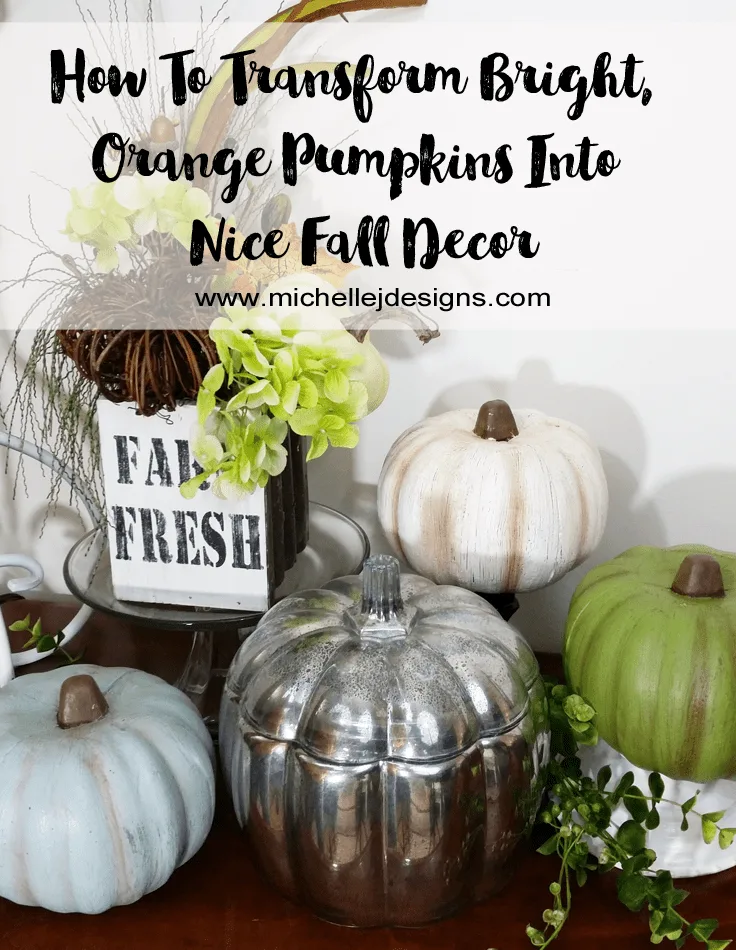 Transform Bright Orange Dollar Store Pumpkins
Thanksgiving Day Place Cards (free printable)