This post reminds me of the movie 27 Dresses. Remember it? We are talking about choosing bridesmaids and groomsmen attire this week. In the movies she has a closet full of bridesmaids dresses. Anyway, If you missed part 1, part 2 and part 3 you can click on the links to go back and start the Wedding Planning Series from the beginning.
Bridesmaids and Groomsmen Attire
Bridesmaids Dresses
Let's start with the bridesmaids dresses. I am assuming in this post that your wedding dress has already been chosen and you have a particular style/theme that your are swaying toward.
Remember these girls are your friends.
You are ultimately the one who makes the decision but it really is common courtesy to ask opinions and keep them in mind when choosing dresses.
You want the dress to keep with your style and color choices but there are some ways to avoid making them look like a major disaster.
Keep in mind several things such as body type, coloring, and cost.
Body Type
Obviously not all bodies are the same and you want the bridesmaids to feel comfortable in the dress. For example I hate my arms and I feel uncomfortable wearing short sleeves that show a lot of my upper arms. If you are choosing a strapless dress I am going to hate it and want to put on my jeans the entire time. Not to mention a larger busted bridesmaid that would probably have to purchase a special bra and will still feel like she is falling out of the dress. Look at the companies that offer the same color but different styles. Let your friends pick the style they feel best in.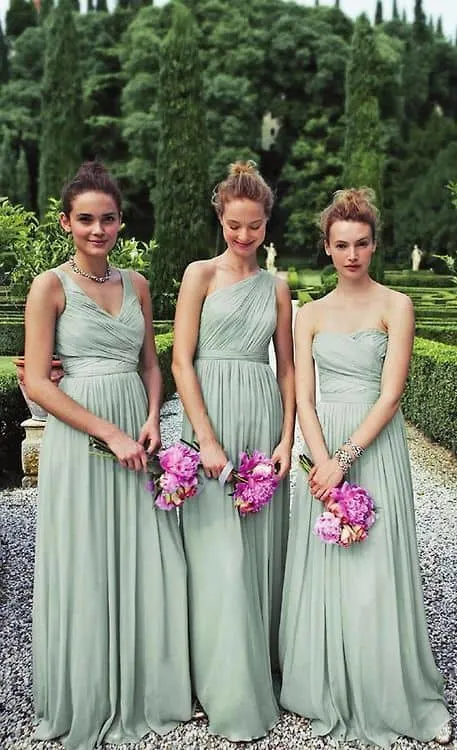 Pinterest via Everythingsparklywhite.com
Coloring
Colors are important as well. There are choices in the dresses these days and different shades or totally different colors that still fit within your scheme are helpful when choosing a good color for different skin tones.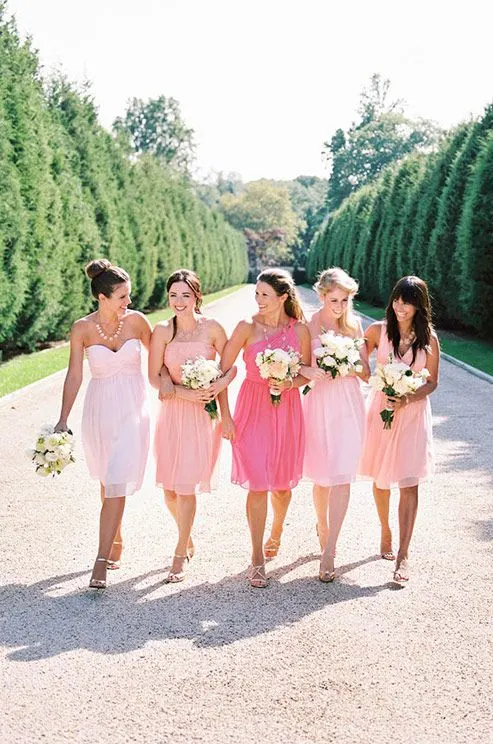 Pinterest via Colin Cowie Weddings
Cost
In my research for this bridesmaids and groomsmen attire post I found that most bridesmaids dresses are anywhere between $100 – $300. An average full length is about $200. If you are so set on something really expensive then you should consider paying the difference. Also, if your very best friend in the world absolutely cannot afford the dress, then you have to decide if you want her in the wedding at all or if you are willing to help with the cost.
Other things to consider are time of year – Don't buy the spring dresses because they are on sale and have your bridesmaids freeze at the fall or winter wedding. That is not cool. Well, they would be cool but not the right kind of cool.
Shoes and accessories – Factor these into the cost unless you are giving a nice necklace that matches for them to wear as a gift.
If you are wondering what color dresses are in this year please read my post on Pantone's Spring Wedding Colors for 2015. And probably don't count on the fact that she may be able to wear it again. I mean really…have you ever worn a bridesmaid dress to another function? I have not. Anyway, I hope you will consider these things when shopping for the bridesmaids dresses. They really are important.
Groomsmen Attire
Now for the guys. The biggest challenges in this category are color, time and location of shop.
Color
Most of the time you will be choosing a suit or a tuxedo. Be sure to have the girls dresses picked out first so you can match ties and vests if needed.
You should already know what color. Most of the choices are gray, black, navy or white. Be careful with whites. A sample of the dress should go with you so they match. Also take along a sample of the bridesmaids dresses so you are able to match ties and vests as closely as you can. The shops personnel should know their product and will be able to help a lot with color.
Time
The groomsmen will need to be measured for tux's so be sure to give them ample time to get this done. They don't usually like to do these things so it will more than likely get put on the back burner.
Most tuxedo shops will, as a courtesy, measure even though the final purchase is not from them. This helps if the groomsmen are spread out all over the place location wise. Call the stores in their area or have them go in and ask nicely if they do this.
Location of Shop
It is usually is best to rent the tuxedos from a store that is close by the wedding just in case the groomsmen wearing it does not have time to return it due to travelling. This way, whoever gets this job won't have to go far. Also fittings can be done when the groomsman arrives into town. Again, with time, hopefully they can arrive a little early so if alterations are needed they are not too rushed.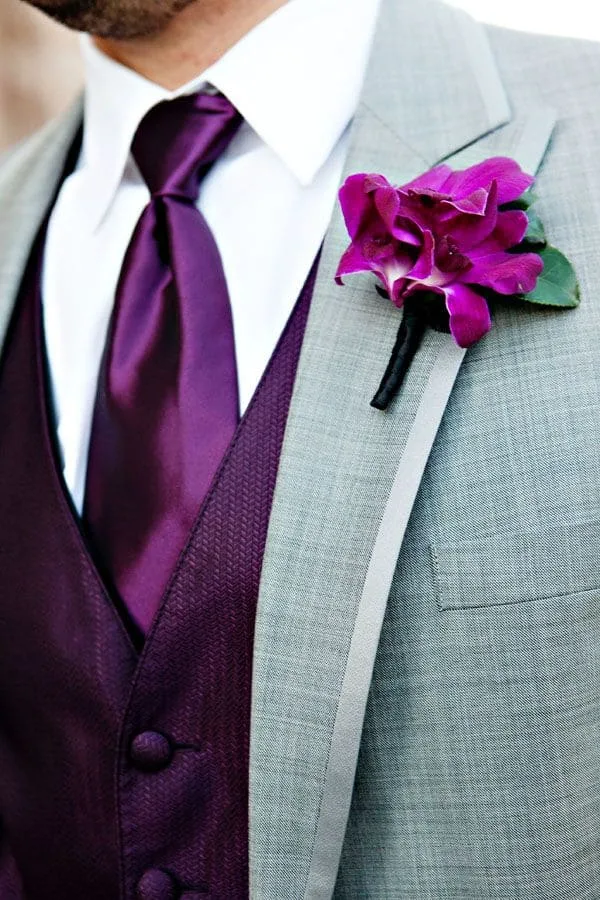 Pinterest via Project Wedding
There are also quite a few styles of tuxedos. Be sure you get what you like and he gets what he feels comfortable in. Compromise may be the name of the game.
I hope you have found this post helpful. If so, please share with your friends.
Thank you for stopping by!
I am sharing at the following link parties: