Hi everyone! You are probably wondering why Wonder Woman is making an appearance in my post today? This is my second Movie Monday Challenge. You may remember my Star Wars Printables from the Star Wars Challenge last month. This month the chosen movie theme is Wonder Woman.
We are challenged to create a recipe craft, home decor item or something along those lines that goes with the theme of the movie. It has been fun so far.
I want to thank Megan at C'mon Get Crafty for hosting this challenge.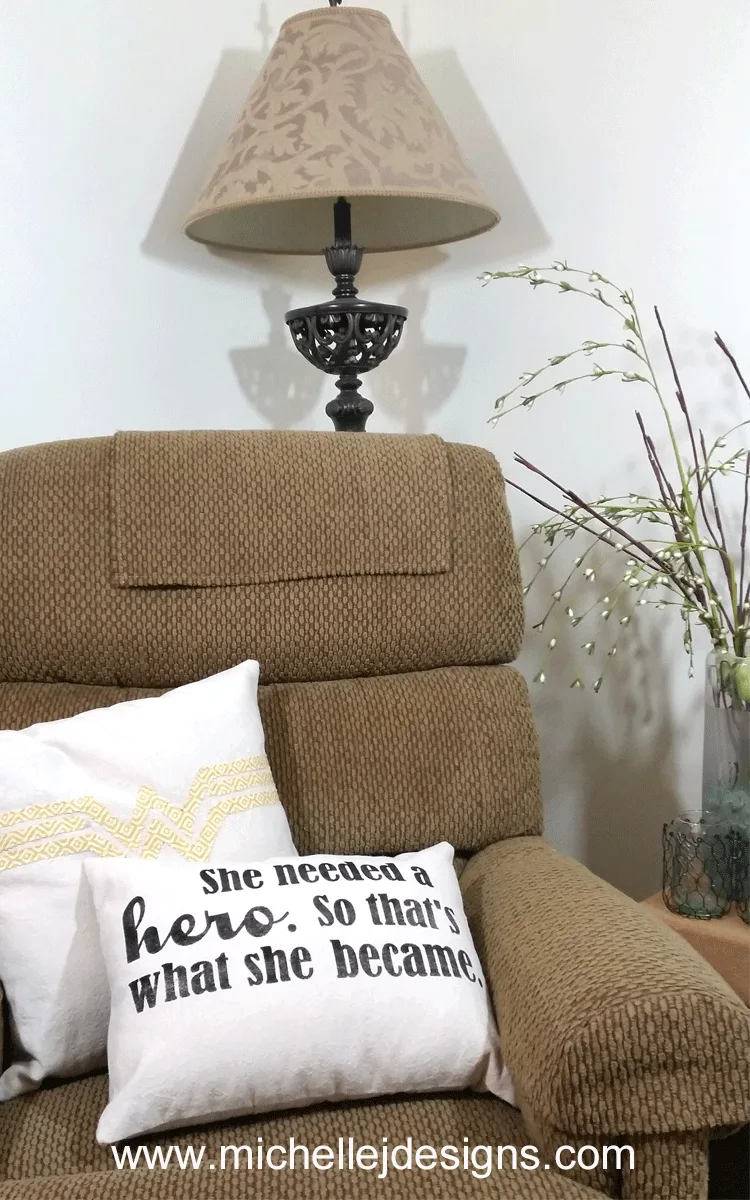 Supplies Needed:
I have included affiliate links for your convenience. You can read my full disclosure here.
Yellow/gold Fabric for Wonder Woman's symbol
Textile medium to add to the paint
Scissors
Sewing Machine
Pillow Forms – 16 x 16 and 12 x 16
]

Getting Started With Your Wonder Woman Pillows
I had to really think about this challenge. I have seen the previews to Wonder Woman and I am not sure if I am fan yet. Wonder Woman has been such an iconic figure but I really feel we all have hero qualities. (some of us just use them better than others) I do remember watching the tv show and I always looked forward to it. I loved that a woman could be a super hero too.
When you search on Google or Pinterest for Wonder Woman you get a lot of costumes. I was wanting something a little more practical or maybe a little more useful.
Throw pillows aren't really what comes to mind when I say practical but I love them and want many, many more.
I purchased this Wonder Woman symbol from the Silhouette website for .99 and saw the saying associated with many Wonder Woman photos on Pinterest so I created two pillows that work together.
Using The Silhouette To Create Your Wonder Woman Symbol
The Silhouette is definitely my friend when it comes to these kinds of projects. I make so many stencils with it and this time I was able to download and cut out the Wonder Woman symbol and it was easy peasy.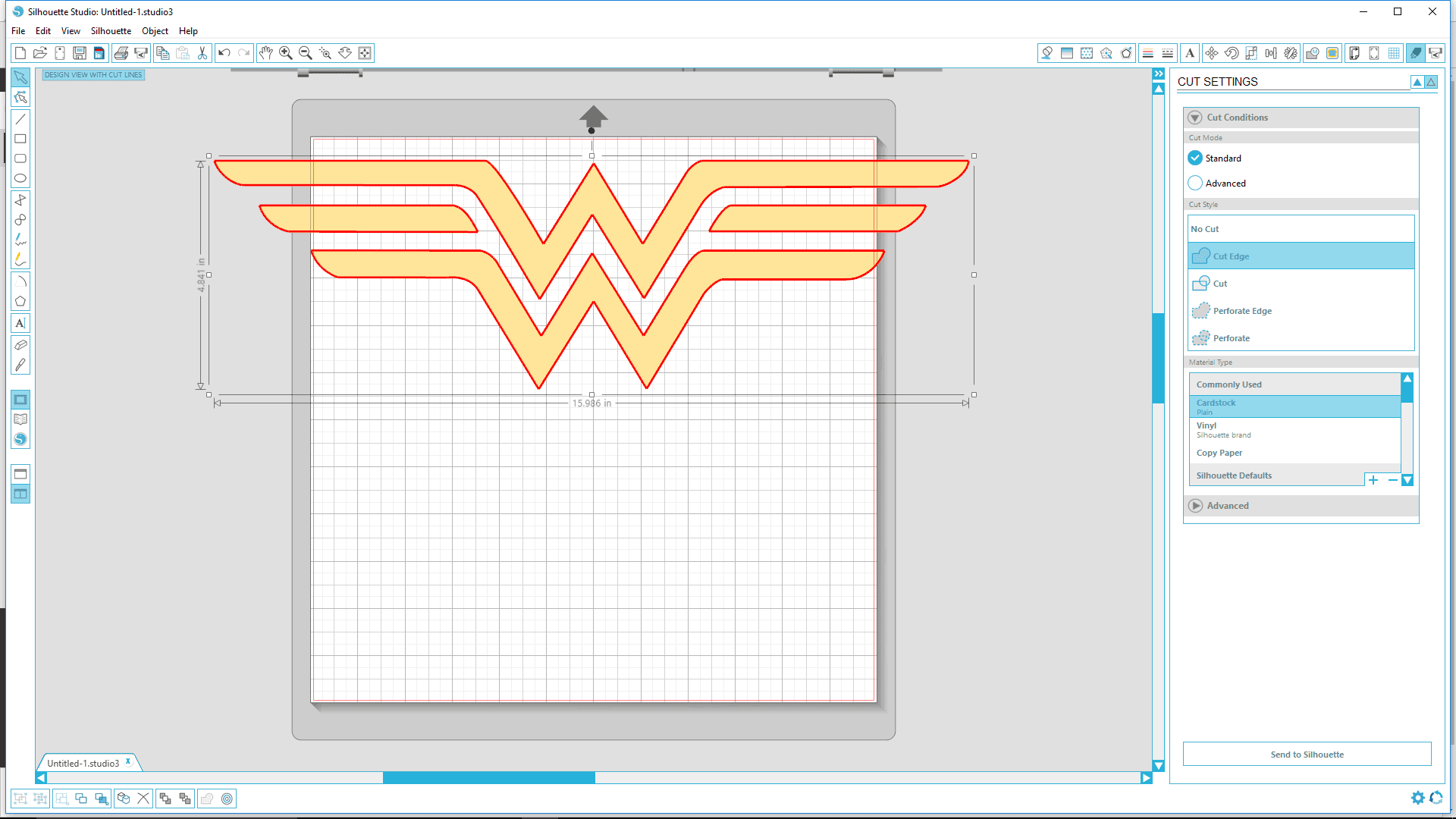 When I got the symbol into the program enlarged it quite a bit and deleted two parts of the original so only these areas were left.
I wanted to use the Silhouette to cut out my fabric but I needed the design to measure 1`7 inches wide and the mat is only 12 inches. I know there is a way but I did not have the time to sit and figure it out. So I cut this design from paper and traced it onto my fabric extending the ends of the design til it measured the 17 inches across I needed.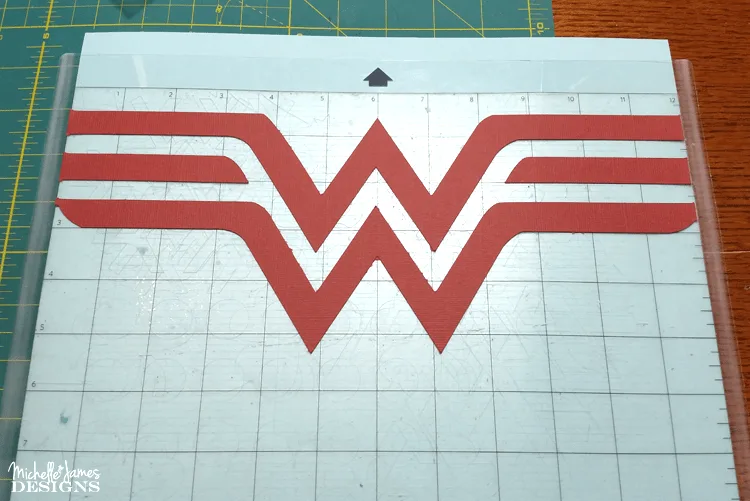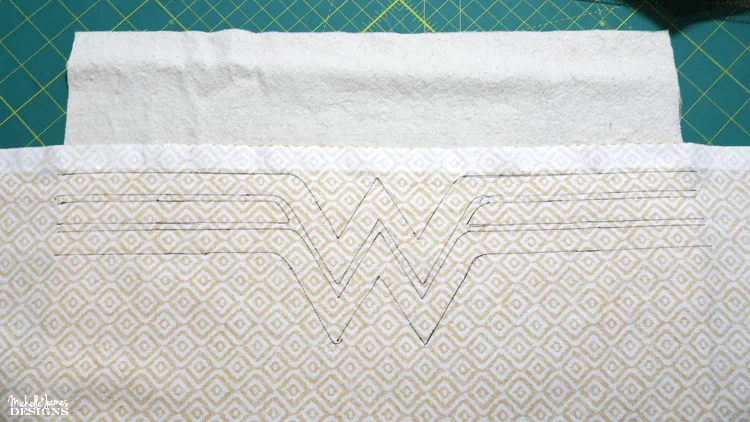 I used the pinking shears to cut out the design. I did not want to fold under all of the raw edges to stitch it onto the pillow front. (lazy sewer) and pinned it onto the front of the pillow.
The pillows are made from the drop cloth. My pillow form is 16 x 16 so I cut the pieces adding an inch for my seam allowances.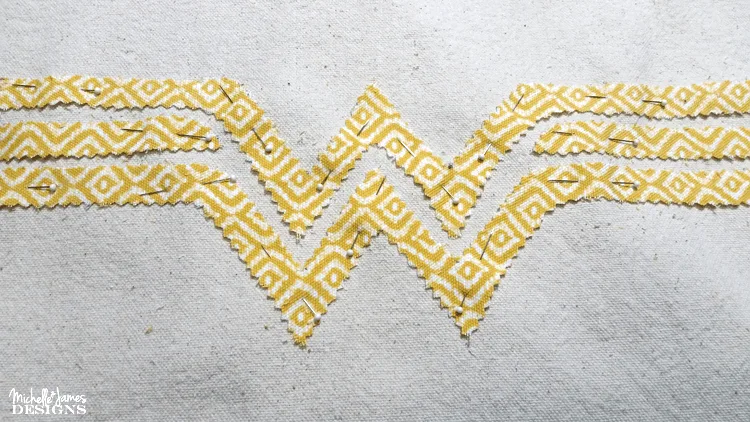 Then I stitched with the sewing machine all around the edges.
Creating The Stencil
The second pillow involved designing and creating a stencil. I loved this saying and it was perfect for a pillow. This time my pillow form was 12 x 16 so I made sure it all fit on the mat and would fit on the front of the pillow as well.
Bernard MT Condensed was the font I used for the printed words and Quigley Wiggly was used for the word "hero". Here is a screen shot of my Silhouette screen before I cut.
The vinyl is perfect for stencils so that is what I used.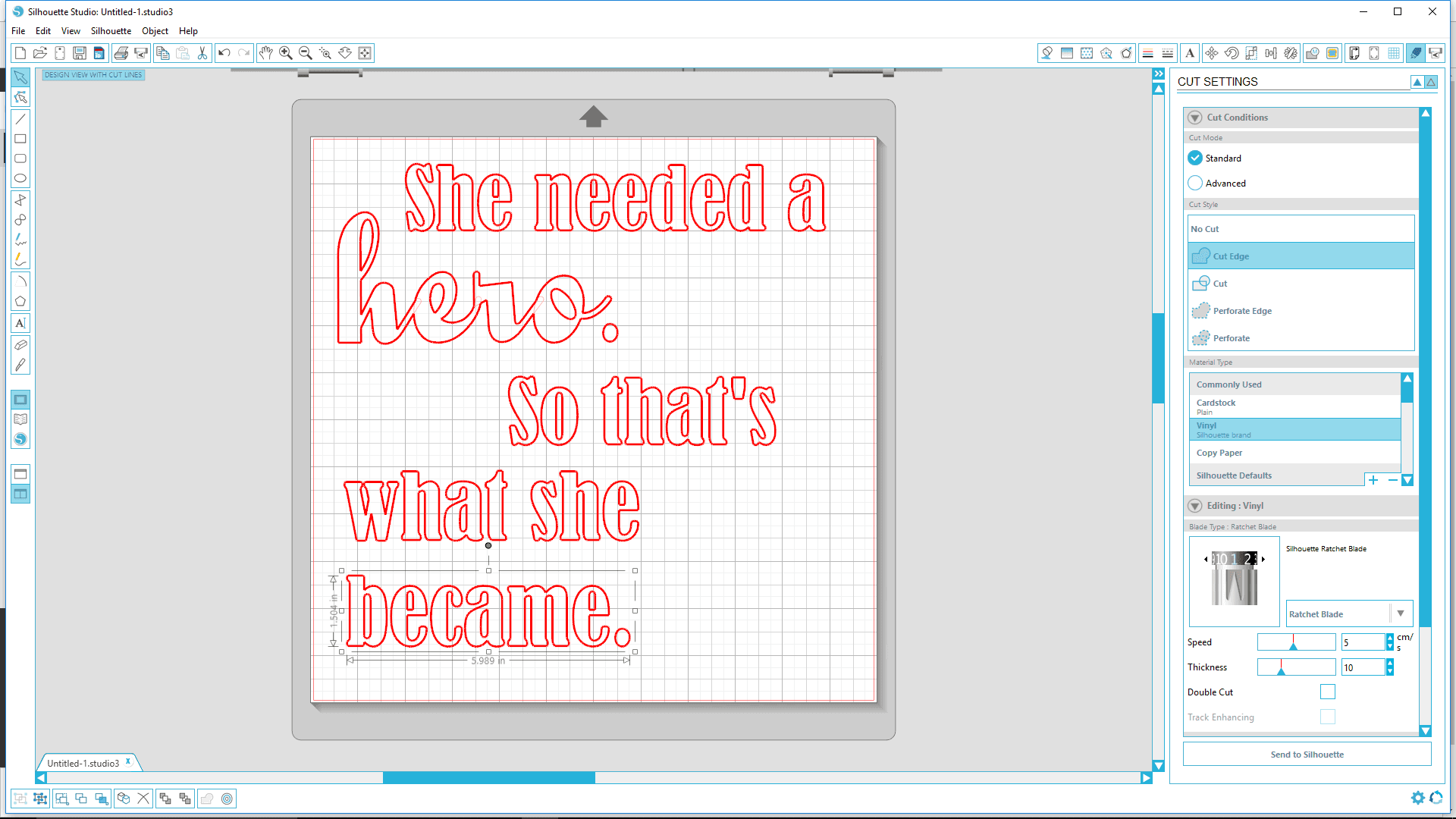 Once it was cut I used scissors to cut around the word so I could place them where I wanted on the pillow front.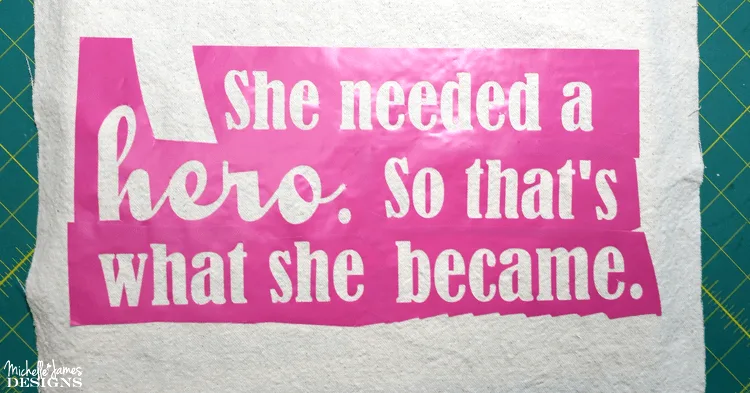 Black acrylic paint with some textile medium mixed in makes the perfect fabric paint. Using a stencil brush I painted the words onto the drop cloth fabric. It turned out really nice.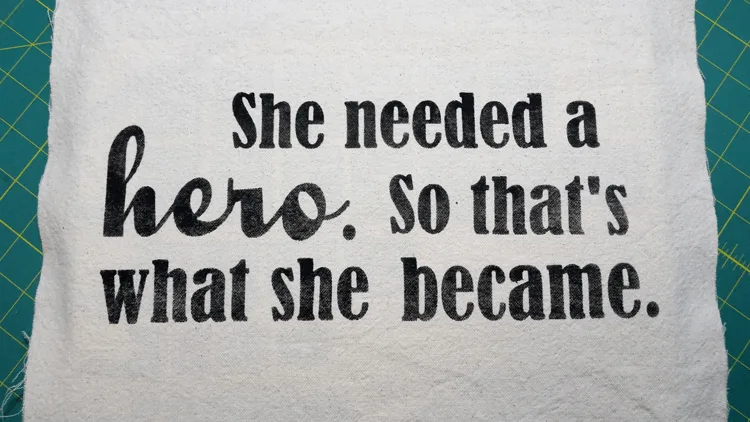 Now I had my two pillow fronts done. I like to create an "envelope" pillow where the backs overlap to create an opening. This way I can wash them when ever I want. (we have cats so sometimes this is way more often than I want).
This is the front and the backs pinned with right sides together. The back is what you see and there are two pieces that overlap in the center.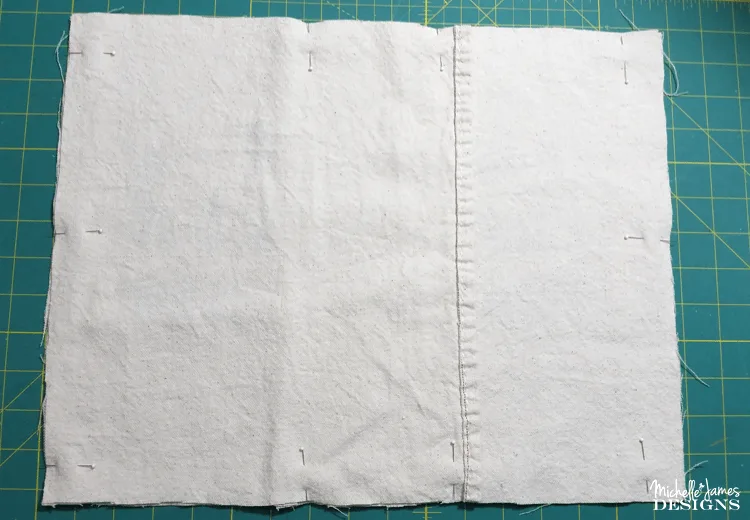 I stitched all the way around the edge.
The Final Result
Now I have two Wonder Woman throw pillows that are a little more my style. The gold fabric was not glittery or glitzy like the real Wonder Woman's but that would not go with my decor so I toned it down to reflect and blend into my decor. It is Wonder Woman meets farmhouse!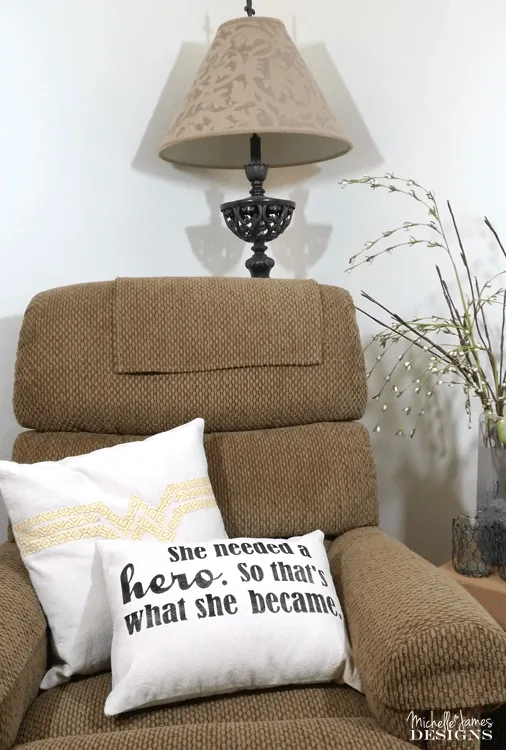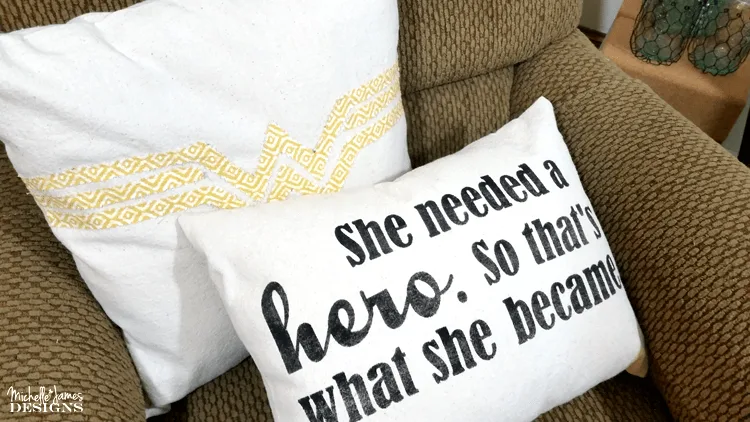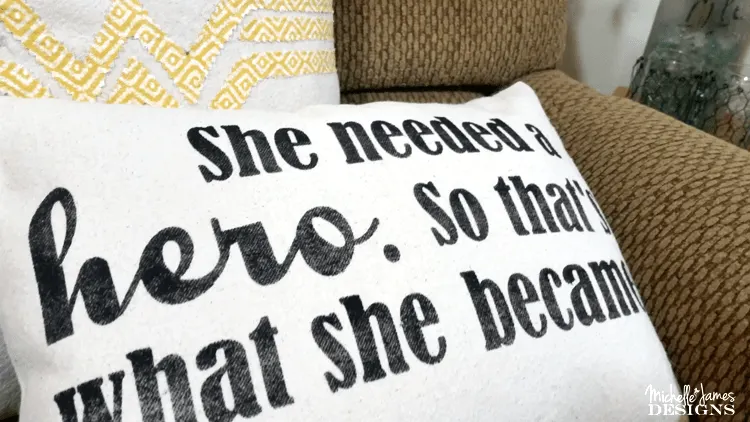 What do you think?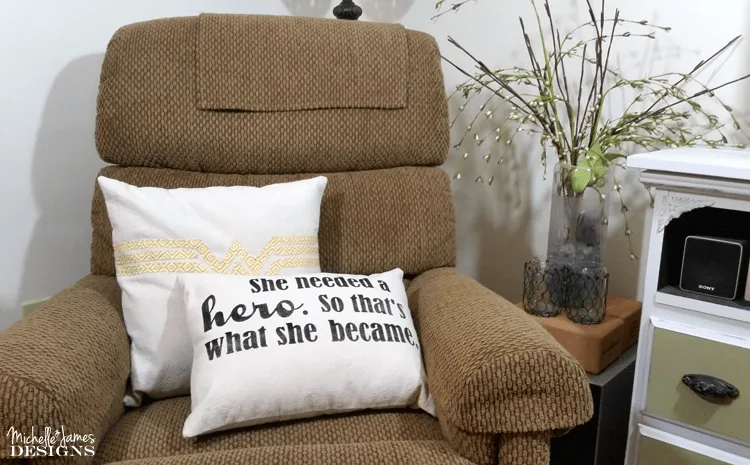 I love them! If you like them don't forget to pin it for later!

Also, don't forget to visit all of the other bloggers who have worked hard for this Wonder Woman Monday Movie Challenge!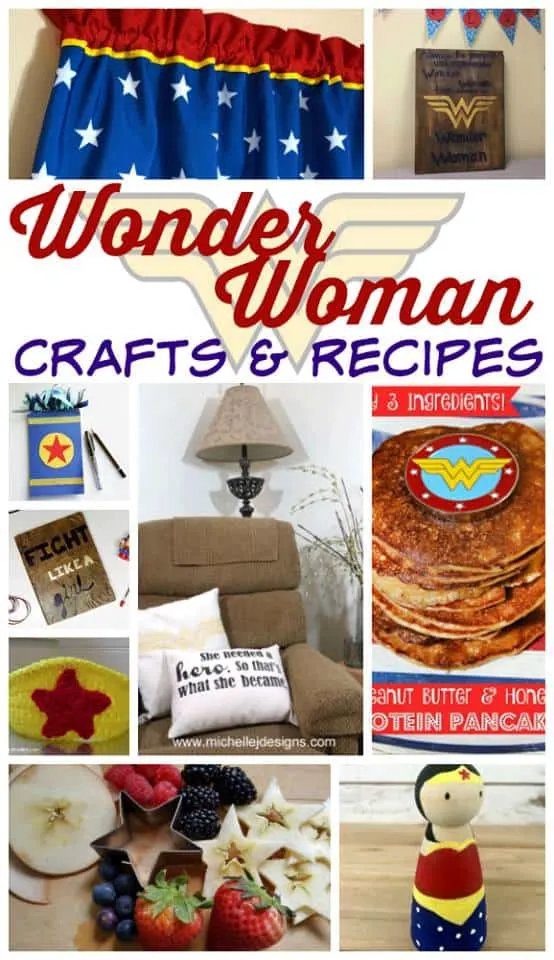 You can click on the photos below to be taken to their posts.
Thanks so much for stopping by!
Michelle